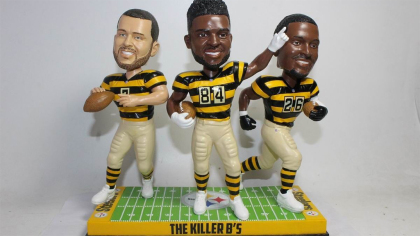 PITTSBURGH (KDKA) – The National Bobblehead Hall of Fame and Museum has released a special edition bobblehead featuring three members of the Pittsburgh Steelers.
According to a press release, the "Steelers' Killer B's" bobblehead features Ben Roethlisberger, Antonio Brown and Le'Veon Bell. All three are wearing the "bumblebee" jersey.
"Steelers' fans have been lucky to have three superstars in Brown, Ben and Bell, and the Killer B's nickname is undoubtedly one of the best in sports," said Phil Sklar, Co-Founder and CEO of the National Bobblehead Hall of Fame and Museum. "When we realized there hadn't been a bobblehead featuring the Killer B's, we put the wheels in motion in order to get these in time for the NFL season, so Steelers' fans could display them proudly as they cheered on their favorite team."
Interested fans should act quick because only 1,000 were made. Each one is individually numbered and costs $75, plus $8 for shipping. For more information and to order,
 click here.
It is the first bobblehead to feature all three players together.
The officially-licensed bobbleheads were manufactured by FOCO.