Membership Categories
The first 1,500 Members at the Major Leaguer Level and above will receive a Special Edition Gold Jersey Bobblehead. All Members receive additional benefits described below. Membership benefits at the Hall of Famer Level and below are valid for one year.
Additional Founding Member Benefits:
- Founding Member Bobblehead (see below). The first 1,500 Members will receive an individually numbered version featuring a gold jersey.
- Unique, permanent recognition in the Hall of Fame and Museum
– Early access to Member's-only online sections which will feature a full Stadium Giveaway list, discussion board, and exclusive bobblehead offers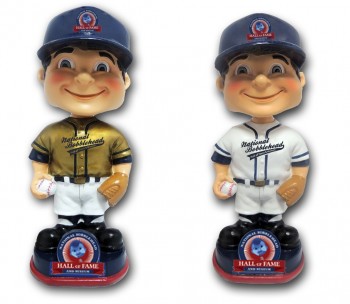 Membership Benefit Descriptions:

- Admission: Valid for you and a guest
- Custom Membership Card: Customized with your name
- Special Offers from Partners: Bobblehead related offers sent to Members only (your information will not be sold!)
- Hall of Fame Voting Rights: Only Members can vote on which bobbleheads make it to the Hall of Fame
- Exclusive Content: Member only discussion board, advance notifications, pictures of the entire collection, text alerts, member only store bobbleheads and discounts, and much more coming soon
- Annual Bobblehead: Each year, a unique, new bobblehead will be available exclusively to Members that renew.
- Annual Convention Pass: Provides VIP access to the National Bobblehead Convention. More details coming soon.
- Lifetime Member Custom Bobblehead: Two custom bobbleheads of you — one for you and one that will be forever displayed in the Hall of Fame
- Guaranteed Special Event Passes: Provide guaranteed access to public and member only special events such as autograph signings
You may also become a member by calling 800-414-1482 or by completing and mailing this form.
You will receive your Gold Member Baseball Bobblehead and Membership Card within approximately 7-10 days of purchase in separate shipments.