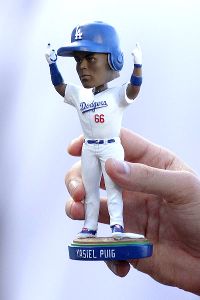 From ESPN.com by Darrell Rovell:
The bobblehead will continue its run as baseball's greatest promotional item, as Major League Baseball teams will hand out at least 121 different bobbleheads this year.
It has been 16 years since the San Francisco Giants sparked the giveaway craze, handing out a Willie Mays bobblehead in 1999. But the wobbly creatures show no sign of slowing down. In 2010, only 80 different bobbleheads were handed out at MLB ballparks across the country.
"We give away a bobblehead, it automatically becomes a sellout," said Rick Schlesinger, chief operating officer of theMilwaukee Brewers, who will give out an MLB-high 12 bobbleheads this year, two of which need to be purchased with a special ticket.
"Every year we think we might have exhausted the bobblehead craze here in Wisconsin, and it doesn't happen," Schlesinger said.
To weigh the effectiveness of a bobblehead promotion, the team has taken all the factors that affect game attendance — from record to opponent to weather to day of the week — and determined that a bobblehead promotion, on average, puts 7,000 more people in the seats at Miller Park. They've also been able to prove to their sponsors who put their names on the statuettes that it more than pays for itself in exposure.
Bobbleheads have evolved greatly since the days of the Mays giveaway. Not only do they look more like whom they're supposed to resemble, but the designs have gotten more intricate. So, too, has technology.
The bobblehead of Harry Doyle — Bob Uecker's character from "Major League" — has a chip in it that will feature three phrases from the movie. The Brewers announced the promotion earlier this week, and the 4,000 special tickets were snapped up so quickly the team put another 4,000 on sale, Schlesinger said.
There were 6,000 special tickets that enabled fans to pick up a bobblehead of catcher Jonathan Lucroy with a green light saber in his hand on "Star Wars" night. That sold out in its first 30 hours on sale.
"Bobbleheads appeal to a wide range of ages and demographics," Schlesinger said. "It's loved by kids and adults."
Other teams in love with the bobblehead are the Cincinnati Reds, who will give out nine bobbleheads, including three bobbleheads on one stand of the "Nasty Boys" — relievers Norm Charlton, Rob Dibble and Randy Myers, who helped the team win the 1990 World Series.
The Los Angeles Dodgers will give out eight bobbleheads. So will the St. Louis Cardinals, including a talking one of Harry Caray for a home game against the Chicago Cubs and a bobblehead that has Cardinals catcher Yadier Molina holding seven Gold Gloves and three platinum gloves.
"Our fans collect them year after year," said Megan Sommer, the team's manager of promotions and events. "They expect us to have them."
Other popular promotions, besides the usual cap and T-shirt, include the garden gnome. Teams will give out 12 gnomes this year, including the Dodgers, whose gnome promises to look like Tommy Lasorda. Nine replica rings — commemorating either World Series titles or league championships — will be given to fans who come through the turnstiles. Seven teams will give out fedoras.
Teams that have new Hall of Famers are not surprisingly promoting their proud past. No one is doing more than the Houston Astros, who are having four giveaway nights to honor Craig Biggio. Fans can get a replica Hall of Fame plaque, a jersey, a bobblehead and a T-shirt.