List of Previous Bobblehead Giveaways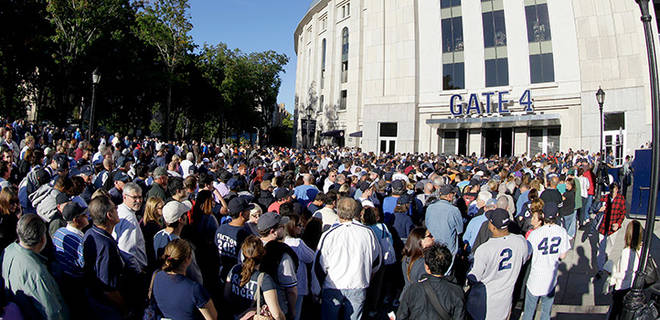 Below is a list of previous bobblehead giveaways for baseball, basketball and hockey. We are in the process of completing missing fields and ensuring the listing is complete. We will also be adding other sports and categories such as college giveaways, soccer, etc.
Thank you to Eric Marinbach for compiling and sharing the most comprehensive list of bobblehead giveaways.
| Giveaway Date | Bobblehead | Team | Sport | League | Season | # Given |
| --- | --- | --- | --- | --- | --- | --- |
| 5/9/99 | Willie Mays | San Francisco Giants | Baseball | MLB | 1999 | 25,000 |
| 6/9/00 | Harmon Killebrew | Minnesota Twins | Baseball | MLB | 2000 | 5,000 |
| 6/11/00 | Barry Bonds | San Francisco Giants | Baseball | MLB | 2000 | 20,000 |
| 6/17/00 | Kent Hrbek | Minnesota Twins | Baseball | MLB | 2000 | 5,000 |
| 6/25/00 | Tom Seaver | New York Mets | Baseball | MLB | 2000 | |
| 7/17/00 | Cal Ripken, Jr. | Baltimore Orioles | Baseball | MLB | 2000 | |
| 7/21/00 | Tony Oliva | Minnesota Twins | Baseball | MLB | 2000 | 10,000 |
| 7/29/00 | Bill Mazeroski | Pittsburgh Pirates | Baseball | MLB | 2000 | |
| 7/30/00 | Boy Mascot | Florida Marlins | Baseball | MLB | 2000 | |
| 8/13/00 | Kirby Puckett | Minnesota Twins | Baseball | MLB | 2000 | 10,000 |
| 8/26/00 | Rafael Palmeiro | Texas Rangers | Baseball | MLB | 2000 | 20,000 |
| 12/7/00 | Chancey Billups | Minnesota Timberwolves | Basketball | NBA | 2000-2001 | Lottery 4,000 |
| 12/22/00 | Terrell Brandon | Minnesota Timberwolves | Basketball | NBA | 2000-2001 | Lottery 4,000 |
| 12/28/00 | Wally Szczerbiak | Minnesota Timberwolves | Basketball | NBA | 2000-2001 | Lottery 4,000 |
| 1/10/01 | Sam Mitchell | Minnesota Timberwolves | Basketball | NBA | 2000-2001 | Lottery 4,000 |
| 1/18/01 | BJ Armstrong | Chicago Bulls | Basketball | NBA | 2000-2001 | 5,000 |
| 1/23/01 | Kevin Garnett | Minnesota Timberwolves | Basketball | NBA | 2000-2001 | Lottery 6,000 |
| 1/24/01 | Teemu Selanne | Anaheim Mighty Ducks | Hockey | NHL | 2000-2001 | |
| 2/1/01 | Byron Russell | Utah Jazz | Basketball | NBA | 2000-2001 | 5,000 |
| 2/7/01 | Darrell Armstrong | Orlando Magics | Basketball | NBA | 2000-2001 | 5,000 |
| 2/7/01 | Guy Hebert | Anaheim Mighty Ducks | Hockey | NHL | 2000-2001 | |
| 2/16/01 | Allen Iverson | Philadelphia 76ers | Basketball | NBA | 2000-2001 | 5,000 |
| 2/19/01 | Paul Kariya | Anaheim Mighty Ducks | Hockey | NHL | 2000-2001 | |
| 2/20/01 | Elton Brand | Chicago Bulls | Basketball | NBA | 2000-2001 | 5,000 |
| 2/26/01 | Norm VanLier | Chicago Bulls | Basketball | NBA | 2000-2001 | 5,000 |
| 3/7/01 | Grant Hill | Orlando Magics | Basketball | NBA | 2000-2001 | 5,000 |
| 3/11/01 | Dirk Nowitski | Dallas Mavericks | Basketball | NBA | 2000-2001 | |
| 3/12/01 | David Robinson | San Antonio Spurs | Basketball | NBA | 2000-2001 | 3,000 |
| 4/4/01 | Tommy Lasorda | Los Angeles Dodgers | Baseball | MLB | 2001 | |
| 4/7/01 | Omar Vizquel | Cleveland Indians | Baseball | MLB | 2001 | 14 & under |
| 4/9/01 | Mateen Cleaves | Detroit Piston | Basketball | NBA | 2000-2001 | 4,000 |
| 4/10/01 | Tim Duncan | San Antonio Spurs | Basketball | NBA | 2000-2001 | 3,000 |
| 4/13/01 | Stephon Marbury | New Jersey Nets | Basketball | NBA | 2000-2001 | Lottery 4,500 |
| 4/15/01 | Andy Pettitte | Columbus Clippers | Baseball | Minor League | 2001 | |
| 4/17/01 | Hakeem Olajuwon | Houston Rockets | Basketball | NBA | 2000-2001 | 10,000 |
| 4/18/01 | Andre Miller | Cleveland Cavaliers | Basketball | NBA | 2000-2001 | Lottery wrist band |
| 4/21/01 | Jim Thome | Cleveland Indians | Baseball | MLB | 2001 | 14 & under |
| 4/22/01 | Mark McGwire | Memphis Redbirds | Baseball | Minor League | 2001 | 2,500 |
| 4/29/01 | Carlos Delgado | Toronto Blue Jays | Baseball | MLB | 2001 | 15,000 |
| 4/29/01 | Jay Buhner | Columbus Clippers | Baseball | Minor League | 2001 | |
| 5/5/01 | Sammy Sosa | Chicago Cubs | Baseball | MLB | 2001 | 10,000 kids |
| 5/13/01 | Willie McCovey | San Francisco Giants | Baseball | MLB | 2001 | 20,000 |
| 5/13/01 | Steve Balboni | Columbus Clippers | Baseball | Minor League | 2001 | |
| 5/19/01 | Tim Salmon | Anaheim Angels | Baseball | MLB | 2001 | 20,000 |
| 5/19/01 | Jason Giambi | Oakland Athletics | Baseball | MLB | 2001 | 15,000 |
| 5/20/01 | Larry Dierker | Houston Astros | Baseball | MLB | 2001 | 10,000 14 & under |
| 5/20/01 | Pat Burrell | Philadelphia Phillies | Baseball | MLB | 2001 | under 14 |
| 5/20/01 | John Kruk | Reading Phillies | Baseball | Minor League | 2001 | 2,000 14 and under |
| 5/24/01 | Andy Pettitte | New York Yankees | Baseball | MLB | 2001 | 15,000 14 and under |
| 5/25/01 | Buster (Mascot) | Buffalo Bisons | Baseball | Minor League | 2001 | |
| 5/26/01 | Barry Larkin | Cincinnati Reds | Baseball | MLB | 2001 | 10,000 |
| 5/26/01 | Dave Burba | Cleveland Indians | Baseball | MLB | 2001 | 14 & under |
| 6/1/01 | Frank Thomas | Chicago White Sox | Baseball | MLB | 2001 | 10,000 |
| 6/3/01 | Jim Edmonds | St Louis Cardinals | Baseball | MLB | 2001 | 30,000 |
| 6/5/01 | Adam Hyzdu | Altoona Curve | Baseball | Minor League | 2001 | 2,000 14 and under |
| 6/8/01 | Bert Blyleven | Minnesota Twins | Baseball | MLB | 2001 | 10,000 |
| 6/9/01 | Kirk Gibson | Los Angeles Dodgers | Baseball | MLB | 2001 | |
| 6/13/01 | Bernie Williams | Columbus Clippers | Baseball | Minor League | 2001 | |
| 6/15/01 | Pete Harnisch | Cincinnati Reds | Baseball | MLB | 2001 | 10,000 |
| 6/16/01 | Jeff Bagwell | Houston Astros | Baseball | MLB | 2001 | 10,000 14 & under |
| 6/16/01 | Ozzie (Mascot) | Kane County Cougars | Baseball | Minor League | 2001 | 1,500 |
| 6/17/01 | Geoff Jenkins | Milwaukee Brewers | Baseball | MLB | 2001 | 14 & under |
| 6/22/01 | Fred McGriff | Tampa Bay Devil Rays | Baseball | MLB | 2001 | 15,000 |
| 6/23/01 | Mookie Wilson | New York Mets | Baseball | MLB | 2001 | 15,000 12 & under |
| 6/24/01 | Mike Matheny | St Louis Cardinals | Baseball | MLB | 2001 | 30,000 |
| 6/24/01 | Jorge Posada | Columbus Clippers | Baseball | Minor League | 2001 | |
| 6/29/01 | Carlton Fisk | Lowell Spinners | Baseball | Minor League | 2001 | |
| 6/30/01 | Pat Burrell | Scranton-Wilkes Barre Red Barons | Baseball | Minor League | 2001 | 4,000 |
| 7/1/01 | Magglio Ordoñez | Chicago White Sox | Baseball | MLB | 2001 | 10,000 |
| 7/1/01 | Friar (Mascot) | San Diego Padres | Baseball | MLB | 2001 | all kids |
| 7/1/01 | Dave Righetti | Columbus Clippers | Baseball | Minor League | 2001 | |
| 7/2/01 | Derek Jeter | New York Yankees | Baseball | MLB | 2001 | 15,000 under 14 |
| 7/3/01 | Dale Sveum | Altoona Curve | Baseball | Minor League | 2001 | 2,000 14 and under |
| 7/4/01 | Al Kaline | Detroit Tigers | Baseball | MLB | 2001 | 10,000 under 14 |
| 7/4/01 | Charlie Brown (Peanuts) | St. Paul Saints | Baseball | Minor League | 2001 | 1,200 Lottery |
| 7/6/01 | Rod Carew | Minnesota Twins | Baseball | MLB | 2001 | 10,000 |
| 7/6/01 | Cal Ripken | Charlotte Knights | Baseball | Minor League | 2001 | 2,000 |
| 7/7/01 | Travis Fryman | Cleveland Indians | Baseball | MLB | 2001 | 14 & under |
| 7/8/01 | Mariano Rivera | Columbus Clippers | Baseball | Minor League | 2001 | |
| 7/8/01 | Nolan Ryan | Round Rock Express | Baseball | Minor League | 2001 | |
| 7/14/01 | Garrett Anderson | Anaheim Angels | Baseball | MLB | 2001 | 20,000 |
| 7/15/01 | Craig Biggio | Houston Astros | Baseball | MLB | 2001 | 10,000 14 & under |
| 7/15/01 | Don Mattingly | Columbus Clippers | Baseball | Minor League | 2001 | |
| 7/18/01 | Pat Burrell | Reading Phillies | Baseball | Minor League | 2001 | 2,000 14 and under |
| 7/21/01 | Cliff Floyd | Florida Marlins | Baseball | MLB | 2001 | 15,000 |
| 7/22/01 | Dave Winfield | Minnesota Twins | Baseball | MLB | 2001 | 10,000 |
| 7/22/01 | J.T. Snow | Columbus Clippers | Baseball | Minor League | 2001 | |
| 7/22/01 | Vladimir Guerrero | Harrisburg Senators | Baseball | Minor League | 2001 | |
| 7/22/01 | Stan/Stu Cliburn | New Britain Rockcats | Baseball | Minor League | 2001 | |
| 7/24/01 | Riptide (Mascot) | Norfolk Tides | Baseball | Minor League | 2001 | |
| 7/26/01 | Butch Hobson | Nashua Pride | Baseball | Minor League | 2001 | 1,500 |
| 7/28/01 | Luis Gonzalez | Arizona Diamondbacks | Baseball | MLB | 2001 | 15,000 |
| 7/28/01 | Miguel Tejada | Oakland Athletics | Baseball | MLB | 2001 | 15,000 |
| 7/28/01 | Ichiro Suzuki | Seattle Mariners | Baseball | MLB | 2001 | 20,000 |
| 7/29/01 | Fernando Valenzuela | Los Angeles Dodgers | Baseball | MLB | 2001 | |
| 7/29/01 | Bob Uecker | Milwaukee Brewers | Baseball | MLB | 2001 | 14 & under |
| 7/31/01 | Brady Anderson | Baltimore Orioles | Baseball | MLB | 2001 | 14 & under |
| 8/3/01 | Randy Johnson | Arizona Diamondbacks | Baseball | MLB | 2001 | 15,000 |
| 8/5/01 | Howard "Hop" Cassidy | Columbus Clippers | Baseball | Minor League | 2001 | |
| 8/10/01 | Nolan Ryan | Texas Rangers | Baseball | MLB | 2001 | 25,000 |
| 8/10/01 | Mark McGwire | Peoria Chiefs | Baseball | Minor League | 2001 | |
| 8/10/01 | Mark McGwire | Potomac Cannons | Baseball | Minor League | 2001 | |
| 8/11/01 | Mark McGwire | Tacoma Rainiers | Baseball | Minor League | 2001 | |
| 8/12/01 | Raymond (Mascot) | Tampa Bay Devil Rays | Baseball | MLB | 2001 | 15,000 |
| 8/12/01 | Scott Rolen | Reading Phillies | Baseball | Minor League | 2001 | 2000 14 and under |
| 8/12/01 | Randy Wolf | Scranton-Wilkes Barre Red Barons | Baseball | Minor League | 2001 | 4,000 |
| 8/14/01 | Steamer (Mascot) | Altoona Curve | Baseball | Minor League | 2001 | 2000 14 and under |
| 8/14/01 | Maury Wills | Fargo-Moorhead Redhawks | Baseball | Minor League | 2001 | |
| 8/16/01 | Tino Martinez | New York Yankees | Baseball | MLB | 2001 | 15,000 under 14 |
| 8/17/01 | Danny Graves | Cincinnati Reds | Baseball | MLB | 2001 | 10,000 |
| 8/18/01 | Mark Grace | Arizona Diamondbacks | Baseball | MLB | 2001 | 15,000 |
| 8/18/01 | Kenny Lofton | Cleveland Indians | Baseball | MLB | 2001 | 14 & under |
| 8/18/01 | Richard Hidalgo | Houston Astros | Baseball | MLB | 2001 | 10,000 14 & under |
| 8/18/01 | Heater (Mascot) | Dayton Dragons | Baseball | Minor League | 2001 | |
| 8/18/01 | Buster (Mascot) | Lakewood Blueclaws | Baseball | Minor League | 2001 | |
| 8/19/01 | Kirby Puckett | Minnesota Twins | Baseball | MLB | 2001 | 10,000 |
| 8/20/01 | John Franco | Brooklyn Cyclones | Baseball | Minor League | 2001 | 1,500 14 and under |
| 8/24/01 | Ivan Rodriguez | Texas Rangers | Baseball | MLB | 2001 | 25,000 |
| 8/25/01 | Derek Jeter | Staten Island Yankees | Baseball | Minor League | 2001 | |
| 8/26/01 | Robin Yount | Milwaukee Brewers | Baseball | MLB | 2001 | 14 & under |
| 8/26/01 | Buster (Mascot) | Buffalo Bisons | Baseball | Minor League | 2001 | |
| 9/1/01 | Derek Jeter | Columbus Clippers | Baseball | Minor League | 2001 | |
| 9/1/01 | Adrian Gonzalez | Kane County Cougars | Baseball | Minor League | 2001 | 1,500 |
| 9/8/01 | Tony Womack | Arizona Diamondbacks | Baseball | MLB | 2001 | 15,000 |
| 9/8/01 | Bartolo Colon | Cleveland Indians | Baseball | MLB | 2001 | 14 & under |
| 9/8/01 | Roberto Clemente | Pittsburgh Pirates | Baseball | MLB | 2001 | |
| 9/8/01 | Kazuhiro Sasaki | Seattle Mariners | Baseball | MLB | 2001 | 20,000 |
| 9/18/01 | Mark McGwire | St Louis Cardinals | Baseball | MLB | 2001 | 20,000 16 & over |
| 9/27/01 | Larry Bowa | Philadelphia Phillies | Baseball | MLB | 2001 | 15 & over |
| 9/28/01 | Matt Williams | Arizona Diamondbacks | Baseball | MLB | 2001 | 15,000 |
| 9/28/01 | Andruw Jones | Atlanta Braves | Baseball | MLB | 2001 | 12,000 kids |
| 9/29/01 | Roberto Alomar | Cleveland Indians | Baseball | MLB | 2001 | 14 & under |
| 9/29/01 | Jeff Weaver | Detroit Tigers | Baseball | MLB | 2001 | 12 & under |
| 10/6/01 | Chipper Jones | Atlanta Braves | Baseball | MLB | 2001 | 12,000 kids |
| 10/8/01 | Billy Koch | Toronto Blue Jays | Baseball | MLB | 2001 | 15,000 |
| 10/12/01 | Freddy (Mascot) | Fresno Falcons | Hockey | WCHL | 2001-2002 | |
| 10/13/01 | Ray Ferraro | Atlanta Thrashers | Hockey | NHL | 2001-2002 | 18,000 |
| 10/19/01 | Tomi Kallio | Atlanta Thrashers | Hockey | NHL | 2001-2002 | 5,000 |
| 10/23/01 | Nikolai Khabibulin | Tampa Bay Lightning | Hockey | NHL | 2001-2002 | 5,000 |
| 10/27/01 | Scott Stevens | New Jersey Devils | Hockey | NHL | 2001-2002 | 13 & Under |
| 10/30/01 | Jason Kidd | New Jersey Nets | Basketball | NBA | 2001-2002 | 17 & under |
| 11/2/01 | Jerry Stackhouse | Detroit Pistons | Basketball | NBA | 2001-2002 | 3,000 |
| 11/2/01 | Mascot | Peoria Rivermen | Hockey | ECHL | 2001-2002 | |
| 11/3/01 | Dominique Wilkins | Atlanta Hawks | Basketball | NBA | 2001-2002 | 5,000 lottery |
| 11/8/01 | Chris Simon | Washington Capitals | Hockey | NHL | 2001-2002 | |
| 11/10/01 | Lamar Odom | Los Angeles Clippers | Basketball | NBA | 2001-2002 | 5,000 lottery |
| 11/19/01 | Tommy Hawk (Mascot) | Chicago Blackhawks | Hockey | NHL | 2001-2002 | 10,000 |
| 11/20/01 | Jonathan Bender | Indiana Pacers | Basketball | NBA | 2001-2002 | 5,000 |
| 11/23/01 | Frederick Modin | Tampa Bay Lightning | Hockey | NHL | 2001-2002 | 5,000 |
| 11/24/01 | Pavel Bure | Florida Panthers | Hockey | NHL | 2001-2002 | 5,000 14 & Under |
| 11/27/01 | Antonio McDyess | Denver Nuggets | Basketball | NBA | 2001-2002 | 5,000 |
| 12/1/01 | Valeri Bure | Florida Panthers | Hockey | NHL | 2001-2002 | 5,000 14 & Under |
| 12/2/01 | Moses Malone | Philadelphia 76ers | Basketball | NBA | 2001-2002 | 5,000 14 & under |
| 12/4/01 | Jermaine O'Neal | Indiana Pacers | Basketball | NBA | 2001-2002 | 5,000 |
| 12/4/01 | Keyon Dooling | Los Angeles Clippers | Basketball | NBA | 2001-2002 | 5,000 lottery |
| 12/7/01 | Jamie Cooke | Bakersfield Condors | Hockey | WCHL | 2001-2002 | |
| 12/8/01 | Roberto Luongo | Florida Panthers | Hockey | NHL | 2001-2002 | 5,000 14 & Under |
| 12/8/01 | Scott Walker | Nashville Predators | Hockey | NHL | 2001-2002 | 5,000 12 & Under |
| 12/8/01 | Don Biggs | Cincinnati Cyclones | Hockey | ECHL | 2001-2002 | |
| 12/8/01 | Gordie Howe | Quad City Mallards | Hockey | UHL | 2001-2002 | |
| 12/8/01 | Mo Mallard (Mascot) | Quad City Mallards | Hockey | UHL | 2001-2002 | |
| 12/11/01 | Jason Terry | Atlanta Hawks | Basketball | NBA | 2001-2002 | 5,000 lottery |
| 12/11/01 | Dan Issel | Denver Nuggets | Basketball | NBA | 2001-2002 | 5,000 |
| 12/11/01 | Eddie Jones | Miami Heat | Basketball | NBA | 2001-2002 | 5,000 lottery |
| 12/14/01 | Patrick Stefan | Atlanta Thrashers | Hockey | NHL | 2001-2002 | 5,000 |
| 12/15/01 | Marian Hossa | Ottawa Senators | Hockey | NHL | 2001-2002 | |
| 12/15/01 | Al MacInnis | St Louis Blues | Hockey | NHL | 2001-2002 | 5,000 16 & Under |
| 12/18/01 | Joe Thornton | Boston Bruins | Hockey | NHL | 2001-2002 | |
| 12/19/01 | Mario Lemieux | Pittsburgh Penguins | Hockey | NHL | 2001-2002 | |
| 12/22/01 | Alex English | Denver Nuggets | Basketball | NBA | 2001-2002 | 5,000 |
| 12/22/01 | Bill Lindsay | Florida Panthers | Hockey | NHL | 2001-2002 | 5,000 14 & Under |
| 12/23/01 | Jason McDonald | Wilkes-Barre Scranton Penguins | Hockey | AHL | 2001-2002 | |
| 12/26/01 | Ray Allen | Milwaukee Bucks | Basketball | NBA | 2001-2002 | 14 & under |
| 12/26/01 | Patrick Ewing | Orlando Magic | Basketball | NBA | 2001-2002 | 5,000 |
| 12/26/01 | Jerry Sloan | Utah Jazz | Basketball | NBA | 2001-2002 | 5,000 |
| 12/27/01 | Tony Kukoc | Atlanta Hawks | Basketball | NBA | 2001-2002 | 5,000 lottery |
| 12/27/01 | Michael Finley | Dallas Mavericks | Basketball | NBA | 2001-2002 | 2,500 lottery |
| 12/28/01 | Chris Mihm | Cleveland Cavaliers | Basketball | NBA | 2001-2002 | 7,500 |
| 12/31/01 | Wade Redden | Ottawa Senators | Hockey | NHL | 2001-2002 | |
| 1/3/02 | Michael Peca | New York Islanders | Hockey | NHL | 2001-2002 | 14 & under |
| 1/4/02 | Fat Lever | Denver Nuggets | Basketball | NBA | 2001-2002 | 5,000 |
| 1/4/02 | Crunch (Mascot) | Minnesota Timberwolves | Basketball | NBA | 2001-2002 | 4,000 lottery |
| 1/4/02 | Sly the Mascot | New Jersey Nets | Basketball | NBA | 2001-2002 | 17 & under |
| 1/6/02 | Brian Grant | Miami Heat | Basketball | NBA | 2001-2002 | 5,000 lottery |
| 1/6/02 | Thrash (Mascot) | Atlanta Thrashers | Hockey | NHL | 2001-2002 | 5,000 |
| 1/7/02 | Coyote (Mascot) | San Antonio Spurs | Basketball | NBA | 2001-2002 | 3,000 lottery |
| 1/8/02 | Shawn Bradley | Dallas Mavericks | Basketball | NBA | 2001-2002 | 2,500 lottery |
| 1/10/02 | Stephon Marbury | Phoenix Suns | Basketball | NBA | 2001-2002 | 8,000 |
| 1/12/02 | Shareef Addur-Rahim | Atlanta Hawks | Basketball | NBA | 2001-2002 | 5,000 lottery |
| 1/12/02 | Sonar (Mascot) | Hartford Wolfpack | Hockey | AHL | 2001-2002 | |
| 1/15/02 | Al Harrington | Indiana Pacers | Basketball | NBA | 2001-2002 | 5,000 |
| 1/15/02 | Patrick Lalime | Ottawa Senators | Hockey | NHL | 2001-2002 | |
| 1/16/02 | Doug Moe | Denver Nuggets | Basketball | NBA | 2001-2002 | 5,000 |
| 1/17/02 | Donyell Marshall | Utah Jazz | Basketball | NBA | 2001-2002 | 5,000 |
| 1/17/02 | Tyson Nash | St Louis Blues | Hockey | NHL | 2001-2002 | 5,000 16 & Under |
| 1/18/02 | Chilly (Mascot) | Houston Aeros | Hockey | AHL | 2001-2002 | |
| 1/18/02 | Bonk (Mascot) | Idaho Steelheads | Hockey | WCHL | 2001-2002 | |
| 1/19/02 | Lorenzan Wright | Memphis Grizzlies | Basketball | NBA | 2001-2002 | 4,000 14 & under |
| 1/19/02 | Gary Payton | Seattle SuperSonics | Basketball | NBA | 2001-2002 | 10,000 |
| 1/21/02 | Juwon Howard | Dallas Mavericks | Basketball | NBA | 2001-2002 | 5,000 lottery |
| 1/24/02 | Mike Miller | Orlando Magic | Basketball | NBA | 2001-2002 | 5,000 |
| 1/24/02 | Daniel Alfredsson | Ottawa Senators | Hockey | NHL | 2001-2002 | |
| 1/26/02 | Quentin Richardson | Los Angeles Clippers | Basketball | NBA | 2001-2002 | 5,000 lottery |
| 1/26/02 | Wally Sczerbiak | Minnesota Timberwolves | Basketball | NBA | 2001-2002 | 4,000 lottery |
| 1/26/02 | Dennis Purdie | San Diego Gulls | Hockey | WCHL | 2001-2002 | |
| 1/29/02 | Alexei Yashin | New York Islanders | Hockey | NHL | 2001-2002 | 14 and under |
| 2/1/02 | Ben Wallace (Afro) | Detroit Pistons | Basketball | NBA | 2001-2002 | 3,000 |
| 2/1/02 | Dan Majerle | Phoenix Suns | Basketball | NBA | 2001-2002 | 8,000 |
| 2/3/02 | Stromile Swift | Memphis Grizzlies | Basketball | NBA | 2001-2002 | 4,000 14 & under |
| 2/5/02 | Mascot | Indiana Pacers | Basketball | NBA | 2001-2002 | 5,000 |
| 2/5/02 | Olympic Goalie | Atlanta Thrashers | Hockey | NHL | 2001-2002 | 5,000 |
| 2/6/02 | Michael Adams | Denver Nuggets | Basketball | NBA | 2001-2002 | 5,000 |
| 2/7/02 | Olympic Goalie | Los Angeles Kings | Hockey | NHL | 2001-2002 | |
| 2/7/02 | Ken Morrow | New York Islanders | Hockey | NHL | 2001-2002 | 14 & over |
| 2/7/02 | Brad Richards | Tampa Bay Lightning | Hockey | NHL | 2001-2002 | 5,000 |
| 2/14/02 | Corey Maggette | Los Angeles Clippers | Basketball | NBA | 2001-2002 | 5,000 lottery |
| 2/15/02 | Kevin McHale | Minnesota Timberwolves | Basketball | NBA | 2001-2002 | 4,000 lottery |
| 2/15/02 | Johnny Bower | Cleveland Barons | Hockey | AHL | 2001-2002 | 3,000 |
| 2/16/02 | Rashard Lewis | Seattle SuperSonics | Basketball | NBA | 2001-2002 | 10,000 |
| 2/18/02 | Eddie House | Miami Heat | Basketball | NBA | 2001-2002 | 5,000 |
| 2/19/02 | Dirk Nitkowski | Dallas Mavericks | Basketball | NBA | 2001-2002 | 2,500 lottery |
| 2/20/02 | Bob Love | Chicago Bulls | Basketball | NBA | 2001-2002 | 10,000 |
| 2/20/02 | Kerry Toporowski | Quad City Mallards | Hockey | UHL | 2001-2002 | |
| 2/21/02 | Steve Francis | Houston Rockets | Basketball | NBA | 2001-2002 | 5,000 |
| 2/21/02 | Cal Ingraham | Idaho Steelheads | Hockey | WCHL | 2001-2002 | |
| 2/23/02 | Tim Hardaway | Dallas Mavericks | Basketball | NBA | 2001-2002 | 2,500 lottery |
| 2/23/02 | Norm Maracle | Chicago Wolves | Hockey | AHL | 2001-2002 | |
| 2/24/02 | Jeremy Roenick | Philadelphia Phantoms | Hockey | AHL | 2001-2002 | |
| 2/25/02 | PJ Brown | Charlotte Hornets | Basketball | NBA | 2001-2002 | 1,000 |
| 2/26/02 | Steve Nash | Dallas Mavericks | Basketball | NBA | 2001-2002 | 2,500 lottery |
| 2/26/02 | David Robinson (road) | San Antonio Spurs | Basketball | NBA | 2001-2002 | 3,000 lottery |
| 3/1/02 | Ben Wallace (Corn Rows) | Detroit Pistons | Basketball | NBA | 2001-2002 | 3,000 |
| 3/1/02 | Dikembe Mutombo (Bobble arm) | Philadelphia 76ers | Basketball | NBA | 2001-2002 | 5,000 14 & under |
| 3/1/02 | Mark Woolf | San Diego Gulls | Hockey | WCHL | 2001-2002 | |
| 3/2/02 | Markus Naslund | Vancouver Canucks | Hockey | NHL | 2001-2002 | McDonalds 4Pack |
| 3/2/02 | Andy Moog | Fort Worth Brahmas | Hockey | CHL | 2001-2002 | |
| 3/3/02 | Baron Davis | Charlotte Hornets | Basketball | NBA | 2001-2002 | 3,000 |
| 3/3/02 | Jason Williams | Memphis Grizzlies | Basketball | NBA | 2001-2002 | 4,000 14 & under |
| 3/8/02 | Dany Heatley | Atlanta Thrashers | Hockey | NHL | 2001-2002 | 5,000 |
| 3/9/02 | Random Season Ticket | Minnesota Twins | Baseball | MLB | 2002 | 500 by Lottery |
| 3/9/02 | Shane Battier | Memphis Grizzlies | Basketball | NBA | 2001-2002 | 4,000 14 & under |
| 3/9/02 | Kiki Vandeweighe | Denver Nuggets | Basketball | NBA | 2001-2002 | 5,000 |
| 3/9/02 | Salty Pete (Mascot) | Portland Pirates | Hockey | AHL | 2001-2002 | |
| 3/9/02 | Tom Kostopoulos | Wilkes-Barre Scranton Penguins | Hockey | AHL | 2001-2002 | |
| 3/10/02 | Cuttino Mobley | Houston Rockets | Basketball | NBA | 2001-2002 | 5,000 |
| 3/11/02 | Mark Messier | New York Rangers | Hockey | NHL | 2001-2002 | |
| 3/12/02 | Isiah Thomas | Indiana Pacers | Basketball | NBA | 2001-2002 | 5,000 |
| 3/12/02 | Antonio Daniels | San Antonio Spurs | Basketball | NBA | 2001-2002 | lottery 3,000 fans |
| 3/13/02 | Gary Gulash | Quad City Mallards | Hockey | UHL | 2001-2002 | |
| 3/14/02 | Elden Campbell | Charlotte Hornets | Basketball | NBA | 2001-2002 | 1,000 |
| 3/15/02 | Bob Feller | Cleveland Indians | Baseball | MLB | 2002 | 5,000 |
| 3/15/02 | Theo Ratcliff | Atlanta Hawks | Basketball | NBA | 2001-2002 | 5,000 lottery |
| 3/16/02 | Random Season Ticket | Minnesota Twins | Baseball | MLB | 2002 | 500 by Lottery |
| 3/16/02 | Clutch (Mascot) | Houston Rockets | Basketball | NBA | 2001-2002 | 5,000 |
| 3/16/02 | Alonzo Mourning | Miami Heat | Basketball | NBA | 2001-2002 | while supplies last |
| 3/16/02 | Kevin Garnett | Minnesota Timberwolves | Basketball | NBA | 2001-2002 | 6,000 lottery |
| 3/17/02 | Pau Gasol | Memphis Grizzlies | Basketball | NBA | 2001-2002 | 4,000 14 & under |
| 3/17/02 | Vincent Lecavalier | Tampa Bay Lightning | Hockey | NHL | 2001-2002 | 5,000 |
| 3/17/02 | John Anderson | Chicago Wolves | Hockey | AHL | 2001-2002 | |
| 3/18/02 | Jamal Mashburn | Charlotte Hornets | Basketball | NBA | 2001-2002 | 1,000 |
| 3/19/02 | Chris Pronger | St Louis Blues | Hockey | NHL | 2001-2002 | 5,000 16 & Under |
| 3/22/02 | Desmond Mason | Seattle SuperSonics | Basketball | NBA | 2001-2002 | 10,000 |
| 3/23/02 | Mike Dunham | Nashville Predators | Hockey | NHL | 2001-2002 | 10,000 |
| 3/23/02 | Bob Nystrom | New York Islanders | Hockey | NHL | 2001-2002 | 14 & over |
| 3/24/02 | Fred Glover | Cleveland Barons | Hockey | AHL | 2001-2002 | 3,000 |
| 3/24/02 | Louie (Mascot) | Lowell Lockmonsters | Hockey | AHL | 2001-2002 | |
| 3/25/02 | Shawn Marion | Phoenix Suns | Basketball | NBA | 2001-2002 | 8,000 |
| 3/25/02 | Derek Gustafson | Houston Aeros | Hockey | AHL | 2001-2002 | |
| 3/27/02 | Derek Jeter | New York Yankees | Baseball | MLB | 2002 | 500 |
| 3/28/02 | Pete Maravich | Atlanta Hawks | Basketball | NBA | 2001-2002 | 5,000 lottery |
| 3/28/02 | John Paxson | Chicago Bulls | Basketball | NBA | 2001-2002 | 10,000 |
| 3/28/02 | Todd Bertuzzi | Vancouver Canucks | Hockey | NHL | 2001-2002 | McDonalds 4Pack |
| 3/29/02 | Tracy McGrady | Orlando Magic | Basketball | NBA | 2001-2002 | 5,000 |
| 3/29/02 | John Leclair | Philadelphia Phantoms | Hockey | AHL | 2001-2002 | |
| 3/30/02 | Benny the Bull | Chicago Bulls | Basketball | NBA | 2001-2002 | 10,000 |
| 3/30/02 | Moochie Norris | Houston Rockets | Basketball | NBA | 2001-2002 | 5,000 |
| 3/30/02 | Darius Miles | Los Angeles Clippers | Basketball | NBA | 2001-2002 | 5,000 lottery |
| 3/30/02 | Michael Dickerson | Memphis Grizzlies | Basketball | NBA | 2001-2002 | 4,000 14 & under |
| 3/31/02 | Stan Mikita | Chicago Blackhawks | Hockey | NHL | 2001-2002 | 5,000 12& under |
| 4/1/02 | John Smoltz | Atlanta Braves | Baseball | MLB | 2002 | 12000 14 and under |
| 4/2/02 | Reggie Miller | Indiana Pacers | Basketball | NBA | 2001-2002 | 5,000 |
| 4/2/02 | Byron Beck | Denver Nuggets | Basketball | NBA | 2001-2002 | 5,000 |
| 4/3/02 | David Wesley | Charlotte Hornets | Basketball | NBA | 2001-2002 | 1,000 |
| 4/3/02 | Phlex (Mascot) | Philadelphia Phantoms | Hockey | AHL | 2001-2002 | |
| 4/4/02 | Edwardo Najera | Dallas Mavericks | Basketball | NBA | 2001-2002 | 2,500 lottery |
| 4/5/02 | Keith Van Horn | New Jersey Nets | Basketball | NBA | 2001-2002 | 17 & under |
| 4/5/02 | Ilya Kovalchuk | Atlanta Thrashers | Hockey | NHL | 2001-2002 | 5,000 |
| 4/5/02 | Steve Martinson | San Diego Gulls | Hockey | WCHL | 2001-2002 | |
| 4/6/02 | Mark McGwire | Modesto A's | Baseball | Minor League | 2002 | |
| 4/6/02 | Paul Rosebush | Bakersfield Condors | Hockey | WCHL | 2001-2002 | |
| 4/7/02 | Dave Winfield | Toronto Blue Jays | Baseball | MLB | 2002 | 15,000 |
| 4/7/02 | Sherman (Mascot) | Delmarva Shorebirds | Baseball | Minor League | 2002 | |
| 4/7/02 | Sammy Sosa | Lansing Lugnuts | Baseball | Minor League | 2002 | |
| 4/7/02 | Sean Burroughs | Rancho Cucamonga Quakes | Baseball | Minor League | 2002 | 1,200 |
| 4/8/02 | Rockey (Mascot) | Memphis Redbirds | Baseball | Minor League | 2002 | |
| 4/8/02 | Brandon Duckworth | Scranton-Wilkes Barre Red Barons | Baseball | Minor League | 2002 | |
| 4/10/02 | Willie Stargell | Pittsburgh Pirates | Baseball | MLB | 2002 | |
| 4/10/02 | Tim Duncan (road) | San Antonio Spurs | Basketball | NBA | 2001-2002 | 3,000 lottery |
| 4/10/02 | TBA | Boston Celtics | Basketball | NBA | 2001-2002 | |
| 4/12/02 | David Thompson | Denver Nuggets | Basketball | NBA | 2001-2002 | 5,000 |
| 4/12/02 | ThunderBug (Mascot) | Tampa Bay Lightning | Hockey | NHL | 2001-2002 | 5,000 |
| 4/13/02 | Mayor Bob | Capital City Bombers | Baseball | Minor League | 2002 | 1,000 |
| 4/13/02 | Chipper Jones | Durham Bulls | Baseball | Minor League | 2002 | 100th Anniversary |
| 4/13/02 | Doug Mientkiewicz | Fort Myers Miracle | Baseball | Minor League | 2002 | |
| 4/13/02 | Derek Jeter | Tampa Yankees | Baseball | Minor League | 2002 | 500 |
| 4/14/02 | Magglio Ordoñez | Chicago White Sox | Baseball | MLB | 2002 | 10,000 |
| 4/14/02 | Drew Henson | Columbus Clippers | Baseball | Minor League | 2002 | |
| 4/14/02 | Raptor Mascot | Toronto Raptors | Basketball | NBA | 2001-2002 | |
| 4/16/02 | Elton Brand | Los Angeles Clippers | Basketball | NBA | 2001-2002 | 5,000 lottery |
| 4/17/02 | Penny Hardaway | Phoenix Suns | Basketball | NBA | 2001-2002 | 8,000 |
| 4/17/02 | Nate McMillan | Seattle SuperSonics | Basketball | NBA | 2001-2002 | 10,000 |
| 4/22/02 | Red Hot (Cheerleader) | Memphis Redbirds | Baseball | Minor League | 2002 | |
| 4/26/02 | Luis Gonzalez | El Paso Diablos | Baseball | Minor League | 2002 | 3,500 |
| 4/26/02 | Cal Ripken | Wilmington Blue Rocks | Baseball | Minor League | 2002 | 5,000 |
| 4/27/02 | Bobby Grich | Anaheim Angels | Baseball | MLB | 2002 | 10,000 |
| 4/27/02 | Sammy Sosa | Chicago Cubs | Baseball | MLB | 2002 | 10,000 16 and under |
| 4/27/02 | Tim Hudson | Oakland A's | Baseball | MLB | 2002 | 10,000 16 and under |
| 4/27/02 | Xavier Nady | Lake Elsinore Storm | Baseball | Minor League | 2002 | 1,000 |
| 4/28/02 | Mike Piazza | New York Mets | Baseball | MLB | 2002 | 12,000 12 and under |
| 4/28/02 | Luke Easter | Rochester Red Wings | Baseball | Minor League | 2002 | 1,000 |
| 4/29/02 | Rick Ankiel | Memphis Redbirds | Baseball | Minor League | 2002 | |
| 5/2/02 | Tim Hudson | Modesto A's | Baseball | Minor League | 2002 | |
| 5/3/02 | Todd Helton | Salem Avalanche | Baseball | Minor League | 2002 | |
| 5/3/02 | Mike Piazza | San Antonio Missions | Baseball | Minor League | 2002 | |
| 5/4/02 | Ken Griffey Jr. | San Bernadino Spirit | Baseball | Minor League | 2002 | |
| 5/5/02 | Phillie Phanatic (Mascot) | Philadelphia Phillies | Baseball | MLB | 2002 | 14 and under |
| 5/5/02 | Joe Carter | Toronto Blue Jays | Baseball | MLB | 2002 | 15,000 |
| 5/5/02 | Nick Johnson | Columbus Clippers | Baseball | Minor League | 2002 | |
| 5/7/02 | Big L (Mascot) | Lexington Legends | Baseball | Minor League | 2002 | |
| 5/9/02 | Pete Vonachen (Original owner) | Peoria Chiefs | Baseball | Minor League | 2002 | |
| 5/10/02 | Alex Rodriguez | Texas Rangers | Baseball | MLB | 2002 | 25,000 |
| 5/11/02 | Carlos Beltran | Kansas City Royals | Baseball | MLB | 2002 | 25,000 |
| 5/11/02 | Mark McGwire | Charleston Alley Cats | Baseball | Minor League | 2002 | 1,000 |
| 5/11/02 | Mike Piazza | Rancho Cucamonga Quakes | Baseball | Minor League | 2002 | 1,200 |
| 5/13/02 | J.D. Drew | Memphis Redbirds | Baseball | Minor League | 2002 | |
| 5/17/02 | Ivan Rodriguez | Tulsa Drillers | Baseball | Minor League | 2002 | |
| 5/18/02 | Larry Walker | Colorado Rockies | Baseball | MLB | 2002 | |
| 5/19/02 | Matt Anderson | Detroit Tigers | Baseball | MLB | 2002 | |
| 5/19/02 | Pat Borders | Toronto Blue Jays | Baseball | MLB | 2002 | 15,000 |
| 5/19/02 | Alfonso Soriano | Columbus Clippers | Baseball | Minor League | 2002 | |
| 5/19/02 | Rowdie (Mascot) | Indianapolis Indians | Baseball | Minor League | 2002 | |
| 5/19/02 | Larry Bowa | Reading Phillies | Baseball | Minor League | 2002 | 2,000 14 and under |
| 5/19/02 | Nolan Ryan | Round Rock Express | Baseball | Minor League | 2002 | 12 and under |
| 5/20/02 | Ernie Young | Memphis Redbirds | Baseball | Minor League | 2002 | |
| 5/22/02 | Roger Clemens | New York Yankees | Baseball | MLB | 2002 | 18,000 14 and under |
| 5/24/02 | David Williams | Capital City Bombers | Baseball | Minor League | 2002 | 1,000 |
| 5/24/02 | Adam Dunn | Chattanooga Lookouts | Baseball | Minor League | 2002 | 1,000 |
| 5/24/02 | Chipper Jones | Greenville Braves | Baseball | Minor League | 2002 | 1,000 |
| 5/25/02 | Eric Chavez | Oakland A's | Baseball | MLB | 2002 | 10,000 16 and under |
| 5/25/02 | Chip (Mascot) | Buffalo Bisons | Baseball | Minor League | 2002 | |
| 5/25/02 | Andy Pettitte | Greensboro Bats | Baseball | Minor League | 2002 | |
| 5/26/02 | Richie Sexson | Milwaukee Brewers | Baseball | MLB | 2002 | 10,000 16 and under |
| 5/27/02 | Gary Sheffield | Atlanta Braves | Baseball | MLB | 2002 | 12000 14 and under |
| 5/27/02 | C.C. Sabathia | Cleveland Indians | Baseball | MLB | 2002 | 14 and under |
| 5/31/02 | Johnny Bench | Cincinnati Reds | Baseball | MLB | 2002 | 10,000 |
| 5/31/02 | Paul LoDuca | Los Angeles Dodgers | Baseball | MLB | 2002 | |
| 5/31/02 | Frank Thomas | Birmingham Barons | Baseball | Minor League | 2002 | |
| 5/31/02 | Tommy John | Charlotte Knights | Baseball | Minor League | 2002 | |
| 5/31/02 | Mike Piazza | Norfolk Tides | Baseball | Minor League | 2002 | 3,000 17 and under |
| 6/1/02 | Sean Casey | Akron Aeros | Baseball | Minor League | 2002 | |
| 6/1/02 | Boomer Beaver Double(Mascot) | Portland Beavers | Baseball | Minor League | 2002 | |
| 6/1/02 | Alex Rodriguez | Wisconsin Timber Rattlers | Baseball | Minor League | 2002 | |
| 6/2/02 | Slider (Mascot) | Cleveland Indians | Baseball | MLB | 2002 | |
| 6/2/02 | Jorge Posada (Road) | Columbus Clippers | Baseball | Minor League | 2002 | |
| 6/2/02 | Curt Schilling | El Paso Diablos | Baseball | Minor League | 2002 | 3,500 |
| 6/2/02 | Thunder (Mascot) | Lake Elsinore Storm | Baseball | Minor League | 2002 | 1,000 |
| 6/2/02 | Marlon Byrd | Reading Phillies | Baseball | Minor League | 2002 | 2,000 14 and under |
| 6/5/02 | Bud Harrelson | Long Island Ducks | Baseball | Minor League | 2002 | 2,000 |
| 6/6/02 | David Justice | Durham Bulls | Baseball | Minor League | 2002 | 100th Anniversary |
| 6/7/02 | Joe Mays (Mini) | Minnesota Twins | Baseball | MLB | 2002 | 10,000 14 and under |
| 6/7/02 | Barry Bonds | Charleston Alley Cats | Baseball | Minor League | 2002 | |
| 6/7/02 | Kenny Baugh | Erie Seawolves | Baseball | Minor League | 2002 | 1,000 |
| 6/7/02 | Randy Johnson | Indianapolis Indians | Baseball | Minor League | 2002 | |
| 6/7/02 | Greg Maddux | Peoria Chiefs | Baseball | Minor League | 2002 | |
| 6/7/02 | Jason Giambi (Modesto Uni) | Rancho Cucamonga Quakes | Baseball | Minor League | 2002 | 1,200 |
| 6/7/02 | Larry Walker | Salem Avalanche | Baseball | Minor League | 2002 | |
| 6/8/02 | Todd Helton | Asheville Tourists | Baseball | Minor League | 2002 | |
| 6/8/02 | Phillie Phanatic (Mascot) | Clearwater Phillies | Baseball | Minor League | 2002 | |
| 6/8/02 | Generic Boy | Jacksonville Suns | Baseball | Minor League | 2002 | 2,000 |
| 6/8/02 | Shawon Dunston | Quad City River Bandits | Baseball | Minor League | 2002 | |
| 6/8/02 | Kevin Mitchell | Sonoma County Crushers | Baseball | Minor League | 2002 | |
| 6/8/02 | Derek Jeter | Tampa Yankees | Baseball | Minor League | 2002 | |
| 6/8/02 | Sammy Sosa | Tulsa Drillers | Baseball | Minor League | 2002 | |
| 6/9/02 | Doug Mientkiewicz | Minnesota Twins | Baseball | MLB | 2002 | 10,000 |
| 6/9/02 | Don Money | Beloit Snappers | Baseball | Minor League | 2002 | |
| 6/9/02 | Campbell's kid's #1 | Camden Riversharks | Baseball | Minor League | 2002 | |
| 6/9/02 | Sean Burroughs | Fort Wayne Wizards | Baseball | Minor League | 2002 | |
| 6/9/02 | Wooly Bully (Mascot) | High Desert Mavericks | Baseball | Minor League | 2002 | |
| 6/9/02 | Sparkee (Mascot) | Somerset Patriots | Baseball | Minor League | 2002 | 2,000 |
| 6/11/02 | Rico Washington | Altoona Curve | Baseball | Minor League | 2002 | |
| 6/12/02 | Einar Diaz | Cleveland Indians | Baseball | MLB | 2002 | 14 and under |
| 6/12/02 | Cal Ripken | Frederick Keys | Baseball | Minor League | 2002 | |
| 6/12/02 | Josh Beckett | Portland SeaDogs | Baseball | Minor League | 2002 | |
| 6/14/02 | Tom Glavine | Atlanta Braves | Baseball | MLB | 2002 | 12000 14 and under |
| 6/14/02 | Ryne Sandberg | Chicago Cubs | Baseball | MLB | 2002 | |
| 6/14/02 | Chris Sabo | Cincinnati Reds | Baseball | MLB | 2002 | 10,000 |
| 6/14/02 | Charlie Sherman (Announcer) | Nashua Pride | Baseball | Minor League | 2002 | |
| 6/15/02 | Bob Brenly | Arizona Diamondbacks | Baseball | MLB | 2002 | Random 15,000 |
| 6/15/02 | Splash (Mascot) | Myrtle Beach Pelicans | Baseball | Minor League | 2002 | 1,000 |
| 6/15/02 | Satchel Paige | Portland Beavers | Baseball | Minor League | 2002 | |
| 6/16/02 | Ben Sheets | Milwaukee Brewers | Baseball | MLB | 2002 | 10,000 16 and under |
| 6/16/02 | Ben Sheets(Future Stars) | Milwaukee Brewers | Baseball | MLB | 2002 | 10,000 16 and under |
| 6/16/02 | Rusty Staub | Montreal Expos | Baseball | MLB | 2002 | 5,000 |
| 6/16/02 | Albert Pujols | St. Louis Cardinals | Baseball | MLB | 2002 | |
| 6/16/02 | Cal Ripken | Delmarva Shorebirds | Baseball | Minor League | 2002 | |
| 6/18/02 | Rascal (Mascot) | Harrisburg Senators | Baseball | Minor League | 2002 | 12 and under |
| 6/19/02 | Satchel Paige | Richmond Braves | Baseball | Minor League | 2002 | |
| 6/19/02 | Mike Mussina | Rochester Red Wings | Baseball | Minor League | 2002 | 2,000 |
| 6/20/02 | Slider (Mascot) | Rochester Honkers | Baseball | Minor League | 2002 | |
| 6/20/02 | Goldie (Mascot) | Winnipeg Goldeyes | Baseball | Minor League | 2002 | |
| 6/21/02 | Reggie Jackson | Modesto A's | Baseball | Minor League | 2002 | |
| 6/21/02 | Buck Showalter | Nashville Sounds | Baseball | Minor League | 2002 | 2,000 |
| 6/22/02 | Howlin Coyote (Mascot) | Canton Coyotes | Baseball | Minor League | 2002 | |
| 6/22/02 | Nomar Garciaparra | Sarasota Red Sox | Baseball | Minor League | 2002 | |
| 6/22/02 | Scott Rolen | Scranton-Wilkes Barre Red Barons | Baseball | Minor League | 2002 | 4,000 |
| 6/22/02 | John Lieber | Wilmington Blue Rocks | Baseball | Minor League | 2002 | 1,500 |
| 6/22/02 | Wally The Warthog (Mascot) | Winston Salem Warthogs | Baseball | Minor League | 2002 | |
| 6/23/02 | Steve Rogers | Montreal Expos | Baseball | MLB | 2002 | 5,000 |
| 6/23/02 | Jimmy Rollins | Philadelphia Phillies | Baseball | MLB | 2002 | 14 and under |
| 6/23/02 | Orlando Cepeda | San Francisco Giants | Baseball | MLB | 2002 | 20,000 |
| 6/23/02 | Mike Piazza | Binghamton Mets | Baseball | Minor League | 2002 | |
| 6/23/02 | Campbell's kid's #2 | Camden Riversharks | Baseball | Minor League | 2002 | |
| 6/24/02 | Luis Tiant | Lowell Spinners | Baseball | Minor League | 2002 | |
| 6/24/02 | Bud Smith | Memphis Redbirds | Baseball | Minor League | 2002 | |
| 6/25/02 | Homer (Mascot) | Lincoln Salt Dogs | Baseball | Minor League | 2002 | |
| 6/25/02 | C.C. Sabathia | Mahoning Valley Scrappers | Baseball | Minor League | 2002 | |
| 6/26/02 | Jason Kendall | Pittsburgh Pirates | Baseball | MLB | 2002 | |
| 6/26/02 | Juan Gonzalez | Texas Rangers | Baseball | MLB | 2002 | 25,000 |
| 6/26/02 | Jack the Jackal | New Jersey Jackals | Baseball | Minor League | 2002 | |
| 6/27/02 | Josh Hamilton | Durham Bulls | Baseball | Minor League | 2002 | |
| 6/28/02 | Roger Maris | Fargo-Moorhead Redhawks | Baseball | Minor League | 2002 | |
| 6/28/02 | Randy Velarde | Midland Rockhounds | Baseball | Minor League | 2002 | |
| 6/28/02 | Mark Grace | Peoria Chiefs | Baseball | Minor League | 2002 | |
| 6/29/02 | Danys Baez | Akron Aeros | Baseball | Minor League | 2002 | |
| 6/29/02 | Splash (Mascot) | Atlantic City Surf | Baseball | Minor League | 2002 | |
| 6/29/02 | Reggie Jackson | Birmingham Barons | Baseball | Minor League | 2002 | |
| 6/29/02 | Rene(Gade) (Mascot) | Hudson Valley Renegades | Baseball | Minor League | 2002 | |
| 6/29/02 | Randy Johnson | Lancaster Jet Hawks | Baseball | Minor League | 2002 | 1,500 |
| 6/29/02 | Randy Johnson | Missoula Osprey | Baseball | Minor League | 2002 | 750 |
| 6/29/02 | Rip'n Ruppert (Mascot) | Newark Bears | Baseball | Minor League | 2002 | 2,500 14 and under |
| 6/29/02 | Randy Johnson | Tucson Sidewinders | Baseball | Minor League | 2002 | |
| 6/30/02 | Sluggerrr (Mascot) | Kansas City Royals | Baseball | MLB | 2002 | 10,000 14 and under |
| 6/30/02 | Mike Piazza | Brooklyn Cyclones | Baseball | Minor League | 2002 | 1,200 14 and under |
| 6/30/02 | Roger Clemens (Yank) | Columbus Clippers | Baseball | Minor League | 2002 | |
| 7/1/02 | Roger Maris | Fargo-Moorhead Redhawks | Baseball | Minor League | 2002 | |
| 7/1/02 | Rondell White | Harrisburg Senators | Baseball | Minor League | 2002 | |
| 7/1/02 | Mike Sweeney | Wilmington Blue Rocks | Baseball | Minor League | 2002 | 1,000 Kids |
| 7/2/02 | Ichiro | Seattle Mariners | Baseball | MLB | 2002 | 14 and under |
| 7/2/02 | Jeff Wilkins (NFL) | Mahoning Valley Scrappers | Baseball | Minor League | 2002 | |
| 7/3/02 | Fernando Viña | St. Louis Cardinals | Baseball | MLB | 2002 | |
| 7/3/02 | George Bush (Clips Cap) | Columbus Clippers | Baseball | Minor League | 2002 | |
| 7/5/02 | Javy Lopez | Atlanta Braves | Baseball | MLB | 2002 | 12,000 14 and under |
| 7/5/02 | Eric Munson | Erie Seawolves | Baseball | Minor League | 2002 | 1,000 |
| 7/5/02 | Mark McGwire | Huntsville Stars | Baseball | Minor League | 2002 | |
| 7/5/02 | Dub (Mascot) | Kannapolis Intimidators | Baseball | Minor League | 2002 | |
| 7/5/02 | Richard Petty (Nascar) | Orlando Rays | Baseball | Minor League | 2002 | |
| 7/6/02 | Rod Carew | Anaheim Angels | Baseball | MLB | 2002 | 10,000 |
| 7/6/02 | Luis Gonzalez (Hr Derby) | Arizona Diamondbacks | Baseball | MLB | 2002 | Random 15,000 |
| 7/6/02 | Charlie Riverdog (Mascot) | Charleston Riverdogs | Baseball | Minor League | 2002 | |
| 7/6/02 | Chief Crazy Horse (Mascot) | Chillicothe Paint | Baseball | Minor League | 2002 | |
| 7/6/02 | Todd Helton | Colorado Springs Sky Sox | Baseball | Minor League | 2002 | |
| 7/6/02 | Jim Bibby | Lynchburg Hill Cats | Baseball | Minor League | 2002 | |
| 7/6/02 | Yogi Berra | New Jersey Jackals | Baseball | Minor League | 2002 | 1,500 |
| 7/6/02 | Boudreaux (Mascot) | New Orleans Zephyrs | Baseball | Minor League | 2002 | |
| 7/6/02 | Gnic the Gnat (Mascot) | Savannah Sand Gnats | Baseball | Minor League | 2002 | |
| 7/7/02 | Jim "Catfish" Hunter | Oakland A's | Baseball | MLB | 2002 | |
| 7/8/02 | Wayne Terwilleger | St. Paul Saints | Baseball | Minor League | 2002 | |
| 7/11/02 | Andruw Jones | Durham Bulls | Baseball | Minor League | 2002 | 100th Anniversary |
| 7/12/02 | Jim Kaat | Minnesota Twins | Baseball | MLB | 2002 | 10,000 |
| 7/12/02 | Barry Bonds | Lansing Lugnuts | Baseball | Minor League | 2002 | |
| 7/12/02 | Butch Hobson | Nashua Pride | Baseball | Minor League | 2002 | |
| 7/12/02 | Jim Edmonds | Quad City River Bandits | Baseball | Minor League | 2002 | |
| 7/12/02 | Ruffy (Mascot) | River City Rascals | Baseball | Minor League | 2002 | |
| 7/12/02 | Gary Sheffield | Stockton Ports | Baseball | Minor League | 2002 | |
| 7/12/02 | Hornsby (Mascot) | Tulsa Drillers | Baseball | Minor League | 2002 | |
| 7/13/02 | George Brett | Billings Mustangs | Baseball | Minor League | 2002 | 1,000 |
| 7/13/02 | Bob Griese (NFL) | Evansville Otters | Baseball | Minor League | 2002 | |
| 7/13/02 | Ivar Haglund | Everett AquaSox | Baseball | Minor League | 2002 | |
| 7/13/02 | Derek Jeter | Greensboro Bats | Baseball | Minor League | 2002 | |
| 7/13/02 | Sean Burroughs | Lake Elsinore Storm | Baseball | Minor League | 2002 | 1,000 |
| 7/13/02 | Splish (Mascot) | Myrtle Beach Pelicans | Baseball | Minor League | 2002 | 1,000 |
| 7/14/02 | Tim Raines | Montreal Expos | Baseball | MLB | 2002 | 5,000 |
| 7/14/02 | Roberto Alomar | New York Mets | Baseball | MLB | 2002 | 12,000 12 and under |
| 7/14/02 | Rich Aurilia | San Francisco Giants | Baseball | MLB | 2002 | 20,000 |
| 7/14/02 | Bernie Williams (Road) | Columbus Clippers | Baseball | Minor League | 2002 | |
| 7/15/02 | Funbird (Mascot) | Baltimore Orioles | Baseball | MLB | 2002 | 10,000 14 and under |
| 7/16/02 | Joe Girardi | Peoria Chiefs | Baseball | Minor League | 2002 | |
| 7/16/02 | Bearon (Mascot) | Schaumburg Flyers | Baseball | Minor League | 2002 | |
| 7/17/02 | Bob Wickman | Cleveland Indians | Baseball | MLB | 2002 | 14 and under |
| 7/17/02 | Jimmy Rollins | Reading Phillies | Baseball | Minor League | 2002 | 2,000 14 and under |
| 7/18/02 | Shawn Green | Los Angeles Dodgers | Baseball | MLB | 2002 | |
| 7/18/02 | Bernie Williams | New York Yankees | Baseball | MLB | 2002 | 18,000 14 and under |
| 7/19/02 | Pedro Martinez | Rancho Cucamonga Quakes | Baseball | Minor League | 2002 | 1,200 |
| 7/20/02 | Eric Davis | Cincinnati Reds | Baseball | MLB | 2002 | 10,000 |
| 7/20/02 | Rocky Marciano (Boxer) | Broxton Rox | Baseball | Minor League | 2002 | |
| 7/20/02 | Don Mattingly | Nashville Sounds | Baseball | Minor League | 2002 | 2,000 |
| 7/20/02 | Bucky Dent | Omaha Royals | Baseball | Minor League | 2002 | 1,500 |
| 7/20/02 | Diamond (Mascot) | Tennessee Smokies | Baseball | Minor League | 2002 | |
| 7/20/02 | Randy Johnson | Yakima Bears | Baseball | Minor League | 2002 | |
| 7/21/02 | Dinger (Mascot) | Colorado Rockies | Baseball | MLB | 2002 | |
| 7/21/02 | Finley (Mascot) | Camden Riversharks | Baseball | Minor League | 2002 | |
| 7/21/02 | Rocky Rockcat (Mascot) | New Britain Rockcats | Baseball | Minor League | 2002 | |
| 7/21/02 | Steve Balboni | New Haven Ravens | Baseball | Minor League | 2002 | 1,000 |
| 7/21/02 | Doug Solomon (Reporter) | New Haven Ravens | Baseball | Minor League | 2002 | 1,000 |
| 7/22/02 | Matt Morris | Memphis Redbirds | Baseball | Minor League | 2002 | |
| 7/22/02 | George Bush (Red Wings Cap) | Rochester Red Wings | Baseball | Minor League | 2002 | 2,000 |
| 7/23/02 | Jay Gibbons | Baltimore Orioles | Baseball | MLB | 2002 | |
| 7/23/02 | Jerry Hairston | Baltimore Orioles | Baseball | MLB | 2002 | |
| 7/23/02 | Sidney Ponson | Baltimore Orioles | Baseball | MLB | 2002 | |
| 7/23/02 | J.R. House | Altoona Curve | Baseball | Minor League | 2002 | |
| 7/23/02 | Bernie Kosar (NFL) | Mahoning Valley Scrappers | Baseball | Minor League | 2002 | |
| 7/24/02 | Tim Hudson | Vancouver Canadians | Baseball | Minor League | 2002 | |
| 7/25/02 | Maury Wills | Fort Worth Cats | Baseball | Minor League | 2002 | 1,000 |
| 7/25/02 | Commemorative Fan | Long Island Ducks | Baseball | Minor League | 2002 | 1,500 |
| 7/25/02 | Willie McCovey | Tacoma Rainiers | Baseball | Minor League | 2002 | 500 by Lottery |
| 7/26/02 | Bobby Ojeda | Brooklyn Cyclones | Baseball | Minor League | 2002 | 2,000 15 and over |
| 7/26/02 | Buzz (Mascot) | Burlington Bees | Baseball | Minor League | 2002 | |
| 7/26/02 | Sammy Sosa | Charleston Alley Cats | Baseball | Minor League | 2002 | |
| 7/26/02 | Jimmy Rollins | Clearwater Phillies | Baseball | Minor League | 2002 | |
| 7/26/02 | Muddy Mudhen (Mascot) | Toledo Mudhens | Baseball | Minor League | 2002 | 1000 Lottery |
| 7/26/02 | Boomer (Mascot) | Trenton Thunder | Baseball | Minor League | 2002 | |
| 7/27/02 | Orbit (Mascot) | Akron Aeros | Baseball | Minor League | 2002 | |
| 7/27/02 | Homer (Mascot) | Albany Colonie Diamond Dogs | Baseball | Minor League | 2002 | |
| 7/27/02 | Sox The Fox (Mascot) | Colorado Springs Sky Sox | Baseball | Minor League | 2002 | |
| 7/27/02 | Webbly (Mascot) | Everett AquaSox | Baseball | Minor League | 2002 | |
| 7/27/02 | Curt Schilling | Scranton-Wilkes Barre Red Barons | Baseball | Minor League | 2002 | 4,000 |
| 7/27/02 | Hank Aaron | Wisconsin Woodchucks | Baseball | Minor League | 2002 | 500 |
| 7/28/02 | Carlton Fisk | Chicago White Sox | Baseball | MLB | 2002 | 10,000 |
| 7/28/02 | Eric Milton (Mini) | Minnesota Twins | Baseball | MLB | 2002 | 10,000 14 and under |
| 7/28/02 | Andre Dawson | Montreal Expos | Baseball | MLB | 2002 | 5,000 |
| 7/28/02 | Brian Giles | Buffalo Bisons | Baseball | Minor League | 2002 | |
| 7/28/02 | Hammer (Mascot) | Camden Riversharks | Baseball | Minor League | 2002 | |
| 7/28/02 | Paul O'Neill | Columbus Clippers | Baseball | Minor League | 2002 | |
| 7/28/02 | Frank Purdue | Delmarva Shorebirds | Baseball | Minor League | 2002 | |
| 7/28/02 | The Abominal Sonoman (Mascot) | Sonoma County Crushers | Baseball | Minor League | 2002 | |
| 8/1/02 | Woody Woodchuck (Mascot) | Wisconsin Woodchucks | Baseball | Minor League | 2002 | |
| 8/2/02 | Corky Miller | Chattanooga Lookouts | Baseball | Minor League | 2002 | 1,000 |
| 8/2/02 | Chipper Jones | Macon Braves | Baseball | Minor League | 2002 | |
| 8/2/02 | Albert Pujols | Peoria Chiefs | Baseball | Minor League | 2002 | |
| 8/2/02 | Barry Bonds | Potomac Cannons | Baseball | Minor League | 2002 | |
| 8/3/02 | Al Leiter | New York Mets | Baseball | MLB | 2002 | 12,000 12 and under |
| 8/3/02 | John O'Brian | Alexandria Aces | Baseball | Minor League | 2002 | 500 |
| 8/3/02 | Paul O'Neill | Billings Mustangs | Baseball | Minor League | 2002 | 1,000 |
| 8/3/02 | Hobart (Mascot) | Casper Rockies | Baseball | Minor League | 2002 | 1,000 |
| 8/3/02 | Squirt (Mascot) | Myrtle Beach Pelicans | Baseball | Minor League | 2002 | 1,000 |
| 8/3/02 | Chipper Jones | Richmond Braves | Baseball | Minor League | 2002 | |
| 8/3/02 | Generic Boy | West Tennessee Diamond Jaxx | Baseball | Minor League | 2002 | |
| 8/4/02 | Tom Kelly | Minnesota Twins | Baseball | MLB | 2002 | 10,000 |
| 8/4/02 | Gary Carter | Montreal Expos | Baseball | MLB | 2002 | 5,000 |
| 8/4/02 | Mark Kotsay | San Diego Padres | Baseball | MLB | 2002 | |
| 8/4/02 | Phil Nevin | San Diego Padres | Baseball | MLB | 2002 | |
| 8/4/02 | Ryan Klesko | San Diego Padres | Baseball | MLB | 2002 | |
| 8/4/02 | Trevor Hoffman | San Diego Padres | Baseball | MLB | 2002 | |
| 8/4/02 | Michael Cuddyer | Edmonton Trappers | Baseball | Minor League | 2002 | |
| 8/4/02 | Matt Nokes | Joliet Jackhammers | Baseball | Minor League | 2002 | |
| 8/5/02 | Barry Zito | Sacramento RiverCats | Baseball | Minor League | 2002 | 6,000 |
| 8/5/02 | Roger Clemens | Staten Island Yankees | Baseball | Minor League | 2002 | |
| 8/6/02 | Moises Alou | Harrisburg Senators | Baseball | Minor League | 2002 | |
| 8/7/02 | Talking Chuck Thompson | Baltimore Orioles | Baseball | MLB | 2002 | 10,000 14 and under |
| 8/7/02 | Jim Thome (HR King) | Cleveland Indians | Baseball | MLB | 2002 | 14 and under |
| 8/7/02 | Matt Morris | New Jersey Cardinals | Baseball | Minor League | 2002 | |
| 8/8/02 | Jorge Posada | New York Yankees | Baseball | MLB | 2002 | 18,000 14 and under |
| 8/8/02 | Joe Morgan | Durham Bulls | Baseball | Minor League | 2002 | 100th Anniversary |
| 8/8/02 | Pop Fly (Mascot) | Everett AquaSox | Baseball | Minor League | 2002 | |
| 8/9/02 | Shelley (Mascot) | Arkensas Travelers | Baseball | Minor League | 2002 | |
| 8/9/02 | Snappy (Mascot) | Beloit Snappers | Baseball | Minor League | 2002 | |
| 8/9/02 | Cal Ripken | Bowie Baysox | Baseball | Minor League | 2002 | |
| 8/9/02 | Omar Infante | Erie Seawolves | Baseball | Minor League | 2002 | 1,000 |
| 8/9/02 | J.J. Jammer (Mascot) | Jamestown Jammers | Baseball | Minor League | 2002 | |
| 8/9/02 | Mark McGwire | Lansing Lugnuts | Baseball | Minor League | 2002 | |
| 8/9/02 | Mr. Celery (Mascot) | Wilmington Blue Rocks | Baseball | Minor League | 2002 | 1,250 |
| 8/10/02 | Steve Finley | Arizona Diamondbacks | Baseball | MLB | 2002 | Random 15,000 |
| 8/10/02 | Adam Dunn | Cincinnati Reds | Baseball | MLB | 2002 | 10,000 |
| 8/10/02 | Craig O'Neill | Arkansas Travelers | Baseball | Minor League | 2002 | |
| 8/10/02 | Trot Nixon | Pawtucket Red Sox | Baseball | Minor League | 2002 | |
| 8/10/02 | Trot Nixon | Sarasota Red Sox | Baseball | Minor League | 2002 | |
| 8/10/02 | Jose Canseco | Tacoma Rainiers | Baseball | Minor League | 2002 | |
| 8/10/02 | Wild Thing (Mascot) | Washington Wild Things | Baseball | Minor League | 2002 | |
| 8/10/02 | Crash (Mascot) | West Michigan Whitecaps | Baseball | Minor League | 2002 | |
| 8/11/02 | Minnie Minoso | Chicago White Sox | Baseball | MLB | 2002 | 10,000 |
| 8/11/02 | Hank Aaron | Milwaukee Brewers | Baseball | MLB | 2002 | 10,000 16 and under |
| 8/11/02 | Jimmy Rollins | Scranton-Wilkes Barre Red Barons | Baseball | Minor League | 2002 | |
| 8/11/02 | Jason Giambi | Tacoma Rainiers | Baseball | Minor League | 2002 | 500 by Lottery |
| 8/11/02 | Kent Tekulve | Washington Wild Things | Baseball | Minor League | 2002 | |
| 8/12/02 | Maynard G. Mallard | Madison Mallards | Baseball | Minor League | 2002 | |
| 8/12/02 | "Rockin Rockey" (Mascot) | Memphis Redbirds | Baseball | Minor League | 2002 | |
| 8/12/02 | Eric Byrnes | Sacramento RiverCats | Baseball | Minor League | 2002 | 6,000 |
| 8/13/02 | L.I. Sounder (Mascot) | Bridgeport Bluefish | Baseball | Minor League | 2002 | |
| 8/13/02 | Doug Simunic | Fargo-Moorhead Redhawks | Baseball | Minor League | 2002 | |
| 8/13/02 | Dave Blaney (Nascar) | Mahoning Valley Scrappers | Baseball | Minor League | 2002 | |
| 8/13/02 | Blooper (Mascot) | Reading Phillies | Baseball | Minor League | 2002 | 2,000 14 and under |
| 8/14/02 | Greg Maddux | Atlanta Braves | Baseball | MLB | 2002 | 12,000 14 and under |
| 8/14/02 | Rick Wise | Allentown Ambassadors | Baseball | Minor League | 2002 | |
| 8/14/02 | Screwball (Mascot) | Reading Phillies | Baseball | Minor League | 2002 | 2,000 14 and under |
| 8/14/02 | Crater (Mascot) | Salem-Kaiser Volcanoes | Baseball | Minor League | 2002 | |
| 8/15/02 | Kyle Farnsworth | Chicago Cubs | Baseball | MLB | 2002 | 10,000 kids? |
| 8/15/02 | Mitch Williams | Atlantic City Surf | Baseball | Minor League | 2002 | |
| 8/15/02 | Don Mattingly (High School Uni) | Evansville Otters | Baseball | Minor League | 2002 | |
| 8/15/02 | Southpaw (Mascot) | Lynchburg Hill Cats | Baseball | Minor League | 2002 | 1,000 |
| 8/15/02 | Joe Altobelli | Rochester Red Wings | Baseball | Minor League | 2002 | 2,000 |
| 8/16/02 | Chan Ho Park | Texas Rangers | Baseball | MLB | 2002 | 25,000 |
| 8/16/02 | Derek Jeter (High School Uni) | Michigan BattleCats | Baseball | Minor League | 2002 | |
| 8/16/02 | Jerry Springer | Sarasota Red Sox | Baseball | Minor League | 2002 | |
| 8/16/02 | Mike Mussina (High School Uni) | Williamsport Crosscutters | Baseball | Minor League | 2002 | 1,000 |
| 8/17/02 | TBA | Eugene Emeralds | Baseball | Minor League | 2002 | |
| 8/17/02 | Ben Sheets | Indianapolis Indians | Baseball | Minor League | 2002 | |
| 8/17/02 | Rick Ankiel | Johnson City Cardinals | Baseball | Minor League | 2002 | |
| 8/17/02 | Lyle Overbay | Missoula Osprey | Baseball | Minor League | 2002 | 750 |
| 8/17/02 | Roger Clemens | New Britain Rockcats | Baseball | Minor League | 2002 | 1,200 |
| 8/17/02 | Michael Restovich | Quad City River Bandits | Baseball | Minor League | 2002 | |
| 8/18/02 | Vladimir Guerrero | Montreal Expos | Baseball | MLB | 2002 | 5,000 |
| 8/18/02 | Harry Kalas/Richie Ashburn | Philadelphia Phillies | Baseball | MLB | 2002 | |
| 8/18/02 | Jason Giambi (Yank) | Columbus Clippers | Baseball | Minor League | 2002 | |
| 8/18/02 | Keyote (Mascot) | Frederick Keys | Baseball | Minor League | 2002 | |
| 8/18/02 | Canalligator (Mascot) | Lowell Spinners | Baseball | Minor League | 2002 | |
| 8/19/02 | Izzy The Grizzly | Gateway Grizzlies | Baseball | Minor League | 2002 | |
| 8/19/02 | Stubby Clapp | Memphis Redbirds | Baseball | Minor League | 2002 | |
| 8/20/02 | John Buck | Lexington Legends | Baseball | Minor League | 2002 | |
| 8/21/02 | Carlos Baerga | Long Island Ducks | Baseball | Minor League | 2002 | 2,000 |
| 8/21/02 | Shin Soo Choo | Wisconsin Timber Rattlers | Baseball | Minor League | 2002 | |
| 8/22/02 | Spikes (Mascot) | Rochester Red Wings | Baseball | Minor League | 2002 | 1,500 |
| 8/23/02 | Lance Berkman | Houston Astros | Baseball | MLB | 2002 | |
| 8/23/02 | J D Drew | Arkansas Travelers | Baseball | Minor League | 2002 | |
| 8/23/02 | Tim Salmon | Edmonton Trappers | Baseball | Minor League | 2002 | |
| 8/23/02 | Andy Benes | Evansville Otters | Baseball | Minor League | 2002 | |
| 8/23/02 | Jeff Manto | Lakewood Blueclaws | Baseball | Minor League | 2002 | 2,000 14 and under |
| 8/23/02 | Rick Cerone | Newark Bears | Baseball | Minor League | 2002 | 2,500 14 and under |
| 8/23/02 | Casey Kotchman | Rancho Cucamonga Quakes | Baseball | Minor League | 2002 | 1,200 |
| 8/23/02 | Billy Hall | Somerset Patriots | Baseball | Minor League | 2002 | 2,000 |
| 8/23/02 | Eric Munson | Toledo Mudhens | Baseball | Minor League | 2002 | 1,000 |
| 8/24/02 | Randy Johnson (Cy Young) | Arizona Diamondbacks | Baseball | MLB | 2002 | Random 15,000 |
| 8/24/02 | Hideo Nomo | Los Angeles Dodgers | Baseball | MLB | 2002 | |
| 8/24/02 | Robert Hewes | Alexandria Aces | Baseball | Minor League | 2002 | |
| 8/24/02 | Matt Morris | Arkansas Travelers | Baseball | Minor League | 2002 | |
| 8/24/02 | Howard Johnson | Brooklyn Cyclones | Baseball | Minor League | 2002 | 2,000 14 and under |
| 8/24/02 | Webbly (Mascot) | Everett AquaSox | Baseball | Minor League | 2002 | |
| 8/24/02 | Ozzie (Mascot) | Kane County Cougars | Baseball | Minor League | 2002 | |
| 8/24/02 | Quackerjack (Mascot) | Long Island Ducks | Baseball | Minor League | 2002 | 3,000 |
| 8/25/02 | Richie Sexson | Buffalo Bisons | Baseball | Minor League | 2002 | |
| 8/26/02 | Nomar Garciaparra | Boston Red Sox | Baseball | MLB | 2002 | |
| 8/26/02 | Albert Pujols | Memphis Redbirds | Baseball | Minor League | 2002 | |
| 8/26/02 | Andy Pettitte | Tampa Yankees | Baseball | Minor League | 2002 | 500 |
| 8/27/02 | Darrell Evans | Allentown Ambassadors | Baseball | Minor League | 2002 | |
| 8/28/02 | Tremor (Mascot) | Rancho Cucamonga Quakes | Baseball | Minor League | 2002 | 1,200 |
| 8/29/02 | Nomar Garciaparra | Portland SeaDogs | Baseball | Minor League | 2002 | |
| 8/30/02 | Curt Schilling | Arizona Diamondbacks | Baseball | MLB | 2002 | Random 15,000 |
| 8/30/02 | Don Mattingly (Road) | Columbus Clippers | Baseball | Minor League | 2002 | |
| 8/30/02 | George Bell | Dunedin Blue Jays | Baseball | Minor League | 2002 | |
| 8/30/02 | Jose Canseco | Modesto A's | Baseball | Minor League | 2002 | |
| 8/30/02 | UnBobblehead | New Jersey Cardinals | Baseball | Minor League | 2002 | |
| 8/30/02 | Rally (Mascot) | Peoria Chiefs | Baseball | Minor League | 2002 | |
| 8/30/02 | Pedro Martinez | San Antonio Missions | Baseball | Minor League | 2002 | |
| 8/30/02 | Homer (Mascot) | Springfield-Ozark Mountain Ducks | Baseball | Minor League | 2002 | |
| 8/31/02 | Brian Downing | Anaheim Angels | Baseball | MLB | 2002 | 10,000 |
| 8/31/02 | Derek Jeter (Road) | Columbus Clippers | Baseball | Minor League | 2002 | |
| 9/1/02 | Jermaine Dye | Oakland A's | Baseball | MLB | 2002 | 10,000 |
| 9/1/02 | Juan Marichal | Tacoma Rainiers | Baseball | Minor League | 2002 | 500 by Lottery |
| 9/2/02 | Rafael Furcal | Atlanta Braves | Baseball | MLB | 2002 | 12,000 14 and under |
| 9/2/02 | Tommy Helms | Atlantic City Surf | Baseball | Minor League | 2002 | |
| 9/2/02 | Billy Martin | Idaho Falls Padres | Baseball | Minor League | 2002 | 500 |
| 9/3/02 | Dave Dravecky | Mahoning Valley Scrappers | Baseball | Minor League | 2002 | |
| 9/6/02 | Brian Giles | Pittsburgh Pirates | Baseball | MLB | 2002 | |
| 9/7/02 | Christian Guzman | Minnesota Twins | Baseball | MLB | 2002 | 10,000 |
| 9/7/02 | Graham Bailey (Intern) | Camden Riversharks | Baseball | Minor League | 2002 | |
| 9/8/02 | Steve Cox | Tampa Bay Devil Rays | Baseball | MLB | 2002 | |
| 9/8/02 | Brad Strauss | Camden Riversharks | Baseball | Minor League | 2002 | |
| 9/10/02 | Paul O'Neill | New York Yankees | Baseball | MLB | 2002 | 30,000 |
| 9/12/02 | Joe Torre | New York Yankees | Baseball | MLB | 2002 | 18,000 |
| 9/13/02 | A.J. Burnett | Florida Marlins | Baseball | MLB | 2002 | |
| 9/14/02 | Todd Helton | Colorado Rockies | Baseball | MLB | 2002 | |
| 9/14/02 | Josh Beckett | Florida Marlins | Baseball | MLB | 2002 | |
| 9/15/02 | Julian Tavarez | Florida Marlins | Baseball | MLB | 2002 | |
| 9/16/02 | Brad Penny | Florida Marlins | Baseball | MLB | 2002 | |
| 9/21/02 | Pokey Reese | Pittsburgh Pirates | Baseball | MLB | 2002 | |
| 9/22/02 | Pirate Parrot (Mascot) | Pittsburgh Pirates | Baseball | MLB | 2002 | 12 and under |
| 10/5/02 | Vince Bellissimo | Topeka Scarecrows | Hockey | USHL | 2002-2003 | 1,000 |
| 10/10/02 | Random 2001-2002 | Ottawa Senators | Hockey | NHL | 2002-2003 | |
| 10/14/02 | Ed Jovanovski | Vancouver Canucks | Hockey | NHL | 2002-2003 | |
| 10/15/02 | Zdeno Chara | Ottawa Senators | Hockey | NHL | 2002-2003 | 2,500 w/Sens Jersey |
| 10/19/02 | Paul Willett | Bakersfield Condors | Hockey | WCHL | 2002-2003 | |
| 10/22/02 | Chris Osgood | New York Islanders | Hockey | NHL | 2002-2003 | |
| 10/24/02 | Terry O'Reilly | Boston Bruins | Hockey | NHL | 2002-2003 | |
| 10/24/02 | Alexei Yashin (Road) | New York Islanders | Hockey | NHL | 2002-2003 | |
| 10/24/02 | Trevor Linden | Vancouver Canucks | Hockey | NHL | 2002-2003 | |
| 10/25/02 | Swampee (Mascot) | Florida Everblades | Hockey | ECHL | 2002-2003 | |
| 10/29/02 | Dan Cloutier | Vancouver Canucks | Hockey | NHL | 2002-2003 | |
| 11/2/02 | The Griz (Mascot) | Memphis Grizzlies | Basketball | NBA | 2002-2003 | 3,000 14 and under |
| 11/4/02 | Sparky (Mascot) | New York Islanders | Hockey | NHL | 2002-2003 | 14 and under |
| 11/8/02 | Martin Havlat | Ottawa Senators | Hockey | NHL | 2002-2003 | 2,500 16 and under |
| 11/9/02 | Martin Brodeur | New Jersey Devils | Hockey | NHL | 2002-2003 | 13 and Under |
| 11/9/02 | Greg Spenrath | Fresno Falcons | Hockey | WCHL | 2002-2003 | |
| 11/12/02 | Matt Cooke | Vancouver Canucks | Hockey | NHL | 2002-2003 | |
| 11/14/02 | Mike Fisher | Ottawa Senators | Hockey | NHL | 2002-2003 | 2,500 ladies |
| 11/16/02 | Jon Barry | Detroit Pistons | Basketball | NBA | 2002-2003 | 10,000 |
| 11/16/02 | Brad Wingfield | Corpus Christi Rays | Hockey | CHL | 2002-2003 | |
| 11/16/02 | Spike (Mascot) | Long Beach Ice Dogs | Hockey | WCHL | 2002-2003 | |
| 11/18/02 | Tony Parker | San Antonio Spurs | Basketball | NBA | 2002-2003 | |
| 11/20/02 | Todd Bertuzzi | Vancouver Canucks | Hockey | NHL | 2002-2003 | |
| 11/20/02 | Sebastien Caron | Wilkes-Barre Scranton Penguins | Hockey | AHL | 2002-2003 | |
| 11/21/02 | Mark Cuban | Dallas Mavericks | Basketball | NBA | 2002-2003 | |
| 11/23/02 | Ulf Samuelsson | Pittsburgh Penguins | Hockey | NHL | 2002-2003 | |
| 11/23/02 | Ken Gernander | Hartford Wolfpack | Hockey | AHL | 2002-2003 | |
| 11/26/02 | Joe Tait | Cleveland Cavaliers | Basketball | NBA | 2002-2003 | |
| 12/3/02 | Al Attles | Golden State Warriors | Basketball | NBA | 2002-2003 | |
| 12/3/02 | Clark Gillies | New York Islanders | Hockey | NHL | 2002-2003 | |
| 12/4/02 | Kevin Calabro | Seattle Supersonics | Basketball | NBA | 2002-2003 | |
| 12/5/02 | TNT Crew | Atlanta Hawks | Basketball | NBA | 2002-2003 | |
| 12/6/02 | Frank Littlejohn | Adirondack IceHawks | Hockey | UHL | 2002-2003 | |
| 12/7/02 | Rudy Tomjonovich | Houston Rockets | Basketball | NBA | 2002-2003 | |
| 12/7/02 | Glenn Robinson | Atlanta Hawks | Basketball | NBA | 2002-2003 | |
| 12/7/02 | Spartacat (Mascot) | Ottawa Senators | Hockey | NHL | 2002-2003 | 2,500 16 and under |
| 12/7/02 | Slapshark (Mascot) | Cleveland Barons | Hockey | AHL | 2002-2003 | |
| 12/9/02 | Markus Naslund | Vancouver Canucks | Hockey | NHL | 2002-2003 | |
| 12/10/02 | Juan Dixon | Washington Wizards | Basketball | NBA | 2002-2003 | |
| 12/10/02 | Mark Parrish | New York Islanders | Hockey | NHL | 2002-2003 | |
| 12/13/02 | World B. Free | Philadelphia 76ers | Basketball | NBA | 2002-2003 | 5,000 |
| 12/14/02 | Corliss Williamson | Detroit Pistons | Basketball | NBA | 2002-2003 | 10,000 |
| 12/14/02 | Greg Johnson | Nashville Predators | Hockey | NHL | 2002-2003 | |
| 12/14/02 | John Bossio | Odessa Jackalopes | Hockey | CHL | 2002-2003 | |
| 12/18/02 | John Stockton | Utah Jazz | Basketball | NBA | 2002-2003 | |
| 12/18/02 | Mini bobble | Atlantic City Boardwalk Bullies | Hockey | ECHL | 2002-2003 | |
| 12/19/02 | Todd White | Ottawa Senators | Hockey | NHL | 2002-2003 | 2,500 16 and under |
| 12/20/02 | Ilya Kovalchuk | Atlanta Thrashers | Hockey | NHL | 2002-2003 | |
| 12/20/02 | Travis Scott | Manchester Monarchs | Hockey | AHL | 2002-2003 | |
| 12/22/02 | Francois Leroux | Wilkes-Barre Scranton Penguins | Hockey | AHL | 2002-2003 | |
| 12/23/02 | Doc Rivers | Orlando Magic | Basketball | NBA | 2002-2003 | 5,000 |
| 12/23/02 | Martin Straka | Pittsburgh Penguins | Hockey | NHL | 2002-2003 | |
| 12/27/02 | Michael Leighton | Norfolk Admirals | Hockey | AHL | 2002-2003 | |
| 12/28/02 | Ben Wallace (Cornrows) | Detroit Pistons | Basketball | NBA | 2002-2003 | 10,000 |
| 12/28/02 | Ray Allen | Milwaukee Bucks | Basketball | NBA | 2002-2003 | 5,000 14 and under |
| 12/28/02 | Rowdy Mini (Mascot) | Albany RiverRats | Hockey | AHL | 2002-2003 | |
| 1/3/03 | John Shockey | Idaho Steelheads | Hockey | WCHL | 2002-2003 | |
| 1/4/03 | Tracy McGrady | Orlando Magic | Basketball | NBA | 2002-2003 | 5,000 |
| 1/4/03 | Boomer (Mascot) | Spokane Chiefs | Hockey | WHL | 2002-2003 | 1,000 |
| 1/6/03 | Nate Thurmond | Golden State Warriors | Basketball | NBA | 2002-2003 | |
| 1/7/03 | Peter Laviolette | New York Islanders | Hockey | NHL | 2002-2003 | |
| 1/8/03 | Pat Foley/Dale Tallon | Chicago BlackHawks | Hockey | NHL | 2002-2003 | 10,000 |
| 1/8/03 | Bobby Holik | New York Rangers | Hockey | NHL | 2002-2003 | |
| 1/8/03 | Jordin Tootoo | Brandon WheatKings | Hockey | WHL | 2002-2003 | |
| 1/9/03 | Shawn Bates | New York Islanders | Hockey | NHL | 2002-2003 | |
| 1/10/03 | Chilly (Mascot) | Houston Aeros | Hockey | AHL | 2002-2003 | |
| 1/10/03 | Barry Brust | Spokane Chiefs | Hockey | WHL | 2002-2003 | |
| 1/11/03 | Chauncey Billups | Detroit Pistons | Basketball | NBA | 2002-2003 | 10,000 |
| 1/11/03 | Rob Brown | Chicago Wolves | Hockey | AHL | 2002-2003 | |
| 1/11/03 | Trevor Koenig | San Diego Gulls | Hockey | WCHL | 2002-2003 | 5,000 |
| 1/12/03 | Brent Barry | Seattle Supersonics | Basketball | NBA | 2002-2003 | |
| 1/12/03 | Amare Stoudamire | Phoenix Suns | Basketball | NBA | 2002-2003 | 7,500 |
| 1/13/03 | Rick Barry | Golden State Warriors | Basketball | NBA | 2002-2003 | |
| 1/13/03 | Saku Koivu | Montreal Canadiens | Hockey | NHL | 2002-2003 | 5,000 |
| 1/17/03 | Dany Heatly | Atlanta Thrashers | Hockey | NHL | 2002-2003 | |
| 1/17/03 | Louie (Mascot) | Augusta Lynx | Hockey | ECHL | 2002-2003 | |
| 1/18/03 | Martin Havlat | Ottawa Senators | Hockey | NHL | 2002-2003 | 2,500 w/Sens Jersey |
| 1/18/03 | Sonar (Mascot) | Hartford Wolfpack | Hockey | AHL | 2002-2003 | |
| 1/18/03 | Chris Peyton | Long Beach Ice Dogs | Hockey | WCHL | 2002-2003 | |
| 1/20/03 | Jarome Iginla | Calgary Flames | Hockey | NHL | 2002-2003 | 2,000 |
| 1/22/03 | Malik Rose | San Antonio Spurs | Basketball | NBA | 2002-2003 | |
| 1/22/03 | Phil Sauve | Hershey Bears | Hockey | AHL | 2002-2003 | |
| 1/24/03 | Mick E. Moose (Mascot) | Manitoba Moose | Hockey | AHL | 2002-2003 | |
| 1/25/03 | Jared Jefferies | Washington Wizards | Basketball | NBA | 2002-2003 | |
| 1/25/03 | Kevin St. Pierre | Bakersfield Condors | Hockey | WCHL | 2002-2003 | |
| 1/25/03 | Mascot | Green Bay Gamblers | Hockey | USHL | 2002-2003 | |
| 1/25/03 | Simon Gagne | Philadelphia Phantoms | Hockey | AHL | 2002-2003 | 4,000 |
| 1/26/03 | Mini bobble | Atlantic City Boardwalk Bullies | Hockey | ECHL | 2002-2003 | |
| 1/31/03 | Andrei Kirilenko | Utah Jazz | Basketball | NBA | 2002-2003 | |
| 1/31/03 | Logan Koopmans | Lethbridge Hurricanes | Hockey | WHL | 2002-2003 | |
| 1/31/03 | Tyler Arnason | Norfolk Admirals | Hockey | AHL | 2002-2003 | |
| 1/31/03 | Tony Twist | Peoria Rivermen | Hockey | ECHL | 2002-2003 | |
| 2/1/03 | Zeljko Rebraca | Detroit Pistons | Basketball | NBA | 2002-2003 | 10,000 |
| 2/1/03 | Gary Payton | Seattle Supersonics | Basketball | NBA | 2002-2003 | |
| 2/1/03 | Jonathan Cheechoo | Cleveland Barons | Hockey | AHL | 2002-2003 | |
| 2/3/03 | Chris Mullin | Golden State Warriors | Basketball | NBA | 2002-2003 | |
| 2/4/03 | Rasho Nesterovic | Minnesota Timberwolves | Basketball | NBA | 2002-2003 | |
| 2/4/03 | Jean Beliveau | Montreal Canadiens | Hockey | NHL | 2002-2003 | 5,000 |
| 2/4/03 | Rick Kehoe | Pittsburgh Penguins | Hockey | NHL | 2002-2003 | |
| 2/8/03 | Zdeno Chara | Ottawa Senators | Hockey | NHL | 2002-2003 | 2,500 16 and under |
| 2/8/03 | Roger Maxwell | Long Beach Ice Dogs | Hockey | WCHL | 2002-2003 | |
| 2/12/03 | Joey Mullen | Pittsburgh Penguins | Hockey | NHL | 2002-2003 | |
| 2/14/03 | Mini bobble | Atlantic City Boardwalk Bullies | Hockey | ECHL | 2002-2003 | |
| 2/14/03 | Zac Boyer | Orlando Seals | Hockey | ACHL | 2002-2003 | |
| 2/15/03 | Dave Andreychuk | Tampa Bay Lightning | Hockey | NHL | 2002-2003 | |
| 2/15/03 | Chubby (Mascot) | Charlotte Checkers | Hockey | ECHL | 2002-2003 | |
| 2/16/03 | Jeremy Mylymok | Idaho Steelheads | Hockey | WCHL | 2002-2003 | |
| 2/17/03 | Bear (Mascot) | Utah Jazz | Basketball | NBA | 2002-2003 | |
| 2/17/03 | Mini bobble | Atlantic City Boardwalk Bullies | Hockey | ECHL | 2002-2003 | |
| 2/18/03 | Johan Hedberg | Pittsburgh Penguins | Hockey | NHL | 2002-2003 | |
| 2/20/03 | Todd White | Ottawa Senators | Hockey | NHL | 2002-2003 | 2,500 16 and under |
| 2/21/03 | Calvin Murphy | Houston Rockets | Basketball | NBA | 2002-2003 | |
| 2/21/03 | Joe Mullen | Wheeling Nailers | Hockey | ECHL | 2002-2003 | |
| 2/22/03 | Ben Wallace (Afro) | Detroit Pistons | Basketball | NBA | 2002-2003 | 10,000 |
| 2/22/03 | Matt Barnes | Austin IceBats | Hockey | CHL | 2002-2003 | |
| 2/22/03 | Ilya Bryzgalov | Cincinnati Mighty Ducks | Hockey | AHL | 2002-2003 | |
| 2/22/03 | Stan Drulia | Orlando Seals | Hockey | ACHL | 2002-2003 | |
| 2/22/03 | Freddy Jobin | Quad City Mallards | Hockey | UHL | 2002-2003 | |
| 2/22/03 | Dave Seitz | South Carolina Stingrays | Hockey | ECHL | 2002-2003 | |
| 2/23/03 | Iceberg (Mascot) | Pittsburgh Penguins | Hockey | NHL | 2002-2003 | |
| 2/25/03 | Mike Fisher | Ottawa Senators | Hockey | NHL | 2002-2003 | 2,500 16 and under |
| 2/26/03 | Jeff Shevalier | Idaho Steelheads | Hockey | WCHL | 2002-2003 | |
| 2/27/03 | Jose Theodore | Montreal Canadiens | Hockey | NHL | 2002-2003 | 5,000 |
| 2/28/03 | Joe Smith | Minnesota Timberwolves | Basketball | NBA | 2002-2003 | |
| 2/28/03 | Kevin Weekes | Greensboro Generals | Hockey | ECHL | 2002-2003 | |
| 2/28/03 | Kelly Chase | Peoria Rivermen | Hockey | ECHL | 2002-2003 | |
| 2/28/03 | Rivet (Mascot) | Trenton Titans | Hockey | ECHL | 2002-2003 | |
| 3/1/03 | Scott Hartnell | Nashville Predators | Hockey | NHL | 2002-2003 | |
| 3/1/03 | Mascot | New Jersey Devils | Hockey | NHL | 2002-2003 | 13 and Under |
| 3/1/03 | Judd Sirott | Chicago Wolves | Hockey | AHL | 2002-2003 | |
| 3/1/03 | Oscar (Mascot) | Missouri River Otters | Hockey | UHL | 2002-2003 | |
| 3/2/03 | Alexei Zhamnov | Chicago BlackHawks | Hockey | NHL | 2002-2003 | 6,000 |
| 3/2/03 | Justin Williams | Philadelphia Phantoms | Hockey | AHL | 2002-2003 | 4,000 |
| 3/4/03 | Duncan/Gervin/Robinson | San Antonio Spurs | Basketball | NBA | 2002-2003 | |
| 3/4/03 | Roman Hamrlik | New York Islanders | Hockey | NHL | 2002-2003 | |
| 3/4/03 | Alexei Morozov | Pittsburgh Penguins | Hockey | NHL | 2002-2003 | |
| 3/5/03 | Tom Lasorda | Los Angeles Dodgers | Baseball | MLB | 2003 | |
| 3/6/03 | Alexei Kovalev | Pittsburgh Penguins | Hockey | NHL | 2002-2003 | |
| 3/7/03 | Jeff Odgers | Atlanta Thrashers | Hockey | NHL | 2002-2003 | 6,000 |
| 3/7/03 | Scott Hillman | Odessa Jackalopes | Hockey | CHL | 2002-2003 | |
| 3/8/03 | Art Howe | New York Mets | Baseball | MLB | 2003 | |
| 3/8/03 | Steve Gibson | Quad City Mallards | Hockey | UHL | 2002-2003 | |
| 3/8/03 | BJ MacPherson | San Diego Gulls | Hockey | WCHL | 2002-2003 | |
| 3/9/03 | Slider (Mascot) Bobble Belly | Cleveland Indians | Baseball | MLB | 2003 | |
| 3/9/03 | Dan Majerle | Phoenix Suns | Basketball | NBA | 2002-2003 | 7,500 |
| 3/9/03 | Vesa Toskala | Cleveland Barons | Hockey | AHL | 2002-2003 | |
| 3/9/03 | Iceberg (Mascot) | Wheeling Nailers | Hockey | ECHL | 2002-2003 | |
| 3/10/03 | Dinger (Mascot) | Colorado Rockies | Baseball | MLB | 2003 | |
| 3/11/03 | Random Season Ticket | Minnesota Twins | Baseball | MLB | 2003 | 500 by Lottery |
| 3/11/03 | Johnny "Red" Kerr | Chicago Bulls | Basketball | NBA | 2002-2003 | |
| 3/12/03 | Brian Giles | Pittsburgh Pirates | Baseball | MLB | 2003 | |
| 3/12/03 | Mario Lemieux | Pittsburgh Penguins | Hockey | NHL | 2002-2003 | |
| 3/13/03 | Random Season Ticket | Minnesota Twins | Baseball | MLB | 2003 | 500 by Lottery |
| 3/14/03 | TBA | Knoxville IceBears | Hockey | ACHL | 2002-2003 | |
| 3/15/03 | Richard Hamilton | Detroit Pistons | Basketball | NBA | 2002-2003 | 10,000 |
| 3/16/03 | Omar Vizquel | Cleveland Indians | Baseball | MLB | 2003 | |
| 3/16/03 | Kevin Stevens | Pittsburgh Penguins | Hockey | NHL | 2002-2003 | |
| 3/16/03 | Ben Simon | Chicago Wolves | Hockey | AHL | 2002-2003 | |
| 3/16/03 | Sealvester (Mascot) | Orlando Seals | Hockey | ACHL | 2002-2003 | |
| 3/18/03 | Flip Saunders | Minnesota Timberwolves | Basketball | NBA | 2002-2003 | |
| 3/21/03 | Hip Hop (Mascot) | Philadelphia 76ers | Basketball | NBA | 2002-2003 | |
| 3/22/03 | Nick Fotiu | Hartford Wolfpack | Hockey | AHL | 2002-2003 | 2,003 12 and under |
| 3/22/03 | Sebastien Charpentier | Portland Pirates | Hockey | AHL | 2002-2003 | 1,500 |
| 3/23/03 | Jeff Conine | Baltimore Orioles | Baseball | MLB | 2003 | 500 14 and under |
| 3/24/03 | Walt Frazier | New York Knicks | Basketball | NBA | 2002-2003 | |
| 3/24/03 | Connie Hawkins | Phoenix Suns | Basketball | NBA | 2002-2003 | 5,000 |
| 3/25/03 | Tom Seaver | New York Mets | Baseball | MLB | 2003 | |
| 3/26/03 | Ajay Baines | Norfolk Admirals | Hockey | AHL | 2002-2003 | |
| 3/27/03 | Julius Erving | Orlando Magic | Basketball | NBA | 2002-2003 | 5,000 Kids |
| 3/28/03 | Byron Dafoe | Atlanta Thrashers | Hockey | NHL | 2002-2003 | 6,000 |
| 3/28/03 | Trevor Ettinger | Dayton Bombers | Hockey | ECHL | 2002-2003 | |
| 3/29/03 | Hugo Proulx | Quad City Mallards | Hockey | UHL | 2002-2003 | |
| 3/30/03 | Bango (Mascot) | Milwaukee Bucks | Basketball | NBA | 2002-2003 | 5,000 14 and under |
| 3/30/03 | Hugo (Mascot) | New Orleans Hornets | Basketball | NBA | 2002-2003 | 5,000 14 and under |
| 3/30/03 | Richard Scott | Hartford Wolfpack | Hockey | AHL | 2002-2003 | |
| 3/31/03 | Eric Hinske | Toronto Blue Jays | Baseball | MLB | 2003 | |
| 4/1/03 | Jeremy Roenick | Philadelphia Flyers | Hockey | NHL | 2002-2003 | |
| 4/2/03 | Richard Hamilton (Road) | Detroit Pistons | Basketball | NBA | 2002-2003 | 10,000 |
| 4/2/03 | Baron Davis | New Orleans Hornets | Basketball | NBA | 2002-2003 | 5,000 |
| 4/3/03 | Jim Bunning-Charleston Senators | Charleston Alley Cats | Baseball | Minor League | 2003 | |
| 4/4/03 | Charlie Wagner | Reading Phillies | Baseball | Minor League | 2003 | 2,000 in a suit |
| 4/5/03 | Mike Sweeney | Kansas City Royals | Baseball | MLB | 2003 | 20,000 |
| 4/5/03 | Don Mincher | Huntsville Stars | Baseball | Minor League | 2003 | |
| 4/5/03 | Joe Rudi | Modesto A's | Baseball | Minor League | 2003 | |
| 4/5/03 | Spike (Mascot) (3rd Jersey) | Long Beach Ice Dogs | Hockey | WCHL | 2002-2003 | |
| 4/6/03 | Bucky Dent | Columbus Clippers | Baseball | Minor League | 2003 | |
| 4/6/03 | Roy Oswalt | Round Rock Express | Baseball | Minor League | 2003 | |
| 4/7/03 | Scott Rolen | Memphis Redbirds | Baseball | Minor League | 2003 | |
| 4/9/03 | Paul O'Neill | New York Yankees | Baseball | MLB | 2003 | 18,000 |
| 4/9/03 | Manny Sanguillen | Pittsburgh Pirates | Baseball | MLB | 2003 | |
| 4/11/03 | Harry Kalas/Richie Ashburn | Clearwater Phillies | Baseball | Minor League | 2003 | |
| 4/12/03 | Marcus Giles | Myrtle Beach Pelicans | Baseball | Minor League | 2003 | |
| 4/12/03 | Francisco Rodriguez | Rancho Cucamonga Quakes | Baseball | Minor League | 2003 | |
| 4/13/03 | Ellis Burks | Cleveland Indians | Baseball | MLB | 2003 | 14 and under |
| 4/13/03 | Gorilla (Mascot) | Phoenix Suns | Basketball | NBA | 2002-2003 | 7,500 |
| 4/14/03 | Antawn Jamison | Golden State Warriors | Basketball | NBA | 2002-2003 | |
| 4/15/03 | Yao Ming | Houston Rockets | Basketball | NBA | 2002-2003 | |
| 4/16/03 | Nomar Garciaparra | Portland SeaDogs | Baseball | Minor League | 2003 | |
| 4/16/03 | Bernie Williams | Trenton Thunder | Baseball | Minor League | 2003 | 1,800 6 & up |
| 4/18/03 | Steamer (Mascot) | Altoona Curve | Baseball | Minor League | 2003 | |
| 4/18/03 | Tom Seaver | St. Lucie Mets | Baseball | Minor League | 2003 | |
| 4/19/03 | Torii Hunter | Fort Myers Miracle | Baseball | Minor League | 2003 | |
| 4/19/03 | Wild Thing (Mascot) | Fresno Grizzlies | Baseball | Minor League | 2003 | |
| 4/19/03 | Casey the Bat (Mascot) | Greensboro Bats | Baseball | Minor League | 2003 | |
| 4/21/03 | Tino Martinez | Memphis Redbirds | Baseball | Minor League | 2003 | |
| 4/23/03 | Mike Schmidt | Lakewood Blueclaws | Baseball | Minor League | 2003 | 2,000 18 and over |
| 4/25/03 | Harmon Killebrew | Chattanooga Lookouts | Baseball | Minor League | 2003 | 1,000 |
| 4/25/03 | Corey Patterson | Lansing Lugnuts | Baseball | Minor League | 2003 | |
| 4/25/03 | Rafael Palmeiro | Peoria Chiefs | Baseball | Minor League | 2003 | |
| 4/26/03 | Miguel Tejada (MVP) | Oakland A's | Baseball | MLB | 2003 | 15,000 |
| 4/26/03 | Adam LaRoche | Myrtle Beach Pelicans | Baseball | Minor League | 2003 | |
| 4/27/03 | Frank Robinson | Montreal Expos | Baseball | MLB | 2003 | 5,000 |
| 4/30/03 | Roger Clemens | Trenton Thunder | Baseball | Minor League | 2003 | 1,800 6 & up |
| 5/1/03 | Justin Davies | Long Island Ducks | Baseball | Minor League | 2003 | |
| 5/2/03 | Eric Gagne | Los Angeles Dodgers | Baseball | MLB | 2003 | |
| 5/2/03 | Tony LaRussa | Modesto A's | Baseball | Minor League | 2003 | |
| 5/2/03 | Rob Dibble | Nashville Sounds | Baseball | Minor League | 2003 | |
| 5/2/03 | Sammy Sosa | Tulsa Drillers | Baseball | Minor League | 2003 | |
| 5/3/03 | Dave Winfield | San Diego Padres | Baseball | MLB | 2003 | |
| 5/3/03 | Warren Buffett | Omaha Royals | Baseball | Minor League | 2003 | |
| 5/3/03 | TBA | Stockton Ports | Baseball | Minor League | 2003 | |
| 5/4/03 | Brat Sausage mini | Milwaukee Brewers | Baseball | MLB | 2003 | |
| 5/4/03 | Jim "Catfish" Hunter | Columbus Clippers | Baseball | Minor League | 2003 | |
| 5/5/03 | Edgar Renteria | Memphis Redbirds | Baseball | Minor League | 2003 | |
| 5/7/03 | Boomer (Mascot) | Trenton Thunder | Baseball | Minor League | 2003 | 1,800 6 & up |
| 5/10/03 | Mo Vaughn | New York Mets | Baseball | MLB | 2003 | 12,000 12 and under |
| 5/10/03 | Alex Rodriguez | Texas Rangers | Baseball | MLB | 2003 | |
| 5/11/03 | Pedro Martinez | Montreal Expos | Baseball | MLB | 2003 | 5,000 |
| 5/12/03 | Tony La Russa | Memphis Redbirds | Baseball | Minor League | 2003 | |
| 5/12/03 | Sluggerrr (Mascot) | Portland SeaDogs | Baseball | Minor League | 2003 | |
| 5/16/03 | Rocky (Mascot) | Midland Rockhounds | Baseball | Minor League | 2003 | |
| 5/16/03 | Gnic the Gnat (Mascot) | Savannah Sand Gnats | Baseball | Minor League | 2003 | |
| 5/17/03 | Tony LaRussa-Charleston Charlies | Charleston Alley Cats | Baseball | Minor League | 2003 | |
| 5/17/03 | Sammy Sosa | Tulsa Drillers | Baseball | Minor League | 2003 | 1,500 |
| 5/18/03 | Omar Vizquel (talking) | Cleveland Indians | Baseball | MLB | 2003 | 14 and under |
| 5/18/03 | Yogi Berra | Columbus Clippers | Baseball | Minor League | 2003 | |
| 5/18/03 | Pat Burrell | Reading Phillies | Baseball | Minor League | 2003 | 2,000 kids |
| 5/18/03 | Barry Zito | San Jose Giants | Baseball | Minor League | 2003 | 500 (Quiznos) |
| 5/20/03 | Barry Zito | Lancaster Jet Hawks | Baseball | Minor League | 2003 | 500 (Quiznos) |
| 5/21/03 | Bob Prince (talking) | Pittsburgh Pirates | Baseball | MLB | 2003 | |
| 5/22/03 | Jason Giambi (Team USA) | Durham Bulls | Baseball | Minor League | 2003 | |
| 5/22/03 | Barry Zito | Modesto A's | Baseball | Minor League | 2003 | 500 (Quiznos) |
| 5/23/03 | Diesel Dawg (Mascot) | Altoona Curve | Baseball | Minor League | 2003 | |
| 5/23/03 | Jim Thome | Charlotte Knights | Baseball | Minor League | 2003 | 2,000 |
| 5/23/03 | Bobby Bragan | Fort Worth Cats | Baseball | Minor League | 2003 | |
| 5/23/03 | Ozzie (Mascot) | Kane County Cougars | Baseball | Minor League | 2003 | |
| 5/24/03 | Marty Brennaman/Joe Nuxhall | Cincinnati Reds | Baseball | MLB | 2003 | |
| 5/24/03 | 1980 World Champ-Steve Carlton | Clearwater Phillies | Baseball | Minor League | 2003 | |
| 5/24/03 | Mariano Rivera | Greensboro Bats | Baseball | Minor League | 2003 | |
| 5/24/03 | Barry Zito | Inland Empire 66ers of San Bernardino | Baseball | Minor League | 2003 | 500 (Quiznos) |
| 5/25/03 | Barry Zito (Cy Young) | Oakland A's | Baseball | MLB | 2003 | 15,000 |
| 5/25/03 | John McDonald | Akron Aeros | Baseball | Minor League | 2003 | |
| 5/25/03 | Barry Zito | Lake Elsinore Storm | Baseball | Minor League | 2003 | 500 (Quiznos) |
| 5/26/03 | Bobby Cox | Atlanta Braves | Baseball | MLB | 2003 | 12,000 14 and under |
| 5/26/03 | Barry Zito | Rancho Cucamonga Quakes | Baseball | Minor League | 2003 | 500 (Quiznos) |
| 5/29/03 | Lou Gehrig | Battle Creek Yankees | Baseball | Minor League | 2003 | |
| 5/30/03 | Ryan Dempster | Florida Marlins | Baseball | MLB | 2003 | |
| 5/30/03 | Babe Ruff (Mascot) | Birmingham Barons | Baseball | Minor League | 2003 | |
| 5/30/03 | John Smoltz | Greenville Braves | Baseball | Minor League | 2003 | |
| 5/30/03 | Women's League Player | Peoria Chiefs | Baseball | Minor League | 2003 | |
| 5/30/03 | Big Shot (Mascot) | Potomac Cannons | Baseball | Minor League | 2003 | |
| 5/30/03 | Adam Kennedy | Rancho Cucamonga Quakes | Baseball | Minor League | 2003 | |
| 5/30/03 | Barry Zito | Visalia Oaks | Baseball | Minor League | 2003 | 500 (Quiznos) |
| 5/30/03 | Mike Sweeney | Wichita Wranglers | Baseball | Minor League | 2003 | |
| 5/31/03 | Randy Jones | San Diego Padres | Baseball | MLB | 2003 | |
| 5/31/03 | Rusty (Mascot) | Gary Southshore Railcats | Baseball | Minor League | 2003 | |
| 5/31/03 | Rusty Greer | Oklahoma City RedHawks | Baseball | Minor League | 2003 | |
| 5/31/03 | Steve Finley | Rochester Red Wings | Baseball | Minor League | 2003 | |
| 6/1/03 | CC Sabathia/Josh Bard | Cleveland Indians | Baseball | MLB | 2003 | 14 and under |
| 6/1/03 | Scott Rolen | St. Louis Cardinals | Baseball | MLB | 2003 | |
| 6/1/03 | Lou Piniella | Tampa Bay Devil Rays | Baseball | MLB | 2003 | |
| 6/1/03 | Lou Gehrig | Columbus Clippers | Baseball | Minor League | 2003 | |
| 6/1/03 | Screwball (Mascot) | Reading Phillies | Baseball | Minor League | 2003 | 2,500 kids |
| 6/3/03 | Jason Giambi | Lancaster Jet Hawks | Baseball | Minor League | 2003 | 500 (Quiznos) |
| 6/5/03 | Jason Giambi | Modesto A's | Baseball | Minor League | 2003 | 500 (Quiznos) |
| 6/6/03 | Peanuts (Mascot) | Modesto A's | Baseball | Minor League | 2003 | |
| 6/6/03 | Romey (Mascot) | Rome Braves | Baseball | Minor League | 2003 | |
| 6/7/03 | Baxter (Mascot) | Arizona Diamondbacks | Baseball | MLB | 2003 | 15,000 via Lottery |
| 6/7/03 | Charlie Hough (1st Pitch) | Florida Marlins | Baseball | MLB | 2003 | |
| 6/7/03 | Jeff Manto | Buffalo Bisons | Baseball | Minor League | 2003 | |
| 6/7/03 | Jacque Jones | Fort Myers Miracle | Baseball | Minor League | 2003 | |
| 6/7/03 | Andruw Jones | Greenville Braves | Baseball | Minor League | 2003 | |
| 6/7/03 | Jason Giambi | Huntsville Stars | Baseball | Minor League | 2003 | |
| 6/7/03 | Jason Giambi | Inland Empire 66ers of San Bernardino | Baseball | Minor League | 2003 | 500 (Quiznos) |
| 6/8/03 | Junior Spivey | Arizona Diamondbacks | Baseball | MLB | 2003 | 15,000 via Lottery |
| 6/8/03 | Junction Jack (Mascot) | Houston Astros | Baseball | MLB | 2003 | |
| 6/8/03 | John Franco | New York Mets | Baseball | MLB | 2003 | 12,000 12 and under |
| 6/8/03 | Gavin Floyd | Lakewood Blueclaws | Baseball | Minor League | 2003 | |
| 6/8/03 | Jason Giambi | Rancho Cucamonga Quakes | Baseball | Minor League | 2003 | 500 (Quiznos) |
| 6/9/03 | "Marvelous" Marvin Hagler | Brockton Rox | Baseball | Minor League | 2003 | |
| 6/9/03 | Jim Edmonds | Memphis Redbirds | Baseball | Minor League | 2003 | |
| 6/10/03 | Wild Thing (Mascot) mini | Washington Wild Things | Baseball | Minor League | 2003 | 1,500 |
| 6/11/03 | Ken Harrelson/Darrin Jackson | Chicago White Sox | Baseball | MLB | 2003 | |
| 6/11/03 | Yogi Berra | Trenton Thunder | Baseball | Minor League | 2003 | 1,800 6 & up |
| 6/12/03 | Rocco Baldelli (ML POY) | Durham Bulls | Baseball | Minor League | 2003 | |
| 6/12/03 | Bruce Dal Canton | Myrtle Beach Pelicans | Baseball | Minor League | 2003 | |
| 6/12/03 | Mike North | Schaumburg Flyers | Baseball | Minor League | 2003 | |
| 6/12/03 | Mike Warner | Somerset Patriots | Baseball | Minor League | 2003 | |
| 6/13/03 | Trevor Hoffman-Charleston Wheelers | Charleston Alley Cats | Baseball | Minor League | 2003 | |
| 6/13/03 | Pedro Martinez | Visalia Oaks | Baseball | Minor League | 2003 | 500 (Quiznos) |
| 6/14/03 | Jose Lind (Mini) | Bridgeport Bluefish | Baseball | Minor League | 2003 | |
| 6/14/03 | Mookie (Mascot) | Delaware Cows | Baseball | Minor League | 2003 | |
| 6/14/03 | Pedro Martinez | Inland Empire 66ers of San Bernardino | Baseball | Minor League | 2003 | 500 (Quiznos) |
| 6/14/03 | Hammer (Mascot) | Joliet Jackhammers | Baseball | Minor League | 2003 | |
| 6/14/03 | Skipper (Mascot) | Lake County Captains | Baseball | Minor League | 2003 | |
| 6/14/03 | Lance Berkman | New Orleans Zephyrs | Baseball | Minor League | 2003 | 2,000 |
| 6/15/03 | Prince Fielder | Beloit Snappers | Baseball | Minor League | 2003 | |
| 6/15/03 | Cecil Cooper | Indianapolis Indians | Baseball | Minor League | 2003 | |
| 6/15/03 | Jason Giambi | Lake Elsinore Storm | Baseball | Minor League | 2003 | 500 (Quiznos) |
| 6/15/03 | Krazy George | San Jose Giants | Baseball | Minor League | 2003 | 1000 Lottery |
| 6/16/03 | Jason Isringhausen | Memphis Redbirds | Baseball | Minor League | 2003 | |
| 6/17/03 | Pat Burrell (Tie Dye Uni) | Reading Phillies | Baseball | Minor League | 2003 | 2,000 adults |
| 6/18/03 | Rick Dempsey WS MVP Talking | Baltimore Orioles | Baseball | MLB | 2003 | 25,000 15 and over |
| 6/18/03 | Darren Daulton (Flowing Hair) | Reading Phillies | Baseball | Minor League | 2003 | 2,000 adults |
| 6/19/03 | Jerome Bettis | Altoona Curve | Baseball | Minor League | 2003 | |
| 6/19/03 | Shoeless Joe Jackson | Charleston Riverdogs | Baseball | Minor League | 2003 | |
| 6/19/03 | Lou Gehrig | Nashville Sounds | Baseball | Minor League | 2003 | |
| 6/20/03 | Phil Niekro | Atlanta Braves | Baseball | MLB | 2003 | 12,000 14 and under |
| 6/20/03 | 1980 World Champ-Steve Carlton | Philadelphia Phillies | Baseball | MLB | 2003 | |
| 6/20/03 | Bill Dickey | Arkansas Travelers | Baseball | Minor League | 2003 | |
| 6/20/03 | Sting (Mascot) | Augusta Greenjackets | Baseball | Minor League | 2003 | |
| 6/20/03 | Adam Dunn | Billings Mustangs | Baseball | Minor League | 2003 | 1,000 |
| 6/20/03 | Chipper Jones | Greenville Braves | Baseball | Minor League | 2003 | |
| 6/20/03 | Carlos Beltran | Lansing Lugnuts | Baseball | Minor League | 2003 | |
| 6/20/03 | Magglio Ordoñez | Nashville Sounds | Baseball | Minor League | 2003 | |
| 6/20/03 | Gaylord Perry | Tacoma Rainiers | Baseball | Minor League | 2003 | |
| 6/20/03 | Mark Prior | West Tennessee Diamond Jaxx | Baseball | Minor League | 2003 | |
| 6/21/03 | Lou Gehrig | Albuquerque Isotopes | Baseball | Minor League | 2003 | |
| 6/21/03 | Hee Sop Choi | Daytona Cubs | Baseball | Minor League | 2003 | |
| 6/21/03 | Andy Pettitte | Greensboro Bats | Baseball | Minor League | 2003 | |
| 6/21/03 | Thunder (Mascot) | Lake Elsinore Storm | Baseball | Minor League | 2003 | |
| 6/21/03 | Lou Piniella | Orlando Rays | Baseball | Minor League | 2003 | |
| 6/22/03 | 1980 World Champ-Mike Schmidt | Philadelphia Phillies | Baseball | MLB | 2003 | |
| 6/22/03 | Torey Lovullo | Buffalo Bisons | Baseball | Minor League | 2003 | |
| 6/22/03 | Roger Maris | Columbus Clippers | Baseball | Minor League | 2003 | |
| 6/22/03 | Ryan Sienko | Joliet Jackhammers | Baseball | Minor League | 2003 | |
| 6/22/03 | Pedro Martinez | Lake Elsinore Storm | Baseball | Minor League | 2003 | 500 (Quiznos) |
| 6/22/03 | Mike Lieberthal | Scranton-Wilkes Barre Red Barons | Baseball | Minor League | 2003 | |
| 6/23/03 | Dodger (Mascot) | Fort Worth Cats | Baseball | Minor League | 2003 | |
| 6/23/03 | Trot Nixon | Portland SeaDogs | Baseball | Minor League | 2003 | |
| 6/24/03 | Vladimir Gorilla (Mascot) | Harrisburg Senators | Baseball | Minor League | 2003 | |
| 6/24/03 | Dogman | Lowell Spinners | Baseball | Minor League | 2003 | |
| 6/24/03 | Mike Schmidt | Reading Phillies | Baseball | Minor League | 2003 | 2,000 adults |
| 6/24/03 | Kent Tekulve mini | Washington Wild Things | Baseball | Minor League | 2003 | 1,500 |
| 6/25/03 | Jason Giambi | Trenton Thunder | Baseball | Minor League | 2003 | 1,800 6 & up |
| 6/26/03 | Barry Bonds (Team USA) | Durham Bulls | Baseball | Minor League | 2003 | |
| 6/26/03 | Danny Cox (Road uni) | Gateway Grizzlies | Baseball | Minor League | 2003 | |
| 6/26/03 | Curt Schilling | Rochester Red Wings | Baseball | Minor League | 2003 | |
| 6/27/03 | Eddie Guardado | Minnesota Twins | Baseball | MLB | 2003 | 10,000 |
| 6/27/03 | Jim Thome | Peoria Chiefs | Baseball | Minor League | 2003 | |
| 6/27/03 | Shawn Wooten | Rancho Cucamonga Quakes | Baseball | Minor League | 2003 | |
| 6/27/03 | Jason Giambi | Visalia Oaks | Baseball | Minor League | 2003 | 500 (Quiznos) |
| 6/28/03 | Billy Traber | Akron Aeros | Baseball | Minor League | 2003 | |
| 6/28/03 | 1980 World Champ-Mike Schmidt | Clearwater Phillies | Baseball | Minor League | 2003 | |
| 6/28/03 | Jason Jennings | Colorado Springs Sky Sox | Baseball | Minor League | 2003 | |
| 6/28/03 | Ron Kittle | Edmonton Trappers | Baseball | Minor League | 2003 | |
| 6/28/03 | Joel Pineiro | Everett AquaSox | Baseball | Minor League | 2003 | |
| 6/28/03 | Razor Shines | Indianapolis Indians | Baseball | Minor League | 2003 | |
| 6/28/03 | Chef Robert (Winn-Dixie) | Jacksonville Suns | Baseball | Minor League | 2003 | |
| 6/28/03 | Greg Hibbard | Joliet Jackhammers | Baseball | Minor League | 2003 | |
| 6/28/03 | Charlie Sherman (Announcer) | Nashua Pride | Baseball | Minor League | 2003 | |
| 6/28/03 | Rally (Mascot) | New Haven Ravens | Baseball | Minor League | 2003 | |
| 6/29/03 | Jason Giambi | San Jose Giants | Baseball | Minor League | 2003 | 500 (Quiznos) |
| 6/29/03 | Omar Malave | Syracuse Skychiefs | Baseball | Minor League | 2003 | |
| 7/1/03 | Brian Jordan | Los Angeles Dodgers | Baseball | MLB | 2003 | |
| 7/1/03 | Shea Hillenbrand | Lowell Spinners | Baseball | Minor League | 2003 | |
| 7/1/03 | Bearon (Mascot) Mini | Schaumburg Flyers | Baseball | Minor League | 2003 | |
| 7/1/03 | Joe Charbonneau mini | Washington Wild Things | Baseball | Minor League | 2003 | 1,500 |
| 7/3/03 | Maynard G. Mallard (Mascot) | Madison Mallards | Baseball | Minor League | 2003 | |
| 7/4/03 | Torii Hunter | Minnesota Twins | Baseball | MLB | 2003 | 10,000 |
| 7/4/03 | Patriotic Snappy (Mascot) | Beloit Snappers | Baseball | Minor League | 2003 | |
| 7/5/03 | Hank Aaron | Greenville Braves | Baseball | Minor League | 2003 | |
| 7/5/03 | Mayor Art Schultz | Joliet Jackhammers | Baseball | Minor League | 2003 | |
| 7/5/03 | Walter Young | Lynchburg HillCats | Baseball | Minor League | 2003 | |
| 7/5/03 | Marshall Maverick (Mascot) | Mid-Missouri Mavericks | Baseball | Minor League | 2003 | |
| 7/5/03 | Dave Winfield | Portland Beavers | Baseball | Minor League | 2003 | |
| 7/6/03 | Polish Sausage mini | Milwaukee Brewers | Baseball | MLB | 2003 | |
| 7/6/03 | Reggie Jackson | Columbus Clippers | Baseball | Minor League | 2003 | |
| 7/6/03 | Mike Lieberthal | Reading Phillies | Baseball | Minor League | 2003 | 2,000 kids |
| 7/6/03 | Pedro Martinez | San Jose Giants | Baseball | Minor League | 2003 | 500 (Quiznos) |
| 7/6/03 | Brett Myers | Scranton-Wilkes Barre Red Barons | Baseball | Minor League | 2003 | |
| 7/7/03 | Fernando Viña | Memphis Redbirds | Baseball | Minor League | 2003 | |
| 7/8/03 | Pedro Martinez | Lancaster Jet Hawks | Baseball | Minor League | 2003 | 500 (Quiznos) |
| 7/9/03 | Working Money | Memphis Redbirds | Baseball | Minor League | 2003 | |
| 7/9/03 | Derek Jeter | Trenton Thunder | Baseball | Minor League | 2003 | 1,800 6 & up |
| 7/10/03 | Francis Scott Key | Frederick Keys | Baseball | Minor League | 2003 | 1,000 |
| 7/10/03 | Bubba Trammell | Jamestown Jammers | Baseball | Minor League | 2003 | |
| 7/10/03 | St. Paul | St. Paul Saints | Baseball | Minor League | 2003 | |
| 7/11/03 | Rafael Palmeiro | Texas Rangers | Baseball | MLB | 2003 | |
| 7/11/03 | Vida Blue | Birmingham Barons | Baseball | Minor League | 2003 | |
| 7/11/03 | Gary Templeton | Gary Southshore Railcats | Baseball | Minor League | 2003 | |
| 7/11/03 | Willie McGee | Nashville Sounds | Baseball | Minor League | 2003 | |
| 7/11/03 | Wendell Folks | River City Rascals | Baseball | Minor League | 2003 | |
| 7/11/03 | Darin Erstad | Visalia Oaks | Baseball | Minor League | 2003 | 500 (Quiznos) |
| 7/12/03 | Mark Mulder | Oakland A's | Baseball | MLB | 2003 | 15,000 |
| 7/12/03 | Tom Nevers | Chattanooga Lookouts | Baseball | Minor League | 2003 | 1,000 |
| 7/12/03 | TBA | High Desert Mavericks | Baseball | Minor League | 2003 | |
| 7/12/03 | Jose Cruz Jr. | Lancaster Jet Hawks | Baseball | Minor League | 2003 | 1,000 |
| 7/12/03 | Juan Marichal | Norwich Navigators | Baseball | Minor League | 2003 | |
| 7/12/03 | Robbie Redbird (Mascot) | Palm Beach Cardinals | Baseball | Minor League | 2003 | |
| 7/12/03 | Gnic the Gnat Patriot (Mascot) | Savannah Sand Gnats | Baseball | Minor League | 2003 | |
| 7/12/03 | Roger Clemens | Staten Island Yankees | Baseball | Minor League | 2003 | |
| 7/13/03 | Al Rosen | Cleveland Indians | Baseball | MLB | 2003 | 50 and over |
| 7/13/03 | Jeffrey Hammonds | Milwaukee Brewers | Baseball | MLB | 2003 | 10,000 16 and under |
| 7/13/03 | Tim Wallach | Montreal Expos | Baseball | MLB | 2003 | 5,000 |
| 7/13/03 | Edgar Renteria | St. Louis Cardinals | Baseball | MLB | 2003 | |
| 7/13/03 | TBA Mini | River City Rascals | Baseball | Minor League | 2003 | |
| 7/16/03 | Danny Cox (All-Star uni) | Gateway Grizzlies | Baseball | Minor League | 2003 | |
| 7/17/03 | Alex Rodriguez (Team USA) | Durham Bulls | Baseball | Minor League | 2003 | |
| 7/17/03 | Rascal (Mascot) | Hudson Valley Renegades | Baseball | Minor League | 2003 | |
| 7/17/03 | Derek Lowe | Portland SeaDogs | Baseball | Minor League | 2003 | |
| 7/18/03 | Paul Konerko | Chicago White Sox | Baseball | MLB | 2003 | 10,000 |
| 7/18/03 | Ivar Haglund | Everett AquaSox | Baseball | Minor League | 2003 | |
| 7/18/03 | Miguel Tejada | Huntsville Stars | Baseball | Minor League | 2003 | |
| 7/18/03 | Shag (Mascot) | Nashua Pride | Baseball | Minor League | 2003 | |
| 7/18/03 | Art Howe | St. Lucie Mets | Baseball | Minor League | 2003 | |
| 7/19/03 | Austin Kearns | Cincinnati Reds | Baseball | MLB | 2003 | |
| 7/19/03 | Jason LaRue | Charleston Alley Cats | Baseball | Minor League | 2003 | |
| 7/19/03 | Michael Garciaparra | Everett AquaSox | Baseball | Minor League | 2003 | |
| 7/19/03 | Scott Spiezio | Joliet Jackhammers | Baseball | Minor League | 2003 | |
| 7/19/03 | Hamilton (Mascot) | Jupiter Hammerheads | Baseball | Minor League | 2003 | |
| 7/19/03 | Billy Wagner | Salem Avalanche | Baseball | Minor League | 2003 | |
| 7/19/03 | Rusty Roughcut (Mascot) | Williamsport Crosscutters | Baseball | Minor League | 2003 | |
| 7/20/03 | Eddie Murray | Baltimore Orioles | Baseball | MLB | 2003 | 25,000 21 and over |
| 7/20/03 | Jeff Conine (All Star MVP) | Florida Marlins | Baseball | MLB | 2003 | 10,000 |
| 7/20/03 | Juan Marichal | San Francisco Giants | Baseball | MLB | 2003 | |
| 7/20/03 | Bill Selby | Buffalo Bisons | Baseball | Minor League | 2003 | |
| 7/20/03 | Mickey Mantle | Columbus Clippers | Baseball | Minor League | 2003 | |
| 7/20/03 | Pedro Martinez | Rancho Cucamonga Quakes | Baseball | Minor League | 2003 | 500 (Quiznos) |
| 7/20/03 | Rocko (Mascot) | Rockford Riverhawks | Baseball | Minor League | 2003 | |
| 7/21/03 | Dale Murphy | Atlanta Braves | Baseball | MLB | 2003 | 12,000 14 and under |
| 7/21/03 | Albert Pujols | Memphis Redbirds | Baseball | Minor League | 2003 | |
| 7/22/03 | Mario Lemieux | Altoona Curve | Baseball | Minor League | 2003 | |
| 7/22/03 | David Eckstein | Lowell Spinners | Baseball | Minor League | 2003 | |
| 7/24/03 | Sparky Anderson | Fort Worth Cats | Baseball | Minor League | 2003 | |
| 7/24/03 | Pedro Martinez | Modesto A's | Baseball | Minor League | 2003 | 500 (Quiznos) |
| 7/24/03 | Eddie Murray | Rochester Red Wings | Baseball | Minor League | 2003 | |
| 7/25/03 | Abner (Mascot) | Auburn Doubledays | Baseball | Minor League | 2003 | |
| 7/25/03 | Kerry Wood | Daytona Cubs | Baseball | Minor League | 2003 | |
| 7/25/03 | Eric Wedge | Lima Locos | Baseball | Minor League | 2003 | |
| 7/25/03 | Tom Henke | Mid-Missouri Mavericks | Baseball | Minor League | 2003 | |
| 7/25/03 | Super Fan Greg Sholty | Peoria Chiefs | Baseball | Minor League | 2003 | |
| 7/25/03 | Jarrod Washburn | Rancho Cucamonga Quakes | Baseball | Minor League | 2003 | |
| 7/25/03 | Sammy Sosa | West Tennessee Diamond Jaxx | Baseball | Minor League | 2003 | |
| 7/25/03 | Johnny Damon | Wichita Wranglers | Baseball | Minor League | 2003 | |
| 7/26/03 | Luis Castillo | Florida Marlins | Baseball | MLB | 2003 | 10,000 |
| 7/26/03 | Tom Glavine | New York Mets | Baseball | MLB | 2003 | 12,000 12 and under |
| 7/26/03 | Babe Ruth | Battle Creek Yankees | Baseball | Minor League | 2003 | |
| 7/26/03 | Donnie Scott | Billings Mustangs | Baseball | Minor League | 2003 | 1,000 |
| 7/26/03 | Brad Wilkerson | Evansville Otters | Baseball | Minor League | 2003 | |
| 7/26/03 | Matt William/Chris Snelling | Everett AquaSox | Baseball | Minor League | 2003 | |
| 7/26/03 | Christian Guzman | Greensboro Bats | Baseball | Minor League | 2003 | |
| 7/26/03 | Joe Urso | Lake Elsinore Storm | Baseball | Minor League | 2003 | |
| 7/26/03 | Rickey Henderson | Modesto A's | Baseball | Minor League | 2003 | |
| 7/26/03 | Nebraska Casey | Omaha Royals | Baseball | Minor League | 2003 | |
| 7/26/03 | Lou Gehrig | Scranton-Wilkes Barre Red Barons | Baseball | Minor League | 2003 | |
| 7/26/03 | Johnny Damon | Wilmington Blue Rocks | Baseball | Minor League | 2003 | |
| 7/27/03 | Ralph Kiner/Bob Murphy | New York Mets | Baseball | MLB | 2003 | 35,000 12 and over |
| 7/27/03 | Gil Hodges | Brooklyn Cyclones | Baseball | Minor League | 2003 | |
| 7/27/03 | Bubba Smith | Joliet Jackhammers | Baseball | Minor League | 2003 | |
| 7/27/03 | Russ Ortiz | Lake Elsinore Storm | Baseball | Minor League | 2003 | 500 (Quiznos) |
| 7/27/03 | Rafael Furcal | Myrtle Beach Pelicans | Baseball | Minor League | 2003 | |
| 7/27/03 | Justin Morneau | New Britain Rockcats | Baseball | Minor League | 2003 | |
| 7/27/03 | Rocko (Mascot) | Rockford Riverhawks | Baseball | Minor League | 2003 | |
| 7/27/03 | Nolan Ryan | Round Rock Express | Baseball | Minor League | 2003 | |
| 7/27/03 | Barry Bonds | San Jose Giants | Baseball | Minor League | 2003 | 1000 Lottery |
| 7/27/03 | Freddy Garcia | Tacoma Rainiers | Baseball | Minor League | 2003 | 500 by Lottery |
| 7/28/03 | Darin Erstad | Inland Empire 66ers of San Bernardino | Baseball | Minor League | 2003 | 500 (Quiznos) |
| 7/28/03 | Midwest Wireless spokesman | Mankato Moondogs | Baseball | Minor League | 2003 | |
| 7/29/03 | Joe Cuervo mini | Washington Wild Things | Baseball | Minor League | 2003 | 1,500 |
| 7/30/03 | Christian Guzman (Super Hero) | Minnesota Twins | Baseball | MLB | 2003 | 5,000 14 and under |
| 7/30/03 | Ringo (Mascot) | Alexandria Beetles | Baseball | Minor League | 2003 | |
| 7/30/03 | Alberto Callaspo or Erick Aybar | Cedar Rapids Kernels | Baseball | Minor League | 2003 | 1,500 12 and under |
| 8/1/03 | Gapper (Mascot) | Cincinnati Reds | Baseball | MLB | 2003 | |
| 8/1/03 | Francisco Rodriguez | Arkansas Travelers | Baseball | Minor League | 2003 | |
| 8/1/03 | Nic Jackson | Daytona Cubs | Baseball | Minor League | 2003 | |
| 8/1/03 | Ozzie (Mascot) | Nashville Sounds | Baseball | Minor League | 2003 | |
| 8/1/03 | Juan Gonzalez | Tulsa Drillers | Baseball | Minor League | 2003 | 1,500 |
| 8/2/03 | Ivan Rodriguez | Florida Marlins | Baseball | MLB | 2003 | 10,000 |
| 8/2/03 | Aaron Boone | Billings Mustangs | Baseball | Minor League | 2003 | |
| 8/2/03 | Jose Reyes | Binghamton Mets | Baseball | Minor League | 2003 | 1,500 |
| 8/2/03 | Frank (Mascot) | Everett AquaSox | Baseball | Minor League | 2003 | |
| 8/2/03 | Lloyd McClendon | Gary Southshore Railcats | Baseball | Minor League | 2003 | |
| 8/2/03 | Kory DeHaan | Portland Beavers | Baseball | Minor League | 2003 | |
| 8/2/03 | Eddie Guardado | Stockton Ports | Baseball | Minor League | 2003 | |
| 8/3/03 | Corey Koskie | Minnesota Twins | Baseball | MLB | 2003 | 10,000 |
| 8/3/03 | Youppi (Mascot) | Montreal Expos | Baseball | MLB | 2003 | 5,000 |
| 8/3/03 | Brad Nelson | Beloit Snappers | Baseball | Minor League | 2003 | |
| 8/3/03 | Changeup (Mascot) | Reading Phillies | Baseball | Minor League | 2003 | 2,000 kids |
| 8/3/03 | Fang (Mascot) | Wisconsin Timber Rattlers | Baseball | Minor League | 2003 | |
| 8/4/03 | Earl Batty (Mascot) | St. Cloud Riverbats | Baseball | Minor League | 2003 | |
| 8/5/03 | Tim Johnson | Lincoln Salt Dogs | Baseball | Minor League | 2003 | |
| 8/7/03 | Milton Bradley | Harrisburg Senators | Baseball | Minor League | 2003 | |
| 8/7/03 | Darin Erstad | Modesto A's | Baseball | Minor League | 2003 | 500 (Quiznos) |
| 8/7/03 | Tater (Mascot) | Norwich Navigators | Baseball | Minor League | 2003 | |
| 8/8/03 | Hee Sop Choi | Lansing Lugnuts | Baseball | Minor League | 2003 | |
| 8/8/03 | Jim Tracy | Peoria Chiefs | Baseball | Minor League | 2003 | |
| 8/8/03 | Dottie Key (Woman's Lg) | Rockford Riverhawks | Baseball | Minor League | 2003 | |
| 8/9/03 | Lance Parrish | Detroit Tigers | Baseball | MLB | 2003 | |
| 8/9/03 | Mayberry Deputy | Danville Braves | Baseball | Minor League | 2003 | |
| 8/9/03 | Jorge Posada | Greensboro Bats | Baseball | Minor League | 2003 | |
| 8/9/03 | Ollie (Mascot) | Missoula Osprey | Baseball | Minor League | 2003 | |
| 8/9/03 | Sammy Sosa | Oklahoma City RedHawks | Baseball | Minor League | 2003 | |
| 8/9/03 | Derek Lowe | Pawtucket Red Sox | Baseball | Minor League | 2003 | |
| 8/9/03 | Rowdy (Mascot) | Richmond Roosters | Baseball | Minor League | 2003 | |
| 8/10/03 | Paul Molitor | Milwaukee Brewers | Baseball | MLB | 2003 | 10,000 16 and under |
| 8/10/03 | Babe Ruth | Columbus Clippers | Baseball | Minor League | 2003 | |
| 8/10/03 | Torii Hunter | New Britain Rockcats | Baseball | Minor League | 2003 | |
| 8/10/03 | Derek Jeter | Norwich Navigators | Baseball | Minor League | 2003 | |
| 8/10/03 | Joe Roa | Scranton-Wilkes Barre Red Barons | Baseball | Minor League | 2003 | |
| 8/11/03 | Matt Morris | Memphis Redbirds | Baseball | Minor League | 2003 | |
| 8/12/03 | Warren Spahn | Atlanta Braves | Baseball | MLB | 2003 | 12,000 14 and under |
| 8/12/03 | Hawkeye (Mascot) | Fargo-Moorhead Redhawks | Baseball | Minor League | 2003 | |
| 8/12/03 | Darin Erstad | Lancaster Jet Hawks | Baseball | Minor League | 2003 | 500 (Quiznos) |
| 8/12/03 | Scooter Mini (Mascot) | Staten Island Yankees | Baseball | Minor League | 2003 | |
| 8/12/03 | Jarod Howton mini | Washington Wild Things | Baseball | Minor League | 2003 | 1,500 |
| 8/14/03 | Carl Crawford (IL ROY) | Durham Bulls | Baseball | Minor League | 2003 | |
| 8/14/03 | Cody Ross | Toledo Mudhens | Baseball | Minor League | 2003 | |
| 8/15/03 | Mascot | Albuquerque Isotopes | Baseball | Minor League | 2003 | |
| 8/15/03 | Joe Borchard | Birmingham Barons | Baseball | Minor League | 2003 | |
| 8/15/03 | Mark Packer (Radio DJ) | Charlotte Knights | Baseball | Minor League | 2003 | 2,000 |
| 8/15/03 | Danny Cox (Home uni) | Gateway Grizzlies | Baseball | Minor League | 2003 | |
| 8/15/03 | Ellis Valentine | Lancaster Jet Hawks | Baseball | Minor League | 2003 | 1,000 |
| 8/15/03 | Tim Salmon | Rancho Cucamonga Quakes | Baseball | Minor League | 2003 | |
| 8/15/03 | Carlos Beltran | Wilmington Blue Rocks | Baseball | Minor League | 2003 | |
| 8/16/03 | Jack Wilson | Pittsburgh Pirates | Baseball | MLB | 2003 | |
| 8/16/03 | Brian Tallett | Akron Aeros | Baseball | Minor League | 2003 | |
| 8/16/03 | Marvin Cole (mini) | Alexandria Aces | Baseball | Minor League | 2003 | |
| 8/16/03 | Trevor Hoffman | Billings Mustangs | Baseball | Minor League | 2003 | 1,000 |
| 8/16/03 | Orel Hershiser | Clinton Lumberkings | Baseball | Minor League | 2003 | |
| 8/16/03 | Scott Rolen | Evansville Otters | Baseball | Minor League | 2003 | |
| 8/16/03 | Torii Hunter | Fort Wayne Wizards | Baseball | Minor League | 2003 | |
| 8/16/03 | Larry Walker | Indianapolis Indians | Baseball | Minor League | 2003 | |
| 8/16/03 | Kevin Mench | Oklahoma City RedHawks | Baseball | Minor League | 2003 | |
| 8/16/03 | Rhubarb Reindeer (Mascot) | Tacoma Rainiers | Baseball | Minor League | 2003 | 15,000 |
| 8/17/03 | Rally Monkey Bobble Belly | Anaheim Angels | Baseball | MLB | 2003 | |
| 8/17/03 | Dennis Martinez | Montreal Expos | Baseball | MLB | 2003 | 5,000 |
| 8/17/03 | Ramon Hernandez | Oakland A's | Baseball | MLB | 2003 | |
| 8/17/03 | Charlie Brown | Pittsburgh Pirates | Baseball | MLB | 2003 | |
| 8/17/03 | Tom Prince | Buffalo Bisons | Baseball | Minor League | 2003 | |
| 8/17/03 | Fisher DeBerry | Colorado Springs Sky Sox | Baseball | Minor League | 2003 | |
| 8/17/03 | Tom Browning | Florence Freedom | Baseball | Minor League | 2003 | |
| 8/17/03 | Darin Erstad | San Jose Giants | Baseball | Minor League | 2003 | 500 (Quiznos) |
| 8/19/03 | Joe Kennedy | Hudson Valley Renegades | Baseball | Minor League | 2003 | |
| 8/19/03 | Sizzle (Mascot) | Kansas City Tbones | Baseball | Minor League | 2003 | |
| 8/19/03 | Quackerjack (Mascot) | Long Island Ducks | Baseball | Minor League | 2003 | |
| 8/20/03 | Yogi Berra | New Jersey Jackals | Baseball | Minor League | 2003 | |
| 8/21/03 | Bud Harrelson | Long Island Ducks | Baseball | Minor League | 2003 | |
| 8/21/03 | Jack Kerouac | Lowell Spinners | Baseball | Minor League | 2003 | |
| 8/21/03 | Russ Ortiz | Modesto A's | Baseball | Minor League | 2003 | 500 (Quiznos) |
| 8/21/03 | Jason Anderson (Mini) | Staten Island Yankees | Baseball | Minor League | 2003 | |
| 8/22/03 | Corey Koskie (Super Hero) | Minnesota Twins | Baseball | MLB | 2003 | 5,000 14 and under |
| 8/22/03 | Joe Morgan | Modesto A's | Baseball | Minor League | 2003 | |
| 8/22/03 | Steve Balboni | Nashville Sounds | Baseball | Minor League | 2003 | |
| 8/22/03 | Gary Carter | Norfolk Tides | Baseball | Minor League | 2003 | |
| 8/22/03 | Wally Joyner | Peoria Chiefs | Baseball | Minor League | 2003 | |
| 8/22/03 | Albert Pujols | Potomac Cannons | Baseball | Minor League | 2003 | 1,000 |
| 8/22/03 | Kevin Brown | Tulsa Drillers | Baseball | Minor League | 2003 | 1,500 |
| 8/22/03 | Russ Ortiz | Visalia Oaks | Baseball | Minor League | 2003 | 500 (Quiznos) |
| 8/23/03 | Alan Trammell | Detroit Tigers | Baseball | MLB | 2003 | |
| 8/23/03 | Milo Hamilton/Alan Ashby | Houston Astros | Baseball | MLB | 2003 | |
| 8/23/03 | Paul Molitor | Toronto Blue Jays | Baseball | MLB | 2003 | 25,000 |
| 8/23/03 | Hobart (Mascot) | Casper Rockies | Baseball | Minor League | 2003 | |
| 8/23/03 | Webbly (Mascot) | Everett AquaSox | Baseball | Minor League | 2003 | |
| 8/23/03 | Russ Ortiz | Inland Empire 66ers of San Bernardino | Baseball | Minor League | 2003 | 500 (Quiznos) |
| 8/23/03 | Darin Erstad | Lake Elsinore Storm | Baseball | Minor League | 2003 | 500 (Quiznos) |
| 8/23/03 | Marc Hill | River City Rascals | Baseball | Minor League | 2003 | 1,000 |
| 8/24/03 | Italian Sausage mini | Milwaukee Brewers | Baseball | MLB | 2003 | |
| 8/24/03 | Joe DiMaggio | Columbus Clippers | Baseball | Minor League | 2003 | |
| 8/24/03 | Wayne Kirby | Lake County Captains | Baseball | Minor League | 2003 | |
| 8/24/03 | Chase Utley | Scranton-Wilkes Barre Red Barons | Baseball | Minor League | 2003 | |
| 8/25/03 | Rockey (Mascot) | Memphis Redbirds | Baseball | Minor League | 2003 | |
| 8/26/03 | Ichiro Suzuki | Seattle Mariners | Baseball | MLB | 2003 | 14 and under |
| 8/26/03 | Jay Leno on a Harley Davidson | Lowell Spinners | Baseball | Minor League | 2003 | |
| 8/27/03 | Eddie Mathews | Atlanta Braves | Baseball | MLB | 2003 | 12,000 14 and under |
| 8/27/03 | Mariano Rivera | New York Yankees | Baseball | MLB | 2003 | 18,000 |
| 8/27/03 | Sean Burnett | Altoona Curve | Baseball | Minor League | 2003 | |
| 8/27/03 | Russ Ortiz | San Jose Giants | Baseball | Minor League | 2003 | 500 (Quiznos) |
| 8/29/03 | Craig Counsell | Arizona Diamondbacks | Baseball | MLB | 2003 | 15,000 via Lottery |
| 8/29/03 | Brad Ausmus | Houston Astros | Baseball | MLB | 2003 | |
| 8/29/03 | Josh Gibson | Pittsburgh Pirates | Baseball | MLB | 2003 | |
| 8/29/03 | Babe Ruth | Battle Creek Yankees | Baseball | Minor League | 2003 | |
| 8/29/03 | Sizzle (Mascot) | Kansas City Tbones | Baseball | Minor League | 2003 | |
| 8/29/03 | Muggsy (Mascot) | Salem Avalanche | Baseball | Minor League | 2003 | |
| 8/29/03 | Von Hayes | South Bend Silver Hawks | Baseball | Minor League | 2003 | |
| 8/29/03 | Junior Spivey | Tucson Sidewinders | Baseball | Minor League | 2003 | |
| 8/29/03 | Andy Benes | Wichita Wranglers | Baseball | Minor League | 2003 | |
| 8/30/03 | Curt Schilling | Greensboro Bats | Baseball | Minor League | 2003 | |
| 8/30/03 | Dontrelle Willis | Jupiter Hammerheads | Baseball | Minor League | 2003 | |
| 8/30/03 | Ruben Sierra | Oklahoma City RedHawks | Baseball | Minor League | 2003 | |
| 8/30/03 | Jose Reyes | St. Lucie Mets | Baseball | Minor League | 2003 | 500 |
| 8/30/03 | Eric Hinske | Williamsport Crosscutters | Baseball | Minor League | 2003 | |
| 8/31/03 | Jake Peavy | Fort Wayne Wizards | Baseball | Minor League | 2003 | |
| 8/31/03 | Russ Ortiz | Lancaster Jet Hawks | Baseball | Minor League | 2003 | 500 (Quiznos) |
| 8/31/03 | Clotile (Mascot) | New Orleans Zephyrs | Baseball | Minor League | 2003 | |
| 8/31/03 | Darin Erstad | Rancho Cucamonga Quakes | Baseball | Minor League | 2003 | 500 (Quiznos) |
| 9/1/03 | Johnny Damon | Portland SeaDogs | Baseball | Minor League | 2003 | |
| 9/1/03 | Russ Ortiz | Rancho Cucamonga Quakes | Baseball | Minor League | 2003 | 500 (Quiznos) |
| 9/1/03 | Rocky Bluewinkle (Mascot) | Wilmington Blue Rocks | Baseball | Minor League | 2003 | |
| 9/6/03 | AJ Pierzynski | Minnesota Twins | Baseball | MLB | 2003 | 10,000 |
| 9/7/03 | Rocco Baldelli (Mini) | Tampa Bay Devil Rays | Baseball | MLB | 2003 | |
| 9/8/03 | Hideki Matsui | New York Yankees | Baseball | MLB | 2003 | 10,000 |
| 9/11/03 | Roberto Clemente | Montreal Expos | Baseball | MLB | 2003 | |
| 9/12/03 | Fred McGriff | Los Angeles Dodgers | Baseball | MLB | 2003 | |
| 9/13/03 | Craig Counsell (World Series) | Florida Marlins | Baseball | MLB | 2003 | 10,000 |
| 9/13/03 | Jose Cruz | Houston Astros | Baseball | MLB | 2003 | |
| 9/13/03 | Jason Giambi | New York Yankees | Baseball | MLB | 2003 | 10,000 14 and under |
| 9/14/03 | Jose Vidro | Montreal Expos | Baseball | MLB | 2003 | 5,000 |
| 9/19/03 | Hank Aaron | Atlanta Braves | Baseball | MLB | 2003 | 12,000 14 and under |
| 9/19/03 | Aubrey Huff (Mini) | Tampa Bay Devil Rays | Baseball | MLB | 2003 | |
| 9/20/03 | Kip Wells | Pittsburgh Pirates | Baseball | MLB | 2003 | |
| 9/27/03 | Phil and Phyllis (Original Mascots) | Philadelphia Phillies | Baseball | MLB | 2003 | |
| 9/27/03 | Carl Crawford (Mini) | Tampa Bay Devil Rays | Baseball | MLB | 2003 | |
| 10/4/03 | Phil Sauve | Hershey Bears | Hockey | AHL | 2003-2004 | |
| 10/18/03 | Jason Ralph | Bakersfield Condors | Hockey | ECHL | 2003-2004 | |
| 10/18/03 | John Brophy | Norfolk Admirals | Hockey | AHL | 2003-2004 | 5,000 |
| 10/23/03 | Richard Zednik | Montreal Canadiens | Hockey | NHL | 2003-2004 | |
| 10/25/03 | Nikolai Khabibulin (Super Hero) | Tampa Bay Lightning | Hockey | NHL | 2003-2004 | 5,000 |
| 11/1/03 | Cory Stillman (Super Hero) | Tampa Bay Lightning | Hockey | NHL | 2003-2004 | 5,000 |
| 11/7/03 | Patriotic Oscar (Mascot) | Missouri River Otters | Hockey | CHL | 2003-2004 | |
| 11/8/03 | Martin St. Louis (Super Hero) | Tampa Bay Lightning | Hockey | NHL | 2003-2004 | 5,000 |
| 11/9/03 | Tayshaun Prince | Detroit Pistons | Basketball | NBA | 2003-2004 | |
| 11/9/03 | Jocelyn Thibault | Chicago BlackHawks | Hockey | NHL | 2003-2004 | 10,000 |
| 11/11/03 | Stephane Quintal | Montreal Canadiens | Hockey | NHL | 2003-2004 | |
| 11/12/03 | Pete Maravich | New Orleans Hornets | Basketball | NBA | 2003-2004 | |
| 11/15/03 | Tony Amonte | Philadelphia Flyers | Hockey | NHL | 2003-2004 | |
| 11/15/03 | Spike #1 (Mascot) | Long Beach Ice Dogs | Hockey | ECHL | 2003-2004 | 2,500 |
| 11/21/03 | Brent Seabrook | Lethbridge Hurricanes | Hockey | WHL | 2003-2004 | 1,000 |
| 11/22/03 | Dan Boyle (Super Hero) | Tampa Bay Lightning | Hockey | NHL | 2003-2004 | 5,000 |
| 11/22/03 | Stanley (Mascot) | New Mexico Scorpions | Hockey | CHL | 2003-2004 | |
| 11/23/03 | Ben Wallace "All-Star" | Detroit Pistons | Basketball | NBA | 2003-2004 | 5,000 |
| 11/25/03 | Mark Boyle/Bobby "Slick" Leonard | Indiana Pacers | Basketball | NBA | 2003-2004 | 1,000 |
| 11/29/03 | Max (Mini) | Manchester Monarchs | Hockey | AHL | 2003-2004 | 5,000 |
| 12/2/03 | Andrei Markov | Montreal Canadiens | Hockey | NHL | 2003-2004 | |
| 12/3/03 | Richard Hamilton (Mini) | Detroit Pistons | Basketball | NBA | 2003-2004 | 5,000 |
| 12/7/03 | Bruce Richardson | Hershey Bears | Hockey | AHL | 2003-2004 | 4,500 |
| 12/9/03 | Ben Wallace (Mini) | Detroit Pistons | Basketball | NBA | 2003-2004 | 5,000 |
| 12/12/03 | Jeff Rimer/Denis Potvin | Florida Panthers | Hockey | NHL | 2003-2004 | |
| 12/12/03 | Ron Hextall | Philadelphia Phantoms | Hockey | AHL | 2003-2004 | 4,000 14 and under |
| 12/13/03 | Tomas Vokoun | Nashville Predators | Hockey | NHL | 2003-2004 | |
| 12/13/03 | Jason Blake | New York Islanders | Hockey | NHL | 2003-2004 | 14 and under |
| 12/13/03 | Dave Andreychuk (Super Hero) | Tampa Bay Lightning | Hockey | NHL | 2003-2004 | 5,000 |
| 12/13/03 | Ken Richardson | Corpus Christi Rayz | Hockey | CHL | 2003-2004 | 1,000 |
| 12/14/03 | Glen Gulutzan | Fresno Falcons | Hockey | ECHL | 2003-2004 | |
| 12/17/03 | Chauncey Billups (Mini) | Detroit Pistons | Basketball | NBA | 2003-2004 | |
| 12/19/03 | Slapjack (Mascot) | Odessa Jackalopes | Hockey | CHL | 2003-2004 | |
| 12/20/03 | Mike Lange (Talking) | Pittsburgh Penguins | Hockey | NHL | 2003-2004 | |
| 12/20/03 | Jock Callander | Cleveland Barons | Hockey | AHL | 2003-2004 | 3,000 |
| 12/21/03 | Richard Hamilton (Santa Claus) | Detroit Pistons | Basketball | NBA | 2003-2004 | 10,000 |
| 12/22/03 | Mathieu Garon | Montreal Canadiens | Hockey | NHL | 2003-2004 | |
| 12/29/03 | Iceburgh (Mascot) | Pittsburgh Penguins | Hockey | NHL | 2003-2004 | |
| 12/30/03 | Toby Petersen | Wilkes-Barre Scranton Penguins | Hockey | AHL | 2003-2004 | |
| 12/31/03 | Rowdy (Mascot) | Albany RiverRats | Hockey | AHL | 2003-2004 | |
| 1/2/04 | Gilbert Arenas (Talking) | Washington Wizards | Basketball | NBA | 2003-2004 | |
| 1/3/04 | Pavel Kubina (Super Hero) | Tampa Bay Lightning | Hockey | NHL | 2003-2004 | 5,000 |
| 1/6/04 | Guy Lafleur | Montreal Canadiens | Hockey | NHL | 2003-2004 | |
| 1/9/04 | Tracy McGrady (Talking) | Orlando Magic | Basketball | NBA | 2003-2004 | |
| 1/9/04 | Eric Snow (Mini) | Philadelphia 76ers | Basketball | NBA | 2003-2004 | 5,000 12 and under |
| 1/9/04 | Ken Daneyko | New Jersey Devils | Hockey | NHL | 2003-2004 | |
| 1/9/04 | Hugo Belanger | Adirondack IceHawks | Hockey | UHL | 2003-2004 | 1,000 |
| 1/9/04 | Maxime Ouellet | Portland Pirates | Hockey | AHL | 2003-2004 | 1,200 |
| 1/10/04 | Mario Lemieux | Pittsburgh Penguins | Hockey | NHL | 2003-2004 | |
| 1/10/04 | Patrick Nadeau | Quad City Mallards | Hockey | UHL | 2003-2004 | |
| 1/11/04 | Darko Milicic | Detroit Pistons | Basketball | NBA | 2003-2004 | 10,000 |
| 1/11/04 | Ryan Flinn | Manchester Monarchs | Hockey | AHL | 2003-2004 | 5,000 |
| 1/15/04 | David Wesley | New Orleans Hornets | Basketball | NBA | 2003-2004 | |
| 1/17/04 | Trevor Baker | Peoria Rivermen | Hockey | ECHL | 2003-2004 | 3,000 |
| 1/17/04 | TBA (Mini) | St. Louis Heartland Eagles | Hockey | USHL | 2003-2004 | |
| 1/21/04 | Tim Thomas | Milwaukee Bucks | Basketball | NBA | 2003-2004 | 5,000 |
| 1/23/04 | Alan Trammell | West Michigan Whitecaps | Baseball | Minor League | 2004 | Banquet Attendees |
| 1/23/04 | Aaron McKie (Mini) | Philadelphia 76ers | Basketball | NBA | 2003-2004 | 5,000 12 and under |
| 1/23/04 | Patrick Rissmiller | Cleveland Barons | Hockey | AHL | 2003-2004 | 3,000 |
| 1/23/04 | Bobby Clarke | Philadelphia Phantoms | Hockey | AHL | 2003-2004 | 4,000 14 and under |
| 1/23/04 | Terry Virtue | Worcester IceCats | Hockey | AHL | 2003-2004 | |
| 1/24/04 | TBA | Green Bay Gamblers | Hockey | USHL | 2003-2004 | |
| 1/24/04 | Jason LaBarbera | Hartford Wolfpack | Hockey | AHL | 2003-2004 | |
| 1/24/04 | Johan Holmqvist | Houston Aeros | Hockey | AHL | 2003-2004 | 3,000 |
| 1/25/04 | Big Ben Wallace | Detroit Pistons | Basketball | NBA | 2003-2004 | |
| 1/30/04 | Derrick Coleman (Mini) | Philadelphia 76ers | Basketball | NBA | 2003-2004 | 5,000 12 and under |
| 1/31/04 | Maurice Taylor | Houston Rockets | Basketball | NBA | 2003-2004 | 10,000 |
| 1/31/04 | Vincent Lecavalier (Super Hero) | Tampa Bay Lightning | Hockey | NHL | 2003-2004 | 5,000 |
| 1/31/04 | Peter Ambroziak | New Mexico Scorpions | Hockey | CHL | 2003-2004 | |
| 2/1/04 | Don McKee | Odessa Jackalopes | Hockey | CHL | 2003-2004 | |
| 2/6/04 | Kenny Thomas | Philadelphia 76ers | Basketball | NBA | 2003-2004 | 5,000 12 and under |
| 2/7/04 | Burning Belly | Miami Heat | Basketball | NBA | 2003-2004 | |
| 2/7/04 | Garrett Burnett | Cincinnati Mighty Ducks | Hockey | AHL | 2003-2004 | 3,000 |
| 2/11/04 | Tomas Surovy | Wilkes-Barre Scranton Penguins | Hockey | AHL | 2003-2004 | |
| 2/14/04 | John Grahame (Super Hero) | Tampa Bay Lightning | Hockey | NHL | 2003-2004 | 5,000 |
| 2/14/04 | Tyler Rennette | Peoria Rivermen | Hockey | ECHL | 2003-2004 | 3,000 |
| 2/15/04 | Slappy (Mascot) | Kalamazoo Wings | Hockey | UHL | 2003-2004 | |
| 2/16/04 | Kenny Jonsson | New York Islanders | Hockey | NHL | 2003-2004 | 14 and under |
| 2/18/04 | George Washington | Philadelphia Phantoms | Hockey | AHL | 2003-2004 | 500 Kids |
| 2/21/04 | Crackers (Mascot) | Portland Pirates | Hockey | AHL | 2003-2004 | 1,200 |
| 2/22/04 | Chauncey Billups (Talking) | Detroit Pistons | Basketball | NBA | 2003-2004 | 10,000 |
| 2/24/04 | Chopper Traviglini | Denver Nuggets | Basketball | NBA | 2001-2002 | 5,000 |
| 2/25/04 | PJ Brown | New Orleans Hornets | Basketball | NBA | 2003-2004 | |
| 2/25/04 | Scott Burt | Idaho Steelheads | Hockey | ECHL | 2003-2004 | 2,500 |
| 2/28/04 | Andre Roy (Super Hero) | Tampa Bay Lightning | Hockey | NHL | 2003-2004 | 5,000 |
| 2/28/04 | Niko Dimitrakos | Cleveland Barons | Hockey | AHL | 2003-2004 | |
| 2/28/04 | Jeff Reynaert | Quad City Mallards | Hockey | UHL | 2003-2004 | |
| 2/28/04 | Buck the Beaver (Mascot) | Wheeling Nailers | Hockey | ECHL | 2003-2004 | |
| 2/29/04 | Harvey Pollack | Philadelphia 76ers | Basketball | NBA | 2003-2004 | |
| 3/1/04 | "Da Bulls" | Chicago Bulls | Basketball | NBA | 2003-2004 | |
| 3/3/04 | Lebron James | Cleveland Cavaliers | Basketball | NBA | 2003-2004 | 5,000 |
| 3/3/04 | Jamal Mashburn | New Orleans Hornets | Basketball | NBA | 2003-2004 | |
| 3/5/04 | Random Season Ticket | Minnesota Twins | Baseball | MLB | 2004 | 500 |
| 3/5/04 | Retro TBA | Utah Jazz | Basketball | NBA | 2003-2004 | |
| 3/5/04 | Travis Clayton | Wichita Thunder | Hockey | CHL | 2003-2004 | |
| 3/6/04 | Jami Yoder | Odessa Jackalopes | Hockey | CHL | 2003-2004 | |
| 3/8/04 | Josh Gibson | Pittsburgh Pirates | Baseball | MLB | 2004 | 4,000 |
| 3/9/04 | Jack Wilson | Pittsburgh Pirates | Baseball | MLB | 2004 | 2,000 |
| 3/9/04 | Reggie Berg | Florida Everblades | Hockey | ECHL | 2003-2004 | |
| 3/12/04 | Rally Monkey Bobble Belly | Anaheim Angels | Baseball | MLB | 2004 | |
| 3/12/04 | Glenn Robinson (Mini) | Philadelphia 76ers | Basketball | NBA | 2003-2004 | 5,000 12 and under |
| 3/13/04 | Manny Sanguillen | Pittsburgh Pirates | Baseball | MLB | 2004 | 4,500 |
| 3/13/04 | Kirk Heinrich | Chicago Bulls | Basketball | NBA | 2003-2004 | 10,000 |
| 3/14/04 | Mehmet Okur | Detroit Pistons | Basketball | NBA | 2003-2004 | 21 and over |
| 3/14/04 | Rick DiPietro | Bridgeport SoundTigers | Hockey | AHL | 2003-2004 | 2,000 14 and under |
| 3/15/04 | Sam Rosen/John Davidson | New York Rangers | Hockey | NHL | 2003-2004 | |
| 3/16/04 | Random Season Ticket | Minnesota Twins | Baseball | MLB | 2004 | 500 |
| 3/16/04 | Brett Marietti | South Carolina Stingrays | Hockey | ECHL | 2003-2004 | |
| 3/19/04 | Charles Barkley | Phoenix Suns | Basketball | NBA | 2003-2004 | |
| 3/19/04 | Louie (Mascot) | Lowell Lock Monsters | Hockey | AHL | 2003-2004 | |
| 3/19/04 | Jody Gage | Rochester Americans | Hockey | AHL | 2003-2004 | 1,500 |
| 3/20/04 | Donyell Marshall | Chicago Bulls | Basketball | NBA | 2003-2004 | 10,000 |
| 3/20/04 | Spike #2 (Mascot) | Long Beach Ice Dogs | Hockey | ECHL | 2003-2004 | 2,500 |
| 3/20/04 | Dylan Mills | Quad City Mallards | Hockey | UHL | 2003-2004 | |
| 3/21/04 | Jerry Stackhouse Bobble Bank | Washington Wizards | Basketball | NBA | 2003-2004 | |
| 3/21/04 | Quinn Fair | Bakersfield Condors | Hockey | ECHL | 2003-2004 | |
| 3/21/04 | Brett Clark | Hershey Bears | Hockey | AHL | 2003-2004 | 4,500 |
| 3/21/04 | Neil Little | Philadelphia Phantoms | Hockey | AHL | 2003-2004 | 4,000 14 and under |
| 3/24/04 | John Slaney | Wilkes-Barre Scranton Penguins | Hockey | AHL | 2003-2004 | |
| 3/25/04 | Al Rosen | Cleveland Indians | Baseball | MLB | 2004 | 6,000 |
| 3/26/04 | Kenny Thomas (Mini) | Philadelphia 76ers | Basketball | NBA | 2003-2004 | 5,000 12 and under |
| 3/27/04 | Brad Richards (Super Hero) | Tampa Bay Lightning | Hockey | NHL | 2003-2004 | 5,000 |
| 3/27/04 | Dan Cavanaugh | Houston Aeros | Hockey | AHL | 2003-2004 | 3,000 |
| 3/28/04 | Bango (Mascot) | Milwaukee Bucks | Basketball | NBA | 2003-2004 | 5,000 14 and under |
| 3/28/04 | Jeff Sullivan | Johnstown Chiefs | Hockey | ECHL | 2003-2004 | 2,000 |
| 3/28/04 | Mascot (Mini) | St. Louis Heartland Eagles | Hockey | CHL | 2003-2004 | |
| 4/4/04 | Corliss Williamson | Detroit Pistons | Basketball | NBA | 2003-2004 | 10,000 |
| 4/8/04 | Jake Peavy | Mobile BayBears | Baseball | Minor League | 2004 | 1,000 |
| 4/8/04 | Donald Brashear (Bobble Glove) | Philadelphia Flyers | Hockey | NHL | 2003-2004 | |
| 4/9/04 | Alan Iverson (Mini) | Philadelphia 76ers | Basketball | NBA | 2003-2004 | 5,000 12 and under |
| 4/9/04 | Moose (Mascot) | Rochester Americans | Hockey | AHL | 2003-2004 | 1,500 14 and under |
| 4/10/04 | Aubrey Huff (Mini) | Tampa Bay Devil Rays | Baseball | MLB | 2004 | 5,000 |
| 4/10/04 | Mike Schmidt | Clearwater Threshers | Baseball | Minor League | 2004 | 1,000 |
| 4/10/04 | Don Mattingly | Trenton Thunder | Baseball | Minor League | 2004 | 2,000 6 & over |
| 4/10/04 | Jean-Sebastien Giguere | Cincinnati Mighty Ducks | Hockey | AHL | 2003-2004 | 3,000 |
| 4/10/04 | Johnny Pohl | Worcester IceCats | Hockey | AHL | 2003-2004 | |
| 4/12/04 | Rockey (Mascot) | Memphis Redbirds | Baseball | Minor League | 2004 | 1,500 |
| 4/16/04 | Cole Hamels | Lakewood Blueclaws | Baseball | Minor League | 2004 | 2,000 |
| 4/16/04 | Felix Pie | Lansing Lugnuts | Baseball | Minor League | 2004 | 2,500 |
| 4/17/04 | Jerome Williams | Fresno Grizzlies | Baseball | Minor League | 2004 | 2,500 |
| 4/17/04 | Roger Clemens | New Orleans Zephyrs | Baseball | Minor League | 2004 | |
| 4/18/04 | Jody Gerut Figurine (Mini) | Cleveland Indians | Baseball | MLB | 2004 | |
| 4/21/04 | Joe Nuxhall | Cincinnati Reds | Baseball | MLB | 2004 | |
| 4/24/04 | Chuck Tanner Figurine | Pittsburgh Pirates | Baseball | MLB | 2004 | |
| 4/25/04 | Brad Wilkerson | Montreal Expos | Baseball | MLB | 2004 | 5,000 |
| 4/25/04 | Tom Seaver (Reds Uni) | Columbus Clippers | Baseball | Minor League | 2004 | |
| 4/26/04 | Ivan Cruz | Memphis Redbirds | Baseball | Minor League | 2004 | 1,500 |
| 4/26/04 | ESPN Broadcasters | Rancho Cucamonga Quakes | Baseball | Minor League | 2004 | 1,000 |
| 4/30/04 | Eric Gagne (Cy Young) | Los Angeles Dodgers | Baseball | MLB | 2004 | |
| 4/30/04 | Babe Ruth Bronze Statuette | New York Yankees | Baseball | MLB | 2004 | 18,000 21 and over |
| 4/30/04 | Magnetic Ozzie Mini | Kane County Cougars | Baseball | Minor League | 2004 | 2,000 |
| 4/30/04 | Roy Clark | Tulsa Drillers | Baseball | Minor League | 2004 | 5,000 5 and up |
| 5/2/04 | Magnetic Ozzie Mini | Kane County Cougars | Baseball | Minor League | 2004 | 2,000 |
| 5/2/04 | Babe Ruth | Trenton Thunder | Baseball | Minor League | 2004 | 2,000 6 & over |
| 5/6/04 | Finley (Mascot) | Camden Riversharks | Baseball | Minor League | 2004 | 1,500 kids |
| 5/7/04 | Jim Slaton | Lancaster Jet Hawks | Baseball | Minor League | 2004 | |
| 5/8/04 | Jalapeno Hannah (Mini) | Pittsburgh Pirates | Baseball | MLB | 2004 | Kids |
| 5/8/04 | Todd Linden | Fresno Grizzlies | Baseball | Minor League | 2004 | 2,500 |
| 5/8/04 | Chatter (Mascot) | Visalia Oaks | Baseball | Minor League | 2004 | |
| 5/9/04 | Warren Cromartie | Montreal Expos | Baseball | MLB | 2004 | 5,000 |
| 5/9/04 | Jim Palmer (Orioles Uni) | Columbus Clippers | Baseball | Minor League | 2004 | |
| 5/11/04 | Quackerjack (Mascot) | Long Island Ducks | Baseball | Minor League | 2004 | 2,000 |
| 5/11/04 | David Ortiz | Portland SeaDogs | Baseball | Minor League | 2004 | 1,000 |
| 5/12/04 | Jason Varitek | Portland SeaDogs | Baseball | Minor League | 2004 | 1,000 |
| 5/13/04 | Kevin Millar | Portland SeaDogs | Baseball | Minor League | 2004 | 1,000 |
| 5/14/04 | Bobby Brownlie | Daytona Cubs | Baseball | Minor League | 2004 | 500 |
| 5/14/04 | TBA Nascar Mini | Iowa Cubs | Baseball | Minor League | 2004 | |
| 5/14/04 | Derrek Lee | Rancho Cucamonga Quakes | Baseball | Minor League | 2004 | 1,000 |
| 5/14/04 | Average Joe | Stockton Ports | Baseball | Minor League | 2004 | |
| 5/16/04 | Roy Halladay (Cy Young) | Toronto Blue Jays | Baseball | MLB | 2004 | |
| 5/16/04 | Bob Gibson (Cardinals Uni) | Columbus Clippers | Baseball | Minor League | 2004 | |
| 5/17/04 | Bo Hart | Memphis Redbirds | Baseball | Minor League | 2004 | 1,500 |
| 5/18/04 | Rocco Baldelli (Mini) | Tampa Bay Devil Rays | Baseball | MLB | 2004 | 5,000 |
| 5/19/04 | Jorge Posada | Trenton Thunder | Baseball | Minor League | 2004 | 2,000 6 & over |
| 5/20/04 | Eddie Pearson | Kansas City Tbones | Baseball | Minor League | 2004 | 3,000 |
| 5/21/04 | Duke Snider | Fort Worth Cats | Baseball | Minor League | 2004 | 1,500 |
| 5/21/04 | Andrew Sisco | Lansing Lugnuts | Baseball | Minor League | 2004 | 2,500 |
| 5/22/04 | Mr. Met (Mascot) | New York Mets | Baseball | MLB | 2004 | 12,000 12 and under |
| 5/22/04 | Reggie Jackson Figurine | Oakland A's | Baseball | MLB | 2004 | 15,000 |
| 5/22/04 | Coco Crisp | Buffalo Bisons | Baseball | Minor League | 2004 | |
| 5/22/04 | Bobby Crosby | Modesto A's | Baseball | Minor League | 2004 | |
| 5/22/04 | Nolan Ryan | Palm Beach Cardinals | Baseball | Minor League | 2004 | 500 |
| 5/23/04 | Reggie Jackson | Oakland A's | Baseball | MLB | 2004 | 15,000 |
| 5/23/04 | Omar Moreno | Pittsburgh Pirates | Baseball | MLB | 2004 | |
| 5/23/04 | Carl Crawford (Mini) | Tampa Bay Devil Rays | Baseball | MLB | 2004 | 5,000 |
| 5/23/04 | Satchel Paige (Indians Uni) | Columbus Clippers | Baseball | Minor League | 2004 | |
| 5/23/04 | Sherman #1 (Mascot) | Delmarva Shorebirds | Baseball | Minor League | 2004 | |
| 5/23/04 | David (Arias) Ortiz (mini) | Wisconsin Timber Rattlers | Baseball | Minor League | 2004 | 1,000 |
| 5/27/04 | Ryan Howard | Lakewood Blueclaws | Baseball | Minor League | 2004 | |
| 5/28/04 | Assorted past SGAs | Columbus Clippers | Baseball | Minor League | 2004 | |
| 5/28/04 | Preston Spurlin | Fort Worth Cats | Baseball | Minor League | 2004 | |
| 5/28/04 | Kerry Wood | West Tennessee Diamond Jaxx | Baseball | Minor League | 2004 | 1,000 |
| 5/29/04 | John Henry Moss | Greensboro Bats | Baseball | Minor League | 2004 | |
| 5/29/04 | Fausto Carmona | Lake County Captains | Baseball | Minor League | 2004 | 2,000 |
| 5/29/04 | Tony Conigliaro | North Shore Spirit | Baseball | Minor League | 2004 | 1,000 |
| 5/29/04 | Dennis Martinez | Rochester Red Wings | Baseball | Minor League | 2004 | 1,000 |
| 5/30/04 | Geoff Jenkins (Mini) | Milwaukee Brewers | Baseball | MLB | 2004 | Kids |
| 5/30/04 | Tino Martinez (Mini) | Tampa Bay Devil Rays | Baseball | MLB | 2004 | 5,000 |
| 5/30/04 | Andy Marte | Myrtle Beach Pelicans | Baseball | Minor League | 2004 | 1,000 |
| 5/31/04 | Jerome Williams | San Jose Giants | Baseball | Minor League | 2004 | |
| 6/2/04 | Brett Myers | Reading Phillies | Baseball | Minor League | 2004 | 2,000 14 and under |
| 6/4/04 | Moses (Bible) | Nashville Sounds | Baseball | Minor League | 2004 | 2,000 |
| 6/4/04 | Tim Wakefield | Portland SeaDogs | Baseball | Minor League | 2004 | 1,000 |
| 6/5/04 | Joe Mauer | Fort Myers Miracle | Baseball | Minor League | 2004 | 1,000 |
| 6/6/04 | Shannon Stewart | Minnesota Twins | Baseball | MLB | 2004 | 10,000 |
| 6/6/04 | Kazuo Matsui | New York Mets | Baseball | MLB | 2004 | 12,000 12 and under |
| 6/6/04 | Moises Alou | Buffalo Bisons | Baseball | Minor League | 2004 | |
| 6/6/04 | Bob Uecker | Indianapolis Indians | Baseball | Minor League | 2004 | |
| 6/7/04 | Ron Coomer | Joliet Jackhammers | Baseball | Minor League | 2004 | |
| 6/7/04 | Angel Berroa | Wilmington Blue Rocks | Baseball | Minor League | 2004 | 1,000 |
| 6/9/04 | Jose Cruz Jr. (Mini) | Tampa Bay Devil Rays | Baseball | MLB | 2004 | 5,000 |
| 6/9/04 | Greg Luzinski | Reading Phillies | Baseball | Minor League | 2004 | 2,500 15 and up |
| 6/9/04 | Mr. Celery (Mascot) | Wilmington Blue Rocks | Baseball | Minor League | 2004 | 1,250 |
| 6/10/04 | Pete Buck | Gateway Grizzlies | Baseball | Minor League | 2004 | 1,000 |
| 6/11/04 | Cody Ransom | Fresno Grizzlies | Baseball | Minor League | 2004 | 2,500 |
| 6/12/04 | Omar Vizquel/Davey Concepcion | Cleveland Indians | Baseball | MLB | 2004 | |
| 6/12/04 | Dmitri Young | Detroit Tigers | Baseball | MLB | 2004 | |
| 6/12/04 | Scott Podsednik | Milwaukee Brewers | Baseball | MLB | 2004 | |
| 6/12/04 | Rusty (Mascot) | Gary Southshore Railcats | Baseball | Minor League | 2004 | 1,000 kids |
| 6/12/04 | Kirk Bullinger | New Orleans Zephyrs | Baseball | Minor League | 2004 | |
| 6/12/04 | Ryan Sandberg | Oklahoma City RedHawks | Baseball | Minor League | 2004 | |
| 6/12/04 | Rowdy (Mascot) | Richmond Roosters | Baseball | Minor League | 2004 | |
| 6/12/04 | Sammy Sosa "Pumpin Iron" | West Tennessee Diamond Jaxx | Baseball | Minor League | 2004 | 1,000 |
| 6/12/04 | Cal Ripken Sr. | Wisconsin Timber Rattlers | Baseball | Minor League | 2004 | 1,000 |
| 6/13/04 | Carney Lansford | Oakland A's | Baseball | MLB | 2004 | 15,000 |
| 6/13/04 | Sparky Anderson (Reds Uni) | Columbus Clippers | Baseball | Minor League | 2004 | |
| 6/13/04 | Gavin Floyd (USA Jersey) | Lakewood Blueclaws | Baseball | Minor League | 2004 | |
| 6/13/04 | Quackerjack (Mascot) | Long Island Ducks | Baseball | Minor League | 2004 | 1,500 |
| 6/14/04 | Gaylen Pitts | Memphis Redbirds | Baseball | Minor League | 2004 | 1,500 |
| 6/15/04 | TBA 1950s mini | Gateway Grizzlies | Baseball | Minor League | 2004 | |
| 6/15/04 | Kevin Millar/Kevin Youkilis double | Portland SeaDogs | Baseball | Minor League | 2004 | 1,000 |
| 6/15/04 | Lou Gehrig | Rochester Red Wings | Baseball | Minor League | 2004 | 2,000 |
| 6/16/04 | Phil Garner Figurine | Pittsburgh Pirates | Baseball | MLB | 2004 | |
| 6/17/04 | Richard Nixon | Nashua Pride | Baseball | Minor League | 2004 | |
| 6/18/04 | Monkey Boy | North Shore Spirit | Baseball | Minor League | 2004 | |
| 6/18/04 | Frank White | Wichita Wranglers | Baseball | Minor League | 2004 | |
| 6/19/04 | Dontrelle Willis | Boise Hawks | Baseball | Minor League | 2004 | |
| 6/19/04 | Miguel Cabrera | Carolina Mudcats | Baseball | Minor League | 2004 | 1,200 14 and under |
| 6/19/04 | Jack McKeon | Greensboro Bats | Baseball | Minor League | 2004 | |
| 6/19/04 | Andruw Jones | Greenville Braves | Baseball | Minor League | 2004 | |
| 6/19/04 | TBA Nascar Mini | Iowa Cubs | Baseball | Minor League | 2004 | |
| 6/19/04 | Aramis Ramirez Action Figurine | Nashville Sounds | Baseball | Minor League | 2004 | |
| 6/19/04 | Hank Blalock | Oklahoma City RedHawks | Baseball | Minor League | 2004 | 2,500 |
| 6/19/04 | Joe Mauer | Swing of the Quad Cities | Baseball | Minor League | 2004 | |
| 6/19/04 | Lou Gehrig | Syracuse Skychiefs | Baseball | Minor League | 2004 | 1,500 12 and under |
| 6/20/04 | Wes Helms (Mini) | Milwaukee Brewers | Baseball | MLB | 2004 | Kids |
| 6/20/04 | Lou Brock | St. Louis Cardinals | Baseball | MLB | 2004 | |
| 6/20/04 | Rich Hyde | Joliet Jackhammers | Baseball | Minor League | 2004 | |
| 6/20/04 | Ozzie (Mascot) | Kane County Cougars | Baseball | Minor League | 2004 | 2,000 |
| 6/20/04 | Lenny Dykstra | Scranton-Wilkes Barre Red Barons | Baseball | Minor League | 2004 | |
| 6/21/04 | Brad Komminsk | Lima Locos | Baseball | Minor League | 2004 | 500 |
| 6/21/04 | Stubby Clapp | Memphis Redbirds | Baseball | Minor League | 2004 | 1,500 |
| 6/22/04 | John Montefusco | Somerset Patriots | Baseball | Minor League | 2004 | |
| 6/23/04 | Steamer (Mascot) | Altoona Curve | Baseball | Minor League | 2004 | 2,500 14 and under |
| 6/23/04 | Doug Waechter (Mini) | Hudson Valley Renegades | Baseball | Minor League | 2004 | 3,000 |
| 6/23/04 | Corey Jenkins | Lowell Spinners | Baseball | Minor League | 2004 | 1,500 |
| 6/23/04 | Marlon Byrd | Reading Phillies | Baseball | Minor League | 2004 | 2,000 14 and under |
| 6/23/04 | Bernie Williams (Thunder Uni) | Trenton Thunder | Baseball | Minor League | 2004 | 2,000 6 & over |
| 6/24/04 | Homer (Mascot) | Huntsville Stars | Baseball | Minor League | 2004 | 1,000 Kids |
| 6/24/04 | "Dirty" Al Gallagher | Kansas City Tbones | Baseball | Minor League | 2004 | 3,000 |
| 6/24/04 | Robin Roberts | Wilmington Blue Rocks | Baseball | Minor League | 2004 | 1,500 |
| 6/25/04 | Mike Scioscia | Clinton Lumberkings | Baseball | Minor League | 2004 | |
| 6/25/04 | Bobby Bragan (Talking Mini) | Jacksonville Suns | Baseball | Minor League | 2004 | 3,000 |
| 6/25/04 | Chris Shelton | Lynchburg HillCats | Baseball | Minor League | 2004 | |
| 6/25/04 | Skipper (Mascot) | Stockton Ports | Baseball | Minor League | 2004 | 1,000 |
| 6/25/04 | Greg Maddux | West Tennessee Diamond Jaxx | Baseball | Minor League | 2004 | 1,000 |
| 6/26/04 | Greg Luzinski | Atlantic City Surf | Baseball | Minor League | 2004 | 2,000 |
| 6/26/04 | Dale Earnhardt Jr. (Mini) | Daytona Cubs | Baseball | Minor League | 2004 | 500 |
| 6/26/04 | Willie Bloomquist | Everett AquaSox | Baseball | Minor League | 2004 | 1,000 12 and under |
| 6/26/04 | Tommy Hawk (Mascot) | Greenville Braves | Baseball | Minor League | 2004 | |
| 6/26/04 | Jason Giambi | Modesto A's | Baseball | Minor League | 2004 | |
| 6/26/04 | Mike Schmidt | Palm Beach Cardinals | Baseball | Minor League | 2004 | 500 |
| 6/26/04 | Rocket Wheeler | Rome Braves | Baseball | Minor League | 2004 | 1,000 |
| 6/27/04 | Tony Gwynn Jr. | Beloit Snappers | Baseball | Minor League | 2004 | 500 |
| 6/27/04 | PeeWee (Mascot Mini) | Brooklyn Cyclones | Baseball | Minor League | 2004 | 1,500 |
| 6/27/04 | Dwight Maness | Camden Riversharks | Baseball | Minor League | 2004 | |
| 6/27/04 | Justin Davies | Long Island Ducks | Baseball | Minor League | 2004 | 1,500 |
| 6/27/04 | Doug Mientkiewicz (Mini) | New Britain Rockcats | Baseball | Minor League | 2004 | 1,000-2,000 12 and under |
| 6/27/04 | Fungo (Mascot) | New Hampshire FisherCats | Baseball | Minor League | 2004 | 1,000 kids |
| 6/28/04 | Mike O'Malley | Lowell Spinners | Baseball | Minor League | 2004 | 1,500 |
| 6/28/04 | Tom Stocker/Steve Selby | Memphis Redbirds | Baseball | Minor League | 2004 | 1,500 |
| 6/30/04 | Sean Casey | Cincinnati Reds | Baseball | MLB | 2004 | |
| 6/30/04 | Toby Hall (Mini) | Tampa Bay Devil Rays | Baseball | MLB | 2004 | 5,000 |
| 6/30/04 | Mike O'Malley | New Hampshire FisherCats | Baseball | Minor League | 2004 | |
| 6/30/04 | Mike Schmidt | Reading Phillies | Baseball | Minor League | 2004 | 2,500 15 and up |
| 7/1/04 | Sherman #2 (Mascot) | Delmarva Shorebirds | Baseball | Minor League | 2004 | |
| 7/2/04 | Lou Seal (Mascot) | Columbus Clippers | Baseball | Minor League | 2004 | 2,000 12 and under |
| 7/2/04 | Dale Murphy | Greenville Braves | Baseball | Minor League | 2004 | |
| 7/2/04 | Tim Hudson | Huntsville Stars | Baseball | Minor League | 2004 | 1,500 |
| 7/3/04 | Lou Scally (Weatherman) | Hagerstown Suns | Baseball | Minor League | 2004 | 500 |
| 7/3/04 | Tike Redman Figurine | Nashville Sounds | Baseball | Minor League | 2004 | |
| 7/3/04 | Joe Mauer | New Britain Rockcats | Baseball | Minor League | 2004 | 1,000-2,000 12 and under |
| 7/3/04 | Slider (Mascot) | Rochester Honkers | Baseball | Minor League | 2004 | 500 |
| 7/4/04 | Lou Scally (Weatherman) | Hagerstown Suns | Baseball | Minor League | 2004 | 500 |
| 7/5/04 | Lou Gehrig Bronze Statuette | New York Yankees | Baseball | MLB | 2004 | 18,000 21 and over |
| 7/5/04 | Bob Gibson | St. Louis Cardinals | Baseball | MLB | 2004 | |
| 7/5/04 | Eric Finkel (Promo Guy) | Lakewood Blueclaws | Baseball | Minor League | 2004 | |
| 7/5/04 | Adam Wainright | Memphis Redbirds | Baseball | Minor League | 2004 | 1,500 |
| 7/6/04 | Tom Browning | Florence Freedom | Baseball | Minor League | 2004 | |
| 7/6/04 | TBA 1960s mini | Gateway Grizzlies | Baseball | Minor League | 2004 | |
| 7/7/04 | Rafael Palmeiro Statuette | Baltimore Orioles | Baseball | MLB | 2004 | |
| 7/7/04 | John Stearns | Norfolk Tides | Baseball | Minor League | 2004 | 2,500 17 and under |
| 7/7/04 | Chase (Mascot Batdog) | Trenton Thunder | Baseball | Minor League | 2004 | 2,000 6 & over |
| 7/9/04 | Al Newman | Minnesota Twins | Baseball | MLB | 2004 | 10,000 |
| 7/9/04 | Dave Roberts | Jamestown Jammers | Baseball | Minor League | 2004 | |
| 7/9/04 | Skeeter Barnes Action Figurine | Nashville Sounds | Baseball | Minor League | 2004 | |
| 7/9/04 | Adam LaRoche | Richmond Braves | Baseball | Minor League | 2004 | 4,000 |
| 7/9/04 | Gnic the Gnat 1940s uni (Mascot) | Savannah Sand Gnats | Baseball | Minor League | 2004 | |
| 7/10/04 | Gorman Thomas | Milwaukee Brewers | Baseball | MLB | 2004 | |
| 7/10/04 | Jason Schmidt | San Francisco Giants | Baseball | MLB | 2004 | |
| 7/10/04 | Ferguson Jenkins | Chattanooga Lookouts | Baseball | Minor League | 2004 | |
| 7/10/04 | Wool E. Bull Bobblehead Racecar | Durham Bulls | Baseball | Minor League | 2004 | 5,000 via lottery |
| 7/10/04 | Craig Kuhl | Gateway Grizzlies | Baseball | Minor League | 2004 | 1,000 |
| 7/10/04 | Steve Carlton | Scranton-Wilkes Barre Red Barons | Baseball | Minor League | 2004 | |
| 7/10/04 | Derek Jeter | Tampa Yankees | Baseball | Minor League | 2004 | 500 |
| 7/11/04 | Sean Burroughs Action Figurine | San Diego Padres | Baseball | MLB | 2004 | |
| 7/11/04 | Lipso Nava | Camden Riversharks | Baseball | Minor League | 2004 | |
| 7/11/04 | Josh Barfield | Fort Wayne Wizards | Baseball | Minor League | 2004 | |
| 7/11/04 | Carlos Delgado | Syracuse Skychiefs | Baseball | Minor League | 2004 | 2,000 12 and under |
| 7/15/04 | Danny Jackson | Kansas City Tbones | Baseball | Minor League | 2004 | 3,000 |
| 7/16/04 | Austin Kearns | Billings Mustangs | Baseball | Minor League | 2004 | |
| 7/16/04 | Terry Francona | Birmingham Barons | Baseball | Minor League | 2004 | 1,500 15 and older |
| 7/16/04 | Mayberry Deputy | Danville Braves | Baseball | Minor League | 2004 | 1,000 |
| 7/16/04 | John Smoltz | Greenville Braves | Baseball | Minor League | 2004 | 1,000 |
| 7/16/04 | Hornsby (Mascot) | Tulsa Drillers | Baseball | Minor League | 2004 | |
| 7/17/04 | Richie Sexson | Arizona Diamondbacks | Baseball | MLB | 2004 | |
| 7/17/04 | Jose Reyes | New York Mets | Baseball | MLB | 2004 | 12,000 12 and under |
| 7/17/04 | Captain (Mascot) | Texas Rangers | Baseball | MLB | 2004 | 8,000 13 and under |
| 7/17/04 | Juan Pierre | Carolina Mudcats | Baseball | Minor League | 2004 | 1,200 14 and under |
| 7/17/04 | Gil Meche | Everett AquaSox | Baseball | Minor League | 2004 | 1,000 12 and under |
| 7/17/04 | Skipper (Mascot) | Lake County Captains | Baseball | Minor League | 2004 | 2,000 |
| 7/17/04 | Old Man of the Mountain | Nashua Pride | Baseball | Minor League | 2004 | |
| 7/17/04 | Johnny Bench | Oklahoma City RedHawks | Baseball | Minor League | 2004 | |
| 7/17/04 | Yogi Berra | Palm Beach Cardinals | Baseball | Minor League | 2004 | 500 |
| 7/17/04 | Richard Austin | Rockford Riverhawks | Baseball | Minor League | 2004 | |
| 7/18/04 | Vida Blue | Oakland A's | Baseball | MLB | 2004 | 15,000 |
| 7/18/04 | Sauerkraut Saul (Mini) | Pittsburgh Pirates | Baseball | MLB | 2004 | |
| 7/18/04 | Rickie Weeks | Beloit Snappers | Baseball | Minor League | 2004 | 500 |
| 7/18/04 | Willie Stargell (Pirates Uni) | Columbus Clippers | Baseball | Minor League | 2004 | |
| 7/18/04 | Felipe/Moises Alou | Indianapolis Indians | Baseball | Minor League | 2004 | |
| 7/18/04 | Pete Rose Jr. | Joliet Jackhammers | Baseball | Minor League | 2004 | |
| 7/19/04 | Lou Piniella (Mini) | Tampa Bay Devil Rays | Baseball | MLB | 2004 | 5,000 |
| 7/19/04 | Dean Bowyer | Mankato Moondogs | Baseball | Minor League | 2004 | 600 |
| 7/20/04 | Bucky Dent | Columbus Clippers | Baseball | Minor League | 2004 | 2,000 |
| 7/20/04 | TBA 1970s mini | Gateway Grizzlies | Baseball | Minor League | 2004 | |
| 7/21/04 | Rob Dibble | Cedar Rapid Kernals | Baseball | Minor League | 2004 | 1,000 |
| 7/21/04 | Muddonna (Mascot) | Toledo Mudhens | Baseball | Minor League | 2004 | 1,000 |
| 7/22/04 | Aftershock (Mascot) | Rancho Cucamonga Quakes | Baseball | Minor League | 2004 | 1,000 |
| 7/22/04 | Rod Carew | Wilson Tobs | Baseball | Minor League | 2004 | |
| 7/22/04 | Gil Meche (mini) | Wisconsin Timber Rattlers | Baseball | Minor League | 2004 | 1,000 |
| 7/23/04 | Don Newcombe | Los Angeles Dodgers | Baseball | MLB | 2004 | |
| 7/23/04 | Mayberry Deputy | Elizabethton Twins | Baseball | Minor League | 2004 | 100 |
| 7/23/04 | Hank Blalock | Tulsa Drillers | Baseball | Minor League | 2004 | |
| 7/23/04 | Woody (Mascot) | Wisconsin Woodchucks | Baseball | Minor League | 2004 | |
| 7/24/04 | Willie Stargell Statuette | Pittsburgh Pirates | Baseball | MLB | 2004 | |
| 7/24/04 | Orbit (Mascot) | Albuquerque Isotopes | Baseball | Minor League | 2004 | 2,000 14 and under |
| 7/24/04 | Brian Tollberg | Chillicothe Paint | Baseball | Minor League | 2004 | |
| 7/24/04 | Joel Pineiro | Everett AquaSox | Baseball | Minor League | 2004 | 1,000 12 and under |
| 7/24/04 | Christmas in July/Snowman | Fort Worth Cats | Baseball | Minor League | 2004 | |
| 7/24/04 | Jeremy Hermida | Greensboro Bats | Baseball | Minor League | 2004 | |
| 7/24/04 | J.J. Hardy | High Desert Mavericks | Baseball | Minor League | 2004 | 1,000 |
| 7/24/04 | Josh Barfield | Lake Elsinore Storm | Baseball | Minor League | 2004 | |
| 7/24/04 | Juan Pierre | Lancaster Jet Hawks | Baseball | Minor League | 2004 | |
| 7/24/04 | Jimmy Buffett Parrot | Lowell Spinners | Baseball | Minor League | 2004 | 1,500 |
| 7/24/04 | Jason Varitek | Pawtucket Red Sox | Baseball | Minor League | 2004 | 4,000 14 and under |
| 7/24/04 | Bix Beiderbecke | Swing of the Quad Cities | Baseball | Minor League | 2004 | |
| 7/25/04 | Danny Garcia | Brooklyn Cyclones | Baseball | Minor League | 2004 | 2,500 |
| 7/25/04 | Magglio Ordoñez | Hickory Crawdads | Baseball | Minor League | 2004 | |
| 7/25/04 | Shawn Green | Syracuse Skychiefs | Baseball | Minor League | 2004 | 1,500 12 and under |
| 7/27/04 | Steelers Legend TBA | Altoona Curve | Baseball | Minor League | 2004 | 2,500 15 and up |
| 7/27/04 | Rogers Hornsby | Colleyville-Grapevine LoneStars | Baseball | Minor League | 2004 | |
| 7/27/04 | TBA 1980s mini | Gateway Grizzlies | Baseball | Minor League | 2004 | |
| 7/27/04 | Tris Speaker | McKinney Marshals | Baseball | Minor League | 2004 | |
| 7/27/04 | Curt Schilling (Mini) | New Britain Rockcats | Baseball | Minor League | 2004 | 1,000-2,000 adults |
| 7/28/04 | Tris Speaker | Colleyville-Grapevine LoneStars | Baseball | Minor League | 2004 | |
| 7/28/04 | Felix Escalona | Lexington Legends | Baseball | Minor League | 2004 | |
| 7/28/04 | Josh Beckett | Portland SeaDogs | Baseball | Minor League | 2004 | 1,000 |
| 7/29/04 | Jamey Carroll | Harrisburg Senators | Baseball | Minor League | 2004 | 12 and under |
| 7/29/04 | St. Patrick (Mascot) | St. Paul Saints | Baseball | Minor League | 2004 | |
| 7/30/04 | Tris Speaker | Graham Roughnecks | Baseball | Minor League | 2004 | |
| 7/30/04 | Maynard G. Mallard Bobble Tail (Mascot) | Madison Mallards | Baseball | Minor League | 2004 | 1,000 14 and under |
| 7/30/04 | Samson (Bible) | Nashville Sounds | Baseball | Minor League | 2004 | 2,000 |
| 7/30/04 | Mayberry Deputy | Salem Avalanche | Baseball | Minor League | 2004 | |
| 7/31/04 | Eric Chavez | Huntsville Stars | Baseball | Minor League | 2004 | |
| 7/31/04 | Boomer (Mascot) | Portland Beavers | Baseball | Minor League | 2004 | |
| 7/31/04 | Justin Morneau | Rochester Red Wings | Baseball | Minor League | 2004 | 2,000 |
| 7/31/04 | Jeremy Bonderman | Tri-City Dust Devils | Baseball | Minor League | 2004 | |
| 7/31/04 | Rogers Hornsby | Weatherford Wranglers | Baseball | Minor League | 2004 | |
| 8/1/04 | Tris Speaker | Coppell Copperheads | Baseball | Minor League | 2004 | |
| 8/1/04 | Rich Gedman | North Shore Spirit | Baseball | Minor League | 2004 | 1,000 |
| 8/1/04 | Andy Pettitte | Potomac Cannons | Baseball | Minor League | 2004 | |
| 8/1/04 | Tris Speaker | Weatherford Wranglers | Baseball | Minor League | 2004 | |
| 8/2/04 | Don Zimmer (Mini) | Tampa Bay Devil Rays | Baseball | MLB | 2004 | 5,000 |
| 8/2/04 | Presidential Bobble Election – Fans Vote | Brockton Rox | Baseball | Minor League | 2004 | |
| 8/2/04 | Presidential Bobble Election – Fans Vote | Charleston Riverdogs | Baseball | Minor League | 2004 | |
| 8/2/04 | Presidential Bobble Election – Fans Vote | Fort Myers Miracle | Baseball | Minor League | 2004 | |
| 8/2/04 | Presidential Bobble Election – Fans Vote | Hudson Valley Renegades | Baseball | Minor League | 2004 | |
| 8/2/04 | Marie Faillaci (Fan Bobblehead) | Lakewood Blueclaws | Baseball | Minor League | 2004 | |
| 8/2/04 | Peter Gammons | Lowell Spinners | Baseball | Minor League | 2004 | 1,500 |
| 8/2/04 | John Gall | Memphis Redbirds | Baseball | Minor League | 2004 | 1,500 |
| 8/2/04 | Presidential Bobble Election – Fans Vote | New Haven CountyCutters | Baseball | Minor League | 2004 | |
| 8/2/04 | Presidential Bobble Election – Fans Vote | Sioux Falls Canaries | Baseball | Minor League | 2004 | |
| 8/2/04 | Presidential Bobble Election – Fans Vote | St. Paul Saints | Baseball | Minor League | 2004 | 2,500 by lottery |
| 8/3/04 | Phil Rizzuto Bronze Statuette | New York Yankees | Baseball | MLB | 2004 | 18,000 21 and over |
| 8/3/04 | Rogers Hornsby | Highland Park Bluesox | Baseball | Minor League | 2004 | |
| 8/3/04 | Maggie Brooks | Rochester Red Wings | Baseball | Minor League | 2004 | 2,000 |
| 8/3/04 | Slugger (Mascot) | Thunder Bay BorderCats | Baseball | Minor League | 2004 | 500 |
| 8/4/04 | Rogers Hornsby | Graham Roughnecks | Baseball | Minor League | 2004 | |
| 8/6/04 | Rogers Hornsby | Coppell Copperheads | Baseball | Minor League | 2004 | |
| 8/6/04 | Felix Pie | Daytona Cubs | Baseball | Minor League | 2004 | 500 |
| 8/6/04 | Buck Coats | Lansing Lugnuts | Baseball | Minor League | 2004 | 2,500 |
| 8/6/04 | Rogers Hornsby | McKinney Marshals | Baseball | Minor League | 2004 | |
| 8/6/04 | Tom Seaver | Norfolk Tides | Baseball | Minor League | 2004 | 2,000 17 and under |
| 8/6/04 | Jeremy Reed | Winston-Salem Warthogs | Baseball | Minor League | 2004 | |
| 8/7/04 | Ivan Rodriguez | Detroit Tigers | Baseball | MLB | 2004 | |
| 8/7/04 | Denny Matthews (Talking) | Kansas City Royals | Baseball | MLB | 2004 | |
| 8/7/04 | Dontrelle Willis | Carolina Mudcats | Baseball | Minor League | 2004 | 1,200 14 and under |
| 8/7/04 | Julio Mateo | Everett AquaSox | Baseball | Minor League | 2004 | 1,000 12 and under |
| 8/7/04 | Southpaw (Mascot) | Jacksonville Suns | Baseball | Minor League | 2004 | 3,000 |
| 8/7/04 | Tris Speaker | Mineral Wells Stream | Baseball | Minor League | 2004 | |
| 8/7/04 | Allie Reynolds | Oklahoma City RedHawks | Baseball | Minor League | 2004 | 2,500 |
| 8/7/04 | Grady Little | Richmond Braves | Baseball | Minor League | 2004 | 4,000 |
| 8/7/04 | Nolan Ryan | Round Rock Express | Baseball | Minor League | 2004 | 3,000 |
| 8/8/04 | Marc Craigmile | Alexandria Beetles | Baseball | Minor League | 2004 | 400 |
| 8/8/04 | Wayne Krenchicki | Camden Riversharks | Baseball | Minor League | 2004 | |
| 8/8/04 | Nolan Ryan (Astros Uni) | Columbus Clippers | Baseball | Minor League | 2004 | |
| 8/8/04 | David Ortiz | New Britain Rockcats | Baseball | Minor League | 2004 | |
| 8/8/04 | Tater (Mascot) | Norwich Navigators | Baseball | Minor League | 2004 | |
| 8/8/04 | John Kruk | Scranton-Wilkes Barre Red Barons | Baseball | Minor League | 2004 | |
| 8/8/04 | Thomas Diamond | St. Cloud Riverbats | Baseball | Minor League | 2004 | 700 |
| 8/8/04 | Ramon Vazquez (mini) | Wisconsin Timber Rattlers | Baseball | Minor League | 2004 | 1,000 |
| 8/9/04 | Toby Hall (Mini) | Hudson Valley Renegades | Baseball | Minor League | 2004 | 3,000 |
| 8/9/04 | Bill Mueller | Portland SeaDogs | Baseball | Minor League | 2004 | 1,000 |
| 8/10/04 | Future TBA mini | Gateway Grizzlies | Baseball | Minor League | 2004 | |
| 8/11/04 | Joe Morgan | Cincinnati Reds | Baseball | MLB | 2004 | |
| 8/12/04 | Kirk Gibson | West Michigan Whitecaps | Baseball | Minor League | 2004 | |
| 8/13/04 | "Reverse the Curse" Goat (Mascot) | Boise Hawks | Baseball | Minor League | 2004 | |
| 8/13/04 | Generic "Player" | Coastal Bend Aviators | Baseball | Minor League | 2004 | |
| 8/13/04 | LaTroy Hawkins | Gary-Southshore Railcats | Baseball | Minor League | 2004 | |
| 8/13/04 | Gordon Fullerton/Pete Knight (Astronauts) | Lancaster Jet Hawks | Baseball | Minor League | 2004 | |
| 8/13/04 | Stephen King | Lowell Spinners | Baseball | Minor League | 2004 | 1,500 |
| 8/13/04 | Ballapeño (Mascot) | San Antonio Missions | Baseball | Minor League | 2004 | |
| 8/14/04 | Jim Gantner | Milwaukee Brewers | Baseball | MLB | 2004 | |
| 8/14/04 | Dennis Eckersley Figurine | Oakland A's | Baseball | MLB | 2004 | |
| 8/14/04 | Joe Kleine | Arkansas Travelers | Baseball | Minor League | 2004 | |
| 8/14/04 | Bob Gibson | Palm Beach Cardinals | Baseball | Minor League | 2004 | 500 |
| 8/14/04 | Geoff Jenkins | Stockton Ports | Baseball | Minor League | 2004 | |
| 8/15/04 | Craig Counsell (Mini) | Milwaukee Brewers | Baseball | MLB | 2004 | Kids |
| 8/15/04 | Dennis Eckersley | Oakland A's | Baseball | MLB | 2004 | 15,000 |
| 8/15/04 | Don Money | Beloit Snappers | Baseball | Minor League | 2004 | 500 |
| 8/15/04 | Ferguson Jenkins (Cubs Uni) | Columbus Clippers | Baseball | Minor League | 2004 | |
| 8/15/04 | Pat Borders | Tacoma Rainiers | Baseball | Minor League | 2004 | |
| 8/16/04 | Stump Merrill (Bobble Belly) | Trenton Thunder | Baseball | Minor League | 2004 | 2,000 6 & over |
| 8/17/04 | Randy Wolf | Philadelphia Phillies | Baseball | MLB | 2004 | 14 and under |
| 8/19/04 | Sandy (Mini Mascot) | Brooklyn Cyclones | Baseball | Minor League | 2004 | 1,500 |
| 8/19/04 | Jeff Isom | Joliet Jackhammers | Baseball | Minor League | 2004 | |
| 8/20/04 | Don Drysdale | Los Angeles Dodgers | Baseball | MLB | 2004 | |
| 8/20/04 | Rollie Fingers | Birmingham Barons | Baseball | Minor League | 2004 | |
| 8/20/04 | Sherman #3 (Mascot) | Delmarva Shorebirds | Baseball | Minor League | 2004 | |
| 8/20/04 | Phil/Brent (Radio Guys) | Tulsa Drillers | Baseball | Minor League | 2004 | 5,000 5 and up |
| 8/20/04 | Rubble (Mascot) | Wilmington Blue Rocks | Baseball | Minor League | 2004 | |
| 8/21/04 | Earl Weaver/Jim Palmer | Baltimore Orioles | Baseball | MLB | 2004 | |
| 8/21/04 | Esteban Loaiza | Chicago White Sox | Baseball | MLB | 2004 | |
| 8/21/04 | Paul Molitor | Minnesota Twins | Baseball | MLB | 2004 | 10,000 |
| 8/21/04 | Gary Redus | Billings Mustangs | Baseball | Minor League | 2004 | |
| 8/21/04 | Rafael Soriano | Everett AquaSox | Baseball | Minor League | 2004 | 1,000 12 and under |
| 8/21/04 | LaTroy Hawkins | Fort Wayne Wizards | Baseball | Minor League | 2004 | |
| 8/21/04 | Russ Ortiz | Fresno Grizzlies | Baseball | Minor League | 2004 | 2,500 |
| 8/21/04 | Jack Clark | Mid-Missouri Mavericks | Baseball | Minor League | 2004 | |
| 8/21/04 | Tagg Bozied | Portland Beavers | Baseball | Minor League | 2004 | |
| 8/21/04 | Russ Nixon | Salem Avalanche | Baseball | Minor League | 2004 | |
| 8/21/04 | Boomer (Mascot) | Yakima Bears | Baseball | Minor League | 2004 | |
| 8/22/04 | Radio Broadcasters Double | Colorado Rockies | Baseball | MLB | 2004 | |
| 8/22/04 | Roberto Clemente (Pirates Uni) | Columbus Clippers | Baseball | Minor League | 2004 | |
| 8/23/04 | Shane Loux | Toledo Mudhens | Baseball | Minor League | 2004 | 1,000 |
| 8/24/04 | Bud Harrelson | Long Island Ducks | Baseball | Minor League | 2004 | 1,500 |
| 8/25/04 | Eric Wedge | Buffalo Bisons | Baseball | Minor League | 2004 | |
| 8/25/04 | Derek Jeter (Thunder Uni) | Trenton Thunder | Baseball | Minor League | 2004 | 2,000 6 & over |
| 8/26/04 | Jay Buhner | Everett AquaSox | Baseball | Minor League | 2004 | 1,000 12 and under |
| 8/26/04 | Zack Greinke | Wilmington Blue Rocks | Baseball | Minor League | 2004 | 1,000 |
| 8/27/04 | Dave Parker Statuette | Pittsburgh Pirates | Baseball | MLB | 2004 | |
| 8/27/04 | Phillip Wellman | Chattanooga Lookouts | Baseball | Minor League | 2004 | |
| 8/27/04 | Adam LaRoche | Danville Braves | Baseball | Minor League | 2004 | 1,000 |
| 8/27/04 | Josh Beckett | Kane County Cougars | Baseball | Minor League | 2004 | 2,000 |
| 8/27/04 | Kurt Sholla | Kansas City Tbones | Baseball | Minor League | 2004 | |
| 8/27/04 | Yadier Molina | Memphis Redbirds | Baseball | Minor League | 2004 | |
| 8/27/04 | Noah (Bible) | Nashville Sounds | Baseball | Minor League | 2004 | 2,000 |
| 8/27/04 | Mark Prior | West Tennessee Diamond Jaxx | Baseball | Minor League | 2004 | 1,000 |
| 8/28/04 | Hank Blalock "Ballble" Head | Texas Rangers | Baseball | MLB | 2004 | |
| 8/28/04 | Mike Lowell | Greensboro Bats | Baseball | Minor League | 2004 | |
| 8/28/04 | Luis Rivera | Lake County Captains | Baseball | Minor League | 2004 | 2,000 |
| 8/28/04 | Tony Torre | New Jersey Cardinals | Baseball | Minor League | 2004 | 1,000 |
| 8/28/04 | TBA Mini | River City Rascals | Baseball | Minor League | 2004 | |
| 8/28/04 | David Wright (Black Jersey) | St. Lucie Mets | Baseball | Minor League | 2004 | 250 |
| 8/29/04 | Mike Lieberthal | Philadelphia Phillies | Baseball | MLB | 2004 | 14 and under |
| 8/29/04 | Don Zimmer | Indianapolis Indians | Baseball | Minor League | 2004 | |
| 8/29/04 | Joe Blanton | Kane County Cougars | Baseball | Minor League | 2004 | 2,000 |
| 8/29/04 | Daryl Motley | Kansas City Tbones | Baseball | Minor League | 2004 | |
| 8/29/04 | Mayor Chester Stranczek | Windy City Thunderbolts | Baseball | Minor League | 2004 | 1,000 |
| 8/30/04 | David Wright (Blue Jersey) | St. Lucie Mets | Baseball | Minor League | 2004 | 250 |
| 9/1/04 | Willis White | Salem Avalanche | Baseball | Minor League | 2004 | |
| 9/2/04 | Jason Ellison | Fresno Grizzlies | Baseball | Minor League | 2004 | 2,500 |
| 9/2/04 | Scott Podsednik (Mini) | Hudson Valley Renegades | Baseball | Minor League | 2004 | 3,000 |
| 9/2/04 | Alexis Rios | Syracuse Skychiefs | Baseball | Minor League | 2004 | 1,500 12 and under |
| 9/3/04 | Tony Gwynn Statuette | San Diego Padres | Baseball | MLB | 2004 | |
| 9/3/04 | Kelly Mazzante | Williamsport Crosscutters | Baseball | Minor League | 2004 | |
| 9/4/04 | Rally Cow (Mascot) | New Jersey Cardinals | Baseball | Minor League | 2004 | 1,000 |
| 9/4/04 | Misty(Mascot) | Salem Avalanche | Baseball | Minor League | 2004 | 1,000 |
| 9/4/04 | Jim Weber | Toledo Mudhens | Baseball | Minor League | 2004 | 1,000 |
| 9/6/04 | Albert Pujols | Memphis Redbirds | Baseball | Minor League | 2004 | 1,500 |
| 9/6/04 | Jim Beaudoin | Portland SeaDogs | Baseball | Minor League | 2004 | |
| 9/6/04 | Joe Mays (mini) | Wisconsin Timber Rattlers | Baseball | Minor League | 2004 | 1,000 |
| 9/12/04 | Hammer (Mascot) | Camden Riversharks | Baseball | Minor League | 2004 | |
| 9/19/04 | Walter Johnson | Minnesota Twins | Baseball | MLB | 2004 | 10,000 |
| 9/19/04 | Snoopy | Pittsburgh Pirates | Baseball | MLB | 2004 | |
| 9/27/04 | Kent Tekulve Statuette | Pittsburgh Pirates | Baseball | MLB | 2004 | |
| 9/27/04 | Danys Baez | Tampa Bay Devil Rays | Baseball | MLB | 2004 | 5,000 |
| 10/2/04 | Joe Mauer | Minnesota Twins | Baseball | MLB | 2004 | 10,000 |
| 10/30/04 | Randy Murphy | New Mexico Scorpions | Hockey | CHL | 2004-2005 | 1,500 |
| 11/2/04 | BobbleElection (mini) – Fans Vote | Las Vegas Wramblers | Hockey | ECHL | 2004-2005 | |
| 11/5/04 | Doc Rivers | Boston Celtics | Basketball | NBA | 2004-2005 | 5,000 |
| 11/6/04 | Ben Wallace w/ trophy | Detroit Pistons | Basketball | NBA | 2004-2005 | 10,000 |
| 11/6/04 | Arena with Spike (Mascot) | Long Beach IceDogs | Hockey | ECHL | 2004-2005 | 2,500 |
| 11/7/04 | Jarome Iginla | Calgary Hitmen | Hockey | WHL | 2004-2005 | 3,000 |
| 11/8/04 | Rolando Blackman | Dallas Mavericks | Basketball | NBA | 2004-2005 | 2,500 |
| 11/9/04 | Tracy McGrady | Houston Rockets | Basketball | NBA | 2004-2005 | |
| 11/10/04 | Zydrunas Ilgauskas (Mini) | Cleveland Cavaliers | Basketball | NBA | 2004-2005 | |
| 11/13/04 | Sonar (Mascot) | Hartford Wolfpack | Hockey | AHL | 2004-2005 | |
| 11/15/04 | LeBron James (Retro uni) | Cleveland Cavaliers | Basketball | NBA | 2004-2005 | |
| 11/20/04 | Alphonse (Mascot) | Louisiana IceGators | Hockey | ECHL | 2004-2005 | 1,000 |
| 11/21/04 | Dennis Bonvie | Hershey Bears | Hockey | AHL | 2004-2005 | 4,500 |
| 11/30/04 | Bostjan Nachbar | Houston Rockets | Basketball | NBA | 2004-2005 | |
| 12/4/04 | Coach Stewart | Colorado Eagles | Hockey | CHL | 2004-2005 | 2,500 |
| 12/7/04 | Jeff McInnis (Mini) | Cleveland Cavaliers | Basketball | NBA | 2004-2005 | |
| 12/7/04 | Juwan Howard | Houston Rockets | Basketball | NBA | 2004-2005 | |
| 12/11/04 | Miguel Beaudry | New Mexico Scorpions | Hockey | CHL | 2004-2005 | 1,500 |
| 12/12/04 | Fat Albert | Philadelphia 76ers | Basketball | NBA | 2004-2005 | 5,000 |
| 12/14/04 | Mark Aguirre | Dallas Mavericks | Basketball | NBA | 2004-2005 | 2,500 |
| 12/15/04 | Eric Snow (Mini) | Cleveland Cavaliers | Basketball | NBA | 2004-2005 | |
| 12/15/04 | Andy Chiodo | Wilkes Barre-Scranton Penguins | Hockey | AHL | 2004-2005 | 6,000 |
| 12/18/04 | Chauncey Billups (MVP) | Detroit Pistons | Basketball | NBA | 2004-2005 | 10,000 |
| 12/18/04 | Santa Claus | Houston Aeros | Hockey | AHL | 2004-2005 | 3,000 |
| 12/18/04 | Pat Bingham | Wheeling Nailers | Hockey | ECHL | 2004-2005 | 3,000 |
| 12/28/04 | Curtis Sanford | Worcester IceCats | Hockey | AHL | 2004-2005 | 1,000 |
| 1/2/05 | Shawn Marion | Phoenix Suns | Basketball | NBA | 2004-2005 | 10,000 |
| 1/7/05 | Max (Mascot) "All-Star" | Manchester Monarchs | Hockey | AHL | 2004-2005 | |
| 1/8/05 | Jamal Magloire | New Orleans Hornets | Basketball | NBA | 2004-2005 | |
| 1/8/05 | Jameer Nelson Bobblehead Bank | Orlando Magic | Basketball | NBA | 2004-2005 | 5,000 |
| 1/8/05 | Doug Murray | Cleveland Barons | Hockey | AHL | 2004-2005 | 3,000 |
| 1/10/05 | Walter McCarty | Boston Celtics | Basketball | NBA | 2004-2005 | 5,000 |
| 1/14/05 | Derek Boogard | Houston Aeros | Hockey | AHL | 2004-2005 | 3,000 |
| 1/15/05 | Ben Wallace (Lighting Bolt Jersey) | Detroit Pistons | Basketball | NBA | 2004-2005 | 10,000 |
| 1/15/05 | Bret Hart | Calgary Hitmen | Hockey | WHL | 2004-2005 | 3,000 |
| 1/18/05 | Derek Harper | Dallas Mavericks | Basketball | NBA | 2004-2005 | 2,500 |
| 1/21/05 | Joe Johnson | Phoenix Suns | Basketball | NBA | 2004-2005 | 10,000 |
| 1/21/05 | Ty Conklin | Green Bay Gamblers | Hockey | USHL | 2004-2005 | 1,500 |
| 1/21/05 | Mike Mottau | Worcester IceCats | Hockey | AHL | 2004-2005 | 1,000 |
| 1/22/05 | Antoine Walker | Atlanta Hawks | Basketball | NBA | 2004-2005 | 5,000 |
| 1/22/05 | Tayshaun Prince | Detroit Pistons | Basketball | NBA | 2004-2005 | 10,000 |
| 1/22/05 | Rob Zepp | Florida Everblades | Hockey | ECHL | 2004-2005 | 3,000 |
| 1/22/05 | TBA Mini | Long Beach IceDogs | Hockey | ECHL | 2004-2005 | 2,500 |
| 1/24/05 | Matt Walbeck | West Michigan Whitecaps | Baseball | Minor League | 2005 | Banquet Attendees |
| 1/28/05 | Josh Childress | Atlanta Hawks | Basketball | NBA | 2004-2005 | 5,000 |
| 1/28/05 | Baron Davis | New Orleans Hornets | Basketball | NBA | 2004-2005 | |
| 1/28/05 | Mascot | Adirondack Frostbite | Hockey | UHL | 2004-2005 | |
| 1/28/05 | Connor James | Bakersfield Condors | Hockey | ECHL | 2004-2005 | 2,000 12 and under |
| 1/29/05 | Antawn Jamison | Washington Wizards | Basketball | NBA | 2004-2005 | 8,000 |
| 1/29/05 | Rip Hamilton (Talking) | Detroit Pistons | Basketball | NBA | 2004-2005 | 10,000 |
| 1/29/05 | Cam Brown | Gwinnett Gladiators | Hockey | ECHL | 2004-2005 | 1,000 |
| 2/5/05 | Derek Wilkinson | Charlotte Checkers | Hockey | ECHL | 2004-2005 | |
| 2/8/05 | Brad Davis | Dallas Mavericks | Basketball | NBA | 2004-2005 | 2,500 |
| 2/11/05 | Brenden Morrow | Oklahoma City Blazers | Hockey | CHL | 2004-2005 | |
| 2/12/05 | Carlos Delfino | Detroit Pistons | Basketball | NBA | 2004-2005 | 10,000 |
| 2/12/05 | Desmond Mason | Milwaukee Bucks | Basketball | NBA | 2004-2005 | 5,000 14 and under |
| 2/12/05 | Torpedo (Mascot) | Hartford Wolfpack | Hockey | AHL | 2004-2005 | |
| 2/12/05 | Abraham Lincoln | Kansas City Outlaws | Hockey | UHL | 2004-2005 | 2,500 |
| 2/15/05 | Yao Ming | Houston Rockets | Basketball | NBA | 2004-2005 | |
| 2/17/05 | Steve Nash | Phoenix Suns | Basketball | NBA | 2004-2005 | 10,000 |
| 2/18/05 | Coach Sauter | Oklahoma City Blazers | Hockey | CHL | 2004-2005 | |
| 2/22/05 | Maurice Taylor in a Truck | Houston Rockets | Basketball | NBA | 2004-2005 | |
| 2/23/05 | Drew Gooden (Mini) | Cleveland Cavaliers | Basketball | NBA | 2004-2005 | |
| 2/23/05 | Borris the Bull (Mascot) | Billings Bulls | Hockey | NHL | 2004-2005 | 500 |
| 2/26/05 | Chaos (Mascot) | Huntsville Havoc | Hockey | SPHL | 2004-2005 | 1,000 |
| 2/27/05 | Byron Scott | New Orleans Hornets | Basketball | NBA | 2004-2005 | |
| 2/27/05 | Earl Monroe | Washington Wizards | Basketball | NBA | 2004-2005 | 8,000 |
| 2/27/05 | Coco the Bear (Mascot) | Hershey Bears | Hockey | AHL | 2004-2005 | 4,500 |
| 2/27/05 | Antero Nittymaki | Philadelphia Phantoms | Hockey | AHL | 2004-2005 | 4,000 |
| 3/2/05 | Allen Iverson (Game Jersey Piece) | Philadelphia 76ers | Basketball | NBA | 2004-2005 | 5,000 |
| 3/4/05 | Wes Unseld | Washington Wizards | Basketball | NBA | 2004-2005 | 8,000 |
| 3/4/05 | Paul Fiorini | Lubbock Cotton Kings | Hockey | CHL | 2004-2005 | |
| 3/4/05 | Shaun Legault | New Mexico Scorpions | Hockey | CHL | 2004-2005 | 1,500 |
| 3/5/05 | Barry Melrose | Adirondack Frostbite | Hockey | UHL | 2004-2005 | |
| 3/5/05 | Garrett Stafford | Cleveland Barons | Hockey | AHL | 2004-2005 | 3,000 |
| 3/5/05 | Lance Galbraith | Idaho Steelheads | Hockey | ECHL | 2004-2005 | 1,000 |
| 3/7/05 | Bob Feller Statuette | Cleveland Indians | Baseball | MLB | 2005 | 5,000 |
| 3/7/05 | James Donaldson | Dallas Mavericks | Basketball | NBA | 2004-2005 | 2,500 |
| 3/8/05 | Wilt Chamberlain Bronze Statuette | Philadelphia 76ers | Basketball | NBA | 2004-2005 | 5,000 |
| 3/11/05 | Quentin Richardson | Phoenix Suns | Basketball | NBA | 2004-2005 | 10,000 |
| 3/12/05 | John Wroblewski | Fresno Falcons | Hockey | ECHL | 2004-2005 | |
| 3/12/05 | Kirk Daubenspeck | South Carolina Stingrays | Hockey | ECHL | 2004-2005 | |
| 3/16/05 | Eric Gagne | Los Angeles Dodgers | Baseball | MLB | 2005 | 1,000 |
| 3/19/05 | Mario Lemieux | Wheeling Nailers | Hockey | ECHL | 2004-2005 | 3,000 |
| 3/21/05 | Jesse James | Kansas City Outlaws | Hockey | UHL | 2004-2005 | |
| 3/24/05 | Random Season Ticket | Minnesota Twins | Baseball | MLB | 2005 | 1,000 |
| 3/25/05 | Bill Barber | Philadelphia Phantoms | Hockey | AHL | 2004-2005 | 4,000 |
| 3/25/05 | Randy Cunneyworth | Rochester Americans | Hockey | AHL | 2004-2005 | |
| 3/26/05 | Rufus (Mascot) | Charlotte Bobcats | Basketball | NBA | 2004-2005 | 4,000 12 and under |
| 3/26/05 | Rasheed Wallace (Talking) | Detroit Pistons | Basketball | NBA | 2004-2005 | |
| 3/27/05 | Tony Parker | San Antonio Spurs | Basketball | NBA | 2004-2005 | 2,800 via lottery |
| 3/28/05 | Jesse James | Kansas City Outlaws | Hockey | UHL | 2004-2005 | |
| 3/29/05 | LeBron James (Mini) | Cleveland Cavaliers | Basketball | NBA | 2004-2005 | |
| 3/30/05 | Bango (Mascot) | Milwaukee Bucks | Basketball | NBA | 2004-2005 | 5,000 14 and under |
| 4/1/05 | Al Harrington | Atlanta Hawks | Basketball | NBA | 2004-2005 | 5,000 |
| 4/1/05 | Amare Stoudimire | Phoenix Suns | Basketball | NBA | 2004-2005 | 10,000 |
| 4/1/05 | Boeing Mascot | Missouri River Otters | Hockey | UHL | 2004-2005 | |
| 4/1/05 | Trent Yawney | Norfolk Admirals | Hockey | AHL | 2004-2005 | 1,300 12 and under |
| 4/7/05 | Gavin Floyd/Ryan Howard Double | Reading Phillies | Baseball | Minor League | 2005 | 14 and under |
| 4/7/05 | Ryan Flinn | Reading Royals | Hockey | ECHL | 2004-2005 | 2,000 12 and under |
| 4/8/05 | Khalil Greene Figurine | San Diego Padres | Baseball | MLB | 2005 | |
| 4/8/05 | Noah Lowry | Fresno Grizzlies | Baseball | Minor League | 2005 | 2,500 |
| 4/8/05 | Mark Prior | Lansing Lugnuts | Baseball | Minor League | 2005 | |
| 4/8/05 | Mike Schmidt | Reading Phillies | Baseball | Minor League | 2005 | 2,500 18 and over |
| 4/9/05 | A.J. Burnett (Mini) | Florida Marlins | Baseball | MLB | 2005 | 12,500 |
| 4/9/05 | Walt Weiss | Modesto Nuts | Baseball | Minor League | 2005 | |
| 4/9/05 | Dennis Wideman | Worcester IceCats | Hockey | AHL | 2004-2005 | 1,000 |
| 4/10/05 | Reggie Miller | Indiana Pacers | Basketball | NBA | 2004-2005 | 4,000 |
| 4/10/05 | Frank Bialowas | Philadelphia Phantoms | Hockey | AHL | 2004-2005 | 4,000 |
| 4/15/05 | Jackie Robinson Action Statuette | Los Angeles Dodgers | Baseball | MLB | 2005 | |
| 4/15/05 | Jason Bay (NL Rookie of the Year) | Pittsburgh Pirates | Baseball | MLB | 2005 | |
| 4/15/05 | Buck Showalter | Texas Rangers | Baseball | MLB | 2005 | 25,000 |
| 4/15/05 | Mike Smith | Houston Aeros | Hockey | AHL | 2004-2005 | 3,000 |
| 4/16/05 | Randy Wolf | Clearwater Threshers | Baseball | Minor League | 2005 | |
| 4/16/05 | Josh Smith | Atlanta Hawks | Basketball | NBA | 2004-2005 | 5,000 |
| 4/17/05 | Bobby Crosby | Oakland A's | Baseball | MLB | 2005 | 15,000 |
| 4/17/05 | Nomar Garciaparra | Trenton Thunder | Baseball | Minor League | 2005 | 2,000 6 and up |
| 4/18/05 | Gorilla (Mascot) | Phoenix Suns | Basketball | NBA | 2004-2005 | |
| 4/20/05 | Vladimir Guerrero MVP Statuette | Los Angeles Angels of Anaheim | Baseball | MLB | 2005 | |
| 4/20/05 | Tom Lasorda | Vero Beach Dodgers | Baseball | Minor League | 2005 | |
| 4/22/05 | Ichiro Suzuki (262 hits) | Seattle Mariners | Baseball | MLB | 2005 | 25,000 |
| 4/22/05 | TBA | Columbus Clippers | Baseball | Minor League | 2005 | 2,500 |
| 4/22/05 | Brandon League | New Hampshire Fishercats | Baseball | Minor League | 2005 | 1,500 |
| 4/22/05 | Scott Rolen | Reading Phillies | Baseball | Minor League | 2005 | 2,500 18 and over |
| 4/23/05 | Miguel Cabrera | Jupiter Hammerheads | Baseball | Minor League | 2005 | |
| 4/24/05 | Felix Pie | Daytona Cubs | Baseball | Minor League | 2005 | 1,000 |
| 4/24/05 | Scott Rolen | Reading Phillies | Baseball | Minor League | 2005 | 2,000 14 and under |
| 4/25/05 | Chris Carpenter | Memphis Redbirds | Baseball | Minor League | 2005 | 1,500 |
| 4/27/05 | Yogi Berra Bronze Statuette | New York Yankees | Baseball | MLB | 2005 | 18,000 21 and over |
| 4/28/05 | Tony LaRussa | Memphis Redbirds | Baseball | Minor League | 2005 | 1,500 |
| 4/29/05 | Mike Cameron Figurine | Birmingham Barons | Baseball | Minor League | 2005 | |
| 4/30/05 | Honus Wagner Statuette | Pittsburgh Pirates | Baseball | MLB | 2005 | |
| 4/30/05 | Brad Lidge | New Orleans Zephyrs | Baseball | Minor League | 2005 | |
| 5/3/05 | Edgar Martinez Statuette | Seattle Mariners | Baseball | MLB | 2005 | 25,000 |
| 5/6/05 | Carlos Zambrano | Lansing Lugnuts | Baseball | Minor League | 2005 | |
| 5/6/05 | Tom Lasorda | Las Vegas 51s | Baseball | Minor League | 2005 | |
| 5/6/05 | Warren Spahn Statuette | Tulsa Drillers | Baseball | Minor League | 2005 | 1,500 5 and up |
| 5/7/05 | Ben Sheets | Milwaukee Brewers | Baseball | MLB | 2005 | |
| 5/7/05 | Michael Young Statuette | Texas Rangers | Baseball | MLB | 2005 | 20,000 |
| 5/7/05 | Adrian Beltre | Inland Empire 66ers of San Bernardino | Baseball | Minor League | 2005 | 1,000 |
| 5/7/05 | Alexis Rios | Syracuse Skychiefs | Baseball | Minor League | 2005 | |
| 5/10/05 | Babe Ruth | Portland SeaDogs | Baseball | Minor League | 2005 | 1,000 |
| 5/11/05 | Pat Burrell | Trenton Thunder | Baseball | Minor League | 2005 | 2,000 6 and up |
| 5/12/05 | Jim Thome Figurine | Philadelphia Phillies | Baseball | MLB | 2005 | |
| 5/14/05 | Jimmy Wynn Figurine | Houston Astros | Baseball | MLB | 2005 | 10,000 |
| 5/14/05 | Earl Weaver (Kicking Dirt) | Rochester Red Wings | Baseball | Minor League | 2005 | 1,500 |
| 5/15/05 | Jacque Jones | Minnesota Twins | Baseball | MLB | 2005 | 10,000 |
| 5/15/05 | Sean Casey | Indianapolis Indians | Baseball | Minor League | 2005 | 4,000 |
| 5/16/05 | Jim Edmonds | Memphis Redbirds | Baseball | Minor League | 2005 | 1,500 |
| 5/17/05 | Alex Rodriguez | Trenton Thunder | Baseball | Minor League | 2005 | 2,000 6 and up |
| 5/20/05 | Tommy Herr | Lancaster Barnstormers | Baseball | Minor League | 2005 | 2,000 16 and up |
| 5/21/05 | Oliver Perez | Pittsburgh Pirates | Baseball | MLB | 2005 | |
| 5/22/05 | Oliver Onion Pierogie Mini | Pittsburgh Pirates | Baseball | MLB | 2005 | Kids |
| 5/23/05 | Darin Erstad (Gold Glove) | Los Angeles Angels of Anaheim | Baseball | MLB | 2005 | |
| 5/24/05 | Ken Griffey Jr. | Cincinnati Reds | Baseball | MLB | 2005 | 40,000 |
| 5/24/05 | Brian Dolgin | Joliet Jackhammers | Baseball | Minor League | 2005 | |
| 5/26/05 | Derek Jeter | Lakewood Blueclaws | Baseball | Minor League | 2005 | 2,000 |
| 5/26/05 | Pat Sajak | Surprise Fightin' Falcons | Baseball | Minor League | 2005 | 2,000 |
| 5/27/05 | Bobby Crosby | Sacramento RiverCats | Baseball | Minor League | 2005 | 6,000 |
| 5/27/05 | Roger Maris Statuette | Tulsa Drillers | Baseball | Minor League | 2005 | 1,500 5 and up |
| 5/28/05 | Travis Hafner | Cleveland Indians | Baseball | MLB | 2005 | 20,000 |
| 5/28/05 | Charlie Brown | San Francisco Giants | Baseball | MLB | 2005 | 10,000 14 and under |
| 5/28/05 | "Got Milk" Cow | Charlotte Knights | Baseball | Minor League | 2005 | |
| 5/28/05 | TBA Mini | Gateway Grizzlies | Baseball | Minor League | 2005 | |
| 5/28/05 | Eric Byrnes | Modesto Nuts | Baseball | Minor League | 2005 | |
| 5/28/05 | Kazuo Matsui Mini | St. Lucie Mets | Baseball | Minor League | 2005 | |
| 5/29/05 | Junior Spivey (Mini) | Milwaukee Brewers | Baseball | MLB | 2005 | Kids 14 and under |
| 5/29/05 | Thomas Marks | New Orleans Zephyrs | Baseball | Minor League | 2005 | |
| 5/31/05 | Jay Buhner Statuette | Seattle Mariners | Baseball | MLB | 2005 | 25,000 |
| 6/1/05 | Cesar Izturis | Los Angeles Dodgers | Baseball | MLB | 2005 | 50,000 |
| 6/2/05 | Miguel Olivo Figurine | Birmingham Barons | Baseball | Minor League | 2005 | |
| 6/2/05 | Seawolves Fan | Erie Seawolves | Baseball | Minor League | 2005 | |
| 6/3/05 | Todd Helton Bobblehead Toothbrush Holder | Colorado Rockies | Baseball | MLB | 2005 | 15 and under |
| 6/3/05 | Dallas McPherson | Rancho Cucamonga Quakes | Baseball | Minor League | 2005 | |
| 6/4/05 | Craig Wilson | Pittsburgh Pirates | Baseball | MLB | 2005 | |
| 6/4/05 | Jason Cooper | Lake County Captains | Baseball | Minor League | 2005 | 2,000 |
| 6/4/05 | Mary Hart | Sioux Falls Canaries | Baseball | Minor League | 2005 | |
| 6/5/05 | Rich Harden | Oakland A's | Baseball | MLB | 2005 | 15,000 |
| 6/5/05 | Dave Krynzel | Beloit Snappers | Baseball | Minor League | 2005 | |
| 6/5/05 | Moses (Bible) | Hickory Crawdads | Baseball | Minor League | 2005 | |
| 6/5/05 | Ryan Howard | Reading Phillies | Baseball | Minor League | 2005 | 2,500 18 and over |
| 6/5/05 | Mariano Rivera | Trenton Thunder | Baseball | Minor League | 2005 | 2,000 6 and up |
| 6/6/05 | Tim Russert | Buffalo Bisons | Baseball | Minor League | 2005 | |
| 6/6/05 | Jason Isringhausen | Memphis Redbirds | Baseball | Minor League | 2005 | 1,500 |
| 6/7/05 | Steve Parris | Joliet Jackhammers | Baseball | Minor League | 2005 | |
| 6/8/05 | Wily Mo Peña | Cincinnati Reds | Baseball | MLB | 2005 | 40,000 |
| 6/8/05 | Steve Blass/Manny Sanguillen | Pittsburgh Pirates | Baseball | MLB | 2005 | |
| 6/8/05 | Dick Radatz | North Shore Spirit | Baseball | Minor League | 2005 | |
| 6/8/05 | "Graduate" Boomer (Mascot) | Trenton Thunder | Baseball | Minor League | 2005 | 2,000 6 and up |
| 6/10/05 | Dave Krynzel | Huntsville Stars | Baseball | Minor League | 2005 | |
| 6/10/05 | Ryne Sandberg Action Figurine | Peoria Chiefs | Baseball | Minor League | 2005 | |
| 6/11/05 | Nolan Ryan Figurine | Houston Astros | Baseball | MLB | 2005 | |
| 6/11/05 | Bill Mazeroski Figurine | Pittsburgh Pirates | Baseball | MLB | 2005 | |
| 6/11/05 | Alex Rodriguez | Jacksonville Suns | Baseball | Minor League | 2005 | 3,000 |
| 6/11/05 | Gordy MacKenzie | Kinston Indians | Baseball | Minor League | 2005 | |
| 6/11/05 | Rickey Henderson | San Diego Surfdawgs | Baseball | Minor League | 2005 | |
| 6/11/05 | Pat O'Brien | Sioux Falls Canaries | Baseball | Minor League | 2005 | |
| 6/11/05 | Albert Pujols | Swing of the Quad Cities | Baseball | Minor League | 2005 | |
| 6/13/05 | Travis Hafner | Savannah Sand Gnats | Baseball | Minor League | 2005 | |
| 6/14/05 | Garrett Anderson | Los Angeles Angels of Anaheim | Baseball | MLB | 2005 | |
| 6/14/05 | Whitey Ford Bronze Statuette | New York Yankees | Baseball | MLB | 2005 | 18,000 21 and over |
| 6/14/05 | Wild Thing (Flag Day) (Mascot) | Washington WildThings | Baseball | Minor League | 2005 | |
| 6/15/05 | Gavin Floyd | Reading Phillies | Baseball | Minor League | 2005 | 2,000 14 and under |
| 6/15/05 | Phil Rizzuto | Trenton Thunder | Baseball | Minor League | 2005 | 2,000 6 and up |
| 6/16/05 | Maynard G. Mallard Bobble Wing (Mascot) | Madison Mallards | Baseball | Minor League | 2005 | |
| 6/16/05 | Dinger (Bobble Tail) (Mascot) | Myrtle Beach Pelicans | Baseball | Minor League | 2005 | 1,000 |
| 6/16/05 | David Wright Mini | St. Lucie Mets | Baseball | Minor League | 2005 | |
| 6/17/05 | Tom Seaver | Fresno Grizzlies | Baseball | Minor League | 2005 | 2,500 |
| 6/17/05 | Burt Rutan (Local Hero) | Lancaster Jet Hawks | Baseball | Minor League | 2005 | |
| 6/17/05 | Noah (Bible) | Tulsa Drillers | Baseball | Minor League | 2005 | |
| 6/17/05 | Johnny Damon | Wilmington Bluerocks | Baseball | Minor League | 2005 | 1,500 |
| 6/17/05 | Slugger (Mascot) | Wilson Tobs | Baseball | Minor League | 2005 | |
| 6/18/05 | Spiderman | Atlantic City Surf | Baseball | Minor League | 2005 | 1,000 Ages 3-12 |
| 6/18/05 | Brian Snitker | Mississippi Braves | Baseball | Minor League | 2005 | |
| 6/18/05 | Fungo (Mascot) | New Hampshire Fishercats | Baseball | Minor League | 2005 | 1,500 |
| 6/18/05 | Lou Gehrig "At the Mic" | Rochester Red Wings | Baseball | Minor League | 2005 | 2,000 |
| 6/19/05 | Harmon Killebrew Bronze Statuette | Minnesota Twins | Baseball | MLB | 2005 | 10,000 |
| 6/19/05 | Lou Gehrig | Huntsville Stars | Baseball | Minor League | 2005 | |
| 6/20/05 | Josh Labandeira | Harrisburg Senators | Baseball | Minor League | 2005 | 12 and under |
| 6/20/05 | Edgar Renteria | Memphis Redbirds | Baseball | Minor League | 2005 | 1,500 |
| 6/21/05 | Jimmy Rollins Figurine | Philadelphia Phillies | Baseball | MLB | 2005 | |
| 6/21/05 | Ken Griffey Jr. Statuette | Seattle Mariners | Baseball | MLB | 2005 | 25,000 |
| 6/21/05 | Curt Schilling | Portland SeaDogs | Baseball | Minor League | 2005 | 1,000 |
| 6/21/05 | Gnic the Gnat (On Tractor) (Mascot) | Savannah Sand Gnats | Baseball | Minor League | 2005 | |
| 6/21/05 | Jimmy Gobble | Wilmington Bluerocks | Baseball | Minor League | 2005 | 1,250 |
| 6/22/05 | Phil Warren | Gateway Grizzlies | Baseball | Minor League | 2005 | |
| 6/23/05 | Zach Duke | Altoona Curve | Baseball | Minor League | 2005 | 2,500 |
| 6/24/05 | Dave Stewart | Clinton Lumberkings | Baseball | Minor League | 2005 | |
| 6/24/05 | Wayne Terwilleger | Fort Worth Cats | Baseball | Minor League | 2005 | |
| 6/24/05 | Eddie Pearson | Kansas City Tbones | Baseball | Minor League | 2005 | |
| 6/25/05 | Victor Martinez | Cleveland Indians | Baseball | MLB | 2005 | 20,000 |
| 6/25/05 | Matt Tuiasosopo | Everett AquaSox | Baseball | Minor League | 2005 | 1,000 14 and under |
| 6/25/05 | Shaun Alexander Mini | Florence Freedom | Baseball | Minor League | 2005 | 1,000 |
| 6/25/05 | Paul Konerko | Inland Empire 66ers of San Bernardino | Baseball | Minor League | 2005 | 1,000 |
| 6/25/05 | Mickey Mantle Statuette | Oklahoma City RedHawks | Baseball | Minor League | 2005 | 2,500 |
| 6/25/05 | Lou Gehrig "At the Mic" | Syracuse Skychiefs | Baseball | Minor League | 2005 | |
| 6/25/05 | Fang (Mascot) | Wisconsin Timberrattlers | Baseball | Minor League | 2005 | |
| 6/26/05 | Andy Pettitte | Round Rock Express | Baseball | Minor League | 2005 | 3,000 |
| 6/27/05 | Sandy Koufax Action Statuette | Los Angeles Dodgers | Baseball | MLB | 2005 | |
| 6/27/05 | Quackerjack w/Champ Banner (Mascot) | Long Island Ducks | Baseball | Minor League | 2005 | 1,500 |
| 6/27/05 | Gavin Floyd | Scranton-Wilkes Barre Red Barons | Baseball | Minor League | 2005 | |
| 6/28/05 | Wild Thing (Nascar) (Mascot) | Washington WildThings | Baseball | Minor League | 2005 | |
| 6/29/05 | Jonathan Krysa | Kansas City Tbones | Baseball | Minor League | 2005 | |
| 6/29/05 | Tank McNamara | Lowell Spinners | Baseball | Minor League | 2005 | 1,000 |
| 6/29/05 | Lou Gehrig Bronze Statuette | Trenton Thunder | Baseball | Minor League | 2005 | 2,000 6 and up |
| 6/30/05 | Marty Brown | Buffalo Bisons | Baseball | Minor League | 2005 | |
| 7/1/05 | Joe Nathan | Minnesota Twins | Baseball | MLB | 2005 | 10,000 |
| 7/1/05 | Scoop (Mascot) | Pensacola Pelicans | Baseball | Minor League | 2005 | |
| 7/1/05 | Sammy Sosa Statuette | Tulsa Drillers | Baseball | Minor League | 2005 | 1,500 5 and up |
| 7/2/05 | Miguel Tejada | Baltimore Orioles | Baseball | MLB | 2005 | 25,000 21 and over |
| 7/2/05 | Johan Santana Figurine | Minnesota Twins | Baseball | MLB | 2005 | 10,000 |
| 7/2/05 | Carlos Beltran | New York Mets | Baseball | MLB | 2005 | 25,000 |
| 7/2/05 | Grocery Bag Character | Fort Worth Cats | Baseball | Minor League | 2005 | |
| 7/2/05 | Uncle Sam | Hagerstown Suns | Baseball | Minor League | 2005 | 1,000 |
| 7/2/05 | Warren Spahn Statuette | Oklahoma City RedHawks | Baseball | Minor League | 2005 | 2,500 |
| 7/2/05 | Mike Piazza Mini | St. Lucie Mets | Baseball | Minor League | 2005 | 200 |
| 7/3/05 | Doug Davis (Mini) | Milwaukee Brewers | Baseball | MLB | 2005 | Kids 14 and under |
| 7/4/05 | Rickey Henderson | Surprise Fightin' Falcons | Baseball | Minor League | 2005 | 1,000 |
| 7/5/05 | Nolan Ryan | Iowa Cubs | Baseball | Minor League | 2005 | 1,500 |
| 7/5/05 | Splash (Mascot) | Stockton Ports | Baseball | Minor League | 2005 | 1,500 |
| 7/5/05 | Stars 'N Stripes (Mascot) | Washington WildThings | Baseball | Minor League | 2005 | |
| 7/6/05 | Carl Yastremski | Rochester Red Wings | Baseball | Minor League | 2005 | 1,000 |
| 7/6/05 | Derek Jeter | Trenton Thunder | Baseball | Minor League | 2005 | 2,000 6 and up |
| 7/7/05 | Alfonso Soriano | Norwich Navigators | Baseball | Minor League | 2005 | 1,000 |
| 7/8/05 | Willie Stargell Stauette | Pittsburgh Pirates | Baseball | MLB | 2005 | |
| 7/8/05 | Jack McDowell | Birmingham Barons | Baseball | Minor League | 2005 | |
| 7/8/05 | Rickey Henderson | Mesa Miners | Baseball | Minor League | 2005 | 1,000 |
| 7/8/05 | Mark Prior Action Figurine | Peoria Chiefs | Baseball | Minor League | 2005 | |
| 7/8/05 | Jose Reyes Mini | St. Lucie Mets | Baseball | Minor League | 2005 | |
| 7/8/05 | Carlos Delgado | Syracuse Skychiefs | Baseball | Minor League | 2005 | |
| 7/9/05 | Rob Dibble | Billings Mustangs | Baseball | Minor League | 2005 | 1,000 |
| 7/9/05 | Jeff Francoeur | Danville Braves | Baseball | Minor League | 2005 | 1,000 |
| 7/9/05 | Coal Train (Mascot) | Fullerton Flyers | Baseball | Minor League | 2005 | |
| 7/9/05 | Ken Griffey Jr. | Inland Empire 66ers of San Bernardino | Baseball | Minor League | 2005 | 1,000 |
| 7/9/05 | Randy Johnson | Jacksonville Suns | Baseball | Minor League | 2005 | 3,000 |
| 7/9/05 | Skipper (Bobble Body)(Mascot) | Lake County Captains | Baseball | Minor League | 2005 | 2,000 |
| 7/9/05 | Doug Jennings | Long Island Ducks | Baseball | Minor League | 2005 | 2,000 |
| 7/9/05 | Spike (Mascot) | Round Rock Express | Baseball | Minor League | 2005 | 3,000 |
| 7/9/05 | Orlando Cepeda | Salem Avalanche | Baseball | Minor League | 2005 | |
| 7/10/05 | Hank Blalock Statuette | Texas Rangers | Baseball | MLB | 2005 | 20,000 |
| 7/10/05 | Finley (Birthday)(Mascot) | Camden Riversharks | Baseball | Minor League | 2005 | |
| 7/10/05 | Aaron Boone | Indianapolis Indians | Baseball | Minor League | 2005 | 4,000 |
| 7/10/05 | Jimmy Rollins | Reading Phillies | Baseball | Minor League | 2005 | 2,000 14 and under |
| 7/12/05 | Brian Mazone | Joliet Jackhammers | Baseball | Minor League | 2005 | |
| 7/13/05 | Joe Benigno/Sid Rosenberg Double | Brooklyn Cyclones | Baseball | Minor League | 2005 | 2,500 |
| 7/13/05 | Ray Brown | Kansas City Tbones | Baseball | Minor League | 2005 | |
| 7/15/05 | Mike Lieberthal | Clearwater Threshers | Baseball | Minor League | 2005 | 1,000 |
| 7/15/05 | Trot Nixon | Edenton Steamers | Baseball | Minor League | 2005 | |
| 7/15/05 | Don Mattingly Figurine | Nashville Sounds | Baseball | Minor League | 2005 | |
| 7/15/05 | Splash (Mascot) | Stockton Ports | Baseball | Minor League | 2005 | 1,500 |
| 7/15/05 | Steve Trout | Windy City Thunderbolts | Baseball | Minor League | 2005 | |
| 7/16/05 | C.C. Sabathia Statuette | Cleveland Indians | Baseball | MLB | 2005 | 20,000 |
| 7/16/05 | Rollie Fingers | Milwaukee Brewers | Baseball | MLB | 2005 | |
| 7/16/05 | Mookie Wilson | Brooklyn Cyclones | Baseball | Minor League | 2005 | 2,500 |
| 7/16/05 | Dave Miley | Chattanooga Lookouts | Baseball | Minor League | 2005 | |
| 7/16/05 | Nolan Ryan | Corpus Christi Hooks | Baseball | Minor League | 2005 | 2,500 |
| 7/16/05 | Shoeless Joe Jackson | Greenville Bombers | Baseball | Minor League | 2005 | 1,000 |
| 7/16/05 | Bucky Jacobsen | Huntsville Stars | Baseball | Minor League | 2005 | |
| 7/16/05 | Curt Schilling | New Britain Rockcats | Baseball | Minor League | 2005 | |
| 7/16/05 | Nolan Ryan | Oklahoma City RedHawks | Baseball | Minor League | 2005 | |
| 7/17/05 | Barry Zito Statuette | Oakland A's | Baseball | MLB | 2005 | 10,000 |
| 7/17/05 | Jim Edmonds Statuette | St. Louis Cardinals | Baseball | MLB | 2005 | 30,000 |
| 7/17/05 | Willie Mays | Hagerstown Suns | Baseball | Minor League | 2005 | 1,000 |
| 7/17/05 | Slugger (Mascot) | North Shore Spirit | Baseball | Minor League | 2005 | 1,000 12 and under |
| 7/17/05 | Greg Maddux Action Figurine | Peoria Chiefs | Baseball | Minor League | 2005 | |
| 7/18/05 | Hank Blalock | Savannah Sand Gnats | Baseball | Minor League | 2005 | |
| 7/19/05 | Whitey Herzog | St. Louis Cardinals | Baseball | MLB | 2005 | |
| 7/19/05 | Manny Ramirez | Portland SeaDogs | Baseball | Minor League | 2005 | 1,000 |
| 7/19/05 | Jonathan Hunton | Thunder Bay BorderCats | Baseball | Minor League | 2005 | |
| 7/19/05 | Babe Ruth | Wilmington Bluerocks | Baseball | Minor League | 2005 | 1,500 |
| 7/20/05 | Chuck Tiffany | Columbus Catfish | Baseball | Minor League | 2005 | 500 |
| 7/20/05 | Vladimir Guerrero | Harrisburg Senators | Baseball | Minor League | 2005 | |
| 7/20/05 | Nolan Ryan | Omaha Royals | Baseball | Minor League | 2005 | |
| 7/21/05 | Yusmeiro Petit Mini | St. Lucie Mets | Baseball | Minor League | 2005 | |
| 7/22/05 | Francisco Cordero | Texas Rangers | Baseball | MLB | 2005 | 20,000 |
| 7/22/05 | Nolan Ryan | Memphis Redbirds | Baseball | Minor League | 2005 | 1,500 |
| 7/22/05 | TBA Mini | Rockford Riverhawks | Baseball | Minor League | 2005 | |
| 7/22/05 | Shawn Green | Syracuse Skychiefs | Baseball | Minor League | 2005 | |
| 7/23/05 | Sean Casey Statuette | Cincinnati Reds | Baseball | MLB | 2005 | 40,000 |
| 7/23/05 | Gaylord Perry | San Francisco Giants | Baseball | MLB | 2005 | 20,000 |
| 7/23/05 | Wade Boggs Figurine | Tampa Bay Devil Rays | Baseball | MLB | 2005 | 7,500 |
| 7/23/05 | Josh Bonifay Ballblehead | Altoona Curve | Baseball | Minor League | 2005 | 2,000 |
| 7/23/05 | John Daly | Arkansas Travelers | Baseball | Minor League | 2005 | |
| 7/23/05 | Humphrey (Mascot) | Boise Hawks | Baseball | Minor League | 2005 | 1,000 |
| 7/23/05 | Garry Templeton | Fullerton Flyers | Baseball | Minor League | 2005 | |
| 7/23/05 | Mayor Jim Melvin | Greensboro Grasshoppers | Baseball | Minor League | 2005 | 1,500 |
| 7/23/05 | Matt Bonner | New Hampshire Fishercats | Baseball | Minor League | 2005 | 1,500 |
| 7/23/05 | Johnny Bench Statuette | Oklahoma City RedHawks | Baseball | Minor League | 2005 | 2,500 |
| 7/23/05 | Ryan Howard | Scranton-Wilkes Barre Red Barons | Baseball | Minor League | 2005 | |
| 7/23/05 | Johan Santana | Swing of the Quad Cities | Baseball | Minor League | 2005 | |
| 7/23/05 | Josh Fields | Winston-Salem Warthogs | Baseball | Minor League | 2005 | |
| 7/24/05 | Dave Price | Hudson Valley Renegades | Baseball | Minor League | 2005 | |
| 7/25/05 | Reggie Sanders | Memphis Redbirds | Baseball | Minor League | 2005 | 1,500 |
| 7/25/05 | ESPN Joe and Doug | Rancho Cucamonga Quakes | Baseball | Minor League | 2005 | |
| 7/26/05 | Orbit (Mascot) | Albuquerque Isotopes | Baseball | Minor League | 2005 | 2,500 |
| 7/27/05 | Sammy Sosa | Baltimore Orioles | Baseball | MLB | 2005 | 25,000 21 and over |
| 7/27/05 | Thurman Munson Bronze Statuette | New York Yankees | Baseball | MLB | 2005 | 18,000 21 and over |
| 7/27/05 | Joe Torre | Trenton Thunder | Baseball | Minor League | 2005 | 2,000 6 and up |
| 7/28/05 | Rick Prieto | Kansas City Tbones | Baseball | Minor League | 2005 | |
| 7/29/05 | Mike Mordecai | Jamestown Jammers | Baseball | Minor League | 2005 | |
| 7/29/05 | Dontrelle Willis (Bobble Leg) | Kane County Cougars | Baseball | Minor League | 2005 | |
| 7/29/05 | Queen Esther (Bible) | Nashville Sounds | Baseball | Minor League | 2005 | |
| 7/29/05 | Ivan Rodriguez Statuette | Tulsa Drillers | Baseball | Minor League | 2005 | 1,500 5 and up |
| 7/30/05 | Jose Cruz Figurine | Houston Astros | Baseball | MLB | 2005 | 10,000 |
| 7/30/05 | Myron Noodleman | Albuquerque Isotopes | Baseball | Minor League | 2005 | 2,500 |
| 7/30/05 | Tom Ridge | Erie Seawolves | Baseball | Minor League | 2005 | |
| 7/30/05 | Rusty (Mascot) | Gary Southshore Railcats | Baseball | Minor League | 2005 | |
| 7/30/05 | Ben Sheets | Huntsville Stars | Baseball | Minor League | 2005 | |
| 7/30/05 | Victor Martinez | Mahoning Valley Scrappers | Baseball | Minor League | 2005 | 1,000 14 and under |
| 7/30/05 | Chipper Jones | Mississippi Braves | Baseball | Minor League | 2005 | 1,000 |
| 7/30/05 | Bobby Crosby | Modesto Nuts | Baseball | Minor League | 2005 | |
| 7/30/05 | John the Baptist (Bible) | Nashville Sounds | Baseball | Minor League | 2005 | |
| 7/30/05 | Tim Wakefield | Pawtucket Red Sox | Baseball | Minor League | 2005 | 4,000 14 and under |
| 7/30/05 | Felix Hernandez Bronze Statuette | Tacoma Rainiers | Baseball | Minor League | 2005 | |
| 7/31/05 | Jason Kendall | Oakland A's | Baseball | MLB | 2005 | 15,000 |
| 7/31/05 | Vinny Rottino | Beloit Snappers | Baseball | Minor League | 2005 | |
| 7/31/05 | Bob Wolff | Long Island Ducks | Baseball | Minor League | 2005 | 2,000 |
| 7/31/05 | Lew Ford | New Britain Rockcats | Baseball | Minor League | 2005 | 1,200 12 and under |
| 7/31/05 | Tripper (Mascot) | New Haven CountyCutters | Baseball | Minor League | 2005 | 1,000 |
| 7/31/05 | Wade Boggs Bronze Statuette | Pawtucket Red Sox | Baseball | Minor League | 2005 | 5,000 |
| 8/1/05 | Ernie Young | Buffalo Bisons | Baseball | Minor League | 2005 | |
| 8/1/05 | Kevin Youkilis | Lowell Spinners | Baseball | Minor League | 2005 | 1,000 |
| 8/1/05 | Muttnik (Mascot) | Mankato Moondogs | Baseball | Minor League | 2005 | 500 |
| 8/1/05 | So Taguchi | Memphis Redbirds | Baseball | Minor League | 2005 | 1,500 |
| 8/1/05 | Keith Foulke | Portland SeaDogs | Baseball | Minor League | 2005 | 1,000 |
| 8/1/05 | Adrian Beltre | Savannah Sand Gnats | Baseball | Minor League | 2005 | |
| 8/2/05 | Jenny Thompson | New Hampshire Fishercats | Baseball | Minor League | 2005 | 1,500 |
| 8/3/05 | Tony Perez | Cincinnati Reds | Baseball | MLB | 2005 | 40,000 |
| 8/4/05 | Glenn Wilson | Chillicothe Paint | Baseball | Minor League | 2005 | 500 |
| 8/4/05 | Tom Lasorda | Columbus Catfish | Baseball | Minor League | 2005 | 500 |
| 8/5/05 | Jaymie Krick | Fort Worth Cats | Baseball | Minor League | 2005 | 1,500 |
| 8/5/05 | Mayberry Deputy | Princeton Devilrays | Baseball | Minor League | 2005 | 500 |
| 8/5/05 | Casey Colt (Mascot) | San Angelo Colts | Baseball | Minor League | 2005 | 1,500 |
| 8/5/05 | Moses (Bible) | Tulsa Drillers | Baseball | Minor League | 2005 | 2,000 |
| 8/6/05 | Reggie Sanders | Billings Mustangs | Baseball | Minor League | 2005 | 1,000 |
| 8/6/05 | Mayberry Deputy | Danville Braves | Baseball | Minor League | 2005 | 250 |
| 8/6/05 | Liberty Eagle Mini (Mascot) | Florence Freedom | Baseball | Minor League | 2005 | |
| 8/6/05 | Dave Parker | Salem Avalanche | Baseball | Minor League | 2005 | |
| 8/6/05 | Bob Barker | Sioux Falls Canaries | Baseball | Minor League | 2005 | |
| 8/7/05 | Pedro Martinez | New York Mets | Baseball | MLB | 2005 | 12,000 12 and under |
| 8/7/05 | Cheese Chester Pierogie Mini | Pittsburgh Pirates | Baseball | MLB | 2005 | Kids |
| 8/7/05 | Lou Gehrig | Columbus Catfish | Baseball | Minor League | 2005 | |
| 8/7/05 | Wade Boggs (Bristol RedSox uni) | New Britain Rockcats | Baseball | Minor League | 2005 | |
| 8/7/05 | Scot Drucker | Thunder Bay BorderCats | Baseball | Minor League | 2005 | |
| 8/7/05 | Carlos Lee | Winston-Salem Warthogs | Baseball | Minor League | 2005 | |
| 8/8/05 | Rally Cow (Mascot) | New Jersey Cardinals | Baseball | Minor League | 2005 | 1,000 |
| 8/9/05 | Coco Crisp | New Jersey Cardinals | Baseball | Minor League | 2005 | 1,000 |
| 8/9/05 | Robb Quinlan | St. Cloud Riverbats | Baseball | Minor League | 2005 | 700 |
| 8/9/05 | Rocky Bluewinkle (Mascot) | Wilmington Bluerocks | Baseball | Minor League | 2005 | 1,250 |
| 8/10/05 | Tony Stevens (American Hero) | New Britain Rockcats | Baseball | Minor League | 2005 | |
| 8/10/05 | Carl Pavano | Trenton Thunder | Baseball | Minor League | 2005 | 2,000 6 and up |
| 8/10/05 | TBA | Waterloo Bucks | Baseball | Minor League | 2005 | 500 |
| 8/12/05 | Rudy Gorilla (Mascot) | Erie Seawolves | Baseball | Minor League | 2005 | |
| 8/12/05 | Quackerjack w/Champ Trophy (Mascot) | Long Island Ducks | Baseball | Minor League | 2005 | 1,500 |
| 8/12/05 | Albert Pujols Action Figurine | Peoria Chiefs | Baseball | Minor League | 2005 | |
| 8/12/05 | Mayberry Deputy | Salem Avalanche | Baseball | Minor League | 2005 | |
| 8/12/05 | Hardware Hank | Sioux Falls Canaries | Baseball | Minor League | 2005 | |
| 8/12/05 | Carlos Beltran | Wilmington Bluerocks | Baseball | Minor League | 2005 | 1000 Via Lottery |
| 8/13/05 | Bret Saberhagen Statuette | Kansas City Royals | Baseball | MLB | 2005 | 20,000 |
| 8/13/05 | Lyle Overbay | Milwaukee Brewers | Baseball | MLB | 2005 | |
| 8/13/05 | Matt Bush | Fort Wayne Wizards | Baseball | Minor League | 2005 | |
| 8/13/05 | Paul Revere | Lowell Spinners | Baseball | Minor League | 2005 | 1,000 |
| 8/13/05 | Nick Swisher | Modesto Nuts | Baseball | Minor League | 2005 | |
| 8/13/05 | Fritz Wetherbee | New Hampshire Fishercats | Baseball | Minor League | 2005 | 1,500 |
| 8/13/05 | Khalil Greene Statuette | Portland Beavers | Baseball | Minor League | 2005 | 3,000 |
| 8/13/05 | Nolan Ryan | Round Rock Express | Baseball | Minor League | 2005 | 3,000 |
| 8/13/05 | Mitch Williams | Salem Avalanche | Baseball | Minor League | 2005 | |
| 8/14/05 | Ned Yost (Mini) | Milwaukee Brewers | Baseball | MLB | 2005 | Kids 14 and under |
| 8/14/05 | Eric Chavez Statuette | Oakland A's | Baseball | MLB | 2005 | 10,000 |
| 8/14/05 | Ned Reynolds | Springfield Cardinals | Baseball | Minor League | 2005 | 2,500 |
| 8/15/05 | Scott Rolen | Memphis Redbirds | Baseball | Minor League | 2005 | 1,500 |
| 8/16/05 | Bill Dancy Statuette | Reading Phillies | Baseball | Minor League | 2005 | 2,500 15 and over |
| 8/17/05 | Edwin Jackson | Columbus Catfish | Baseball | Minor League | 2005 | 500 |
| 8/17/05 | Crusher (Mascot) | Edmonton Crackercats | Baseball | Minor League | 2005 | |
| 8/17/05 | Ozzie (Patriotic Jersey)(Mascot) | Kane County Cougars | Baseball | Minor League | 2005 | |
| 8/18/05 | Greg Bicknell | Kansas City Tbones | Baseball | Minor League | 2005 | |
| 8/19/05 | Matt Cain | Fresno Grizzlies | Baseball | Minor League | 2005 | 2,500 |
| 8/19/05 | Walter Johnson | Fullerton Flyers | Baseball | Minor League | 2005 | |
| 8/19/05 | Vance Brand | Lancaster Jet Hawks | Baseball | Minor League | 2005 | |
| 8/19/05 | Daniel in the Lions Den (Bible) | Nashville Sounds | Baseball | Minor League | 2005 | |
| 8/19/05 | Dave Rosenfield | Norfolk Tides | Baseball | Minor League | 2005 | 4,000 18 and over |
| 8/20/05 | Coco Crisp | Cleveland Indians | Baseball | MLB | 2005 | 20,000 |
| 8/20/05 | Miguel Cabrera (Mini) | Florida Marlins | Baseball | MLB | 2005 | 12,500 |
| 8/20/05 | Jeff Bagwell Figurine | Houston Astros | Baseball | MLB | 2005 | |
| 8/20/05 | Mayor Oscar Goodman | Las Vegas 51s | Baseball | Minor League | 2005 | 2,500 |
| 8/20/05 | Mayor Mike Dow | Mobile BayBears | Baseball | Minor League | 2005 | 1,000 adults |
| 8/20/05 | Benedict Arnold | Norwich Navigators | Baseball | Minor League | 2005 | 1,000 |
| 8/20/05 | Roger Clemens | Round Rock Express | Baseball | Minor League | 2005 | 3,000 |
| 8/20/05 | Trey Teague | West Tennessee Diamond Jaxx | Baseball | Minor League | 2005 | 1,000 |
| 8/20/05 | Boomer (Mascot) | Windy City Thunderbolts | Baseball | Minor League | 2005 | 1,000 |
| 8/21/05 | Troy Percival | Detroit Tigers | Baseball | MLB | 2005 | 10,000 |
| 8/21/05 | 1965 TBA 1 of 10 players | Minnesota Twins | Baseball | MLB | 2005 | 1,000 of each |
| 8/21/05 | Warner Fusselle | Brooklyn Cyclones | Baseball | Minor League | 2005 | 2,500 |
| 8/21/05 | Cylo (Mascot) | Lancaster Barnstormers | Baseball | Minor League | 2005 | 5,000 12 and under |
| 8/23/05 | Bud Harrelson | Long Island Ducks | Baseball | Minor League | 2005 | 1,500 |
| 8/23/05 | Edgar Renteria | Portland SeaDogs | Baseball | Minor League | 2005 | 1,000 |
| 8/23/05 | Wild Thing (Super Hero) (Mascot) | Washington WildThings | Baseball | Minor League | 2005 | 1,000 |
| 8/23/05 | Chris Kemple | Wilmington Bluerocks | Baseball | Minor League | 2005 | 1,000 |
| 8/24/05 | Greg Luzinski | Atlantic City Surf | Baseball | Minor League | 2005 | 1,000 |
| 8/24/05 | Leo Pinckney | Auburn Doubledays | Baseball | Minor League | 2005 | 1,000 |
| 8/25/05 | Sheriff Patrick O'Flynn | Rochester Red Wings | Baseball | Minor League | 2005 | 2,000 |
| 8/26/05 | Jake Peavy | San Diego Padres | Baseball | MLB | 2005 | |
| 8/26/05 | Mayor Hindman | Mid Missouri Mavericks | Baseball | Minor League | 2005 | 500 |
| 8/26/05 | Mark Grace Action Figurine | Peoria Chiefs | Baseball | Minor League | 2005 | |
| 8/26/05 | Felix Pie | West Tennessee Diamond Jaxx | Baseball | Minor League | 2005 | 1,000 |
| 8/27/05 | Diego (Q102 DJ) | Camden Riversharks | Baseball | Minor League | 2005 | 1,500 |
| 8/27/05 | Corey Myers | Missoula Osprey | Baseball | Minor League | 2005 | 750 |
| 8/27/05 | Luke the Falcon (Mascot) | Surprise Fightin' Falcons | Baseball | Minor League | 2005 | 1,000 |
| 8/28/05 | Ernie Whitt | Toronto Blue Jays | Baseball | MLB | 2005 | 10,000 |
| 8/28/05 | Howard "Hop" Cassady Dual Figurine | Columbus Clippers | Baseball | Minor League | 2005 | |
| 8/28/05 | Hootz (Mascot) | Orem Owls | Baseball | Minor League | 2005 | 750 |
| 8/28/05 | Justin Morneau Bobblehead Desk Set | Rochester Red Wings | Baseball | Minor League | 2005 | 2,000 |
| 8/28/05 | Chase (Mascot Batdog) | Trenton Thunder | Baseball | Minor League | 2005 | 2,000 6 and up |
| 8/29/05 | Jhonny Peralta | Buffalo Bisons | Baseball | Minor League | 2005 | |
| 8/29/05 | Emeril LaGasse | Lowell Spinners | Baseball | Minor League | 2005 | 1,000 |
| 8/29/05 | Albert Pujols | Memphis Redbirds | Baseball | Minor League | 2005 | 1,500 |
| 8/29/05 | Eric Gagne | Savannah Sand Gnats | Baseball | Minor League | 2005 | |
| 8/29/05 | Curtis Granderson | Toledo Mudhens | Baseball | Minor League | 2005 | 1,000 via Lottery |
| 8/30/05 | Gordie Gillespie | Joliet Jackhammers | Baseball | Minor League | 2005 | |
| 8/30/05 | Al Leiter/Mark Leiter Double | Lakewood Blueclaws | Baseball | Minor League | 2005 | 2,000 |
| 8/30/05 | Adam Kennedy | New Jersey Cardinals | Baseball | Minor League | 2005 | 1,000 |
| 8/30/05 | Wild Thing (Batting) (Mascot) | Washington WildThings | Baseball | Minor League | 2005 | |
| 8/31/05 | Babe Ruth | Pawtucket Red Sox | Baseball | Minor League | 2005 | 3,000 14 and under |
| 8/31/05 | Tim Redding | Rochester Red Wings | Baseball | Minor League | 2005 | 1,000 |
| 9/1/05 | Nolan Ryan | Albuquerque Isotopes | Baseball | Minor League | 2005 | |
| 9/1/05 | Opie Cheek | Clearwater Threshers | Baseball | Minor League | 2005 | 1,000 |
| 9/1/05 | Rhashan (Bobble-Belly) | Williamsport Crosscutters | Baseball | Minor League | 2005 | 1,000 |
| 9/2/05 | Roger Clemens/Nolan Ryan Figurine | Houston Astros | Baseball | MLB | 2005 | 10,000 |
| 9/2/05 | Al Spalding | Rockford Riverhawks | Baseball | Minor League | 2005 | |
| 9/2/05 | Bobby Crosby | Stockton Ports | Baseball | Minor League | 2005 | 1,500 |
| 9/2/05 | Samson (Bible) | Tulsa Drillers | Baseball | Minor League | 2005 | |
| 9/3/05 | Carlos Lee | Milwaukee Brewers | Baseball | MLB | 2005 | |
| 9/3/05 | Hawks Fan | Boise Hawks | Baseball | Minor League | 2005 | |
| 9/3/05 | Hubcap (School Mascot) | Hagerstown Suns | Baseball | Minor League | 2005 | 1,000 |
| 9/3/05 | Derek Parra | Inland Empire 66ers of San Bernardino | Baseball | Minor League | 2005 | 1,000 |
| 9/3/05 | Adam Miller | Lake County Captains | Baseball | Minor League | 2005 | 2,000 |
| 9/3/05 | Tim Wakefield | Salem Avalanche | Baseball | Minor League | 2005 | |
| 9/3/05 | Jeff Francis Statuette | Tulsa Drillers | Baseball | Minor League | 2005 | 1,000 |
| 9/4/05 | B.J. Surhoff | Beloit Snappers | Baseball | Minor League | 2005 | |
| 9/4/05 | Dinger (Mascot) | Fort Wayne Wizards | Baseball | Minor League | 2005 | |
| 9/4/05 | Ralph Stottlemyer | Hagerstown Suns | Baseball | Minor League | 2005 | 1,000 |
| 9/5/05 | Bobby Abreu Figurine | Philadelphia Phillies | Baseball | MLB | 2005 | |
| 9/5/05 | Mark Prior | Lansing Lugnuts | Baseball | Minor League | 2005 | |
| 9/5/05 | Larry Walker | Memphis Redbirds | Baseball | Minor League | 2005 | 1,500 |
| 9/5/05 | Tom Prince | Williamsport Crosscutters | Baseball | Minor League | 2005 | 1,000 |
| 9/6/05 | Mark Kotsay | Oakland A's | Baseball | MLB | 2005 | 15,000 |
| 9/8/05 | Brian Kenny (ESPN) | Hudson Valley Renegades | Baseball | Minor League | 2005 | 1,500 |
| 9/10/05 | Mark Texiera | Texas Rangers | Baseball | MLB | 2005 | |
| 9/16/05 | Johan Santana | Minnesota Twins | Baseball | MLB | 2005 | 10,000 |
| 9/17/05 | Lance Berkman Figurine | Houston Astros | Baseball | MLB | 2005 | 10,000 |
| 9/17/05 | Roberto Clemente Statuette | Pittsburgh Pirates | Baseball | MLB | 2005 | |
| 9/18/05 | Willie Randolph | New York Mets | Baseball | MLB | 2005 | 25,000 |
| 9/29/05 | Jeff Kent | Los Angeles Dodgers | Baseball | MLB | 2005 | 50,000 |
| 10/1/05 | Carl Crawford (Sliding) | Tampa Bay Devil Rays | Baseball | MLB | 2005 | 5,000 |
| 10/2/05 | Rod Carew Bronze Statuette | Minnesota Twins | Baseball | MLB | 2005 | 10,000 |
| 11/2/05 | Ben Wallace Figurine (w/trophy) | Detroit Pistons | Basketball | NBA | 2005-2006 | 10,000 |
| 11/9/05 | LeBron James | Cleveland Cavaliers | Basketball | NBA | 2005-2006 | |
| 11/12/05 | Nikolai Khabibulin Figurine | Long Beach IceDogs | Hockey | ECHL | 2005-2006 | 2,500 |
| 11/14/05 | Jerry West Figurine | Memphis Grizzlies | Basketball | NBA | 2005-2006 | 5,000 |
| 11/15/05 | Larry Hughes | Cleveland Cavaliers | Basketball | NBA | 2005-2006 | |
| 11/22/05 | Bryan Nathe | Everett Silvertips | Hockey | WHL | 2005-2006 | 1,000 |
| 11/25/05 | Dave Bing Figurine | Detroit Pistons | Basketball | NBA | 2005-2006 | 10,000 |
| 11/25/05 | Peter Arvanitis | Oklahoma City Blazers | Hockey | CHL | 2005-2006 | 2,500 |
| 11/26/05 | Bobby Holik | Atlanta Thrashers | Hockey | NHL | 2005-2006 | 5,000 |
| 11/26/05 | Ken Gernander | Hartford Wolfpack | Hockey | AHL | 2005-2006 | 5,000 |
| 11/30/05 | Zydrunas "Tall Z" Ilgauskas | Cleveland Cavaliers | Basketball | NBA | 2005-2006 | |
| 12/2/05 | Isiah Thomas Figurine | Detroit Pistons | Basketball | NBA | 2005-2006 | 10,000 |
| 12/2/05 | Simon Tremblay | Reading Royals | Hockey | ECHL | 2005-2006 | 2,000 |
| 12/3/05 | Slapshot (Mascot) | Colorado Eagles | Hockey | CHL | 2005-2006 | |
| 12/5/05 | Pete Maravich Statuette | Utah Jazz | Basketball | NBA | 2005-2006 | |
| 12/6/05 | Peter Forsberg | Philadelphia Flyers | Hockey | NHL | 2005-2006 | |
| 12/6/05 | Ivan Baranka | Everett Silvertips | Hockey | WHL | 2005-2006 | 1,000 |
| 12/7/05 | Nate McMillan | Portland Trailblazers | Basketball | NBA | 2005-2006 | |
| 12/10/05 | Antawn Jamison (Mini) | Washington Wizards | Basketball | NBA | 2005-2006 | 8,000 |
| 12/14/05 | Tayshaun Prince (Mini ornament) | Detroit Pistons | Basketball | NBA | 2005-2006 | 5,000 |
| 12/17/05 | Marian Hossa "True Blue" | Atlanta Thrashers | Hockey | NHL | 2005-2006 | 5,000 |
| 12/17/05 | Mike Nykoluk Figurine | Hershey Bears | Hockey | AHL | 2005-2006 | |
| 12/17/05 | Mike Buzak Figurine | Long Beach IceDogs | Hockey | ECHL | 2005-2006 | 2,500 |
| 12/20/05 | Rasheed Wallace (Mini ornament) | Detroit Pistons | Basketball | NBA | 2005-2006 | 5,000 |
| 12/23/05 | Emeka Okafur | Charlotte Bobcats | Basketball | NBA | 2005-2006 | 5,000 |
| 12/23/05 | Joe Dumars Figurine | Detroit Pistons | Basketball | NBA | 2005-2006 | 10,000 |
| 12/26/05 | Steve Francis | Orlando Magic | Basketball | NBA | 2005-2006 | 5,000 |
| 12/26/05 | Darrell Griffith Statuette | Utah Jazz | Basketball | NBA | 2005-2006 | |
| 12/28/05 | Martell Webster | Portland Trailblazers | Basketball | NBA | 2005-2006 | |
| 12/30/05 | Clash with Kelly Cup Trophy (Mascot) | Trenton Titans | Hockey | ECHL | 2005-2006 | |
| 1/6/06 | Bill Laimbeer Figurine | Detroit Pistons | Basketball | NBA | 2005-2006 | 10,000 |
| 1/7/06 | Bruiser Mini (Mascot) | Fort Worth Brahmas | Hockey | CHL | 2005-2006 | 500 |
| 1/7/06 | Olivier Michaud Figurine | Long Beach IceDogs | Hockey | ECHL | 2005-2006 | 2,500 |
| 1/7/06 | Dustin Brown | Manchester Monarchs | Hockey | AHL | 2005-2006 | 5,000 |
| 1/7/06 | TBA Mini | Milwaukee Admirals | Hockey | AHL | 2005-2006 | 3,500 |
| 1/11/06 | Travis Outlaw | Portland Trailblazers | Basketball | NBA | 2005-2006 | |
| 1/13/06 | Sean May | Charlotte Bobcats | Basketball | NBA | 2005-2006 | 5,000 |
| 1/16/06 | Brendon Haywood (Mini) | Washington Wizards | Basketball | NBA | 2005-2006 | 8,000 |
| 1/16/06 | Riley Armstrong | Everett Silvertips | Hockey | WHL | 2005-2006 | 1,000 |
| 1/17/06 | Mark Eaton Statuette | Utah Jazz | Basketball | NBA | 2005-2006 | |
| 1/18/06 | Kyle Korver | Philadelphia 76ers | Basketball | NBA | 2005-2006 | 5,000 12 and under |
| 1/18/06 | Tux "Bobble Belly" (Mascot) | Wilkes Barre-Scranton Penguins | Hockey | AHL | 2005-2006 | 5,000 |
| 1/19/06 | Wayne Gretzky | Phoenix Coyotes | Hockey | NHL | 2005-2006 | 10,000 |
| 1/20/06 | Brian McCullough | Reading Royals | Hockey | ECHL | 2005-2006 | 2,000 |
| 1/21/06 | Rob Niedermayer/Scott Niedermayer Double | Anaheim Mighty Ducks | Hockey | NHL | 2005-2006 | |
| 1/21/06 | Ilya Kovalchuk "True Blue" | Atlanta Thrashers | Hockey | NHL | 2005-2006 | 5,000 |
| 1/21/06 | Shooter (Mascot) | Iowa Stars | Hockey | AHL | 2005-2006 | 5,000 |
| 1/26/06 | Mo Cheeks Statuette | Philadelphia 76ers | Basketball | NBA | 2005-2006 | 5,000 |
| 1/27/06 | Joe Johnson | Atlanta Hawks | Basketball | NBA | 2005-2006 | 5,000 |
| 1/27/06 | Vinnie Johnson Figurine | Detroit Pistons | Basketball | NBA | 2005-2006 | 10,000 |
| 1/27/06 | Patrick Sharp | Philadelphia Phantoms | Hockey | AHL | 2005-2006 | 4,000 14 and under |
| 1/27/06 | Dave Siciliano | Sioux City Musketeers | Hockey | USHL | 2005-2006 | 1,000 |
| 1/28/06 | Wade Dubielewicz | Bridgeport SoundTigers | Hockey | AHL | 2005-2006 | 1,500 14 and under |
| 1/29/06 | Tayshaun Prince Action Figurine | Detroit Pistons | Basketball | NBA | 2005-2006 | 10,000 |
| 1/29/06 | Jeff Harvey | Everett Silvertips | Hockey | WHL | 2005-2006 | 1,000 |
| 2/1/06 | Sebastian Telfair | Portland Trailblazers | Basketball | NBA | 2005-2006 | |
| 2/3/06 | Roscoe (Mascot) | Milwaukee Admirals | Hockey | AHL | 2005-2006 | 3,500 |
| 2/3/06 | Frank Littlejohn | Missouri River Otters | Hockey | UHL | 2005-2006 | 1,000 |
| 2/4/06 | Sebastien Thinel | Odessa Jackalopes | Hockey | CHL | 2005-2006 | |
| 2/6/06 | Kurt Thomas | Phoenix Suns | Basketball | NBA | 2005-2006 | |
| 2/6/06 | Jeff Hornacek Statuette | Utah Jazz | Basketball | NBA | 2005-2006 | |
| 2/8/06 | Chris Bosh | Toronto Raptors | Basketball | NBA | 2005-2006 | |
| 2/8/06 | Frank Mathers Figurine | Hershey Bears | Hockey | AHL | 2005-2006 | |
| 2/10/06 | Raymond Felton | Charlotte Bobcats | Basketball | NBA | 2005-2006 | 5,000 |
| 2/11/06 | Joe Burton | Oklahoma City Blazers | Hockey | CHL | 2005-2006 | 2,500 |
| 2/17/06 | Bucky (Mascot) | Dayton Bombers | Hockey | ECHL | 2005-2006 | |
| 2/17/06 | Mitch Love | Everett Silvertips | Hockey | WHL | 2005-2006 | 1,000 |
| 2/18/06 | Torpedo (Mascot) | Hartford Wolfpack | Hockey | AHL | 2005-2006 | |
| 2/22/06 | Steve Nash | Phoenix Suns | Basketball | NBA | 2005-2006 | |
| 2/24/06 | Cody Rudkowski | Reading Royals | Hockey | ECHL | 2005-2006 | 2,500 |
| 2/25/06 | Zaza Pachulia | Atlanta Hawks | Basketball | NBA | 2005-2006 | 5,000 |
| 2/25/06 | Antonio Daniels (Mini) | Washington Wizards | Basketball | NBA | 2005-2006 | 8,000 |
| 2/25/06 | U.S. Army man | Johnstown Chiefs | Hockey | ECHL | 2005-2006 | |
| 2/25/06 | Terry Virtue | Wheeling Nailers | Hockey | AHL | 2005-2006 | |
| 2/26/06 | Chauncey Billups Action Figurine | Detroit Pistons | Basketball | NBA | 2005-2006 | 10,000 |
| 2/26/06 | Trent Hunter | Bridgeport SoundTigers | Hockey | AHL | 2005-2006 | 1,500 14 and under |
| 2/28/06 | Brandon Coalter | Florida Everblades | Hockey | ECHL | 2005-2006 | 2,500 |
| 3/1/06 | Elton Brand | Los Angeles Clippers | Basketball | NBA | 2005-2006 | |
| 3/1/06 | Zach Randolph | Portland Trailblazers | Basketball | NBA | 2005-2006 | |
| 3/3/06 | Antero Niittymaki Figurine | Philadelphia Phantoms | Hockey | AHL | 2005-2006 | 4,000 |
| 3/4/06 | Jan Melichercik | Amarillo Gorillas | Hockey | CHL | 2005-2006 | |
| 3/4/06 | Matt Carkner | Cleveland Barons | Hockey | AHL | 2005-2006 | 3,000 |
| 3/4/06 | Barry Brust | Reading Royals | Hockey | ECHL | 2005-2006 | 2,500 |
| 3/5/06 | Andre Igoudala Statuette | Philadelphia 76ers | Basketball | NBA | 2005-2006 | 5,000 |
| 3/5/06 | Runaway Bride | Gwinnett Gladiators | Hockey | ECHL | 2005-2006 | 1,000 |
| 3/6/06 | Jeff Kent | Los Angeles Dodgers | Baseball | MLB | 2006 | 1,000 |
| 3/7/06 | Jarvis Hayes (Mini) | Washington Wizards | Basketball | NBA | 2005-2006 | 8,000 |
| 3/8/06 | Random Season Ticket | Minnesota Twins | Baseball | MLB | 2006 | 1,000 |
| 3/8/06 | John Stockton Statuette | Utah Jazz | Basketball | NBA | 2005-2006 | |
| 3/9/06 | Jack Hanna | Columbus Bluejackets | Hockey | NHL | 2005-2006 | |
| 3/10/06 | Ben Sheets | Milwaukee Admirals | Hockey | AHL | 2005-2006 | 3,500 |
| 3/11/06 | Raja Bell | Phoenix Suns | Basketball | NBA | 2005-2006 | |
| 3/11/06 | Mike Ricci | Phoenix Coyotes | Hockey | NHL | 2005-2006 | 10,000 |
| 3/11/06 | Matt Carmichael | Huntsville Havoc | Hockey | SPHL | 2005-2006 | 1,000 |
| 3/11/06 | Mike Gorman | Odessa Jackalopes | Hockey | CHL | 2005-2006 | |
| 3/12/06 | Chuck Daly Figurine | Detroit Pistons | Basketball | NBA | 2005-2006 | 10,000 |
| 3/17/06 | Marvin Williams | Atlanta Hawks | Basketball | NBA | 2005-2006 | 5,000 |
| 3/18/06 | Random Season Ticket | Minnesota Twins | Baseball | MLB | 2006 | 1,000 |
| 3/18/06 | Kari Lehtonen | Atlanta Thrashers | Hockey | NHL | 2005-2006 | 5,000 |
| 3/18/06 | Kevin St. Jacques | Bakersfield Condors | Hockey | ECHL | 2005-2006 | 2,000 12 and under |
| 3/18/06 | Fraser Clair | Fresno Falcons | Hockey | ECHL | 2005-2006 | |
| 3/18/06 | Rod Branch | Motor City Mechanics | Hockey | UHL | 2005-2006 | |
| 3/18/06 | Brandon Sugden | Syracuse Crunch | Hockey | AHL | 2005-2006 | 1,000 |
| 3/23/06 | Karl Malone Statuette | Utah Jazz | Basketball | NBA | 2005-2006 | |
| 3/24/06 | Steve Martinson | Rockford IceHogs | Hockey | UHL | 2005-2006 | |
| 3/25/06 | Matt Ellis (Squishy) | Grand Rapids Griffins | Hockey | AHL | 2005-2006 | 1,500 kids |
| 3/26/06 | Bango (Mascot) | Milwaukee Bucks | Basketball | NBA | 2005-2006 | |
| 3/26/06 | John Stevens (Coach) | Philadelphia Phantoms | Hockey | AHL | 2005-2006 | 2,000 |
| 3/26/06 | John Stevens (Player) | Philadelphia Phantoms | Hockey | AHL | 2005-2006 | 2,000 |
| 3/29/06 | Joel Pryzbilla | Portland Trailblazers | Basketball | NBA | 2005-2006 | |
| 3/30/06 | Steve McIntyre | Charlotte Checkers | Hockey | ECHL | 2005-2006 | 2,000 |
| 3/31/06 | Primosz Brezec | Charlotte Bobcats | Basketball | NBA | 2005-2006 | 5,000 |
| 3/31/06 | Bob Lanier Figurine | Detroit Pistons | Basketball | NBA | 2005-2006 | 10,000 |
| 4/4/06 | Caron Butler (Mini) | Washington Wizards | Basketball | NBA | 2005-2006 | 8,000 |
| 4/7/06 | Daniel in the Lions Den (Bible) | Hickory Crawdads | Baseball | Minor League | 2006 | 1,000 |
| 4/7/06 | Carlos Zambrano Figurine | Lansing Lugnuts | Baseball | Minor League | 2006 | |
| 4/7/06 | Salim Stoudamire | Atlanta Hawks | Basketball | NBA | 2005-2006 | 5,000 |
| 4/7/06 | Sonar (Mascot) | Hartford Wolfpack | Hockey | AHL | 2005-2006 | |
| 4/7/06 | Reagan Rome | Reading Royals | Hockey | ECHL | 2005-2006 | 2,000 |
| 4/8/06 | Roger Clemens Figurine | Corpus Christi Hooks | Baseball | Minor League | 2006 | 2,500 |
| 4/8/06 | Andy LaRoche | Jacksonville Suns | Baseball | Minor League | 2006 | 3,000 |
| 4/8/06 | Boux (Mascot) | New Orleans Zephyrs | Baseball | Minor League | 2006 | |
| 4/8/06 | Curtis Joseph | Phoenix Coyotes | Hockey | NHL | 2005-2006 | 10,000 |
| 4/9/06 | Michael Young (Batting Champion) | Texas Rangers | Baseball | MLB | 2006 | 20,000 |
| 4/9/06 | Arthur Ravenel Jr. Bridge | Charleston Riverdogs | Baseball | Minor League | 2006 | 1,000 |
| 4/9/06 | Zach Duke | Lynchburg Hillcats | Baseball | Minor League | 2006 | 1,000 |
| 4/9/06 | Tony Gwynn Figurine | Portland Beavers | Baseball | Minor League | 2006 | 500 14 and under |
| 4/9/06 | Al Jefferson | Boston Celtics | Basketball | NBA | 2005-2006 | 5,000 |
| 4/10/06 | Jason Giambi | Tampa Yankees | Baseball | Minor League | 2006 | 250 |
| 4/10/06 | Frank Layden Statuette | Utah Jazz | Basketball | NBA | 2005-2006 | |
| 4/13/06 | Brian Finnegan (Mini) | Lake County Captains | Baseball | Minor League | 2006 | 2,000 |
| 4/15/06 | Jason Bay (All-Star) | Pittsburgh Pirates | Baseball | MLB | 2006 | |
| 4/15/06 | Jonny Gomes Figurine | Tampa Bay DevilRays | Baseball | MLB | 2006 | |
| 4/15/06 | Todd Linden Figurine | Fresno Grizzlies | Baseball | Minor League | 2006 | |
| 4/15/06 | Glenallen Hill | Modesto Nuts | Baseball | Minor League | 2006 | |
| 4/16/06 | Huston Street | Oakland A's | Baseball | MLB | 2006 | 10,000 |
| 4/16/06 | Antonio McDyess Figurine | Detroit Pistons | Basketball | NBA | 2005-2006 | 10,000 |
| 4/17/06 | Jimmy Rollins Bronze Statuette | Scranton Wilkes-Barre Red Barons | Baseball | Minor League | 2006 | 2,000 |
| 4/19/06 | Chien-Ming Wang | Trenton Thunder | Baseball | Minor League | 2006 | 2,000 6 and up |
| 4/21/06 | Ichiro Suzuki | Seattle Mariners | Baseball | MLB | 2006 | 25,000 |
| 4/22/06 | Larry Wadel | Hagerstown Suns | Baseball | Minor League | 2006 | 1,000 |
| 4/25/06 | Bartolo Colon (Cy Young) Figurine | Los Angeles Angels of Anaheim | Baseball | MLB | 2006 | |
| 4/26/06 | Ryan Howard Statuette | Lakewood Blueclaws | Baseball | Minor League | 2006 | 2,000 |
| 4/26/06 | Jeff Kent | Vero Beach Dodgers | Baseball | Minor League | 2006 | 1,000 |
| 4/28/06 | Phinley (Mascot) | Clearwater Threshers | Baseball | Minor League | 2006 | 1,000 |
| 4/28/06 | David DeJesus | Wilmington BlueRocks | Baseball | Minor League | 2006 | 1,000 |
| 4/29/06 | Grady Sizemore | Cleveland Indians | Baseball | MLB | 2006 | |
| 5/3/06 | David Eckstein | Trenton Thunder | Baseball | Minor League | 2006 | 2,000 6 and up |
| 5/5/06 | Torii Hunter (Gold Glove) | Minnesota Twins | Baseball | MLB | 2006 | 10,000 |
| 5/5/06 | Don McCormack | Long Island Ducks | Baseball | Minor League | 2006 | 2,000 |
| 5/6/06 | Nick Swisher | Oakland A's | Baseball | MLB | 2006 | 10,000 |
| 5/6/06 | Kevin Kouzmanoff (Mini) | Lake County Captains | Baseball | Minor League | 2006 | 2,000 |
| 5/6/06 | Craig Biggio | Round Rock Express | Baseball | Minor League | 2006 | 3,000 |
| 5/8/06 | Scott Rolen Bronze Statuette | Scranton Wilkes-Barre Red Barons | Baseball | Minor League | 2006 | 2,000 |
| 5/11/06 | Jonny Gomes Statuette | Durham Bulls | Baseball | Minor League | 2006 | Mini Plan Holders Only |
| 5/12/06 | Zach Duke | Pittsburgh Pirates | Baseball | MLB | 2006 | |
| 5/13/06 | Adam Dunn Figurine | Cincinnati Reds | Baseball | MLB | 2006 | |
| 5/13/06 | Len Barker/Rick Manning Double Figurine | Cleveland Indians | Baseball | MLB | 2006 | |
| 5/13/06 | Derrick Turnbow | Milwaukee Brewers | Baseball | MLB | 2006 | |
| 5/13/06 | Jack Wilson/Jose Castillo Double Figurine | Pittsburgh Pirates | Baseball | MLB | 2006 | |
| 5/13/06 | Carl Crawford Figurine | Tampa Bay DevilRays | Baseball | MLB | 2006 | 15,000 |
| 5/13/06 | Craig Biggio Figurine | Corpus Christi Hooks | Baseball | Minor League | 2006 | 2,500 |
| 5/13/06 | Omar Quintanilla | Modesto Nuts | Baseball | Minor League | 2006 | |
| 5/13/06 | Pepper Martin Statuette | Oklahoma Redhawks | Baseball | Minor League | 2006 | |
| 5/13/06 | Donnie Scott | Sarasota Reds | Baseball | Minor League | 2006 | |
| 5/15/06 | Vladimir Guerrero (Silver Slugger) | Los Angeles Angels of Anaheim | Baseball | MLB | 2006 | |
| 5/17/06 | Joe DiMaggio Bronze Statuette | New York Yankees | Baseball | MLB | 2006 | 18,000 21 and over |
| 5/17/06 | Trot Nixon | Trenton Thunder | Baseball | Minor League | 2006 | 2,000 6 and up |
| 5/18/06 | Gavin Floyd (Made it to the Phillies) | Lakewood Blueclaws | Baseball | Minor League | 2006 | 2,000 |
| 5/19/06 | Richie Sexson | Seattle Mariners | Baseball | MLB | 2006 | 25,000 |
| 5/19/06 | Vladimir Guerrero Figurine | Arkansas Travelers | Baseball | Minor League | 2006 | |
| 5/19/06 | Brooks Robinson | Palm Beach Cardinals | Baseball | Minor League | 2006 | 1,000 |
| 5/19/06 | Dustin Pedroia | Portland Seadogs | Baseball | Minor League | 2006 | 1,000 |
| 5/19/06 | Huston Street | Sacramento Rivercats | Baseball | Minor League | 2006 | |
| 5/20/06 | Johnny Estrada | Arizona Diamondbacks | Baseball | MLB | 2006 | 25,000 |
| 5/20/06 | Larry Doby/Satchel Paige Double Figurine | Cleveland Indians | Baseball | MLB | 2006 | |
| 5/20/06 | Chris Capuano (Mini) | Milwaukee Brewers | Baseball | MLB | 2006 | 10,000 16 and under |
| 5/20/06 | Manny Ramirez | Charlotte Knights | Baseball | Minor League | 2006 | 1,500 |
| 5/20/06 | Jonathan Broxton | Jacksonville Suns | Baseball | Minor League | 2006 | 3,000 |
| 5/22/06 | Ryan Howard (Made it to the Phillies) | Lakewood Blueclaws | Baseball | Minor League | 2006 | 2,000 |
| 5/22/06 | Morgan Ensberg | Round Rock Express | Baseball | Minor League | 2006 | 3,000 |
| 5/23/06 | Roger Clemens | Connecticut Defenders | Baseball | Minor League | 2006 | 1,000 |
| 5/24/06 | Felipe Lopez | Cincinnati Reds | Baseball | MLB | 2006 | |
| 5/26/06 | Chase Utley Bobble Figurine | Philadelphia Phillies | Baseball | MLB | 2006 | |
| 5/27/06 | Kent Hrbek Bronze Statuette | Minnesota Twins | Baseball | MLB | 2006 | 10,000 |
| 5/27/06 | Mike Gonzalez/Oliver Perez Double (Fire & Ice) | Pittsburgh Pirates | Baseball | MLB | 2006 | |
| 5/27/06 | Jeff Francoeur | Rome Braves | Baseball | Minor League | 2006 | 1,000 |
| 5/28/06 | Omar Vizquel | San Francisco Giants | Baseball | MLB | 2006 | 20,000 |
| 5/28/06 | Vernon Wells | Toronto Blue Jays | Baseball | MLB | 2006 | |
| 5/28/06 | Jorge Posada Figurine | Columbus Clippers | Baseball | Minor League | 2006 | |
| 5/29/06 | Mark Carlson | Joliet Jackhammers | Baseball | Minor League | 2006 | |
| 5/29/06 | Johnny Estrada Bronze Statuette | Scranton Wilkes-Barre Red Barons | Baseball | Minor League | 2006 | 2,000 |
| 5/30/06 | Andruw Jones Figurine | Atlanta Braves | Baseball | MLB | 2006 | |
| 6/2/06 | Ron Cey | Los Angeles Dodgers | Baseball | MLB | 2006 | |
| 6/2/06 | Pat Sajak | Chico Outlaws | Baseball | Minor League | 2006 | |
| 6/2/06 | Ron Santo | Peoria Chiefs | Baseball | Minor League | 2006 | |
| 6/2/06 | Andy Carson (Weatherman) | Portland Beavers | Baseball | Minor League | 2006 | 500 |
| 6/2/06 | Abraham Lincoln (Mt. Rushmore Series) | Sioux Falls Canaries | Baseball | Minor League | 2006 | |
| 6/2/06 | Jason Giambi | Tampa Yankees | Baseball | Minor League | 2006 | 250 |
| 6/3/06 | Damian Miller | Milwaukee Brewers | Baseball | MLB | 2006 | |
| 6/3/06 | Stan Cliburn | Alexandria Aces | Baseball | Minor League | 2006 | |
| 6/3/06 | Jim Thorpe Statuette | Oklahoma Redhawks | Baseball | Minor League | 2006 | |
| 6/3/06 | Pat Sajak | Reno Silversox | Baseball | Minor League | 2006 | 1,000 |
| 6/3/06 | Conor Jackson Figurine | Tucson Sidewinders | Baseball | Minor League | 2006 | 2,000 |
| 6/4/06 | Bob Levy (Radio DJ) | Lakewood Blueclaws | Baseball | Minor League | 2006 | 2,000 |
| 6/4/06 | Lou Gehrig Bronze Statuette | Rochester Redwings | Baseball | Minor League | 2006 | 2,000 |
| 6/5/06 | Grady Sizemore | Buffalo Bisons | Baseball | Minor League | 2006 | |
| 6/7/06 | Chipper Jones Figurine | Atlanta Braves | Baseball | MLB | 2006 | |
| 6/7/06 | Coach Scott (Boonsboro HS Coach) | Hagerstown Suns | Baseball | Minor League | 2006 | 1,000 |
| 6/7/06 | Jonathan Papelbon | Portland Seadogs | Baseball | Minor League | 2006 | 1,000 |
| 6/8/06 | Sparky Lyle Figurine | Somerset Patriots | Baseball | Minor League | 2006 | 1,500 |
| 6/9/06 | Bernie Williams Figurine | New York Yankees | Baseball | MLB | 2006 | 18,000 21 and over |
| 6/9/06 | Ryan Sullivan Figurine | Gateway Grizzlies | Baseball | Minor League | 2006 | |
| 6/9/06 | Whitey Ford Bronze Statuette | Tampa Yankees | Baseball | Minor League | 2006 | 250 |
| 6/10/06 | Luis Gonzalez Figurine | Arizona Diamondbacks | Baseball | MLB | 2006 | 25,000 |
| 6/10/06 | Chad Cordero | Washington Nationals | Baseball | MLB | 2006 | 15,000 |
| 6/10/06 | Bill Murray | Charleston Riverdogs | Baseball | Minor League | 2006 | |
| 6/10/06 | Jeff Bagwell Figurine | Corpus Christi Hooks | Baseball | Minor League | 2006 | 2,500 |
| 6/10/06 | Homer Bailey | Sarasota Reds | Baseball | Minor League | 2006 | 500 |
| 6/10/06 | Matt Holliday | Tulsa Drillers | Baseball | Minor League | 2006 | 1,000 |
| 6/11/06 | Brady Clark (Mini) | Milwaukee Brewers | Baseball | MLB | 2006 | 10,000 16 and under |
| 6/11/06 | Brad Radke | Minnesota Twins | Baseball | MLB | 2006 | 10,000 |
| 6/11/06 | Moises Alou | San Francisco Giants | Baseball | MLB | 2006 | 20,000 |
| 6/11/06 | Sammy Seagull (Mascot) | Corpus Christi Hooks | Baseball | Minor League | 2006 | 2,500 |
| 6/12/06 | Chase Utley Bronze Statuette | Scranton Wilkes-Barre Red Barons | Baseball | Minor League | 2006 | 2,000 |
| 6/13/06 | Rickey Henderson | San Diego Surfdawgs | Baseball | Minor League | 2006 | |
| 6/13/06 | Mike Arbinger Figurine | Washington WildThings | Baseball | Minor League | 2006 | 1,000 |
| 6/14/06 | Andy Pettitte | Connecticut Defenders | Baseball | Minor League | 2006 | 1,000 |
| 6/15/06 | D'Arcy Jammer (Mascot) | Joliet Jackhammers | Baseball | Minor League | 2006 | |
| 6/15/06 | Brandon Jones (Mini) | Myrtle Beach Pelicans | Baseball | Minor League | 2006 | 1,000 |
| 6/16/06 | Bob Schieffer (CBS News) | Fort Worth Cats | Baseball | Minor League | 2006 | |
| 6/16/06 | John McAdams | Wilmington BlueRocks | Baseball | Minor League | 2006 | 1,500 |
| 6/17/06 | Bill Mazeroski | Pittsburgh Pirates | Baseball | MLB | 2006 | |
| 6/17/06 | Arby-I (Mascot) | Long Beach Armada | Baseball | Minor League | 2006 | 500 |
| 6/17/06 | Jeff Francoeur | Mississippi Braves | Baseball | Minor League | 2006 | 1,500 |
| 6/18/06 | Cecil Cooper | Milwaukee Brewers | Baseball | MLB | 2006 | |
| 6/18/06 | Mariano Rivera Figurine | Columbus Clippers | Baseball | Minor League | 2006 | |
| 6/18/06 | Rickey Henderson | Long Beach Armada | Baseball | Minor League | 2006 | 750 |
| 6/18/06 | Lenn Sakata Figurine | San Jose Giants | Baseball | Minor League | 2006 | |
| 6/20/06 | Ryan Zimmerman | Harrisburg Senators | Baseball | Minor League | 2006 | 12 and under |
| 6/21/06 | Robinson Cano | Trenton Thunder | Baseball | Minor League | 2006 | 2,000 6 and up |
| 6/22/06 | Rick Woodward | Birmingham Barons | Baseball | Minor League | 2006 | |
| 6/22/06 | Homer (Mascot) | Lincoln Saltdogs | Baseball | Minor League | 2006 | |
| 6/22/06 | Wilton Veras | Lowell Spinners | Baseball | Minor League | 2006 | 1,500 |
| 6/23/06 | Fernando Valenzuela | Los Angeles Dodgers | Baseball | MLB | 2006 | |
| 6/23/06 | Fred McGriff Figurine | Tampa Bay DevilRays | Baseball | MLB | 2006 | |
| 6/23/06 | Lorenzo "Piper" Davis | Birmingham Barons | Baseball | Minor League | 2006 | |
| 6/23/06 | Quackerjack (Mascot) | Long Island Ducks | Baseball | Minor League | 2006 | 1,500 |
| 6/23/06 | Teddy Roosevelt (Mt. Rushmore Series) | Sioux Falls Canaries | Baseball | Minor League | 2006 | |
| 6/23/06 | Scott Podsednik | Tulsa Drillers | Baseball | Minor League | 2006 | 1,000 |
| 6/24/06 | Brandon Webb | Arizona Diamondbacks | Baseball | MLB | 2006 | 25,000 |
| 6/24/06 | Frank White | Kansas City Royals | Baseball | MLB | 2006 | |
| 6/24/06 | Brian McCann | Rome Braves | Baseball | Minor League | 2006 | 1,000 |
| 6/24/06 | Miguel Perez | Sarasota Reds | Baseball | Minor League | 2006 | 500 |
| 6/24/06 | David Ortiz | Wisconsin Timberrattlers | Baseball | Minor League | 2006 | |
| 6/24/06 | Travis Good | Yuma Scorpions | Baseball | Minor League | 2006 | |
| 6/25/06 | Placido Polanco | Detroit Tigers | Baseball | MLB | 2006 | 10,000 14 and under |
| 6/25/06 | Brewsteer (Mascot) | Beloit Snappers | Baseball | Minor League | 2006 | |
| 6/25/06 | Kevin Baez | Long Island Ducks | Baseball | Minor League | 2006 | 1,500 |
| 6/26/06 | Bret Saberhagen | Lowell Spinners | Baseball | Minor League | 2006 | 1,500 |
| 6/26/06 | Jason Michaels Bronze Statuette | Scranton Wilkes-Barre Red Barons | Baseball | Minor League | 2006 | 2,000 |
| 6/26/06 | Randy Johnson | Trenton Thunder | Baseball | Minor League | 2006 | 2,000 6 and up |
| 6/27/06 | Roger Maris Bronze Statuette | New York Yankees | Baseball | MLB | 2006 | 18,000 21 and over |
| 6/27/06 | Cutter (Mascot) | Connecticut Defenders | Baseball | Minor League | 2006 | 1,000 16 and under |
| 6/27/06 | Bill Murray | Hudson Valley Renegades | Baseball | Minor League | 2006 | |
| 6/27/06 | Bill Murray | St. Paul Saints | Baseball | Minor League | 2006 | |
| 6/27/06 | Jared Howton Figurine | Washington WildThings | Baseball | Minor League | 2006 | 1,000 |
| 6/28/06 | Barry Larkin | Cincinnati Reds | Baseball | MLB | 2006 | |
| 6/28/06 | Jeff Kent | Las Vegas 51s | Baseball | Minor League | 2006 | Season Ticket Holders |
| 6/29/06 | Orbit (Mascot) | Albuquerque Isotopes | Baseball | Minor League | 2006 | 3,000 |
| 6/29/06 | Clint Sammons (Mini) | Myrtle Beach Pelicans | Baseball | Minor League | 2006 | 1,000 |
| 6/30/06 | Julio Franco/Michael Young Double Figurine | Texas Rangers | Baseball | MLB | 2006 | 20,000 |
| 6/30/06 | J.J. Putz | Everett Aquasox | Baseball | Minor League | 2006 | |
| 6/30/06 | Tom Cruise (Bobble Couch) | Lake Elsinore Storm | Baseball | Minor League | 2006 | |
| 6/30/06 | Corey Patterson Figurine | Lansing Lugnuts | Baseball | Minor League | 2006 | |
| 6/30/06 | Captain TopChoice (Exterminator Mascot) | Tampa Yankees | Baseball | Minor League | 2006 | 250 |
| 6/30/06 | Joe Bruno (Political) | Tri-City ValleyCats | Baseball | Minor League | 2006 | |
| 7/1/06 | Zach Duke/Ryan Doumit/Chris Duffy "Young Guns" | Pittsburgh Pirates | Baseball | MLB | 2006 | |
| 7/1/06 | Mariner Moose | Seattle Mariners | Baseball | MLB | 2006 | 14 and under |
| 7/1/06 | George Washington | Hagerstown Suns | Baseball | Minor League | 2006 | 1,000 |
| 7/1/06 | Olmo Rosario | Rockford Riverhawks | Baseball | Minor League | 2006 | 1,000 |
| 7/1/06 | Felix Hernandez | Tacoma Rainiers | Baseball | Minor League | 2006 | 1,000 |
| 7/1/06 | Phil Rizzuto Bronze Statuette | Tampa Yankees | Baseball | Minor League | 2006 | 250 |
| 7/2/06 | Statue of Liberty | Hagerstown Suns | Baseball | Minor League | 2006 | 1,000 |
| 7/2/06 | Suntan (Mascot) | Traverse City BeachBums | Baseball | Minor League | 2006 | |
| 7/2/06 | Wally Warthog (Mascot) | Winston-Salem Warthogs | Baseball | Minor League | 2006 | |
| 7/4/06 | Klement (Hotdog Mascot) | Milwaukee Brewers | Baseball | MLB | 2006 | |
| 7/5/06 | Jimmy Rollins Figurine | Reading Phillies | Baseball | Minor League | 2006 | 2,000 14 and under |
| 7/5/06 | Roger Clemens | Round Rock Express | Baseball | Minor League | 2006 | 3,000 |
| 7/6/06 | John Smoltz Statuette | Atlanta Braves | Baseball | MLB | 2006 | |
| 7/6/06 | David Wright | Norfolk Tides | Baseball | Minor League | 2006 | |
| 7/7/06 | Jose Guillen | Washington Nationals | Baseball | MLB | 2006 | 15,000 |
| 7/7/06 | Mayberry Deputy | Greeneville Astros | Baseball | Minor League | 2006 | |
| 7/7/06 | Muttnik (Mascot) | Mankato Moondogs | Baseball | Minor League | 2006 | |
| 7/7/06 | Rob Jay (Announcer) | Mississippi Braves | Baseball | Minor League | 2006 | 1,500 |
| 7/7/06 | Moses (Bible) | Tulsa Drillers | Baseball | Minor League | 2006 | 1,000 |
| 7/7/06 | Frank White | Wichita Wranglers | Baseball | Minor League | 2006 | |
| 7/8/06 | Jhonny Peralta | Cleveland Indians | Baseball | MLB | 2006 | |
| 7/8/06 | Brian Roberts | Bowie Baysox | Baseball | Minor League | 2006 | |
| 7/8/06 | Dave & Carrie (Wedding Couple) | Brooklyn Cyclones | Baseball | Minor League | 2006 | 2,500 |
| 7/8/06 | Andy Pettitte Figurine | Corpus Christi Hooks | Baseball | Minor League | 2006 | 2,500 |
| 7/8/06 | Felix Hernandez | Everett Aquasox | Baseball | Minor League | 2006 | |
| 7/8/06 | Bill Murray | Fort Myers Miracle | Baseball | Minor League | 2006 | 1,000 |
| 7/8/06 | Russell Martin | Jacksonville Suns | Baseball | Minor League | 2006 | 3,000 |
| 7/8/06 | Brian McCann | Mississippi Braves | Baseball | Minor League | 2006 | 1,500 |
| 7/8/06 | Joe Carter Statuette | Oklahoma Redhawks | Baseball | Minor League | 2006 | 2,500 |
| 7/8/06 | Chone Figgins | Salem Avalanche | Baseball | Minor League | 2006 | 1,000 |
| 7/8/06 | Sister Rosalind (Bobble Hands) | St. Paul Saints | Baseball | Minor League | 2006 | |
| 7/8/06 | Mark Texeira | Tulsa Drillers | Baseball | Minor League | 2006 | 1,000 |
| 7/9/06 | John Adams (Bobble Arm) | Cleveland Indians | Baseball | MLB | 2006 | |
| 7/9/06 | Splash (Mascot) | Everett Aquasox | Baseball | Minor League | 2006 | |
| 7/9/06 | John Smoltz | Richmond Braves | Baseball | Minor League | 2006 | |
| 7/10/06 | David Cone | Connecticut Defenders | Baseball | Minor League | 2006 | 1,000 |
| 7/10/06 | Homer Bailey Figurine | Dayton Dragons | Baseball | Minor League | 2006 | |
| 7/10/06 | Maynard G. Mallard (Mascot) | Madison Mallards | Baseball | Minor League | 2006 | 1,000 14 and under |
| 7/10/06 | Jose Ascanio (Mini) | Myrtle Beach Pelicans | Baseball | Minor League | 2006 | 1,000 |
| 7/13/06 | Adam Everett | Lowell Spinners | Baseball | Minor League | 2006 | 1,500 |
| 7/13/06 | Marty Barrett Figurine | Pawtucket PawSox | Baseball | Minor League | 2006 | 3,000 |
| 7/14/06 | Reverse the Curse Goat 2 (Mascot) | Boise Hawks | Baseball | Minor League | 2006 | |
| 7/14/06 | Fungo (Mascot) | Fayetteville Swampdogs | Baseball | Minor League | 2006 | |
| 7/14/06 | Hal Jay (Radio DJ) | Fort Worth Cats | Baseball | Minor League | 2006 | |
| 7/14/06 | Ben Magalski Figurine | Gateway Grizzlies | Baseball | Minor League | 2006 | |
| 7/14/06 | Greg Maddux | Las Vegas 51s | Baseball | Minor League | 2006 | |
| 7/14/06 | Yadier Molina | Peoria Chiefs | Baseball | Minor League | 2006 | |
| 7/14/06 | Dinger (Mascot) | Sacramento Rivercats | Baseball | Minor League | 2006 | |
| 7/14/06 | Mayberry Deputy | Salem Avalanche | Baseball | Minor League | 2006 | 1,000 |
| 7/15/06 | Brian Roberts | Baltimore Orioles | Baseball | MLB | 2006 | 20,000 vouchers |
| 7/15/06 | B.J. Ryan | Billings Mustangs | Baseball | Minor League | 2006 | 1,000 |
| 7/15/06 | Rusty (Mascot) | Gary-Southshore Railcats | Baseball | Minor League | 2006 | |
| 7/15/06 | Ryan Mulhern (Mini) | Lake County Captains | Baseball | Minor League | 2006 | 2,000 |
| 7/15/06 | Jeremy Bonderman | Modesto Nuts | Baseball | Minor League | 2006 | |
| 7/15/06 | Shane Victorino/Danny Sandoval Double | Scranton Wilkes-Barre Red Barons | Baseball | Minor League | 2006 | 4,000 |
| 7/15/06 | Curt Simmons | Wilmington BlueRocks | Baseball | Minor League | 2006 | 1,000 |
| 7/16/06 | Dean Treanor | Albuquerque Isotopes | Baseball | Minor League | 2006 | 3,000 |
| 7/16/06 | Bill Hall | Beloit Snappers | Baseball | Minor League | 2006 | 500 |
| 7/16/06 | Dinger (Mascot) | Dupage Dragons | Baseball | Minor League | 2006 | 200 |
| 7/16/06 | Jonah (Bible) | Nashville Sounds | Baseball | Minor League | 2006 | |
| 7/16/06 | John Kennedy | North Shore Spirit | Baseball | Minor League | 2006 | 1,000 |
| 7/16/06 | Southpaw (Mascot) | Tri-City ValleyCats | Baseball | Minor League | 2006 | |
| 7/17/06 | Chone Figgins (Sliding) | Los Angeles Angels of Anaheim | Baseball | MLB | 2006 | |
| 7/17/06 | Harley D. Husky (Mascot) | Duluth Huskies | Baseball | Minor League | 2006 | 250 |
| 7/17/06 | Paul Konerko Figurine | Yakima Bears | Baseball | Minor League | 2006 | 1,000 |
| 7/18/06 | Brian Schneider | Harrisburg Senators | Baseball | Minor League | 2006 | 12 and under |
| 7/18/06 | Ryan Howard (Rookie of the Year) Figurine | Reading Phillies | Baseball | Minor League | 2006 | 2,500 |
| 7/19/06 | Dinger (Mascot) | Dupage Dragons | Baseball | Minor League | 2006 | 200 |
| 7/19/06 | Ramon Martinez | Lowell Spinners | Baseball | Minor League | 2006 | 1,500 |
| 7/19/06 | Philip Hawke | Waterloo Bucks | Baseball | Minor League | 2006 | 400 |
| 7/20/06 | Trot Nixon | New Hampshire Fishercats | Baseball | Minor League | 2006 | 1,500 |
| 7/20/06 | Craig Hansen | Portland Seadogs | Baseball | Minor League | 2006 | 1,000 |
| 7/20/06 | Woody (Mascot) | Wisconsin Woodchucks | Baseball | Minor League | 2006 | 500 |
| 7/21/06 | Mark Gubicza Statuette | Kansas City Royals | Baseball | MLB | 2006 | |
| 7/21/06 | Scott Kazmir Figurine | Tampa Bay DevilRays | Baseball | MLB | 2006 | |
| 7/21/06 | Ozzie Guillen | Las Vegas 51s | Baseball | Minor League | 2006 | |
| 7/21/06 | Calvin Falwell "King of Baseball" | Lynchburg Hillcats | Baseball | Minor League | 2006 | 1,000 |
| 7/21/06 | Troy Murphy Figurine | Newark Bears | Baseball | Minor League | 2006 | 1,500 |
| 7/21/06 | Thomas Jefferson (Mt. Rushmore Series) | Sioux Falls Canaries | Baseball | Minor League | 2006 | |
| 7/21/06 | Clyde (Mascot) | Swing of the Quad Cities | Baseball | Minor League | 2006 | |
| 7/21/06 | Brad Eldred | Wilson Tobs | Baseball | Minor League | 2006 | 500 |
| 7/21/06 | Conor Jackson | Yakima Bears | Baseball | Minor League | 2006 | |
| 7/22/06 | Dick Howser | Kansas City Royals | Baseball | MLB | 2006 | |
| 7/22/06 | Tom Kotchman | Boise Hawks | Baseball | Minor League | 2006 | 1,000 |
| 7/22/06 | Bill Murray | Brockton Rox | Baseball | Minor League | 2006 | |
| 7/22/06 | Nolan Ryan (Fishing) | Corpus Christi Hooks | Baseball | Minor League | 2006 | 2,500 |
| 7/22/06 | Brian Roberts | Frederick Keys | Baseball | Minor League | 2006 | 1,000 |
| 7/22/06 | George Brett | High Desert Mavericks | Baseball | Minor League | 2006 | |
| 7/22/06 | Chad Billingsley | Jacksonville Suns | Baseball | Minor League | 2006 | 3,000 |
| 7/22/06 | Jose Lima Figurine | Newark Bears | Baseball | Minor League | 2006 | 1,500 |
| 7/22/06 | Carl Hubble Statuette | Oklahoma Redhawks | Baseball | Minor League | 2006 | |
| 7/22/06 | Russ Clark | Yuma Scorpions | Baseball | Minor League | 2006 | |
| 7/23/06 | Jeremy Bonderman | Detroit Tigers | Baseball | MLB | 2006 | 7,500 14 and under |
| 7/23/06 | Robinson Cano Figurine | Columbus Clippers | Baseball | Minor League | 2006 | |
| 7/23/06 | Molly the Molar | New Hampshire Fishercats | Baseball | Minor League | 2006 | 1,500 |
| 7/23/06 | Pat Burrell Figurine | Reading Phillies | Baseball | Minor League | 2006 | 2,000 14 and under |
| 7/23/06 | Chris Lambert | Springfield Cardinals | Baseball | Minor League | 2006 | |
| 7/24/06 | Danni Boatwright (Survivor) | Kansas City T-Bones | Baseball | Minor League | 2006 | |
| 7/25/06 | Rickey Henderson | Fullerton Flyers | Baseball | Minor League | 2006 | |
| 7/25/06 | Eude Brito (Made it to the Phillies) | Lakewood Blueclaws | Baseball | Minor League | 2006 | 2,000 |
| 7/25/06 | Tony Arnerich | St Cloud Riverbats | Baseball | Minor League | 2006 | |
| 7/25/06 | Mike Bradley Figurine | Washington WildThings | Baseball | Minor League | 2006 | 1,000 |
| 7/25/06 | Joel Zumaya | West Michigan Whitecaps | Baseball | Minor League | 2006 | |
| 7/26/06 | Ryan Howard Bobble Figurine | Philadelphia Phillies | Baseball | MLB | 2006 | |
| 7/26/06 | Roofman (Mascot) | Dayton Dragons | Baseball | Minor League | 2006 | |
| 7/26/06 | Noah (Bible) | Joliet Jackhammers | Baseball | Minor League | 2006 | |
| 7/26/06 | Freddy Sanchez | Lowell Spinners | Baseball | Minor League | 2006 | 1,500 |
| 7/26/06 | Jason McElwain | Rochester Redwings | Baseball | Minor League | 2006 | 3,000 |
| 7/26/06 | Robbie Johns | Thunder Bay Bordercats | Baseball | Minor League | 2006 | 500 |
| 7/27/06 | James Parr (Mini) | Myrtle Beach Pelicans | Baseball | Minor League | 2006 | 1,000 |
| 7/27/06 | Chien-Ming Wang | Staten Island Yankees | Baseball | Minor League | 2006 | 2,000 |
| 7/27/06 | Judy Johnson Bronze Statuette | Wilmington BlueRocks | Baseball | Minor League | 2006 | 2,000 |
| 7/28/06 | Steve Garvey | Los Angeles Dodgers | Baseball | MLB | 2006 | |
| 7/28/06 | Alex the Ace (Mascot) | Alexandria Aces | Baseball | Minor League | 2006 | |
| 7/28/06 | Nancy O'Dell | Charleston Riverdogs | Baseball | Minor League | 2006 | 1,000 |
| 7/28/06 | Chad Cordero | Fullerton Flyers | Baseball | Minor League | 2006 | |
| 7/28/06 | Lou Brock | Palm Beach Cardinals | Baseball | Minor League | 2006 | 1,000 |
| 7/28/06 | Jody Davis | Peoria Chiefs | Baseball | Minor League | 2006 | |
| 7/28/06 | Count Chocula | St. Paul Saints | Baseball | Minor League | 2006 | |
| 7/28/06 | Thurman Munson Bronze Statuette | Tampa Yankees | Baseball | Minor League | 2006 | 250 |
| 7/28/06 | Shaun Williams | Thunder Bay Bordercats | Baseball | Minor League | 2006 | 500 |
| 7/29/06 | Craig Biggio Figurine | Houston Astros | Baseball | MLB | 2006 | 10,000 |
| 7/29/06 | Billy Martin | Minnesota Twins | Baseball | MLB | 2006 | 10,000 |
| 7/29/06 | Sean Casey | Pittsburgh Pirates | Baseball | MLB | 2006 | |
| 7/29/06 | Mark Texeira | Texas Rangers | Baseball | MLB | 2006 | 20,000 |
| 7/29/06 | Mike Piazza Figurine | Bakersfield Blaze | Baseball | Minor League | 2006 | |
| 7/29/06 | Tim Hudson (High School Jersey) | Columbus Catfish | Baseball | Minor League | 2006 | |
| 7/29/06 | Jeff Clement | Everett Aquasox | Baseball | Minor League | 2006 | |
| 7/29/06 | Jason Williams (Insurance Agent) | Gastonia Grizzlies | Baseball | Minor League | 2006 | |
| 7/29/06 | Fiesta (Mini) (Mascot) | Madison Mallards | Baseball | Minor League | 2006 | |
| 7/29/06 | Jeff Blauser | Mississippi Braves | Baseball | Minor League | 2006 | 1,500 |
| 7/29/06 | Jonathan Papelbon | Pawtucket PawSox | Baseball | Minor League | 2006 | 4,000 14 and under |
| 7/29/06 | Roxie (Mascot) | Rome Braves | Baseball | Minor League | 2006 | 1,000 |
| 7/29/06 | Ike the Spike (Mascot) | State College Spikes | Baseball | Minor League | 2006 | |
| 7/30/06 | Dan Haren | Oakland A's | Baseball | MLB | 2006 | 10,000 |
| 7/30/06 | Jolly Roger (Mascot) | Pittsburgh Pirates | Baseball | MLB | 2006 | |
| 7/30/06 | Ken Grimball (News 12) | Long Island Ducks | Baseball | Minor League | 2006 | 1,500 |
| 7/30/06 | Gustavo Chacin | New Hampshire Fishercats | Baseball | Minor League | 2006 | 1,500 |
| 7/31/06 | Vito Chiaravalotti | Auburn Doubledays | Baseball | Minor League | 2006 | |
| 7/31/06 | Jim Dowd (Former N.J. Devil in Brick H.S. Jersey) | Lakewood Blueclaws | Baseball | Minor League | 2006 | 2,000 |
| 7/31/06 | Rickey Henderson | San Diego Surfdawgs | Baseball | Minor League | 2006 | 500 |
| 7/31/06 | Pat Burrell Bronze Statuette | Scranton Wilkes-Barre Red Barons | Baseball | Minor League | 2006 | 2,000 |
| 7/31/06 | Jimy Williams | Thunder Bay Bordercats | Baseball | Minor League | 2006 | 500 |
| 8/1/06 | Brooks Robinson | Baltimore Orioles | Baseball | MLB | 2006 | Blood Drive |
| 8/1/06 | Crusher (Mascot) | Edmonton Crackercats | Baseball | Minor League | 2006 | 1,000 |
| 8/1/06 | Ben Taylor | Lancaster Barnstormers | Baseball | Minor League | 2006 | 2,500 |
| 8/1/06 | Rich Garces | Lowell Spinners | Baseball | Minor League | 2006 | 1,500 |
| 8/2/06 | Mike Arbinger | Washington WildThings | Baseball | Minor League | 2006 | 1,000 |
| 8/3/06 | Tim Wakefield | Buffalo Bisons | Baseball | Minor League | 2006 | |
| 8/3/06 | Dinger (Mascot) | Dupage Dragons | Baseball | Minor League | 2006 | 200 |
| 8/3/06 | Hanley Ramirez | Lowell Spinners | Baseball | Minor League | 2006 | 1,500 |
| 8/3/06 | Matt Harrison (Mini) | Myrtle Beach Pelicans | Baseball | Minor League | 2006 | 1,000 |
| 8/4/06 | Bruce Baumgartner | Erie Seawolves | Baseball | Minor League | 2006 | |
| 8/4/06 | BJ Upton Figurine | Montgomery Biscuits | Baseball | Minor League | 2006 | |
| 8/4/06 | Rocket Wheeler | Myrtle Beach Pelicans | Baseball | Minor League | 2006 | 1,000 |
| 8/4/06 | Kerry Wood | Peoria Chiefs | Baseball | Minor League | 2006 | |
| 8/4/06 | Dan Johnson | Sacramento Rivercats | Baseball | Minor League | 2006 | |
| 8/4/06 | Jeff Garber | Wilmington BlueRocks | Baseball | Minor League | 2006 | 1,000 |
| 8/5/06 | Jermain Taylor | Arkansas Travelers | Baseball | Minor League | 2006 | |
| 8/5/06 | Andruw Jones | Danville Braves | Baseball | Minor League | 2006 | 1,000 |
| 8/5/06 | Reedy Ripit (Mascot) | Greenville Drive | Baseball | Minor League | 2006 | |
| 8/5/06 | Chris Weinke Figurine | Tennessee Smokies | Baseball | Minor League | 2006 | |
| 8/6/06 | Cito Gaston | Toronto Blue Jays | Baseball | MLB | 2006 | |
| 8/6/06 | Bernie Williams Figurine | Columbus Clippers | Baseball | Minor League | 2006 | |
| 8/6/06 | Barry Bonds | Hickory Crawdads | Baseball | Minor League | 2006 | 1,000 |
| 8/7/06 | Luis Virrareal | Joliet Jackhammers | Baseball | Minor League | 2006 | |
| 8/7/06 | Ryan Zimmerman | Peninsula Pilots | Baseball | Minor League | 2006 | 500 |
| 8/8/06 | Homer (Mascot) | Lincoln Saltdogs | Baseball | Minor League | 2006 | |
| 8/8/06 | Roger Clemens | New Britain Rockcats | Baseball | Minor League | 2006 | 1,000 12 and under |
| 8/8/06 | Mayberry Deputy | Princeton Devilrays | Baseball | Minor League | 2006 | |
| 8/8/06 | Bruce Weber | Schaumburg Flyers | Baseball | Minor League | 2006 | 2,500 |
| 8/8/06 | Catherine Bach (Dukes of Hazzard) | Sioux Falls Canaries | Baseball | Minor League | 2006 | |
| 8/9/06 | Dave Concepcion | Cincinnati Reds | Baseball | MLB | 2006 | |
| 8/9/06 | Shea Hillenbrand | Trenton Thunder | Baseball | Minor League | 2006 | 2,000 6 and up |
| 8/11/06 | Satchel Paige | Pittsburgh Pirates | Baseball | MLB | 2006 | |
| 8/11/06 | Jim Sundberg | Texas Rangers | Baseball | MLB | 2006 | 20,000 |
| 8/11/06 | Mike Breyman Figurine | Gateway Grizzlies | Baseball | Minor League | 2006 | |
| 8/11/06 | Taylor Tankersley | Jamestown Jammers | Baseball | Minor League | 2006 | 1,000 |
| 8/11/06 | Doc Cramer | Lakewood Blueclaws | Baseball | Minor League | 2006 | bobble with ticket package |
| 8/11/06 | Harry Caray | Peoria Chiefs | Baseball | Minor League | 2006 | |
| 8/11/06 | Paul Konerko | San Antonio Missions | Baseball | Minor League | 2006 | |
| 8/12/06 | Drew Carey | Cleveland Indians | Baseball | MLB | 2006 | |
| 8/12/06 | Tony Oliva Bronze Statuette | Minnesota Twins | Baseball | MLB | 2006 | |
| 8/12/06 | Nolan Ryan Figurine | Corpus Christi Hooks | Baseball | Minor League | 2006 | 2,500 |
| 8/12/06 | Mike Marshall | El Paso Diablos | Baseball | Minor League | 2006 | 1,000 |
| 8/12/06 | Joel Guzman Figurine | Jacksonville Suns | Baseball | Minor League | 2006 | 3,000 |
| 8/12/06 | Trusty (Mascot) | Mississippi Braves | Baseball | Minor League | 2006 | 1,500 |
| 8/12/06 | Ruppert (Mascot) | Newark Bears | Baseball | Minor League | 2006 | 750 14 and under |
| 8/12/06 | Rodney McCray Bobble Fence | Portland Beavers | Baseball | Minor League | 2006 | 2,000 |
| 8/12/06 | Nolan Ryan | Round Rock Express | Baseball | Minor League | 2006 | 3,000 |
| 8/13/06 | Potato Pete (Mascot) | Pittsburgh Pirates | Baseball | MLB | 2006 | |
| 8/13/06 | Screech (Mascot) | Washington Nationals | Baseball | MLB | 2006 | 14 and under |
| 8/13/06 | Ryan Howard Figurine | Reading Phillies | Baseball | Minor League | 2006 | 2,000 14 and under |
| 8/14/06 | Randy Ready | Fort Wayne Wizards | Baseball | Minor League | 2006 | |
| 8/14/06 | Brett Myers Bronze Statuette | Scranton Wilkes-Barre Red Barons | Baseball | Minor League | 2006 | 2,000 |
| 8/14/06 | Bob Gibson | Springfield Cardinals | Baseball | Minor League | 2006 | |
| 8/15/06 | Josh Loggins Figurine | Washington WildThings | Baseball | Minor League | 2006 | 1,000 |
| 8/16/06 | Bernie Williams | Connecticut Defenders | Baseball | Minor League | 2006 | 1,000 |
| 8/17/06 | Jonathan Papelbon | Lowell Spinners | Baseball | Minor League | 2006 | 1,500 |
| 8/17/06 | Bill Murray | Sioux Falls Canaries | Baseball | Minor League | 2006 | |
| 8/18/06 | 3 Mini Bobble Set (Bochy, Greene, Peavy) | San Diego Padres | Baseball | MLB | 2006 | |
| 8/18/06 | Jimmy Reiter Figurine | Gateway Grizzlies | Baseball | Minor League | 2006 | |
| 8/18/06 | Chuck Yeager (Astronaut) | Lancaster Jethawks | Baseball | Minor League | 2006 | |
| 8/18/06 | Zip Feed Mill "Bobble Building" | Sioux Falls Canaries | Baseball | Minor League | 2006 | |
| 8/18/06 | David Eckstein | Swing of the Quad Cities | Baseball | Minor League | 2006 | |
| 8/18/06 | Roger Clemens Figurine | Tri-City ValleyCats | Baseball | Minor League | 2006 | |
| 8/18/06 | Travis Hafner | Tulsa Drillers | Baseball | Minor League | 2006 | 1,000 |
| 8/19/06 | George Brett | Kansas City Royals | Baseball | MLB | 2006 | |
| 8/19/06 | Ben Broussard | Billings Mustangs | Baseball | Minor League | 2006 | 1,000 |
| 8/19/06 | Saul Bustos | Brockton Rox | Baseball | Minor League | 2006 | |
| 8/19/06 | Craig Biggio Figurine | Greeneville Astros | Baseball | Minor League | 2006 | |
| 8/19/06 | Robinson Tejeda (Made it to the Phillies) | Lakewood Blueclaws | Baseball | Minor League | 2006 | 2,000 |
| 8/19/06 | Buster (Mascot) | Laredo Broncos | Baseball | Minor League | 2006 | 500 |
| 8/19/06 | Tim Hudson Figurine | Modesto Nuts | Baseball | Minor League | 2006 | |
| 8/19/06 | Chris Carpenter | New Hampshire Fishercats | Baseball | Minor League | 2006 | 1,500 |
| 8/19/06 | J.J. Davis (Sportscaster) | Omaha Royals | Baseball | Minor League | 2006 | |
| 8/19/06 | Daria (Radio DJ) | Portland Beavers | Baseball | Minor League | 2006 | 500 |
| 8/19/06 | Gerry McNamara | Scranton Wilkes-Barre Red Barons | Baseball | Minor League | 2006 | 6,000 |
| 8/19/06 | George Washington (Mt. Rushmore Series) | Sioux Falls Canaries | Baseball | Minor League | 2006 | |
| 8/19/06 | Moses (Bible) | Stockton Ports | Baseball | Minor League | 2006 | |
| 8/19/06 | Luis Gonzalez Figurine | Tucson Sidewinders | Baseball | Minor League | 2006 | 2,000 |
| 8/19/06 | Jay Walker | Yuma Scorpions | Baseball | Minor League | 2006 | |
| 8/20/06 | Bill Hall (Mini) | Milwaukee Brewers | Baseball | MLB | 2006 | 10,000 16 and under |
| 8/20/06 | Greg Vaughn | Beloit Snappers | Baseball | Minor League | 2006 | |
| 8/20/06 | Cylo (Mascot) | Lancaster Barnstormers | Baseball | Minor League | 2006 | 15 and under |
| 8/20/06 | Mike Schmidt Figurine | Reading Phillies | Baseball | Minor League | 2006 | 2,500 18 and over |
| 8/20/06 | Casey at the Bat Figurine | Stockton Ports | Baseball | Minor League | 2006 | 1,500 |
| 8/21/06 | Luis Alicea | Lowell Spinners | Baseball | Minor League | 2006 | 1,500 |
| 8/21/06 | AJ Pierzynski | New Britain Rockcats | Baseball | Minor League | 2006 | 1,000 12 and under |
| 8/21/06 | Gary Brown (NFL Player in High School Jersey) | Williamsport Crosscutters | Baseball | Minor League | 2006 | 1,000 |
| 8/22/06 | Jeff Francoeur Statuette | Atlanta Braves | Baseball | MLB | 2006 | |
| 8/22/06 | Bud Harrelson | Long Island Ducks | Baseball | Minor League | 2006 | 1,500 |
| 8/22/06 | Jon Lester | Portland Seadogs | Baseball | Minor League | 2006 | 1,000 |
| 8/22/06 | Roscoe (Mascot) | Princeton Devilrays | Baseball | Minor League | 2006 | 1,000 |
| 8/22/06 | Jack Headley Figurine | Washington WildThings | Baseball | Minor League | 2006 | 1,000 |
| 8/23/06 | Nicole Sherry (Groundskeeper) | Trenton Thunder | Baseball | Minor League | 2006 | 2,000 6 and up |
| 8/24/06 | Melvin Mora | Baltimore Orioles | Baseball | MLB | 2006 | 20,000 21 and over |
| 8/24/06 | Sal Fasano | Wilmington BlueRocks | Baseball | Minor League | 2006 | 1,000 |
| 8/25/06 | Tom Kotchman Statue | Orem Owlz | Baseball | Minor League | 2006 | 1,000 |
| 8/25/06 | Matt Walbeck | West Michigan Whitecaps | Baseball | Minor League | 2006 | |
| 8/25/06 | Promo Nikki | Wisconsin Timberrattlers | Baseball | Minor League | 2006 | 1,000 |
| 8/26/06 | Chad Tracy | Arizona Diamondbacks | Baseball | MLB | 2006 | 25,000 |
| 8/26/06 | Bernie Bobble Belly (Mascot) | Inland Empire 66ers | Baseball | Minor League | 2006 | 1,000 |
| 8/26/06 | Trevor Crowe (Mini) | Lake County Captains | Baseball | Minor League | 2006 | 2,000 |
| 8/26/06 | Andy Green | Missoula Osprey | Baseball | Minor League | 2006 | 750 |
| 8/26/06 | Roy Campanella | Nashua Pride | Baseball | Minor League | 2006 | 1,000 |
| 8/26/06 | Jack Cain | Portland Beavers | Baseball | Minor League | 2006 | 2,000 |
| 8/26/06 | Generic Player | Rockford Riverhawks | Baseball | Minor League | 2006 | |
| 8/26/06 | Ralligator (Mascot) | Sarasota Reds | Baseball | Minor League | 2006 | 500 |
| 8/27/06 | Billy the Marlin Bobble Belly (Mascot) | Florida Marlins | Baseball | MLB | 2006 | |
| 8/27/06 | Derek Jeter Figurine | Columbus Clippers | Baseball | Minor League | 2006 | |
| 8/27/06 | Brian Roberts | Delmarva Shorebirds | Baseball | Minor League | 2006 | |
| 8/27/06 | Ruppert (Mascot) | Newark Bears | Baseball | Minor League | 2006 | 750 14 and under |
| 8/28/06 | Ryan Howard Bronze Statuette | Scranton Wilkes-Barre Red Barons | Baseball | Minor League | 2006 | 2,000 |
| 8/29/06 | Bill Ripken | Aberdeen Ironbirds | Baseball | Minor League | 2006 | Season Ticket Holders |
| 8/29/06 | Frank Dinan (Bobble Tray) (Beer Vendor) | Savannah SandGnats | Baseball | Minor League | 2006 | 1,000 |
| 8/30/06 | Adam Lind Figurine | New Hampshire Fishercats | Baseball | Minor League | 2006 | 1,500 |
| 8/30/06 | Frank Girardi Bronze Statuette | Williamsport Crosscutters | Baseball | Minor League | 2006 | 1,000 |
| 8/31/06 | Jack Wilson/Jose Castillo Double Figurine | Altoona Curve | Baseball | Minor League | 2006 | |
| 8/31/06 | Keith Foulke | Lowell Spinners | Baseball | Minor League | 2006 | 1,500 |
| 9/1/06 | Mickey Mantle Bronze Statuette | New York Yankees | Baseball | MLB | 2006 | 18,000 21 and over |
| 9/1/06 | Buck O'Neil | Rochester Redwings | Baseball | Minor League | 2006 | 2,000 |
| 9/1/06 | Rich Gedman | Worcester Tornadoes | Baseball | Minor League | 2006 | 1,000 |
| 9/2/06 | Robin Yount | Milwaukee Brewers | Baseball | MLB | 2006 | |
| 9/2/06 | DeWayne Staats/Joe Magrane Double (Talking) | Tampa Bay DevilRays | Baseball | MLB | 2006 | |
| 9/2/06 | Scott Fann | Boise Hawks | Baseball | Minor League | 2006 | 1,250 |
| 9/2/06 | Mickey Mantle Figurine | Columbus Clippers | Baseball | Minor League | 2006 | |
| 9/2/06 | Donald Trump | Lakewood Blueclaws | Baseball | Minor League | 2006 | 2,000 |
| 9/2/06 | Fernando Valenzuela | Las Vegas 51s | Baseball | Minor League | 2006 | |
| 9/2/06 | Moises Alou | Salem Avalanche | Baseball | Minor League | 2006 | 1,000 |
| 9/2/06 | Gary Sheffield Figurine | Stockton Ports | Baseball | Minor League | 2006 | 1,500 |
| 9/3/06 | Jorge Cantu Figurine | Tampa Bay DevilRays | Baseball | MLB | 2006 | 15,000 |
| 9/3/06 | "My Name is" Earl (Tv Show) | Hagerstown Suns | Baseball | Minor League | 2006 | 1,000 |
| 9/3/06 | Tripper (Mascot) | New Haven CountyCutters | Baseball | Minor League | 2006 | 250 14 and under |
| 9/4/06 | Carlos Beltran Figurine | Lansing Lugnuts | Baseball | Minor League | 2006 | |
| 9/5/06 | Frank Thomas | Oakland A's | Baseball | MLB | 2006 | 10,000 |
| 9/6/06 | Brian Bannister | Brooklyn Cyclones | Baseball | Minor League | 2006 | 2,500 |
| 9/6/06 | Lastings Milledge | St. Lucie Mets | Baseball | Minor League | 2006 | 250 |
| 9/8/06 | Randy Winn | San Francisco Giants | Baseball | MLB | 2006 | 20,000 |
| 9/9/06 | Jack Morris | Minnesota Twins | Baseball | MLB | 2006 | 10,000 |
| 9/10/06 | David Wright | New York Mets | Baseball | MLB | 2006 | 12,000 12 and under |
| 9/10/06 | David Wright | St. Lucie Mets | Baseball | Minor League | 2006 | 250 |
| 9/12/06 | Tim Hudson Statuette | Atlanta Braves | Baseball | MLB | 2006 | |
| 9/16/06 | Jack Wilson | Pittsburgh Pirates | Baseball | MLB | 2006 | |
| 9/17/06 | Chris Carpenter Figurine | St. Louis Cardinals | Baseball | MLB | 2006 | 25,000 |
| 9/18/06 | Joe Thornton | San Jose Sharks | Hockey | NHL | 2006-2007 | Season Ticket Holders |
| 9/22/06 | Arturo Gatti (Boxer) | Atlantic City Surf | Baseball | Minor League | 2006 | 1,000 |
| 9/23/06 | Roger Clemens | Houston Astros | Baseball | MLB | 2006 | 10,000 |
| 9/30/06 | Freddy Sanchez | Pittsburgh Pirates | Baseball | MLB | 2006 | |
| 10/18/06 | Sidney Crosby | Pittsburgh Penguins | Hockey | NHL | 2006-2007 | |
| 10/21/06 | Jon McGlocklin | Milwaukee Bucks | Basketball | NBA | 2006-2007 | 14 and under |
| 10/26/06 | Howler (Mascot) | Phoenix Coyotes | Hockey | NHL | 2006-2007 | |
| 10/27/06 | Derek Landmesser (Mini) | Memphis Riverkings | Hockey | CHL | 2006-2007 | |
| 11/7/06 | Lebron James | Cleveland Cavaliers | Basketball | NBA | 2006-2007 | |
| 11/15/06 | Lucky (Mascot) | Boston Celtics | Basketball | NBA | 2006-2007 | 5,000 |
| 11/15/06 | Brad Richards | Tampa Bay Lightning | Hockey | NHL | 2006-2007 | 5,000 |
| 11/17/06 | Chauncey Billups | Detroit Pistons | Basketball | NBA | 2006-2007 | 10,000 |
| 11/22/06 | Dikembe Mutombo (Bobble Finger) | Houston Rockets | Basketball | NBA | 2006-2007 | |
| 11/22/06 | Morris Peterson Figurine | Toronto Raptors | Basketball | NBA | 2006-2007 | 10,000 |
| 11/22/06 | Karel Hromas | Everett Silvertips | Hockey | WHL | 2006-2007 | 1,000 |
| 11/24/06 | Antonio McDyess | Detroit Pistons | Basketball | NBA | 2006-2007 | 10,000 |
| 11/25/06 | Marty Standish | Oklahoma City Blazers | Hockey | CHL | 2006-2007 | 2,500 |
| 11/25/06 | Justin Poggi (Mini) | Toronto Marlies | Hockey | AHL | 2006-2007 | 5,000 |
| 11/25/06 | Glenn Patrick (Mini) | Wheeling Nailers | Hockey | ECHL | 2006-2007 | 2,000 |
| 11/25/06 | Kevin McClelland | Memphis Riverkings | Hockey | CHL | 2006-2007 | |
| 11/28/06 | Marc-Andre Fleury | Pittsburgh Penguins | Hockey | NHL | 2006-2007 | |
| 12/1/06 | Dominique Wilkins Statuette | Atlanta Hawks | Basketball | NBA | 2006-2007 | 5,000 |
| 12/1/06 | Tayshaun Prince | Detroit Pistons | Basketball | NBA | 2006-2007 | 10,000 |
| 12/1/06 | Matt Cressman | Odessa Jackalopes | Hockey | CHL | 2006-2007 | |
| 12/2/06 | Gilbert Dionne | Cincinnati Cyclones | Hockey | ECHL | 2006-2007 | 2,000 |
| 12/2/06 | Brian Curran | Quad City Mallards | Hockey | UHL | 2006-2007 | |
| 12/3/06 | Samuel Dalembert (Bobble Arm) | Philadelphia 76ers | Basketball | NBA | 2006-2007 | 5,000 12 and under |
| 12/5/06 | Dave Andreychuk | Tampa Bay Lightning | Hockey | NHL | 2006-2007 | 5,000 |
| 12/5/06 | Shaun Heshka | Everett Silvertips | Hockey | WHL | 2006-2007 | 1,000 |
| 12/6/06 | Brad Daugherty | Cleveland Cavaliers | Basketball | NBA | 2006-2007 | |
| 12/9/06 | Brad Edwards | Oklahoma City Blazers | Hockey | CHL | 2006-2007 | 2,500 |
| 12/16/06 | Bo Cheesman (Mini) | Wheeling Nailers | Hockey | ECHL | 2006-2007 | |
| 12/16/06 | Travis Banga (Mini) | Memphis Riverkings | Hockey | CHL | 2006-2007 | |
| 12/29/06 | Nazr Mohammed | Detroit Pistons | Basketball | NBA | 2006-2007 | 10,000 |
| 12/29/06 | Brandon Roy | Portland Trailblazers | Basketball | NBA | 2006-2007 | |
| 12/30/06 | Ryan Tobler (Mini) | Colorado Eagles | Hockey | CHL | 2006-2007 | 2,500 |
| 12/30/06 | John Slaney Figurine | Philadelphia Phantoms | Hockey | AHL | 2006-2007 | 4,000 |
| 12/30/06 | Mike Lalonde | Stockton Thunder | Hockey | ECHL | 2006-2007 | 1,000 12 and under |
| 12/31/06 | Burnie (Mascot) | Arizona Sundogs | Hockey | CHL | 2006-2007 | 1,000 |
| 1/3/07 | John Lammers | Everett Silvertips | Hockey | WHL | 2006-2007 | 1,000 |
| 1/5/07 | Carlos Arroyo | Orlando Magic | Basketball | NBA | 2006-2007 | 5,000 |
| 1/6/07 | Curtis Murphy | Houston Aeros | Hockey | AHL | 2006-2007 | 3,000 |
| 1/7/07 | Andrea Bargnani Figurine | Toronto Raptors | Basketball | NBA | 2006-2007 | 10,000 |
| 1/7/07 | Evgeni Malkin | Pittsburgh Penguins | Hockey | NHL | 2006-2007 | |
| 1/11/07 | Martin St. Louis | Tampa Bay Lightning | Hockey | NHL | 2006-2007 | 5,000 |
| 1/12/07 | Marc Magliarditi Figurine | Las Vegas Wranglers | Hockey | ECHL | 2006-2007 | 2,500 |
| 1/12/07 | Darrell Stoddard (Mini) | Memphis Riverkings | Hockey | CHL | 2006-2007 | |
| 1/13/07 | Spike (Mini) (Mascot) | Wheeling Nailers | Hockey | ECHL | 2006-2007 | 5,000 |
| 1/16/07 | Chris Paul | New Orleans Hornets | Basketball | NBA | 2006-2007 | 8,000 |
| 1/17/07 | T.J. Ford | Toronto Raptors | Basketball | NBA | 2006-2007 | 15,000 |
| 1/17/07 | LaMarcus Aldridge | Portland Trailblazers | Basketball | NBA | 2006-2007 | |
| 1/19/07 | Randy Foye | Minnesota Timberwolves | Basketball | NBA | 2006-2007 | 5,000 |
| 1/19/07 | Dwight Howard Figurine | Orlando Magic | Basketball | NBA | 2006-2007 | 5,000 |
| 1/20/07 | Greg Pankewicz (Mini) | Colorado Eagles | Hockey | CHL | 2006-2007 | 2,500 |
| 1/20/07 | Malcolm McMillan Figurine | Reading Royals | Hockey | ECHL | 2006-2007 | 1,500 |
| 1/21/07 | Peter Forsberg | Philadelphia Phantoms | Hockey | AHL | 2006-2007 | 4,000 |
| 1/24/07 | Gerald Wallace | Charlotte Bobcats | Basketball | NBA | 2006-2007 | 10,000 |
| 1/24/07 | Michael Wall | Everett Silvertips | Hockey | WHL | 2006-2007 | 1,000 |
| 1/26/07 | Rasheed Wallace | Detroit Pistons | Basketball | NBA | 2006-2007 | 10,000 |
| 1/26/07 | Andrew Bogut | Milwaukee Bucks | Basketball | NBA | 2006-2007 | |
| 1/26/07 | Andrew Ladd | Calgary Hitmen | Hockey | WHL | 2006-2007 | |
| 1/26/07 | Rivet (Bobble Belly) | Trenton Titans | Hockey | ECHL | 2006-2007 | |
| 1/27/07 | Joe Johnson (Team USA) Statuette | Atlanta Hawks | Basketball | NBA | 2006-2007 | 5,000 |
| 1/27/07 | Sonar (Mascot) | Hartford Wolfpack | Hockey | AHL | 2006-2007 | 3,000 scouts |
| 1/30/07 | Rickey Henderson | Yuma Scorpions | Baseball | Minor League | 2007 | |
| 2/1/07 | Simon Gagne | Philadelphia Flyers | Hockey | NHL | 2006-2007 | |
| 2/2/07 | Lindsay Hunter (in a Silverado) | Detroit Pistons | Basketball | NBA | 2006-2007 | 10,000 |
| 2/2/07 | Kyle Korver Statue | Philadelphia 76ers | Basketball | NBA | 2006-2007 | 20,000 |
| 2/2/07 | Jordin Tootoo | Milwaukee Admirals | Hockey | AHL | 2006-2007 | 5,000 |
| 2/3/07 | Shane Battier | Houston Rockets | Basketball | NBA | 2006-2007 | |
| 2/3/07 | Ilya Kovalchuk Statuette | Atlanta Thrashers | Hockey | NHL | 2006-2007 | 5,000 |
| 2/3/07 | Clyde S. Dale (Mascot) | Oklahoma City Blazers | Hockey | CHL | 2006-2007 | 2,500 |
| 2/6/07 | Jamaal Magloire | Portland Trailblazers | Basketball | NBA | 2006-2007 | |
| 2/9/07 | Todd Griffith | Bakersfield Condors | Hockey | ECHL | 2006-2007 | 2,000 12 and under |
| 2/9/07 | Alain Nasreddine Figurine | Wilkes Barre-Scranton Penguins | Hockey | ECHL | 2006-2007 | 5,000 |
| 2/10/07 | Pekka Rinne | Milwaukee Admirals | Hockey | AHL | 2006-2007 | 5,000 |
| 2/11/07 | Charles Barkley Statue | Philadelphia 76ers | Basketball | NBA | 2006-2007 | 5,000 |
| 2/11/07 | Devan Dubnyk | Stockton Thunder | Hockey | ECHL | 2006-2007 | 1,000 12 and under |
| 2/15/07 | Vincent Lecavalier | Tampa Bay Lightning | Hockey | NHL | 2006-2007 | 5,000 |
| 2/18/07 | Bruno Gervais | Bridgeport Soundtigers | Hockey | AHL | 2006-2007 | 1,500 |
| 2/18/07 | Skating Admiral (Mascot) | Milwaukee Admirals | Hockey | AHL | 2006-2007 | 3,500 |
| 2/23/07 | Ben Wallace | Chicago Bulls | Basketball | NBA | 2006-2007 | |
| 2/23/07 | Chris Bala Figurine | Reading Royals | Hockey | ECHL | 2006-2007 | 1,500 |
| 2/24/07 | Kari Lehtonen Statuette | Atlanta Thrashers | Hockey | NHL | 2006-2007 | 5,000 |
| 2/24/07 | Curtiss Patrick (Mini) | Wheeling Nailers | Hockey | ECHL | 2006-2007 | |
| 2/24/07 | Sheldon Wenzel (Mini) | Memphis Riverkings | Hockey | CHL | 2006-2007 | |
| 2/25/07 | Marc Moro (Mini) | Toronto Marlies | Hockey | AHL | 2006-2007 | 5,000 |
| 3/2/07 | Al McCoy (Talking) | Phoenix Suns | Basketball | NBA | 2006-2007 | |
| 3/2/07 | Marian Hossa Statuette | Atlanta Thrashers | Hockey | NHL | 2006-2007 | 5,000 |
| 3/2/07 | Jeff Ewasko | Odessa Jackalopes | Hockey | CHL | 2006-2007 | |
| 3/3/07 | Speedy Claxton Statuette | Atlanta Hawks | Basketball | NBA | 2006-2007 | 5,000 |
| 3/3/07 | Chip (Mascot) | Bloomington Prairie Thunder | Hockey | UHL | 2006-2007 | |
| 3/3/07 | Fraser Filipic Bobblefist (Mini) | Colorado Eagles | Hockey | CHL | 2006-2007 | 2,500 |
| 3/3/07 | Krys Barch | Iowa Stars | Hockey | AHL | 2006-2007 | 3,000 |
| 3/3/07 | Patrick Nadeau | Quad City Mallards | Hockey | UHL | 2006-2007 | |
| 3/3/07 | Finz (Mascot) | Worcester Sharks | Hockey | AHL | 2006-2007 | 3,000 |
| 3/6/07 | Zoilo Versailles (Season Ticket) | Minnesota Twins | Baseball | MLB | 2007 | 500 |
| 3/7/07 | Michael Redd | Milwaukee Bucks | Basketball | NBA | 2006-2007 | |
| 3/8/07 | Ed Jovanovski | Phoenix Coyotes | Hockey | NHL | 2006-2007 | |
| 3/8/07 | Colby Armstrong | Pittsburgh Penguins | Hockey | NHL | 2006-2007 | |
| 3/9/07 | Grady Sizemore | Cleveland Indians | Baseball | MLB | 2007 | 7,000 |
| 3/9/07 | Jonathan Sigalet | Providence Bruins | Hockey | AHL | 2006-2007 | 4,000 |
| 3/10/07 | Screech (Mascot) | Washington Nationals | Baseball | MLB | 2007 | 1,000 Kids |
| 3/10/07 | Adam Morrison | Charlotte Bobcats | Basketball | NBA | 2006-2007 | 10,000 |
| 3/10/07 | Cail MacLean | South Carolina Stingrays | Hockey | ECHL | 2006-2007 | 2,500 |
| 3/10/07 | Adam Huxley | Stockton Thunder | Hockey | ECHL | 2006-2007 | 1,000 12 and under |
| 3/14/07 | Raef LaFrentz | Portland Trailblazers | Basketball | NBA | 2006-2007 | |
| 3/14/07 | Torrie Wheat | Everett Silvertips | Hockey | WHL | 2006-2007 | |
| 3/14/07 | Ernie Hartlieb | Florida Everblades | Hockey | ECHL | 2006-2007 | |
| 3/15/07 | Earl Battey (Season Ticket) | Minnesota Twins | Baseball | MLB | 2007 | 500 |
| 3/16/07 | Danny Lecours | Milwaukee Admirals | Hockey | AHL | 2006-2007 | 5,000 |
| 3/16/07 | Matt Lashoff | Providence Bruins | Hockey | AHL | 2006-2007 | 4,000 |
| 3/17/07 | Rocky (Mascot) | Phoenix Roadrunners | Hockey | ECHL | 2006-2007 | |
| 3/17/07 | Andy Franck (Mini) | Wheeling Nailers | Hockey | ECHL | 2006-2007 | |
| 3/21/07 | Ryan Gomes | Boston Celtics | Basketball | NBA | 2006-2007 | 5,000 |
| 3/22/07 | Dan Boyle | Tampa Bay Lightning | Hockey | NHL | 2006-2007 | 5,000 |
| 3/23/07 | Chuck Swirsky | Toronto Raptors | Basketball | NBA | 2006-2007 | 18,000 |
| 3/23/07 | Mark Stuart | Providence Bruins | Hockey | AHL | 2006-2007 | 4,000 |
| 3/23/07 | Nathan Lutz | Rockford IceHogs | Hockey | UHL | 2006-2007 | |
| 3/24/07 | Erik Westrum (Mini) | Toronto Marlies | Hockey | AHL | 2006-2007 | 5,000 |
| 3/25/07 | Random Previous SGAs | Los Angeles Dodgers | Baseball | MLB | 2007 | 1,000 |
| 3/29/07 | Derek Morris | Phoenix Coyotes | Hockey | NHL | 2006-2007 | |
| 3/30/07 | Rip Hamilton (with mask) | Detroit Pistons | Basketball | NBA | 2006-2007 | 10,000 |
| 3/30/07 | Blaze (Mascot) | Columbia Inferno | Hockey | ECHL | 2006-2007 | 1,500 |
| 3/30/07 | R.J. Umberger | Philadelphia Phantoms | Hockey | AHL | 2006-2007 | 4,000 |
| 3/31/07 | Benny (Mascot) | Chicago Bulls | Basketball | NBA | 2006-2007 | |
| 3/31/07 | Dusty Jamieson | Charlotte Checkers | Hockey | ECHL | 2006-2007 | 2,000 |
| 3/31/07 | Devil Dawg | Lowell Devils | Hockey | AHL | 2006-2007 | 1,500 |
| 4/3/07 | Tim Salmon | Los Angeles Angels of Anaheim | Baseball | MLB | 2007 | |
| 4/5/07 | Brandon Inge | Lynchburg Hillcats | Baseball | Minor League | 2007 | 1,000 |
| 4/6/07 | Jeff Bagwell Bronze Statuette | Houston Astros | Baseball | MLB | 2007 | |
| 4/6/07 | Charlie Moore | Milwaukee Brewers | Baseball | MLB | 2007 | |
| 4/6/07 | Bob Chase (Radio Announcer) | Fort Wayne Komets | Hockey | UHL | 2006-2007 | |
| 4/6/07 | Luke Curtin | Fresno Falcons | Hockey | ECHL | 2006-2007 | |
| 4/7/07 | Scott Bertoli | Trenton Titans | Hockey | ECHL | 2006-2007 | |
| 4/8/07 | Chris Bosh Figurine | Toronto Raptors | Basketball | NBA | 2006-2007 | 10,000 |
| 4/10/07 | Desmond Mason | New Orleans Hornets | Basketball | NBA | 2006-2007 | 8,000 |
| 4/11/07 | Phil Hughes | Trenton Thunder | Baseball | Minor League | 2007 | 2,000 6 and over |
| 4/12/07 | Hank Aaron Bronze Statuette | Atlanta Braves | Baseball | MLB | 2007 | 15,000 |
| 4/13/07 | Jason Bay (06 All-Star) | Pittsburgh Pirates | Baseball | MLB | 2007 | |
| 4/14/07 | Brandon Webb (Cy Young) | Arizona Diamondbacks | Baseball | MLB | 2007 | 35,000 |
| 4/14/07 | Todd Helton | Asheville Tourists | Baseball | Minor League | 2007 | 500 |
| 4/14/07 | Brandon Webb | Visalia Oaks | Baseball | Minor League | 2007 | 500 |
| 4/14/07 | Jarrett Jack | Portland Trailblazers | Basketball | NBA | 2006-2007 | |
| 4/15/07 | Lou Piniella | Chicago Cubs | Baseball | MLB | 2007 | 10,000 |
| 4/20/07 | Cecil Cooper | Milwaukee Brewers | Baseball | MLB | 2007 | |
| 4/20/07 | Richard the Beerman Figurine | Chattanooga Lookouts | Baseball | Minor League | 2007 | |
| 4/20/07 | Jimmy Rollins | Clearwater Threshers | Baseball | Minor League | 2007 | |
| 4/20/07 | Cameron Maybin | West Michigan Whitecaps | Baseball | Minor League | 2007 | 1,000 |
| 4/20/07 | Torpedo (Mascot) | Hartford Wolfpack | Hockey | AHL | 2006-2007 | 5,000 |
| 4/21/07 | Neil Walker | Altoona Curve | Baseball | Minor League | 2007 | |
| 4/21/07 | Chris Webber | Detroit Pistons | Basketball | NBA | 2006-2007 | 10,000 |
| 4/25/07 | Bishop Carmody | Corpus Christi Hooks | Baseball | Minor League | 2007 | 2,500 |
| 4/26/07 | Nomar Garciaparra | Los Angeles Dodgers | Baseball | MLB | 2007 | 50,000 |
| 4/27/07 | Ichiro Suzuki | Seattle Mariners | Baseball | MLB | 2007 | 25,000 |
| 4/28/07 | Orlando Hudson (Gold Glove) | Arizona Diamondbacks | Baseball | MLB | 2007 | 35,000 |
| 4/28/07 | Grady Sizemore Bobster w/Cape | Cleveland Indians | Baseball | MLB | 2007 | |
| 4/28/07 | Eric Chavez | Oakland A's | Baseball | MLB | 2007 | 15,000 |
| 4/28/07 | Freddy Sanchez (06 Batting Champion) | Pittsburgh Pirates | Baseball | MLB | 2007 | |
| 4/28/07 | Nolan Ryan Figurine (Mets) | Corpus Christi Hooks | Baseball | Minor League | 2007 | 2,500 |
| 4/28/07 | Alex Gordon | Omaha Royals | Baseball | Minor League | 2007 | 1,500 |
| 4/28/07 | Lance Berkman (2 Astro Jersey Double) | Round Rock Express | Baseball | Minor League | 2007 | 3,000 |
| 4/29/07 | Phillie Phanatic Bobble Figurine | Philadelphia Phillies | Baseball | MLB | 2007 | 14 and under |
| 4/29/07 | Frank Thomas Figurine | Toronto Blue Jays | Baseball | MLB | 2007 | 10,000 |
| 5/4/07 | Dontrelle Willis Figurine | Florida Marlins | Baseball | MLB | 2007 | 10,000 |
| 5/4/07 | Jim Gantner | Milwaukee Brewers | Baseball | MLB | 2007 | |
| 5/4/07 | Michael Young | Texas Rangers | Baseball | MLB | 2007 | |
| 5/4/07 | Dave LaPoint | Long Island Ducks | Baseball | Minor League | 2007 | 2,000 |
| 5/4/07 | Dinger (Cinco De Mayo) (Mascot) | Sacramento Rivercats | Baseball | Minor League | 2007 | |
| 5/5/07 | Bryantman Figurine (Air Conditioner Co) | Nashville Sounds | Baseball | Minor League | 2007 | |
| 5/5/07 | Curt Schilling | New Hampshire Fishercats | Baseball | Minor League | 2007 | 2,000 |
| 5/8/07 | Mr. Rahauser | Hagerstown Suns | Baseball | Minor League | 2007 | 800 |
| 5/9/07 | Jason Giambi | Tampa Yankees | Baseball | Minor League | 2007 | 250 |
| 5/9/07 | Brent Clevlen | West Michigan Whitecaps | Baseball | Minor League | 2007 | 1,000 |
| 5/10/07 | Todd Claus (Manager of the Year) | Portland Seadogs | Baseball | Minor League | 2007 | 1,000 |
| 5/10/07 | Mr. Celery (Mascot) | Wilmington BlueRocks | Baseball | Minor League | 2007 | 1,250 |
| 5/11/07 | Ian Kinsler | Texas Rangers | Baseball | MLB | 2007 | |
| 5/11/07 | Hanley Ramirez | Augusta Greenjackets | Baseball | Minor League | 2007 | 1,000 |
| 5/11/07 | Charlie Montoyo Figurine | Montgomery Biscuits | Baseball | Minor League | 2007 | |
| 5/11/07 | Sparky Lyle | Somerset Patriots | Baseball | Minor League | 2007 | 1,000 |
| 5/12/07 | Ronny Paulino | Pittsburgh Pirates | Baseball | MLB | 2007 | |
| 5/12/07 | Cameron Maybin | Asheville Tourists | Baseball | Minor League | 2007 | 500 |
| 5/12/07 | Quackerjack (Bobbletail) | Long Island Ducks | Baseball | Minor League | 2007 | 1,500 |
| 5/16/07 | Ryan Howard (MVP) Bobble Figurine | Philadelphia Phillies | Baseball | MLB | 2007 | |
| 5/18/07 | Paul Molitor | Milwaukee Brewers | Baseball | MLB | 2007 | |
| 5/18/07 | Felix Hernandez | Seattle Mariners | Baseball | MLB | 2007 | 25,000 |
| 5/18/07 | Andrew McCutchen | Altoona Curve | Baseball | Minor League | 2007 | |
| 5/19/07 | 50's-60's Logo Man | Pittsburgh Pirates | Baseball | MLB | 2007 | |
| 5/19/07 | Matt Holliday | Asheville Tourists | Baseball | Minor League | 2007 | 500 |
| 5/19/07 | Nolan Ryan Figurine (Angels) | Corpus Christi Hooks | Baseball | Minor League | 2007 | 2,500 |
| 5/20/07 | Slider/Gapper Double (Mascots) | Cleveland Indians | Baseball | MLB | 2007 | 14 and under |
| 5/21/07 | Billy Pierce | Joliet Jackhammers | Baseball | Minor League | 2007 | |
| 5/21/07 | Cole Hamels (Made it to the Phillies) | Lakewood BlueClaws | Baseball | Minor League | 2007 | 2,000 |
| 5/21/07 | Nolan Ryan Statue | Round Rock Express | Baseball | Minor League | 2007 | 3,000 |
| 5/21/07 | Freddy Sanchez Statue | Trenton Thunder | Baseball | Minor League | 2007 | 2,000 6 and over |
| 5/22/07 | Champ (Dog Mascot) | Joliet Jackhammers | Baseball | Minor League | 2007 | |
| 5/23/07 | Bronson Arroyo | Cincinnati Reds | Baseball | MLB | 2007 | 40,000 |
| 5/23/07 | Jackie Moore | Round Rock Express | Baseball | Minor League | 2007 | 3,000 |
| 5/23/07 | Freddy Sanchez | Trenton Thunder | Baseball | Minor League | 2007 | 2,000 6 and over |
| 5/25/07 | Coach Greg Slick | Hagerstown Suns | Baseball | Minor League | 2007 | 800 |
| 5/25/07 | Troy Glaus Figurine | Lansing Lugnuts | Baseball | Minor League | 2007 | |
| 5/26/07 | Paul Splittorff | Kansas City Royals | Baseball | MLB | 2007 | 20,000 |
| 5/26/07 | Michael Bourn | Lakewood BlueClaws | Baseball | Minor League | 2007 | 2,000 |
| 5/26/07 | John Smoltz Bronze Statuette | Mississippi Braves | Baseball | Minor League | 2007 | |
| 5/26/07 | Brandon Webb Figurine | Tucson Sidewinders | Baseball | Minor League | 2007 | |
| 5/27/07 | Ozzie Guillen | Chicago Whitesox | Baseball | MLB | 2007 | 20,000 |
| 5/27/07 | Jeff Samardzija | Peoria Chiefs | Baseball | Minor League | 2007 | 1,500 |
| 5/28/07 | Josh Kinney | River City Rascals | Baseball | Minor League | 2007 | 1,000 |
| 5/29/07 | Milton Bradley | Oakland A's | Baseball | MLB | 2007 | 15,000 |
| 5/29/07 | Gabe Kapler | Greenville Drive | Baseball | Minor League | 2007 | Season Ticket Holders |
| 5/30/07 | Alfonso Soriano | Chicago Cubs | Baseball | MLB | 2007 | 10,000 |
| 5/30/07 | Ryan Howard MVP Bronze Statuette | Lakewood BlueClaws | Baseball | Minor League | 2007 | 2,000 |
| 5/31/07 | Cal Ripken Figurine | Durham Bulls | Baseball | Minor League | 2007 | |
| 5/31/07 | Dave Huppert (Holding SAL Trophy) | Lakewood BlueClaws | Baseball | Minor League | 2007 | 2,000 |
| 5/31/07 | Jimmy Rollins Figurine | Reading Phillies | Baseball | Minor League | 2007 | 1,000 14 and under |
| 6/1/07 | Don Sutton | Milwaukee Brewers | Baseball | MLB | 2007 | |
| 6/1/07 | Dale Hansen | Fort Worth Cats | Baseball | Minor League | 2007 | |
| 6/2/07 | C.C. Sabathia '70s | Cleveland Indians | Baseball | MLB | 2007 | |
| 6/2/07 | Adam LaRoche | Pittsburgh Pirates | Baseball | MLB | 2007 | |
| 6/2/07 | Bob Parker (Mascot) | Fresno Grizzlies | Baseball | Minor League | 2007 | 2,500 |
| 6/2/07 | Chris Roberson (Made it to the Phillies) | Lakewood BlueClaws | Baseball | Minor League | 2007 | 2,000 |
| 6/2/07 | Gary Matthews Jr. Figurine | Rancho Cucamonga Quakes | Baseball | Minor League | 2007 | |
| 6/2/07 | Rocko (Mascot) | Rockford Riverhawks | Baseball | Minor League | 2007 | |
| 6/2/07 | Big Mo (Mascot) | Salem Avalanche | Baseball | Minor League | 2007 | |
| 6/3/07 | Prince Fielder | Milwaukee Brewers | Baseball | MLB | 2007 | |
| 6/3/07 | Shane Victorino (Hula) Figurine | Philadelphia Phillies | Baseball | MLB | 2007 | 14 and under |
| 6/5/07 | Jered Weaver | Los Angeles Angels of Anaheim | Baseball | MLB | 2007 | |
| 6/5/07 | Andy Pettitte | Trenton Thunder | Baseball | Minor League | 2007 | 2,000 6 and over |
| 6/6/07 | TBA Figurine | Washington WildThings | Baseball | Minor League | 2007 | |
| 6/6/07 | John Mizerock | Wilmington BlueRocks | Baseball | Minor League | 2007 | 1,000 |
| 6/8/07 | Derek Jeter Figurine | New York Yankees | Baseball | MLB | 2007 | 18,000 21 and over |
| 6/9/07 | Randy Johnson | Arizona Diamondbacks | Baseball | MLB | 2007 | 35,000 |
| 6/9/07 | Dennis Leonard | Kansas City Royals | Baseball | MLB | 2007 | 20,000 |
| 6/9/07 | Joe Mauer (AL Batting Champ) | Minnesota Twins | Baseball | MLB | 2007 | 10,000 |
| 6/9/07 | James Loney | Jacksonville Suns | Baseball | Minor League | 2007 | 3,000 |
| 6/9/07 | Roger Clemens/Johnny Drennan Dual Figurine | Lake County Captains | Baseball | Minor League | 2007 | |
| 6/10/07 | Cal Ripken "1983 World Series" | Baltimore Orioles | Baseball | MLB | 2007 | |
| 6/11/07 | Ruffy (Mascot) | River City Rascals | Baseball | Minor League | 2007 | |
| 6/11/07 | Nolan Ryan (Barbecue) | Round Rock Express | Baseball | Minor League | 2007 | 3,000 |
| 6/12/07 | Whitey Ford Bronze Statuette | Tampa Yankees | Baseball | Minor League | 2007 | 250 |
| 6/12/07 | Tom Brookens | West Michigan Whitecaps | Baseball | Minor League | 2007 | 1,000 |
| 6/13/07 | Aaron Harang | Cincinnati Reds | Baseball | MLB | 2007 | 40,000 |
| 6/13/07 | Dancin Maynard G. Mallard (Mascot) | Madison Mallards | Baseball | Minor League | 2007 | 1,000 |
| 6/13/07 | Melky Cabrera | Trenton Thunder | Baseball | Minor League | 2007 | 2,000 6 and over |
| 6/14/07 | Fungo (Mascot) | Fayetteville Swampdogs | Baseball | Minor League | 2007 | 500 |
| 6/14/07 | Lance Parrish | Great Lakes Loons | Baseball | Minor League | 2007 | 1,000 |
| 6/15/07 | Bert Blyleven Bronze Statuette | Minnesota Twins | Baseball | MLB | 2007 | 10,000 |
| 6/16/07 | Brad Ausmus (Surfer) | Houston Astros | Baseball | MLB | 2007 | 10,000 |
| 6/16/07 | 60's-70's-80's Logo Man | Pittsburgh Pirates | Baseball | MLB | 2007 | |
| 6/16/07 | Ricky Van Asselberg | Alexandria Aces | Baseball | Minor League | 2007 | 1,000 |
| 6/16/07 | Eugene Julien | Brockton Rox | Baseball | Minor League | 2007 | 1,000 |
| 6/16/07 | Muddy (Mascot) | Carolina Mudcats | Baseball | Minor League | 2007 | 15 and under |
| 6/16/07 | Jose Guzman Bronze Statuette | Fort Worth Cats | Baseball | Minor League | 2007 | |
| 6/16/07 | Kevin Costner | Inland Empire 66ers | Baseball | Minor League | 2007 | 1,000 |
| 6/16/07 | Graig/Jeff Nettles Double | Somerset Patriots | Baseball | Minor League | 2007 | 1,500 |
| 6/17/07 | Johnny Damon | Trenton Thunder | Baseball | Minor League | 2007 | 2,000 6 and over |
| 6/18/07 | Josh Kinney | Springfield Cardinals | Baseball | Minor League | 2007 | 2,500 |
| 6/19/07 | Ryan Spilborghs Figurune | Madison Mallards | Baseball | Minor League | 2007 | 1,000 |
| 6/21/07 | Jay Bruce | Dayton Dragons | Baseball | Minor League | 2007 | Season Ticket Holders |
| 6/21/07 | James Whistler (Painter) | Lowell Spinners | Baseball | Minor League | 2007 | 1,000 |
| 6/22/07 | Mike Caldwell | Milwaukee Brewers | Baseball | MLB | 2007 | |
| 6/22/07 | Ryan Howard | Clearwater Threshers | Baseball | Minor League | 2007 | |
| 6/22/07 | Curtis Granderson | Erie Seawolves | Baseball | Minor League | 2007 | |
| 6/22/07 | Roy Halladay Figurine | Lansing Lugnuts | Baseball | Minor League | 2007 | |
| 6/23/07 | Dan Uggla "Dashboard Bobblehead" | Florida Marlins | Baseball | MLB | 2007 | 5,000 Cars |
| 6/23/07 | Don Zimmer Double "Then and Now" | Tampa Bay Devil Rays | Baseball | MLB | 2007 | 15,000 |
| 6/23/07 | Todd Coffey | Billings Mustangs | Baseball | Minor League | 2007 | 1,000 |
| 6/23/07 | Cal Ripken | Charlotte Knights | Baseball | Minor League | 2007 | 2,632 via lottery |
| 6/23/07 | Nolan Ryan Figurine (Astros) | Corpus Christi Hooks | Baseball | Minor League | 2007 | 2,500 |
| 6/23/07 | Matt Kemp | Jacksonville Suns | Baseball | Minor League | 2007 | 3,000 |
| 6/23/07 | Tony Martinez (Fox 12) | Portland Beavers | Baseball | Minor League | 2007 | |
| 6/23/07 | Jason Shelley | Rockford Riverhawks | Baseball | Minor League | 2007 | |
| 6/23/07 | Larry McKenney | Sioux Falls Canaries | Baseball | Minor League | 2007 | |
| 6/23/07 | Turner Ward Bobble Wall | State College Spikes | Baseball | Minor League | 2007 | 2,000 |
| 6/23/07 | Carlos Quentin Figurine | Tucson Sidewinders | Baseball | Minor League | 2007 | |
| 6/23/07 | Tony Butler | Wisconsin Timberrattlers | Baseball | Minor League | 2007 | 1,000 |
| 6/24/07 | Bill Hall | Milwaukee Brewers | Baseball | MLB | 2007 | |
| 6/24/07 | Paul LoDuca | New York Mets | Baseball | MLB | 2007 | 12,000 14 and under |
| 6/24/07 | Matt Garza | Beloit Snappers | Baseball | Minor League | 2007 | 500 |
| 6/24/07 | Travis Buck | Stockton Ports | Baseball | Minor League | 2007 | 1,000 |
| 6/25/07 | Brad Eldred | Wilson Tobs | Baseball | Minor League | 2007 | 200 |
| 6/26/07 | "Police" Gnate (Mascot) | Savannah Sandgnats | Baseball | Minor League | 2007 | 1,000 |
| 6/26/07 | Gorman Thomas | Wisconsin Woodchucks | Baseball | Minor League | 2007 | |
| 6/27/07 | Ted E. Tourist (Mascot) | Asheville Tourists | Baseball | Minor League | 2007 | |
| 6/27/07 | Chris Ray | Bowie Baysox | Baseball | Minor League | 2007 | 1,250 6 and over |
| 6/27/07 | Carlos Zambrano | Iowa Cubs | Baseball | Minor League | 2007 | 2,000 |
| 6/28/07 | Jacoby Ellsbury | Portland Seadogs | Baseball | Minor League | 2007 | 1,000 |
| 6/28/07 | Wes Bankston | Princeton Devilrays | Baseball | Minor League | 2007 | |
| 6/29/07 | Miguel Cabrera Figurine | Florida Marlins | Baseball | MLB | 2007 | 10,000 |
| 6/29/07 | Kenji Johjima | Seattle Mariners | Baseball | MLB | 2007 | 25,000 |
| 6/29/07 | David Ortiz | New Hampshire Fishercats | Baseball | Minor League | 2007 | 2,000 |
| 6/29/07 | Dinger (Mascot) | Sacramento Rivercats | Baseball | Minor League | 2007 | |
| 6/29/07 | Twister (Mascot) | Worcester Tornadoes | Baseball | Minor League | 2007 | |
| 6/30/07 | Grady Sizemore | Cleveland Indians | Baseball | MLB | 2007 | |
| 6/30/07 | Bob Walk | Pittsburgh Pirates | Baseball | MLB | 2007 | |
| 6/30/07 | Barry Zito | San Francisco Giants | Baseball | MLB | 2007 | 20,000 |
| 6/30/07 | Orbit (Mascot) | Albuquerque Isotopes | Baseball | Minor League | 2007 | |
| 6/30/07 | Nolan Ryan Action Figurine | Jacksonville Suns | Baseball | Minor League | 2007 | 3,000 |
| 6/30/07 | Matt Clement Figurine | Rancho Cucamonga Quakes | Baseball | Minor League | 2007 | |
| 7/1/07 | Michael Barrett | Chicago Cubs | Baseball | MLB | 2007 | 10,000 |
| 7/1/07 | Magglio Ordoñez | Detroit Tigers | Baseball | MLB | 2007 | |
| 7/1/07 | Bill Evers Figurine | Durham Bulls | Baseball | Minor League | 2007 | |
| 7/1/07 | Adam Dunn | Louisville Bats | Baseball | Minor League | 2007 | Lottery |
| 7/1/07 | Austin Kearns | Louisville Bats | Baseball | Minor League | 2007 | Lottery |
| 7/1/07 | Brandon Larson | Louisville Bats | Baseball | Minor League | 2007 | Lottery |
| 7/1/07 | Dave Miley | Louisville Bats | Baseball | Minor League | 2007 | Lottery |
| 7/1/07 | Deion Sanders | Louisville Bats | Baseball | Minor League | 2007 | Lottery |
| 7/1/07 | Mark Prior | Peoria Chiefs | Baseball | Minor League | 2007 | 1,500 |
| 7/3/07 | Orchestra Conducter TBA | Lowell Spinners | Baseball | Minor League | 2007 | 1,500 |
| 7/3/07 | Chase (Birthday) (Mascot Batdog) | Trenton Thunder | Baseball | Minor League | 2007 | 2,000 6 and over |
| 7/4/07 | George Washington | Washington Nationals | Baseball | MLB | 2007 | 15,000 |
| 7/4/07 | Woolie (Mascot) | Hagerstown Suns | Baseball | Minor League | 2007 | 1,000 |
| 7/4/07 | Buck O'Neil Figurine | Kansas City Tbones | Baseball | Minor League | 2007 | |
| 7/5/07 | Bill "Goldie" Goldthorpe (Oglethorpe from "Slapshot") | Thunder Bay Bordercats | Baseball | Minor League | 2007 | 500 |
| 7/6/07 | Rafael Furcal | Los Angeles Dodgers | Baseball | MLB | 2007 | 50,000 |
| 7/6/07 | Bill Valentine | Arkansas Travelers | Baseball | Minor League | 2007 | 2,000 |
| 7/6/07 | Nora Roberts | Hagerstown Suns | Baseball | Minor League | 2007 | 1,000 |
| 7/6/07 | Mike Schmidt | Reading Phillies | Baseball | Minor League | 2007 | 2,500 18 and over |
| 7/7/07 | Roger Clemens | Corpus Christi Hooks | Baseball | Minor League | 2007 | 2,500 |
| 7/7/07 | Jamie Keefe | Florence Freedom | Baseball | Minor League | 2007 | |
| 7/7/07 | Kevin Frandsen Figurine | Fresno Grizzlies | Baseball | Minor League | 2007 | 2,500 |
| 7/7/07 | Rickie Weeks | Huntsville Stars | Baseball | Minor League | 2007 | 1,500 |
| 7/7/07 | Roger Clemens Figurine | Lexington Legends | Baseball | Minor League | 2007 | |
| 7/7/07 | Andre Ethier | Modesto Nuts | Baseball | Minor League | 2007 | |
| 7/7/07 | John Canzano (The Oregonian) | Portland Beavers | Baseball | Minor League | 2007 | 1,500 |
| 7/7/07 | Nolan Ryan (Bloody Lip) | Round Rock Express | Baseball | Minor League | 2007 | 3,000 |
| 7/7/07 | Patrick Mannelly (NFL) | Schaumburg Flyers | Baseball | Minor League | 2007 | |
| 7/7/07 | Samson (Bible) | Stockton Ports | Baseball | Minor League | 2007 | |
| 7/7/07 | Mark Mulder | Swing of the Quad Cities | Baseball | Minor League | 2007 | 800 |
| 7/8/07 | Webbly (Mascot) | Everett Aquasox | Baseball | Minor League | 2007 | |
| 7/8/07 | Joe Jurevicious (NFL) | Lake County Captains | Baseball | Minor League | 2007 | |
| 7/8/07 | Silver Family | Rochester Redwings | Baseball | Minor League | 2007 | |
| 7/10/07 | Jamie Nelson | Princeton Devilrays | Baseball | Minor League | 2007 | |
| 7/12/07 | Polar Bear | Brockton Rox | Baseball | Minor League | 2007 | 1,000 |
| 7/13/07 | Ted Simmons | Milwaukee Brewers | Baseball | MLB | 2007 | |
| 7/13/07 | Endy Chavez | New York Mets | Baseball | MLB | 2007 | 25,000 |
| 7/13/07 | Justin Verlander | Erie Seawolves | Baseball | Minor League | 2007 | |
| 7/13/07 | Mayberry Deputy | Salem Avalanche | Baseball | Minor League | 2007 | |
| 7/14/07 | Dennis "Oil Can" Boyd | Brockton Rox | Baseball | Minor League | 2007 | 1,000 |
| 7/14/07 | Blooper (Mascot) | Danville Braves | Baseball | Minor League | 2007 | 1,000 |
| 7/14/07 | Tug McGraw | Jacksonville Suns | Baseball | Minor League | 2007 | 3,000 |
| 7/14/07 | Rich Austin | Rockford Riverhawks | Baseball | Minor League | 2007 | |
| 7/14/07 | Justin Morneau | Swing of the Quad Cities | Baseball | Minor League | 2007 | |
| 7/15/07 | Chorizo (Mascot) | Milwaukee Brewers | Baseball | MLB | 2007 | |
| 7/15/07 | Gaby Sanchez | Greensboro Grasshoppers | Baseball | Minor League | 2007 | 1,500 |
| 7/15/07 | Ryan Howard | Reading Phillies | Baseball | Minor League | 2007 | 2,000 14 and under |
| 7/15/07 | Chad Mattola Figurine | Syracuse Chiefs | Baseball | Minor League | 2007 | 2,000 12 and under |
| 7/16/07 | Cubbie Bear (Mascot) | Iowa Cubs | Baseball | Minor League | 2007 | 1,500 13 and under |
| 7/16/07 | Anibal Sanchez (No Hitter) | Lowell Spinners | Baseball | Minor League | 2007 | 1,000 |
| 7/16/07 | Mo Vaughn | New Hampshire Fishercats | Baseball | Minor League | 2007 | 2,000 |
| 7/16/07 | Toby Rumfield | River City Rascals | Baseball | Minor League | 2007 | |
| 7/17/07 | Matt Cullen | Fargo-Moorhead Redhawks | Baseball | Minor League | 2007 | |
| 7/17/07 | Nick "Scoop" Walsh | Thunder Bay Bordercats | Baseball | Minor League | 2007 | 500 |
| 7/18/07 | Nolan Ryan Figurine (Rangers) | Corpus Christi Hooks | Baseball | Minor League | 2007 | 2,500 |
| 7/18/07 | Phil Rizzuto Bronze Statuette | Tampa Yankees | Baseball | Minor League | 2007 | 250 |
| 7/18/07 | Woody (Mascot) | Wisconsin Woodchucks | Baseball | Minor League | 2007 | |
| 7/19/07 | Brian McCann Bronze Statuette | Atlanta Braves | Baseball | MLB | 2007 | |
| 7/19/07 | Erik Bedard | Bowie Baysox | Baseball | Minor League | 2007 | |
| 7/19/07 | Cole Hamels | Clearwater Threshers | Baseball | Minor League | 2007 | 1,000 |
| 7/19/07 | Tony Gwynn | Everett Aquasox | Baseball | Minor League | 2007 | |
| 7/19/07 | Cheryl Ladd (Charlie's Angels) | Sioux Falls Canaries | Baseball | Minor League | 2007 | |
| 7/20/07 | Gorman Thomas | Milwaukee Brewers | Baseball | MLB | 2007 | |
| 7/20/07 | Justin Morneau (AL MVP) | Minnesota Twins | Baseball | MLB | 2007 | 10,000 |
| 7/20/07 | Richie Zisk | Daytona Cubs | Baseball | Minor League | 2007 | |
| 7/20/07 | Pat Summerall | Fort Worth Cats | Baseball | Minor League | 2007 | |
| 7/21/07 | Carlos Zambrano | Chicago Cubs | Baseball | MLB | 2007 | 10,000 |
| 7/21/07 | Mike Piazza | Oakland A's | Baseball | MLB | 2007 | 15,000 |
| 7/21/07 | 80's-90's Logo Man | Pittsburgh Pirates | Baseball | MLB | 2007 | |
| 7/21/07 | Jeff Francis | Asheville Tourists | Baseball | Minor League | 2007 | 500 |
| 7/21/07 | Dale Alexander | Greeneville Astros | Baseball | Minor League | 2007 | |
| 7/21/07 | Fonzie (Bobble Arm) | Stockton Ports | Baseball | Minor League | 2007 | |
| 7/22/07 | Ace (Mascot) | Toronto Blue Jays | Baseball | MLB | 2007 | 10,000 |
| 7/22/07 | Jeff Cirillo | Beloit Snappers | Baseball | Minor League | 2007 | 500 |
| 7/22/07 | David Wright | Binghamton Mets | Baseball | Minor League | 2007 | |
| 7/22/07 | Don Newcombe | Brooklyn Cyclones | Baseball | Minor League | 2007 | 2,500 |
| 7/22/07 | Adam Jones | Everett Aquasox | Baseball | Minor League | 2007 | |
| 7/22/07 | Rich Hill | Iowa Cubs | Baseball | Minor League | 2007 | 2,000 |
| 7/22/07 | Bobble Pen | Long Island Ducks | Baseball | Minor League | 2007 | |
| 7/22/07 | Loren Owens/Wally Brine Bobble Set (Radio DJs) | Lowell Spinners | Baseball | Minor League | 2007 | 1,500 |
| 7/23/07 | Seth McClung | Princeton Devilrays | Baseball | Minor League | 2007 | |
| 7/24/07 | Devern Hansack | Portland Seadogs | Baseball | Minor League | 2007 | 1,000 |
| 7/24/07 | Hideki Matsui | Trenton Thunder | Baseball | Minor League | 2007 | 2,000 6 and over |
| 7/25/07 | Cal Ripken "2131" | Baltimore Orioles | Baseball | MLB | 2007 | |
| 7/25/07 | Frank Robinson | Cincinnati Reds | Baseball | MLB | 2007 | 40,000 |
| 7/25/07 | Cole Hamels Bobble Figurine | Philadelphia Phillies | Baseball | MLB | 2007 | |
| 7/26/07 | Rich Garces Bobble Belly | Nashua Pride | Baseball | Minor League | 2007 | 2,000 |
| 7/26/07 | Jim Gantner | Wisconsin Woodchucks | Baseball | Minor League | 2007 | |
| 7/27/07 | Cal Ripken | Augusta Greenjackets | Baseball | Minor League | 2007 | Season Ticket Holders |
| 7/27/07 | "Super Hero" Humphrey (Mascot) | Boise Hawks | Baseball | Minor League | 2007 | 1,250 |
| 7/27/07 | Chase Utley | Clearwater Threshers | Baseball | Minor League | 2007 | |
| 7/27/07 | Kurt Airoso | Erie Seawolves | Baseball | Minor League | 2007 | |
| 7/27/07 | Rafael Furcal | Las Vegas 51s | Baseball | Minor League | 2007 | 2,500 |
| 7/27/07 | Eric Wordekemper | Thunder Bay Bordercats | Baseball | Minor League | 2007 | 500 |
| 7/27/07 | Alex Gordon | Wichita Wranglers | Baseball | Minor League | 2007 | 1,000 |
| 7/27/07 | Justin Verlander | Wilson Tobs | Baseball | Minor League | 2007 | 500 |
| 7/27/07 | Dan Uggla | Yakima Bears | Baseball | Minor League | 2007 | |
| 7/28/07 | Carlos Quentin | Arizona Diamondbacks | Baseball | MLB | 2007 | 35,000 |
| 7/28/07 | Tom Hamilton | Cleveland Indians | Baseball | MLB | 2007 | |
| 7/28/07 | Roy Oswalt (Bulldozer) | Houston Astros | Baseball | MLB | 2007 | 10,000 |
| 7/28/07 | Steve Busby | Kansas City Royals | Baseball | MLB | 2007 | 20,000 |
| 7/28/07 | Cal Ripken | Augusta Greenjackets | Baseball | Minor League | 2007 | Season Ticket Holders |
| 7/28/07 | Scott Williamson | Billings Mustangs | Baseball | Minor League | 2007 | 1,000 |
| 7/28/07 | Prince Fielder | Huntsville Stars | Baseball | Minor League | 2007 | 1,500 |
| 7/28/07 | Nolan Ryan | Las Vegas 51s | Baseball | Minor League | 2007 | 2,500 |
| 7/28/07 | Chip Cannon | Thomasville Hi-Toms | Baseball | Minor League | 2007 | |
| 7/28/07 | Ribbee (Mascot) | West Tennessee Diamondjaxx | Baseball | Minor League | 2007 | |
| 7/29/07 | Will Clark | San Francisco Giants | Baseball | MLB | 2007 | 5,000 |
| 7/29/07 | Kevin Mitchell | San Francisco Giants | Baseball | MLB | 2007 | 5,000 |
| 7/29/07 | Robby Thompson | San Francisco Giants | Baseball | MLB | 2007 | 5,000 |
| 7/29/07 | Matt Williams | San Francisco Giants | Baseball | MLB | 2007 | 5,000 |
| 7/29/07 | Carl Crawford Figurine | Tampa Bay Devil Rays | Baseball | MLB | 2007 | 7,500 14 and under |
| 7/30/07 | Adam Loewen | Aberdeen Ironbirds | Baseball | Minor League | 2007 | Season Ticket Holders |
| 7/30/07 | "Dancin" Bill Jayne | Auburn Doubledays | Baseball | Minor League | 2007 | 1,000 |
| 7/30/07 | Mike Lowell | Lowell Spinners | Baseball | Minor League | 2007 | 1,000 |
| 7/30/07 | Zach Daeges | Thunder Bay Bordercats | Baseball | Minor League | 2007 | 500 |
| 7/31/07 | Ty Cobb (Bobble Foot) | West Michigan Whitecaps | Baseball | Minor League | 2007 | 1,000 |
| 8/2/07 | Russell Martin | Los Angeles Dodgers | Baseball | MLB | 2007 | 50,000 |
| 8/2/07 | Justin Morneau | New Britain Rockcats | Baseball | Minor League | 2007 | |
| 8/3/07 | Ben Oglivie | Milwaukee Brewers | Baseball | MLB | 2007 | |
| 8/3/07 | Josh Gibson Figurine | Pittsburgh Pirates | Baseball | MLB | 2007 | |
| 8/3/07 | Jeff Samardzija (Football/Baseball) | Boise Hawks | Baseball | Minor League | 2007 | |
| 8/3/07 | Derek Jeter Figurine | Durham Bulls | Baseball | Minor League | 2007 | |
| 8/3/07 | Chipper Jones Bronze Statuette | Mississippi Braves | Baseball | Minor League | 2007 | |
| 8/3/07 | Doug Flutie | North Shore Spirit | Baseball | Minor League | 2007 | |
| 8/3/07 | Bob Geren | Sacramento Rivercats | Baseball | Minor League | 2007 | |
| 8/3/07 | Kenny Rogers | Tulsa Drillers | Baseball | Minor League | 2007 | 1,500 |
| 8/4/07 | Thomas Jefferson | Washington Nationals | Baseball | MLB | 2007 | 15,000 |
| 8/4/07 | Acie Law | Brazos Valley Bombers | Baseball | Minor League | 2007 | 500 |
| 8/4/07 | Jason Bay | Clinton Lumberkings | Baseball | Minor League | 2007 | 750 |
| 8/4/07 | Jake Peavy Figurine | Fort Wayne Wizards | Baseball | Minor League | 2007 | |
| 8/4/07 | Fausto Carmona Figurine | Lake County Captains | Baseball | Minor League | 2007 | |
| 8/4/07 | Cylo Figurine (Mascot) | Lancaster Barnstormers | Baseball | Minor League | 2007 | |
| 8/4/07 | Muttnik (Mascot) | Mankato Moondogs | Baseball | Minor League | 2007 | |
| 8/4/07 | Andruw Jones Bronze Statuette | Mississippi Braves | Baseball | Minor League | 2007 | |
| 8/4/07 | Kevin Youkilis | Pawtucket Pawsox | Baseball | Minor League | 2007 | 4,000 14 and under |
| 8/4/07 | TBA | Rio Grande Valley Whitewings | Baseball | Minor League | 2007 | |
| 8/4/07 | Nick Johnson | Rockford Riverhawks | Baseball | Minor League | 2007 | |
| 8/4/07 | Dinger (Mascot) | Sacramento Rivercats | Baseball | Minor League | 2007 | 1,500 |
| 8/4/07 | Earl Batty Jr. Bobblewing | St. Cloud Riverbats | Baseball | Minor League | 2007 | 500 |
| 8/5/07 | Carlos Guillen | Detroit Tigers | Baseball | MLB | 2007 | 7,500 14 and under |
| 8/5/07 | Chris Capuano | Milwaukee Brewers | Baseball | MLB | 2007 | |
| 8/5/07 | Troy Glaus Figurine | Toronto Blue Jays | Baseball | MLB | 2007 | 10,000 |
| 8/5/07 | Marty Markowitz | Brooklyn Cyclones | Baseball | Minor League | 2007 | 2,500 |
| 8/5/07 | Rusty Hook (Bobbletail) (Mascot) | Corpus Christi Hooks | Baseball | Minor League | 2007 | 1,500 12 and under |
| 8/5/07 | Splash (Bobble Belly)(Mascot) | Stockton Ports | Baseball | Minor League | 2007 | |
| 8/6/07 | Quackerjack Figurine (Mascot) | Long Island Ducks | Baseball | Minor League | 2007 | |
| 8/7/07 | Ryan Howard | Reading Phillies | Baseball | Minor League | 2007 | 2,500 18 and over |
| 8/7/07 | Rusty Kath Bobblejaw | St. Paul Saints | Baseball | Minor League | 2007 | |
| 8/8/07 | Rally Rabbi | San Francisco Giants | Baseball | MLB | 2007 | |
| 8/10/07 | Ferguson Jenkins | Texas Rangers | Baseball | MLB | 2007 | |
| 8/10/07 | Trot Nixon | Lynchburg Hillcats | Baseball | Minor League | 2007 | |
| 8/10/07 | Randy Knorr | Potomac Nationals | Baseball | Minor League | 2007 | 1,000 |
| 8/10/07 | Rocco Baldelli | Princeton Devilrays | Baseball | Minor League | 2007 | |
| 8/10/07 | Anibal Sanchez | Wilmington BlueRocks | Baseball | Minor League | 2007 | 1,000 |
| 8/11/07 | Cookie Rojas | Kansas City Royals | Baseball | MLB | 2007 | 20,000 |
| 8/11/07 | "Joe Cool" Snoopy | San Francisco Giants | Baseball | MLB | 2007 | 10,000 |
| 8/11/07 | Chipper Jones | Asheville Tourists | Baseball | Minor League | 2007 | 500 |
| 8/11/07 | Caroline (Mascot) | Charlotte Knights | Baseball | Minor League | 2007 | |
| 8/11/07 | Joe Mauer/Justin Morneau Double | Fort Myers Miracle | Baseball | Minor League | 2007 | |
| 8/11/07 | James Denton (Desperate Housewives) | Orange County Flyers | Baseball | Minor League | 2007 | |
| 8/12/07 | Craig Biggio "3000 Hits" Bronze Statuette | Houston Astros | Baseball | MLB | 2007 | 10,000 |
| 8/12/07 | Kevin Costner (Crash Davis Pose from Bull Durham) | Asheville Tourists | Baseball | Minor League | 2007 | 500 |
| 8/12/07 | Prince Fielder | Beloit Snappers | Baseball | Minor League | 2007 | 500 |
| 8/12/07 | Astronaut | New Hampshire Fishercats | Baseball | Minor League | 2007 | 2,000 |
| 8/12/07 | GoGurt Fizzix Guy | St. Paul Saints | Baseball | Minor League | 2007 | |
| 8/14/07 | "Broadway" Charlie Wagner Figurine | Reading Phillies | Baseball | Minor League | 2007 | 2,000 21 and over |
| 8/15/07 | Aramis Ramirez | Chicago Cubs | Baseball | MLB | 2007 | 10,000 |
| 8/15/07 | Cole Hamels | Reading Phillies | Baseball | Minor League | 2007 | 2,000 14 and under |
| 8/15/07 | Tyler Clippard (No-Hitter) | Trenton Thunder | Baseball | Minor League | 2007 | 2,000 6 and over |
| 8/16/07 | Chipper Jones Bronze Statuette | Atlanta Braves | Baseball | MLB | 2007 | 15,000 |
| 8/16/07 | Willie Randolph | Brooklyn Cyclones | Baseball | Minor League | 2007 | 2,500 |
| 8/17/07 | Harvey Kuenn | Milwaukee Brewers | Baseball | MLB | 2007 | |
| 8/17/07 | Raul Ibañez | Seattle Mariners | Baseball | MLB | 2007 | 25,000 |
| 8/17/07 | Bo Jackson Dual Figurine (Baseball,Football) | Birmingham Barons | Baseball | Minor League | 2007 | |
| 8/17/07 | Wanda (Newspaper Lady) | Chattanooga Lookouts | Baseball | Minor League | 2007 | |
| 8/17/07 | John Stearns | Princeton Devilrays | Baseball | Minor League | 2007 | |
| 8/17/07 | Brian McCann Statuette | Rome Braves | Baseball | Minor League | 2007 | 1,000 |
| 8/18/07 | Empire Today Man | Chicago Cubs | Baseball | MLB | 2007 | 10,000 |
| 8/18/07 | Rocco Baldelli Figurine | Tampa Bay Devil Rays | Baseball | MLB | 2007 | 12,000 |
| 8/18/07 | Abe Lincoln | Washington Nationals | Baseball | MLB | 2007 | 15,000 |
| 8/18/07 | Heater (Mini) (Mascot) | Bakersfield Blaze | Baseball | Minor League | 2007 | |
| 8/18/07 | Mark Saccomanno | Corpus Christi Hooks | Baseball | Minor League | 2007 | 2,500 |
| 8/18/07 | Bob L. Head | Portland Beavers | Baseball | Minor League | 2007 | 2,000 |
| 8/18/07 | Doc Edwards | San Angelo Colts | Baseball | Minor League | 2007 | 1,000 |
| 8/18/07 | "Fireman" Gnate (Mascot) | Savannah Sandgnats | Baseball | Minor League | 2007 | 1,000 |
| 8/18/07 | Phil Rizzuto Bronze Statuette | Tampa Yankees | Baseball | Minor League | 2007 | 250 |
| 8/18/07 | Dave Bresnahan | Williamsport Crosscutters | Baseball | Minor League | 2007 | 1,000 |
| 8/18/07 | Judy Johnson | Wilmington BlueRocks | Baseball | Minor League | 2007 | 1,000 |
| 8/19/07 | Gary Gaetti | Minnesota Twins | Baseball | MLB | 2007 | 10,000 |
| 8/19/07 | Mark Grace | Iowa Cubs | Baseball | Minor League | 2007 | 2,000 |
| 8/20/07 | Lee Mazzilli | Brooklyn Cyclones | Baseball | Minor League | 2007 | 2,500 |
| 8/20/07 | Jeff Bagwell Bronze Statuette | Greeneville Astros | Baseball | Minor League | 2007 | |
| 8/20/07 | Brandon Moss | Portland Seadogs | Baseball | Minor League | 2007 | 1,000 |
| 8/21/07 | Chris Ray | Aberdeen Ironbirds | Baseball | Minor League | 2007 | Season Ticket Holders |
| 8/21/07 | Bud Harrelson | Long Island Ducks | Baseball | Minor League | 2007 | 1,500 |
| 8/21/07 | Crazy Hot Dog Vendor | Reading Phillies | Baseball | Minor League | 2007 | |
| 8/21/07 | Brian Urlacher | Schaumburg Flyers | Baseball | Minor League | 2007 | |
| 8/21/07 | Red Schoendienst Figurine | Springfield Cardinals | Baseball | Minor League | 2007 | 2,500 |
| 8/21/07 | George Brett | Wilmington BlueRocks | Baseball | Minor League | 2007 | 1,000 |
| 8/22/07 | Marty/Thom Brennaman Double | Cincinnati Reds | Baseball | MLB | 2007 | 40,000 |
| 8/22/07 | Juan Pierre | Asheville Tourists | Baseball | Minor League | 2007 | |
| 8/22/07 | Jeremy Sowers | Buffalo Bisons | Baseball | Minor League | 2007 | 4,000 |
| 8/22/07 | Nomar Garciaparra | Las Vegas 51s | Baseball | Minor League | 2007 | 2,500 |
| 8/22/07 | Jeff Giuliano | Nashua Pride | Baseball | Minor League | 2007 | 2,000 |
| 8/22/07 | George McGovern (Former Presidential Candidate) | Sioux Falls Canaries | Baseball | Minor League | 2007 | |
| 8/23/07 | Nick Markakis | Bowie Baysox | Baseball | Minor League | 2007 | |
| 8/23/07 | Johnny Pesky | Lowell Spinners | Baseball | Minor League | 2007 | 1,000 |
| 8/24/07 | Lou Seal "Oktoberfest" (Mascot) | San Francisco Giants | Baseball | MLB | 2007 | |
| 8/24/07 | Mark Buehrle | Birmingham Barons | Baseball | Minor League | 2007 | 1,000 |
| 8/24/07 | John Kruk | Las Vegas 51s | Baseball | Minor League | 2007 | 2,500 |
| 8/24/07 | Nomar Garciaparra | New Hampshire Fishercats | Baseball | Minor League | 2007 | 2,000 |
| 8/24/07 | Jody Davis | Peoria Chiefs | Baseball | Minor League | 2007 | 1,500 |
| 8/24/07 | Bob L. Head | Swing of the Quad Cities | Baseball | Minor League | 2007 | Donation required |
| 8/25/07 | Mark Grace | Arizona Diamondbacks | Baseball | MLB | 2007 | 35,000 |
| 8/25/07 | Boog Powell | Baltimore Orioles | Baseball | MLB | 2007 | Blood Drive |
| 8/25/07 | Lance Berkman | Houston Astros | Baseball | MLB | 2007 | 10,000 |
| 8/25/07 | Delmon Young Figurine | Tampa Bay Devil Rays | Baseball | MLB | 2007 | 12,000 |
| 8/25/07 | Buzz Aldrin (Astronaut) | Lancaster Jethawks | Baseball | Minor League | 2007 | 1,000 |
| 8/25/07 | Wally Walnut (Mascot) | Modesto Nuts | Baseball | Minor League | 2007 | |
| 8/25/07 | Tom Brokaw (Newsman) | Sioux Falls Canaries | Baseball | Minor League | 2007 | |
| 8/26/07 | Noah (Bible) | Hickory Crawdads | Baseball | Minor League | 2007 | |
| 8/26/07 | Chien-Ming Wang Statue | Trenton Thunder | Baseball | Minor League | 2007 | 2,000 6 and over |
| 8/27/07 | Kyle Evered | Connecticut Defenders | Baseball | Minor League | 2007 | 1,000 |
| 8/27/07 | Bob Wells (On Field Host) | West Michigan Whitecaps | Baseball | Minor League | 2007 | 1,000 |
| 8/28/07 | Mark Ellis | Oakland A's | Baseball | MLB | 2007 | 15,000 |
| 8/28/07 | Johan Santana | Auburn Doubledays | Baseball | Minor League | 2007 | 1,000 |
| 8/28/07 | Carlos Beltran | St. Lucie Mets | Baseball | Minor League | 2007 | 250 |
| 8/28/07 | Sunburn (Mascot) | Traverse City Beach Bums | Baseball | Minor League | 2007 | 500 |
| 8/29/07 | BJ Ryan | Toronto Blue Jays | Baseball | MLB | 2007 | 10,000 |
| 8/29/07 | Nolan Ryan Figurine (Corpus Christi) | Corpus Christi Hooks | Baseball | Minor League | 2007 | 2,500 |
| 8/29/07 | Ryan Zimmerman | Harrisburg Senators | Baseball | Minor League | 2007 | 1,500 |
| 8/29/07 | Jeff Bagwell | Round Rock Express | Baseball | Minor League | 2007 | 3,000 |
| 8/29/07 | Rubble (Mascot) | Wilmington BlueRocks | Baseball | Minor League | 2007 | 1,000 |
| 8/30/07 | Andy Kaye (Radio Newsman) | Las Vegas 51s | Baseball | Minor League | 2007 | 2,000 |
| 8/31/07 | Hanley Ramirez Figurine | Florida Marlins | Baseball | MLB | 2007 | 10,000 |
| 8/31/07 | Pete Vuckovich | Milwaukee Brewers | Baseball | MLB | 2007 | |
| 8/31/07 | Kirby Puckett Bronze Statuette | Minnesota Twins | Baseball | MLB | 2007 | 10,000 |
| 8/31/07 | Erik Bedard | Delmarva Shorebirds | Baseball | Minor League | 2007 | 1,000 |
| 8/31/07 | Joel Zumaya | Erie Seawolves | Baseball | Minor League | 2007 | |
| 8/31/07 | Joe Mauer | New Britain Rockcats | Baseball | Minor League | 2007 | 1,200 12 and under |
| 8/31/07 | Derrek Lee Figurine | Rancho Cucamonga Quakes | Baseball | Minor League | 2007 | |
| 9/1/07 | Teddy Roosevelt | Washington Nationals | Baseball | MLB | 2007 | 15,000 |
| 9/1/07 | Bobble Bark | Charleston Riverdogs | Baseball | Minor League | 2007 | |
| 9/1/07 | Nolan Ryan | Jacksonville Suns | Baseball | Minor League | 2007 | 3,000 |
| 9/1/07 | Mayor John Engen | Missoula Osprey | Baseball | Minor League | 2007 | 750 |
| 9/1/07 | Rico Santana | Rockford Riverhawks | Baseball | Minor League | 2007 | |
| 9/1/07 | Kenny Rogers | Salem Avalanche | Baseball | Minor League | 2007 | |
| 9/1/07 | Chris Young Figurine | Tucson Sidewinders | Baseball | Minor League | 2007 | |
| 9/1/07 | Akinori Iwamura | Vero Beach Devilrays | Baseball | Minor League | 2007 | 200 |
| 9/2/07 | Yadier Molina | Palm Beach Cardinals | Baseball | Minor League | 2007 | |
| 9/3/07 | Vernon Wells Figurine | Lansing Lugnuts | Baseball | Minor League | 2007 | |
| 9/4/07 | Jose Reyes | St. Lucie Mets | Baseball | Minor League | 2007 | 250 |
| 9/5/07 | Derrek Lee | Chicago Cubs | Baseball | MLB | 2007 | 10,000 |
| 9/6/07 | Joe Smith | Brooklyn Cyclones | Baseball | Minor League | 2007 | 2,500 |
| 9/6/07 | Kenny Rogers | West Michigan Whitecaps | Baseball | Minor League | 2007 | 1,000 |
| 9/7/07 | Brooklyn Bridge | Brooklyn Cyclones | Baseball | Minor League | 2007 | 2,500 |
| 9/8/07 | Conor Jackson | Arizona Diamondbacks | Baseball | MLB | 2007 | 35,000 |
| 9/8/07 | Fred Patek | Kansas City Royals | Baseball | MLB | 2007 | 20,000 |
| 9/8/07 | Roberto Clemente "3000th Hit" Figurine | Pittsburgh Pirates | Baseball | MLB | 2007 | |
| 9/8/07 | Akinori Iwamura Figurine | Tampa Bay Devil Rays | Baseball | MLB | 2007 | 12,000 |
| 9/14/07 | Tom Lasorda | Los Angeles Dodgers | Baseball | MLB | 2007 | 50,000 |
| 9/14/07 | Robin Yount | Milwaukee Brewers | Baseball | MLB | 2007 | |
| 9/15/07 | Travis Hafner | Cleveland Indians | Baseball | MLB | 2007 | |
| 9/15/07 | Carlos Lee (Rancher) | Houston Astros | Baseball | MLB | 2007 | 10,000 |
| 9/15/07 | Michael Cuddyer | Minnesota Twins | Baseball | MLB | 2007 | 10,000 |
| 9/16/07 | Jim Thome | Chicago Whitesox | Baseball | MLB | 2007 | 20,000 |
| 9/16/07 | Spongebob Squarepants Bobster | Cleveland Indians | Baseball | MLB | 2007 | 14 and under |
| 9/19/07 | Yadier Molina | St. Louis Cardinals | Baseball | MLB | 2007 | 25,000 |
| 9/20/07 | John Smoltz Bronze Statuette | Atlanta Braves | Baseball | MLB | 2007 | 15,000 |
| 9/23/07 | Tony LaRussa | St. Louis Cardinals | Baseball | MLB | 2007 | 25,000 |
| 9/26/07 | 90's-00's Logo Man | Pittsburgh Pirates | Baseball | MLB | 2007 | |
| 9/28/07 | Don Money | Milwaukee Brewers | Baseball | MLB | 2007 | |
| 9/28/07 | A.J. Burnett | Toronto Blue Jays | Baseball | MLB | 2007 | 5,000 14 and under |
| 9/30/07 | Rickie Weeks | Milwaukee Brewers | Baseball | MLB | 2007 | |
| 10/20/07 | Colonel Claw'd (Mascot) | Bakersfield Condors | Hockey | ECHL | 2007-2008 | 2,000 |
| 10/24/07 | Ralph Backstrom | Colorado Eagles | Hockey | CHL | 2007-2008 | 2,500 |
| 10/24/07 | Taylor Ellington | Everett Silvertips | Hockey | WHL | 2007-2008 | 1,000 |
| 10/28/07 | Wendel Clark | Toronto Marlies | Hockey | AHL | 2007-2008 | 5,000 |
| 11/9/07 | Greg Oden | Portland Trailblazers | Basketball | NBA | 2007-2008 | 10,000 |
| 11/12/07 | Sidney Crosby | Pittsburgh Penguins | Hockey | NHL | 2007-2008 | |
| 11/14/07 | LeBron James | Cleveland Cavaliers | Basketball | NBA | 2007-2008 | |
| 11/14/07 | Jason Fransoo | Everett Silvertips | Hockey | WHL | 2007-2008 | 1,000 |
| 11/16/07 | Brian Swiniarski | Odessa Jackalopes | Hockey | CHL | 2007-2008 | |
| 11/18/07 | Andrea Bargnani | Toronto Raptors | Basketball | NBA | 2007-2008 | |
| 11/18/07 | Mats Sundin | Toronto Marlies | Hockey | AHL | 2007-2008 | 5,000 |
| 11/23/07 | Keith Tkaczuk Figurine | St. Louis Blues | Hockey | NHL | 2007-2008 | 10,000 |
| 11/24/07 | Marco Emond (Mini) | Colorado Eagles | Hockey | CHL | 2007-2008 | 2,500 |
| 11/24/07 | Wesbanco Buck (Mini) (Mascot) | Wheeling Nailers | Hockey | ECHL | 2007-2008 | 2,500 |
| 11/24/07 | Thomas Greiss | Worcester Sharks | Hockey | AHL | 2007-2008 | 3,000 |
| 11/26/07 | Daniel Briere | Philadelphia Flyers | Hockey | NHL | 2007-2008 | |
| 11/28/07 | Jose Calderon | Toronto Raptors | Basketball | NBA | 2007-2008 | |
| 11/28/07 | Jorge Garbajosa | Toronto Raptors | Basketball | NBA | 2007-2008 | |
| 11/28/07 | Rod Brind'Amour Figurine | Carolina Hurricanes | Hockey | NHL | 2007-2008 | 10,000 |
| 11/30/07 | Justin Pogge | Toronto Marlies | Hockey | AHL | 2007-2008 | 5,000 |
| 12/1/07 | Mike Sillinger (Mini) | New York Islanders | Hockey | NHL | 2007-2008 | 10,000 |
| 12/3/07 | Luol Deng | Chicago Bulls | Basketball | NBA | 2007-2008 | |
| 12/3/07 | T.J. Ford | Toronto Raptors | Basketball | NBA | 2007-2008 | |
| 12/3/07 | Mark Recchi (500 Goals) | Pittsburgh Penguins | Hockey | NHL | 2007-2008 | |
| 12/5/07 | Zach Hamill | Everett Silvertips | Hockey | WHL | 2007-2008 | 1,000 |
| 12/7/07 | Dwight Howard Figurine | Orlando Magic | Basketball | NBA | 2007-2008 | |
| 12/8/07 | Les Borsheim (Mini) | Colorado Eagles | Hockey | CHL | 2007-2008 | 2,500 |
| 12/9/07 | Steve Thomas | Toronto Marlies | Hockey | AHL | 2007-2008 | 5,000 |
| 12/12/07 | Leland Irving | Everett Silvertips | Hockey | WHL | 2007-2008 | 1,000 |
| 12/15/07 | Devil Dawg (Birthday) (Mascot) | Lowell Devils | Hockey | AHL | 2007-2008 | |
| 12/21/07 | Rashard Lewis | Orlando Magic | Basketball | NBA | 2007-2008 | |
| 12/21/07 | Sergio Rodriguez | Portland Trailblazers | Basketball | NBA | 2007-2008 | 10,000 |
| 12/21/07 | David Krejci | Providence Bruins | Hockey | AHL | 2007-2008 | |
| 12/22/07 | Santa Claus(Mini) | Wheeling Nailers | Hockey | ECHL | 2007-2008 | 2,500 |
| 12/26/07 | Barrett Jackman Figurine | St. Louis Blues | Hockey | NHL | 2007-2008 | 10,000 |
| 12/27/07 | Doug Gilmour | Toronto Marlies | Hockey | AHL | 2007-2008 | 5,000 |
| 12/28/07 | Cam Ellsworth | Stockton Thunder | Hockey | ECHL | 2007-2008 | 1,000 12 and under |
| 12/28/07 | Brad Williamson (Mini) | Colorado Eagles | Hockey | CHL | 2007-2008 | 2,500 |
| 12/29/07 | Mo Williams | Milwaukee Bucks | Basketball | NBA | 2007-2008 | |
| 12/29/07 | Paul Rosebush Bronze Statuette | Bakersfield Condors | Hockey | ECHL | 2007-2008 | |
| 1/4/08 | Darcy Tucker | Toronto Marlies | Hockey | AHL | 2007-2008 | 5,000 |
| 1/5/08 | Erik Johnson Figurine | St. Louis Blues | Hockey | NHL | 2007-2008 | 10,000 |
| 1/5/08 | Rich Peverley | Milwaukee Admirals | Hockey | AHL | 2007-2008 | 5,000 |
| 1/6/08 | Pau Gasol Figurine | Memphis Grizzlies | Basketball | NBA | 2007-2008 | |
| 1/12/08 | Joe Zelek (Mini) | Wheeling Nailers | Hockey | ECHL | 2007-2008 | 2,500 |
| 1/18/08 | Tyson Chandler | New Orleans Hornets | Basketball | NBA | 2007-2008 | 10,000 |
| 1/19/08 | Ben Gordon | Chicago Bulls | Basketball | NBA | 2007-2008 | |
| 1/19/08 | Michael Redd | Milwaukee Bucks | Basketball | NBA | 2007-2008 | |
| 1/19/08 | Bill Guerin (Mini) | New York Islanders | Hockey | NHL | 2007-2008 | 10,000 |
| 1/19/08 | Joe Thornton | Worcester Sharks | Hockey | AHL | 2007-2008 | 3,000 |
| 1/21/08 | Christmas Thunder (Mascot) | Golden State Warriors | Basketball | NBA | 2007-2008 | Holiday website promotion |
| 1/22/08 | Ray Whitney Figurine | Carolina Hurricanes | Hockey | NHL | 2007-2008 | 10,000 |
| 1/25/08 | Channing Frye | Portland Trailblazers | Basketball | NBA | 2007-2008 | 10,000 |
| 1/26/08 | Al Montoya | Hartford Wolfpack | Hockey | AHL | 2007-2008 | 5,000 |
| 1/27/08 | Ryan Getzlaf | Calgary Hitmen | Hockey | WHL | 2007-2008 | |
| 1/29/08 | Dick Van Arsdale | Phoenix Suns | Basketball | NBA | 2007-2008 | 8,000 |
| 1/29/08 | Blades Bear (Mascot) | Boston Bruins | Hockey | NHL | 2007-2008 | |
| 1/29/08 | Peter Mueller | Everett Silvertips | Hockey | WHL | 2007-2008 | 1,000 |
| 1/30/08 | Raptor (Mascot) | Toronto Raptors | Basketball | NBA | 2007-2008 | |
| 2/2/08 | Doug Weight Figurine | St. Louis Blues | Hockey | NHL | 2007-2008 | 10,000 |
| 2/2/08 | Craig Bushey Figurine | Huntsville Havoc | Hockey | SPHL | 2007-2008 | 1,000 |
| 2/2/08 | Tyler Fleck | Oklahoma City Blazers | Hockey | CHL | 2007-2008 | 2,500 |
| 2/2/08 | Jesse Bennefield | Stockton Thunder | Hockey | ECHL | 2007-2008 | 1,000 12 and under |
| 2/4/08 | Nick Collison | Seattle Supersonics | Basketball | NBA | 2007-2008 | |
| 2/7/08 | Evgeni Malkin | Pittsburgh Penguins | Hockey | NHL | 2007-2008 | |
| 2/9/08 | Andrew Bogut | Milwaukee Bucks | Basketball | NBA | 2007-2008 | |
| 2/9/08 | Twister (Mascot) | Cincinnati Cyclones | Hockey | ECHL | 2007-2008 | |
| 2/9/08 | Stanley (Mascot) | New Mexico Scorpions | Hockey | CHL | 2007-2008 | 1,500 |
| 2/10/08 | Charles Barkley | Phoenix Suns | Basketball | NBA | 2007-2008 | |
| 2/11/08 | Valentine Thunder (Mascot) | Golden State Warriors | Basketball | NBA | 2007-2008 | Holiday website promotion |
| 2/15/08 | Nate Thompson | Providence Bruins | Hockey | AHL | 2007-2008 | |
| 2/15/08 | Scorch (Mascot) | Trenton Devils | Hockey | ECHL | 2007-2008 | 2,000 |
| 2/16/08 | Rick DiPietro (Mini) | New York Islanders | Hockey | NHL | 2007-2008 | 10,000 |
| 2/18/08 | Freddie Falcon (Mascot) | Fresno Falcons | Hockey | ECHL | 2007-2008 | |
| 2/19/08 | Kevin Durant | Seattle Supersonics | Basketball | NBA | 2007-2008 | |
| 2/19/08 | Eric Staal Figurine | Carolina Hurricanes | Hockey | NHL | 2007-2008 | 10,000 |
| 2/19/08 | Jordan Staal | Pittsburgh Penguins | Hockey | NHL | 2007-2008 | |
| 2/21/08 | Brandon Roy | Portland Trailblazers | Basketball | NBA | 2007-2008 | 10,000 |
| 2/22/08 | Rudy Gay Figurine | Memphis Grizzlies | Basketball | NBA | 2007-2008 | |
| 2/22/08 | Ryan Suter | Milwaukee Admirals | Hockey | AHL | 2007-2008 | 5,000 |
| 2/23/08 | Yutaka Fukufuji | Bakersfield Condors | Hockey | ECHL | 2007-2008 | 2,000 12 and under |
| 2/23/08 | Riley Nelson (Mini) | Colorado Eagles | Hockey | CHL | 2007-2008 | 2,500 |
| 2/23/08 | Craig Stahl | Columbus Cottonmouths | Hockey | SPHL | 2007-2008 | 1,000 ladies |
| 2/23/08 | Sean Collins (Mini) | Wheeling Nailers | Hockey | ECHL | 2007-2008 | 2,500 |
| 2/24/08 | Storm (Mascot) | Bridgeport Soundtigers | Hockey | AHL | 2007-2008 | |
| 2/24/08 | Clay Plume | Rocky Mountain Rage | Hockey | CHL | 2007-2008 | 1,000 |
| 2/24/08 | Thomas Kaberle | Toronto Marlies | Hockey | AHL | 2007-2008 | 5,000 |
| 2/29/08 | Carey Price | Hamilton Bulldogs | Hockey | AHL | 2007-2008 | |
| 3/1/08 | Manny Legace Figurine | St. Louis Blues | Hockey | NHL | 2007-2008 | 10,000 |
| 3/1/08 | Dominic Leveille | Odessa Jackalopes | Hockey | CHL | 2007-2008 | |
| 3/1/08 | Hawkey (Mascot) | Port Huron Icehawks | Hockey | IHL | 2007-2008 | 500 |
| 3/5/08 | Tracy McGrady Figurine | Houston Rockets | Basketball | NBA | 2007-2008 | 10,000 |
| 3/6/08 | Random Season Ticket | Minnesota Twins | Baseball | Major League | 2008 | 500 |
| 3/7/08 | Kevin Johnson | Phoenix Suns | Basketball | NBA | 2007-2008 | |
| 3/8/08 | Rickie Weeks | Milwaukee Brewers | Baseball | Major League | 2008 | |
| 3/8/08 | Kyle Lowry Figurine | Memphis Grizzlies | Basketball | NBA | 2007-2008 | |
| 3/8/08 | Jeff Giuliano | Manchester Monarchs | Hockey | AHL | 2007-2008 | |
| 3/9/08 | Bob Lanier | Milwaukee Bucks | Basketball | NBA | 2007-2008 | |
| 3/12/08 | Kevin Garnett | Boston Celtics | Basketball | NBA | 2007-2008 | 5,000 |
| 3/14/08 | Chauncey Billups | Detroit Pistons | Basketball | NBA | 2007-2008 | |
| 3/14/08 | Chris Wilcox | Seattle Supersonics | Basketball | NBA | 2007-2008 | |
| 3/14/08 | Tony Hrkac | Milwaukee Admirals | Hockey | AHL | 2007-2008 | 5,000 |
| 3/15/08 | Chorizo (Mascot) | Milwaukee Brewers | Baseball | Major League | 2008 | |
| 3/15/08 | Fitness Thunder (Mascot) | Golden State Warriors | Basketball | NBA | 2007-2008 | Holiday website promotion |
| 3/15/08 | Tom Chambers | Phoenix Suns | Basketball | NBA | 2007-2008 | |
| 3/15/08 | Nate Kiser | South Carolina Stingrays | Hockey | ECHL | 2007-2008 | |
| 3/15/08 | Brian Lee | Stockton Thunder | Hockey | ECHL | 2007-2008 | 1,000 12 and under |
| 3/15/08 | Ben Ondrus | Toronto Marlies | Hockey | AHL | 2007-2008 | 5,000 |
| 3/16/08 | Cam Ward Figurine | Carolina Hurricanes | Hockey | NHL | 2007-2008 | 10,000 |
| 3/21/08 | Steve Blake | Portland Trailblazers | Basketball | NBA | 2007-2008 | 10,000 |
| 3/21/08 | Chubby (Mascot) | Charlotte Checkers | Hockey | ECHL | 2007-2008 | |
| 3/22/08 | Puckhead (Mascot) | Rockford IceHogs | Hockey | AHL | 2007-2008 | 1,000 |
| 3/22/08 | Charles "Moondog" Waldrum (Mini) | Wheeling Nailers | Hockey | ECHL | 2007-2008 | 2,500 |
| 3/26/08 | Random Season Ticket | Minnesota Twins | Baseball | Major League | 2008 | 500 |
| 3/26/08 | Steve Saviano | Florida Everblades | Hockey | ECHL | 2007-2008 | 2,500 |
| 3/28/08 | Random 1982 Series Bobbles | Milwaukee Brewers | Baseball | Major League | 2008 | 500 |
| 3/28/08 | Kareem Abdul-Jabbar | Milwaukee Bucks | Basketball | NBA | 2007-2008 | |
| 3/28/08 | Dennis Bonvie Bobblegloves | Wilkes-Barre Scranton Penguins | Hockey | AHL | 2007-2008 | 6,000 |
| 3/29/08 | Paul Kariya Figurine | St. Louis Blues | Hockey | NHL | 2007-2008 | 10,000 |
| 3/29/08 | Matt O'Dette | Fresno Falcons | Hockey | ECHL | 2007-2008 | |
| 3/30/08 | Chris Bosh | Toronto Raptors | Basketball | NBA | 2007-2008 | |
| 4/4/08 | Russell Martin | Las Vegas 51s | Baseball | Minor League | 2008 | 2,500 |
| 4/4/08 | Steve Buckhantz/Phil Chenier Double | Washington Wizards | Basketball | NBA | 2007-2008 | 8,000 |
| 4/4/08 | Tuukka Rask | Providence Bruins | Hockey | AHL | 2007-2008 | |
| 4/4/08 | Matt Harneisen (Mini) | Reading Royals | Hockey | ECHL | 2007-2008 | 2,500 |
| 4/5/08 | Ernie Broglio Bronze Statuette | Stockton Ports | Baseball | Minor League | 2008 | 1,000 |
| 4/5/08 | Alexander Ovechkin | Washington Capitals | Hockey | NHL | 2007-2008 | 15,000 |
| 4/5/08 | Stephen Gionta (Mini) | Lowell Devils | Hockey | AHL | 2007-2008 | |
| 4/5/08 | Phil Wittliff | Milwaukee Admirals | Hockey | AHL | 2007-2008 | 3,500 |
| 4/6/08 | Prince Fielder | Milwaukee Brewers | Baseball | Major League | 2008 | |
| 4/6/08 | Chris Paul | New Orleans Hornets | Basketball | NBA | 2007-2008 | 10,000 |
| 4/6/08 | LaMarcus Aldridge | Portland Trailblazers | Basketball | NBA | 2007-2008 | 10,000 |
| 4/8/08 | Carlos Lee Figurine | Houston Astros | Baseball | Major League | 2008 | |
| 4/8/08 | Patriotic Thunder (Mascot) | Golden State Warriors | Basketball | NBA | 2007-2008 | Holiday website promotion |
| 4/8/08 | Peja Stojakovic | New Orleans Hornets | Basketball | NBA | 2007-2008 | |
| 4/9/08 | Luis Scola | Houston Rockets | Basketball | NBA | 2007-2008 | |
| 4/9/08 | Kevin Bertram | Fort Wayne Komets | Hockey | IHL | 2007-2008 | 1,000 |
| 4/11/08 | Manny Sanguillen | Pittsburgh Pirates | Baseball | Major League | 2008 | |
| 4/11/08 | Pedro Powell | Lynchburg Hillcats | Baseball | Minor League | 2008 | 1,000 |
| 4/11/08 | Ryan Howard/Jimmy Rollins Double | Reading Phillies | Baseball | Minor League | 2008 | |
| 4/12/08 | Hunter Pence | Houston Astros | Baseball | Major League | 2008 | |
| 4/12/08 | Sidney Moncrief | Milwaukee Bucks | Basketball | NBA | 2007-2008 | |
| 4/12/08 | Duke the Dog (Mascot) | Toronto Marlies | Hockey | AHL | 2007-2008 | 5,000 |
| 4/13/08 | Mayor Tim Murray | Worcester Sharks | Hockey | AHL | 2007-2008 | 3,000 |
| 4/14/08 | Alvan Adams | Phoenix Suns | Basketball | NBA | 2007-2008 | |
| 4/16/08 | Squeeze (Mascot) | Vero Beach Rays | Baseball | Minor League | 2008 | 200 |
| 4/17/08 | Mike Scioscia | Los Angeles Angels of Anaheim | Baseball | Major League | 2008 | |
| 4/18/08 | Derrek Lee | Chicago Cubs | Baseball | Major League | 2008 | 10,000 |
| 4/18/08 | Pat Burrell | Clearwater Threshers | Baseball | Minor League | 2008 | |
| 4/18/08 | Jay Bruce Figurine | Louisville Bats | Baseball | Minor League | 2008 | |
| 4/18/08 | Cameron Maybin/Gorkys Hernandez Double | West Michigan Whitecaps | Baseball | Minor League | 2008 | |
| 4/19/08 | Micah Owings | Arizona Diamondbacks | Baseball | Major League | 2008 | |