National Bobblehead Day
January 7th
What? National Bobblehead Day (#NationalBobbleheadDay) is an annual official holiday that was developed by the National Bobblehead Hall of Fame and Museum (@BobbleheadHall)
When? Every year on January 7th. The first National Bobblehead Day was celebrated on Wednesday, January 7, 2015
Why? Because bobbleheads are awesome
Where? Everywhere

Who? Everyone can celebrate! See below for some suggestions!
For Fans and Collectors...
- Post your favorite bobblehead related pictures on social media using #NationalBobbleheadDay
- Watch social media and your email to see how your favorite teams and retailers are celebrating National Bobbehead Day. You can win great prizes and be the first to find out about upcoming bobbleheads
- Follow the National Bobblehead HOF & Museum (@BobbleheadHall) on Instagram, Twitter and Facebook for promotions and announcements
- Become a Member of the National Bobblehead Hall of Fame and Museum
- Encourage your favorite teams to participate in #NationalBobbleheadDay.
- Bring treats to the office and showcase your amazing bobblehead display
- Wish all of your bobbleheads, friends and family a Happy National Bobblehead Day
Follow us on Social Media for Updates, Contests, Promotions and more:

Twitter and Instagram: @bobbleheadhall
Facebook: www.facebook.com/bobbleheadhall
Instagram: @bobbleheadhall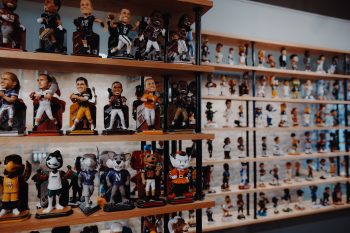 For Teams, Retailers and Manufacturers...
Be creative and engage your fans...
Below are a few ways to celebrate National
Bobblehead Day!
- Social media posts and contests across all social media platforms using #NationalBobbleheadDay and tagging the National Bobblehead HOF & Museum @BobbleheadHall
- Online and in-store discounts on bobbleheads and bobblehead-related merchandise
- Bobblehead scavenger hunt
- Revealing of future bobbleheads
- Special offers on bobblehead-related ticket packages
- Bobblehead celebration to give away bobbleheads, bring people into the team store and/or to encourage ticket purchases. Free or discounted bobbleheads, and a bobblehead cake could be used to bring in customers
- Bobblehead grab bags where fans buy a grab bag and get a random bobblehead
- Get feedback from fans about what bobbleheads they would like to see
- Arrange for media interviews to talk about your team's bobbleheads (and other promotions)
It's a new year and National Bobblehead Day is a great way to clean out some old bobbleheads and get fans excited about upcoming bobbleheads
Has your team never done a bobblehead? This would be a great way to find out what bobbleheads your fans would like to see. We would love to help your team create amazing bobbleheads!