Purdue World's Largest Drum Bobblehead Unveiled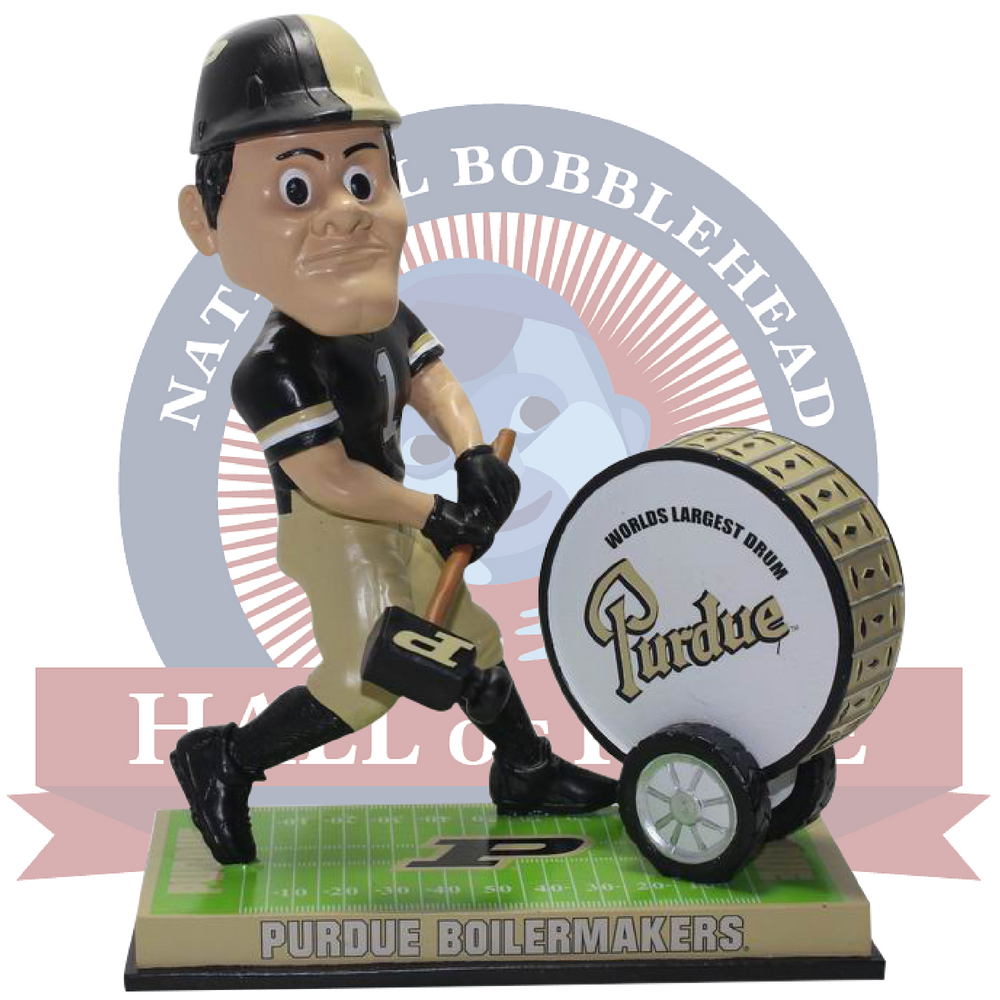 Limited Edition Bobblehead featuring Purdue Pete beating the World's Largest Drum now available exclusively from the National Bobblehead HOF and Museum.
MILWAUKEE, Wi., August 24, 2018 – This morning, the National Bobblehead Hall of Fame and Museum unveiled an officially licensed, limited-edition Bobblehead featuring Purdue Pete beating Purdue's World's Largest Drum. Since 1921, Purdue's Big Bass Drum has been a symbol of pride for the University and one of the best traditions in college sports. This is the first bobblehead to incorporate the historic drum.
The bobbleheads, which are individually numbered to only 1,000, are $40 each plus a flat rate shipping charge of $8 per order. The officially licensed bobblehead was produced exclusively for the National Bobblehead Hall of Fame and Museum by FOCO.
The World's Largest Drum has a storied history that makes it one of the best tradition in college sports. In 1921, Purdue University Marching Band Director, Paul Spotts Emrick, came up with the idea to have a bass drum bigger than any other in the world which would be taller than those who played it, would excite Purdue fans and bring worldwide attention to the band and university. Since then, the drum has been the center of Purdue's "All-American" Marching Band on the football field as Purdue fans watch the band crew run it across the field making it "dance" by twirling it in a circular motion. The drum also sounds off for every touchdown, and its crew does push-ups corresponding to the number of points Purdue has scored. Over the years, the drum has experienced many adventures and even been "drum-napped" by Indiana University students. Another tradition is to invite famous people to hit the drum and sign its heads.
For more than 50 years, the Purdue Band has been engaged in a friendly, but heated controversy with the University of Texas over who really has the biggest drum. In 1961, members of Purdue's Kappa Kappa Psi band fraternity challenged their Texas fraternity brothers to a drum showdown at the fraternity's national convention in Wichita, Kansas. Purdue kept its promise, but Texas students failed to bring their drum, leading the Purdue students to declare their drum to be the "World's Largest Drum." Since then, the exact measurements have been kept secret to preserve the mystique surrounding it.
"The Purdue Drumline and the World's Largest Drum are among the best traditions in sports, and we're confident Purdue fans are going to love this bobblehead symbolizing this tradition," said Phil Sklar, Co-Founder and CEO of the National Bobblehead Hall of Fame and Museum. "This bobblehead will become a cherished collectible that is passed down to future generations of Boilermakers."
About the National Bobblehead Hall of Fame and Museum:
The National Bobblehead Hall of Fame and Museum is finishing set-up of its permanent location, which is expected to open this Fall. The HOF and Museum was announced in November 2014 and hosted a Preview Exhibit in 2016.  The HOF and Museum also produces high quality, customized bobbleheads for organizations, individuals and teams across the country. Visit us at www.BobbleheadHall.com, www.facebook.com/BobbleheadHall or www.twitter.com/BobbleheadHall.
About FOCO:
Previously known as Team Beans, LLC and Forever Collectibles, FOCO is a leading manufacturer of sports and entertainment merchandise celebrating more than 17 years in the industry. The company's ever-growing product lines include apparel, accessories, toys, collectibles, novelties, footwear, holiday and more. FOCO is licensed with all major sports leagues including the NFL, MLB, NBA, NHL, NASCAR, MLS and over 100 colleges and universities as well as entertainment properties such as Disney, Warner Bros/DC Comics, Nickelodeon and Sanrio. Please reach out to Matthew Katz, Licensing Manager, mkatz@foco.com for more information.