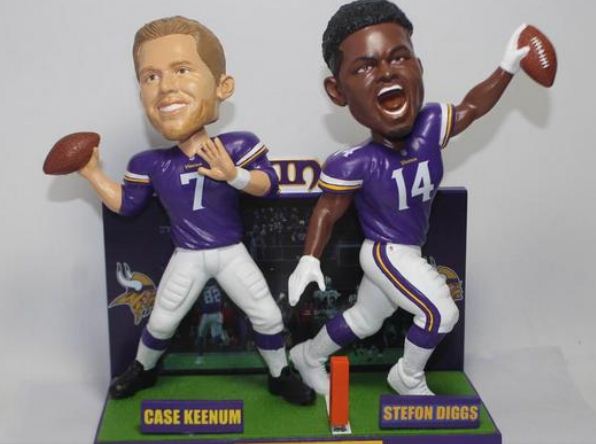 Last January, Minnesota Vikings wide receiver Stefon Diggs caught a pass for the winning touchdown as the game clock expired. The pass and catch against the New Orleans Saints, has been dubbed the "Minneapolis Miracle" — and now it's a bobblehead.
The National Bobblehead Hall of Fame has announced it's releasing 1,000 bobbleheads — actually 1,000 double-bobbleheads, since it depicts both Diggs and quarterback Case Keenum — to commemorate the play and game. The cost is $68 which includes shipping and handling.
If you want to buy one click here.
The Diggs catch sent Minnesota fans into a week-long euphoria and raised hopes for a home-field Super Bowl. It didn't happen, though: The Philadelphia Eagles crushed the Vikings in the NFC Championship game the next week and went on to win the 2018 Super Bowl. There are bobbleheads of that, too.
The bobbleheads are manufactured by New Jersey-based Forever Collectibles.