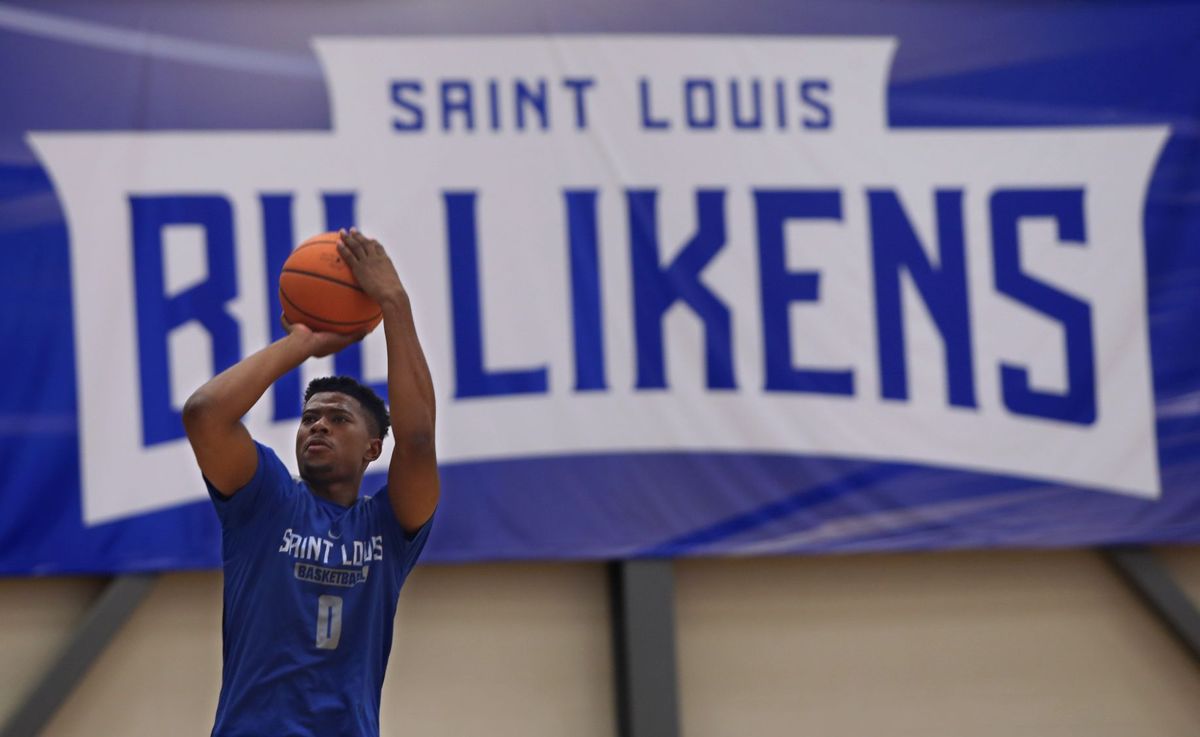 With Travis Ford's words, I was curious about impetus. Has the SLU coach had recent talks with his team about going forward, representing their school away from the court?
"We're always doing that," Ford shared Friday. "That's always topics of conversations. After practice every day. We come together, we talk about leaving the court, we pray together and part of that is always (about) — protect our team on and off the court, make good decisions. We talk to our team about stuff like that every single day."
Whatever comes from the sexual assault allegations against four SLU players — and Ford couldn't comment on them — his words carry extra weight now. Without playing one game, this is a team in flux. SLU may or may not have suspended players. Ford doesn't have a starting lineup yet. His best player, his prized player, Jordan Goodwin, suffered a scary injury 10 minutes into his first practice. They thought Achilles tendon. Was just a strain.
But continuity could be this team's Achilles heel, if the coach and leaders can't bring these guys together.
This could be the most rewarding SLU season in a while, but it could also be the most alarming, depending on how things go.
I was pleased that SLU opened its doors to the media Friday, for the first time this preseason. Ford was open to talking about his team, and gave the media a chance to watch practice. Ford couldn't share much, but at least he wasn't hiding from the questions looming above his program.
This has been an unsettling fall for college basketball, in various degrees, from St. Louis to Louisville and, really, from coast to coast.
Of course, the FBI probe has put assistant coaches behind bars. And it ended the tenure of a legend. Coincidentally, it was Ford's college coach.
"You hurt for those guys, absolutely — and you don't want to step out and start judging when I don't know everything that's going on," Ford said Friday, referring to Rick Pitino, unceremoniously ousted this month.
Numerous other schools have been investigated by the FBI. The Oklahoman newspaper reported that a New York grand jury subpoena has demanded documents from Oklahoma State back to 2014, when Ford was its coach.
The coach didn't speak directly about that, but said that he's "read a little bit about" what's going on with his old program in the news.
And on Friday, news broke that the North Carolina men's basketball team wouldn't be punished, even though decades of players were enrolled in a shady class that seemingly assured passing grades for minimal work.
In fact, some of the term papers were about as long as the previous paragraph.
Just another reminder that the governing and accountability of college basketball are as unpredictable as its famous tournament.
On Sept. 11, if you'd asked 100 smart baseball people,100 smart baseball people would've said the Indians were better than the Yankees. Cleveland was in the midst of its 22-game winning streak.