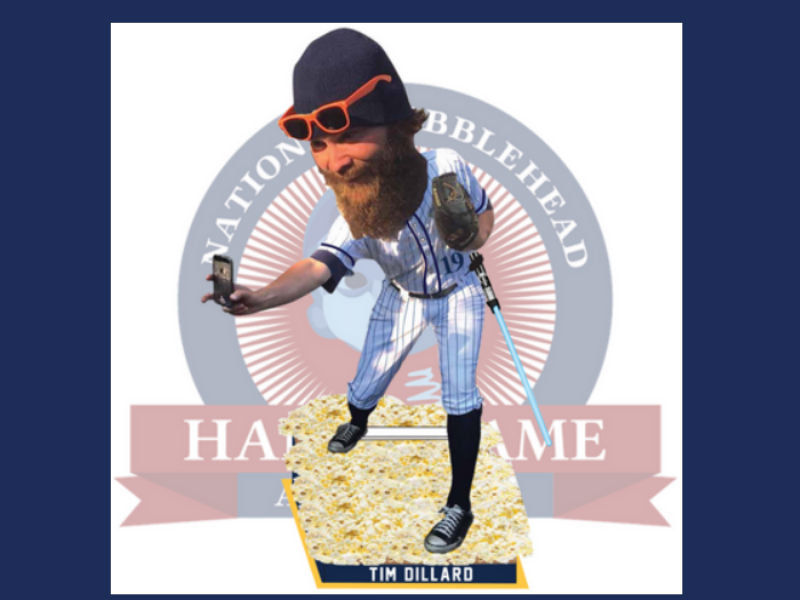 Tim Dillard is a relief pitcher in the Milwaukee Brewers organization. He has spent most of his 15-year baseball career in the minor leagues, though he's accumulated 84 big-league innings over four seasons with Milwaukee, going 1-4 with a 4.70 ERA.
Tim Dillard is also (finally) getting his own bobblehead.
Surprised? You shouldn't be. The honor, bestowed on him by the National Bobblehead Hall of Fame – which is located in Milwaukee – isn't for Dillard's baseball success. It's for his zany, creative and delightfully entertaining off-field (and social media) persona.
The charismatic Dillard, who was interviewed by OnMilwaukee during Brewers Spring Training in March, and offered us his many outstanding impressions, is perhaps the funniest man in baseball.
The sidesplitting side-armer – who calls himself a Four-A pitcher and is not only fully self-aware, but also openly grateful for the opportunities he's had in his career – is well-known in the minors and beloved by fans for his off-field ventures, from his playful broadcast stints to his epic Dubsmash videos, his famous impressions to his incomparable Twitter account.
In September of 2016, the Brewers, referring to him as a relief pitcher and semi-amateur comedian, called up Dillard to become a temporary member of their social media team. At the end of the 2017 season, Dillard helped create this amazing compilation video for the MiLB Network, chronicling the Colorado Springs Sky Sox's campaign – particularly their off-field hijinks and hilarity.
And now, thankfully, Dillard is being properly commemorated with his own bobblehead, in which he sports his trademark huge beard and sunglasses and is throwing a cell phone instead of a baseball.
According to the Hall of Fame, the bobbleheads are individually numbered, high-quality and produced exclusively for Dillard and expected to ship in December. The doll is currently on pre-sale for $25, and, according to Dillard, part of the proceeds will go to charity.