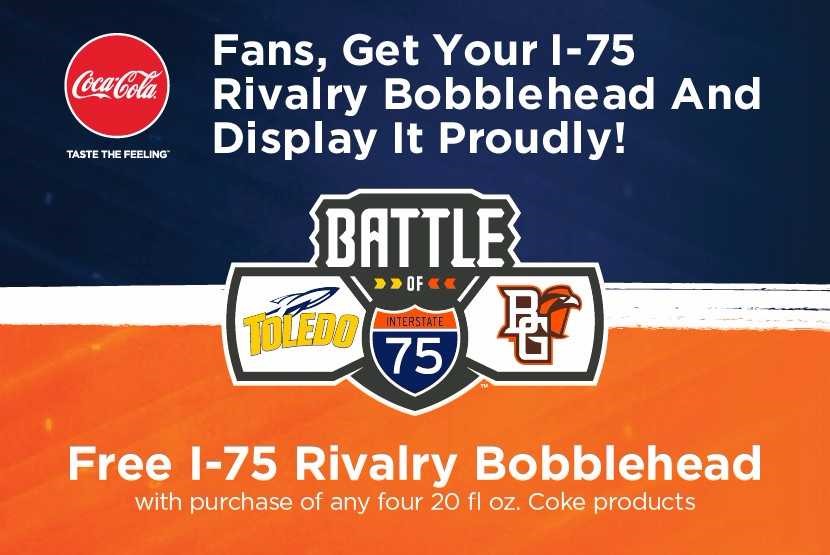 TOLEDO, Ohio – The I-75 Rivalry between the University of Toledo and Bowling Green State University just got a little more…bobbly?
Coca-Cola is sponsoring an I-75 Rivalry Bobblehead promotion for the second year. Customers can get a free Rocky the Rocket and Freddie the Falcon bobblehead with the purchase of any four 20-ounce Coke products. The bobblehead will be available at area Kroger stores and other area retail outlets from now until the big game between the Rockets and the Falcons at Doyt Perry Stadium on Wednesday, Nov. 15 (while supplies last).
A special event to kick off the I-75 Rivalry Bobblehead promotion will be held at the Kroger on Carronade Drive in Perrysburg on Wednesday, Oct. 18 at 6:00 p.m. The mascots from both schools will be there to unveil the combined bobblehead. Also on hand will be the schools' bands, cheerleaders, dance teams, spirit groups and athletic department representatives, as well as representatives from Coca-Cola and Kroger.
"We are very excited to be part of this promotion for the second year," said deputy director of athletics Dave Nottke. "We would like to thank Coca-Cola and Kroger for supporting and promoting this great series."
Toledo (4-1) visits Central Michigan on Saturday, Oct. 14 before returning to the Glass Bowl to host Akron on Saturday, Oct. 21 at noon. Tickets are available at the UT Athletic Ticket Office in Savage Arena, online or by calling 419-530-GOLD (4653).