Governor Andy Beshear Bobblehead with a Cause Unveiled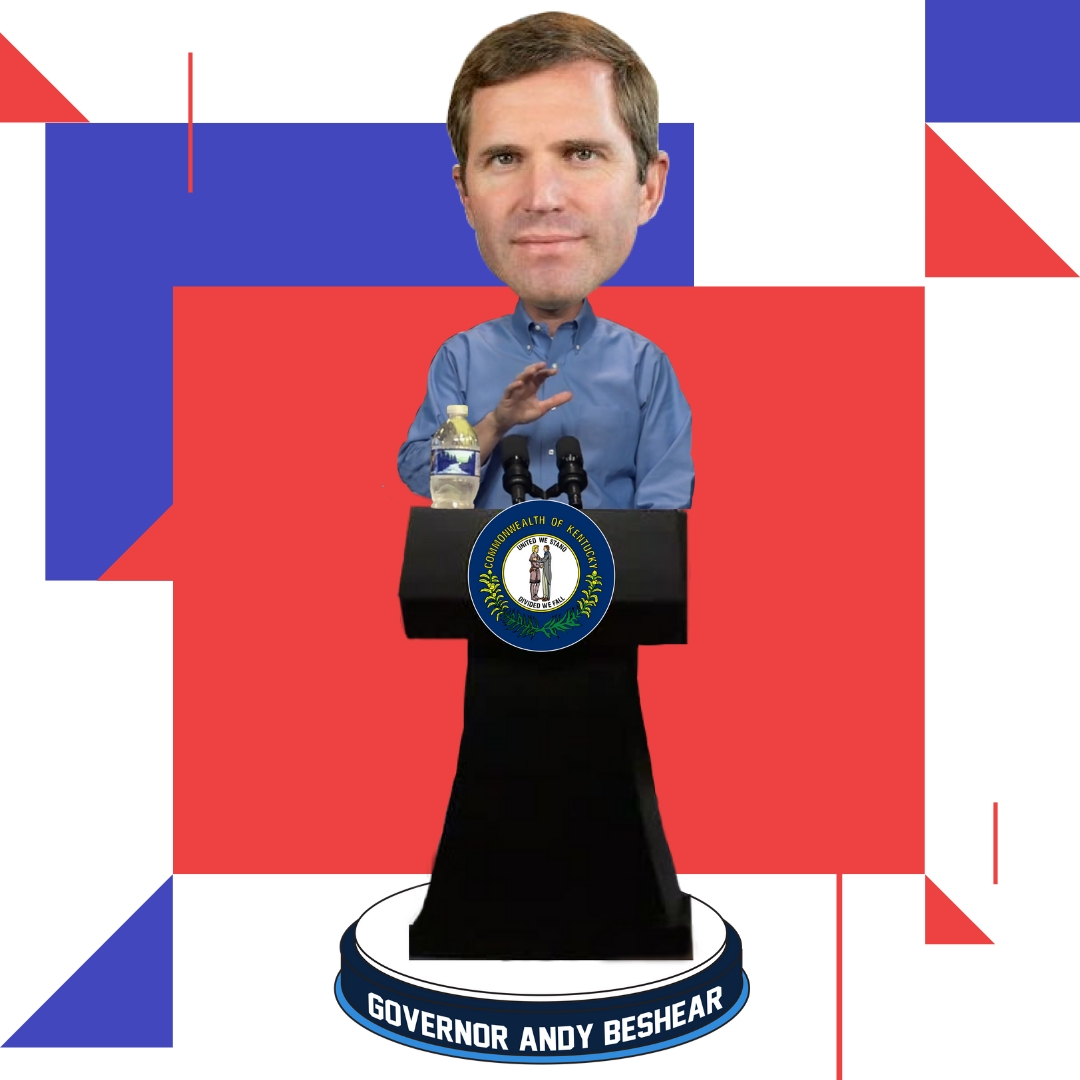 MILWAUKEE – This morning, the National Bobblehead Hall of Fame and Museum unveiled a bobblehead of Kentucky Governor Andy Beshear. The bobblehead is the first of the Bluegrass State's 63rd governor, who assumed office on December 10, 2019. Voted the top-rated governor in the country by a recent U.S. News and World Report poll, Beshear has been giving Kentuckians a briefing on the coronavirus pandemic every day at 5 p.m. His daily Facebook Live briefings typically get more than 300,000 views.
The National Bobblehead Hall of Fame and Museum will be donating $5 from every Governor Beshear Bobblehead sold to the Protect The Heroes fund in support of the 100 Million Mask Challenge, which is the same cause that the Hall of Fame and Museum has raised over $185,000 through the sale of bobbleheads of  Dr. Fauci, Dr. Birx and other Governors.
The bobbleheads are only available through the National Bobblehead Hall of Fame and Museum's Online Store. They are $25 each plus a flat-rate shipping charge of $8 per order and will ship in July. On a base bearing his name, the bobblehead features Beshear standing at a podium as he makes an announcement during a press briefing. The bobblehead of Governor Beshear joins bobbleheads of California Governor Gavin Newsom, New York Governor Andrew Cuomo, Ohio Governor Mike DeWine, Michigan Governor Gretchen Whitmer, Illinois Governor JB Pritzker and Wisconsin Governor Tony Evers.
Born in Louisville, the 42-year-old Beshear is the son of Steve Beshear, the 61st Governor of Kentucky from 2007 to 2015. The younger Beshear served as the 50th Attorney General of Kentucky from 2016 to 2019 after defeating Republican Whitney Westerfield by a margin of 0.2 percent, getting 50.1 percent of the vote to Westerfield's 49.9 percent.
Beshear, who began overseeing the state's response to the COVID-19 pandemic in early March, "has been proactive with his actions to curb the spread and doesn't back down from the unpopular decisions he has to make to steer us through it," according to Shelley Roberts Bendell in an editorial in the Lexington Herald-Leader. On Sunday night, Beshear announced plans for the beginning of Kentucky's gradual Phase 1 health care services and facilities reopening in which restrictions will be eased starting on Monday.
As attorney general, Beshear sued then-Governor Matt Bevin several times over issues such as health care and pensions before challenging and narrowly defeating Bevin in the 2019 gubernatorial election. Beshear, who said he would "make public education a priority" when he announced his candidacy, won by 0.37 percentage points, getting 49.2 percent of the vote to Bevin's 48.8 percent. Beshear fired all 11 members of Kentucky's state education board on his first day in office, all of whom had been appointed by his predecessor, promising a fresh start.
"During these unprecedented times, we want to continue to raise funds for an amazing cause while putting a smile on people's faces with bobbleheads," National Bobblehead Hall of Fame and Museum co-founder and CEO Phil Sklar said. "We received a lot of requests to make a bobblehead of Governor Beshear and other governors who have been instrumental in the continued fight against COVID-19, so we're excited to be releasing his bobblehead today."
About the National Bobblehead Hall of Fame and Museum:
The National Bobblehead Hall of Fame and Museum, which is located at 170 S. 1st. St. in Milwaukee, Wisconsin, opened to the public on February 1st, 2019. The HOF and Museum also produces high quality, customized bobbleheads for retail sale as well as organizations, individuals and teams across the country. Visit us online and on Facebook, Twitter and Instagram.