Governor JB Pritzker and Mayor Lori Lightfoot Bobbleheads with a Cause Unveiled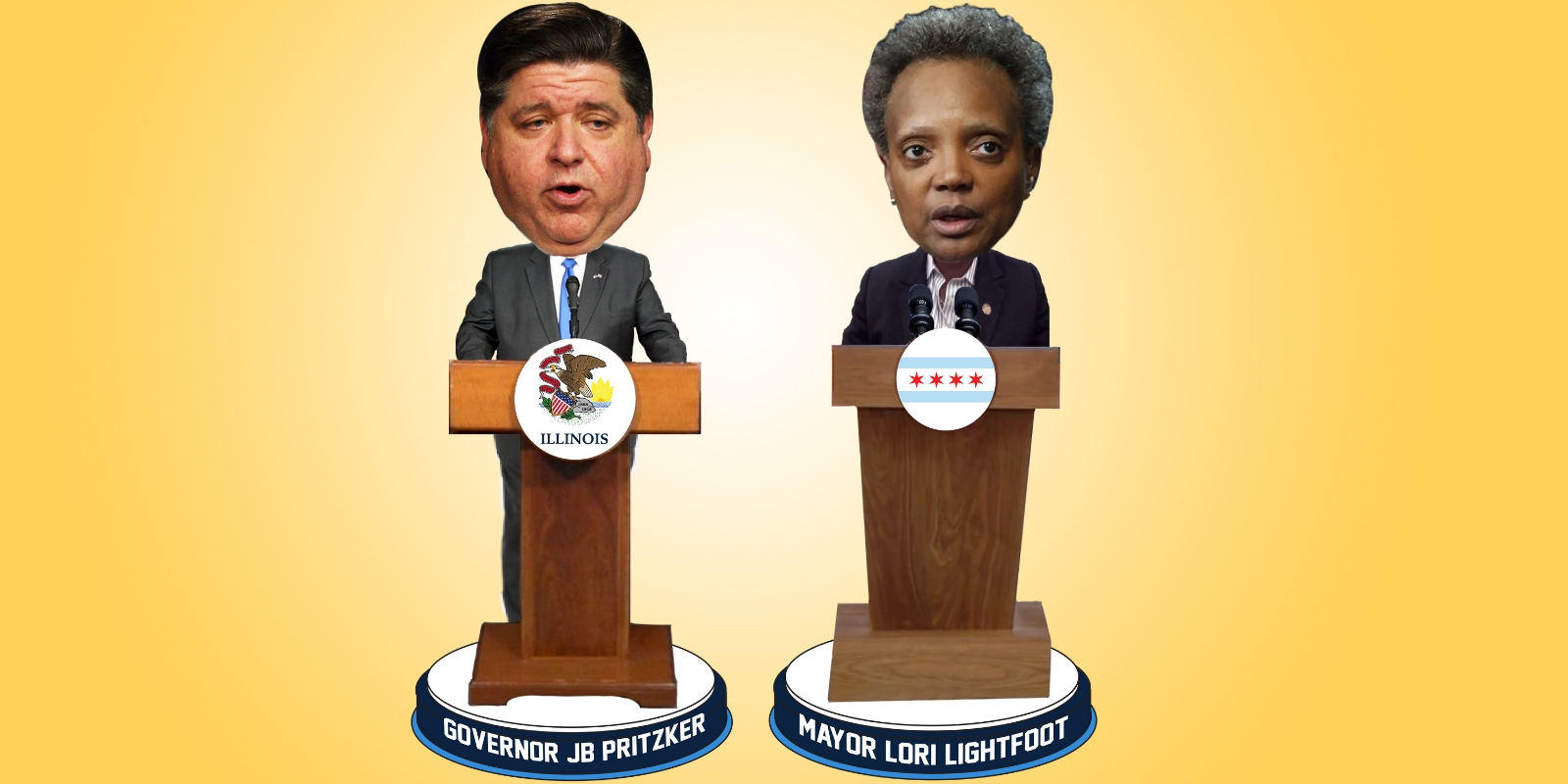 MILWAUKEE – This morning, the National Bobblehead Hall of Fame and Museum unveiled bobbleheads of Illinois Governor JB Pritzker and Chicago Mayor Lori Lightfoot. The bobblehead is the first of the Prairie State's 43rd governor who assumed office on January 14, 2019 and the Chicago's 56th mayor who assumed office on May 20, 2019.
Pritzker has been commended for taking a number of measures to mitigate the COVID-19 pandemic in Illinois, including delivering daily updates to citizens and extending the state's stay-at-home order through the end of May with modifications. Lightfoot has often joined Pritzker during press briefings and has participated in enforcing the state's stay-at-home order, personally partaking in patrolling the city and confronting violators.
The National Bobblehead Hall of Fame and Museum will be donating $5 from every Governor Pritzker and Mayor Lightfoot Bobblehead sold to the Protect The Heroes fund in support of the 100 Million Mask Challenge, which is the same cause that the Hall of Fame and Museum has raised over $185,000 for through the sale of bobbleheads of  Dr. Fauci, Dr. Birx and other Governors.
The bobbleheads are only available through the National Bobblehead Hall of Fame and Museum's Online Store. They are $25 each plus a flat-rate shipping charge of $8 per order and will ship in July.
The 55-year-old Pritzker was the Democratic nominee for Governor of Illinois in the 2018 gubernatorial election and defeated Republican incumbent Bruce Rauner. An outspoken state leader during the coronavirus pandemic, Pritzker issued a state disaster proclamation on March 9. Along with daily news briefings by President Donald Trump and the White House Coronavirus Task Force, Pritzker and other noteworthy governors like Cuomo and Newsom have also provided daily updates. Pritzker's daily briefings begin at 2:30 p.m. and are streamed live by the state of Illinois.
Prior to running to become the Mayor of Chicago, the 57-year-old Lightfoot worked in private legal practice as a partner at Mayer Brown and held various government positions in the city of Chicago. Most notably, she served as president of the Chicago Police Board and chair of the Chicago Police Accountability Task Force. Lightfoot is the first openly gay African-American woman to be elected mayor of a major city in the United States.
The sports-loving mayor has been extremely visible and vocal during the coronavirus pandemic – so much so that Lightfoot-centric Internet memes arose during the COVID-19 outbreak, first gaining popularity in late-March amid Lightfoot's no-nonsense approach to enforcing the state's stay-at-home order. Self-described as the "face of the city" during the pandemic, Lightfoot partnered with Chicago's professional sports teams in early April to launch the "We Are Not Playing" public service announcement campaign.
"During these unprecedented times, we want to continue to raise funds for an amazing cause while putting a smile on people's faces with bobbleheads," National Bobblehead Hall of Fame and Museum co-founder and CEO Phil Sklar said. "We received a lot of requests to make bobbleheads of Governor Pritzker and Mayor Lightfoot and others who have been instrumental in the continued fight against COVID-19, so we're excited to be releasing these bobbleheads today."
About the National Bobblehead Hall of Fame and Museum:
The National Bobblehead Hall of Fame and Museum, which is located at 170 S. 1st. St. in Milwaukee, Wisconsin, opened to the public on February 1st, 2019. The HOF and Museum also produces high quality, customized bobbleheads for retail sale as well as organizations, individuals and teams across the country. Visit us online and on Facebook, Twitter and Instagram.