Governor Gretchen Whitmer Bobblehead with a Cause Unveiled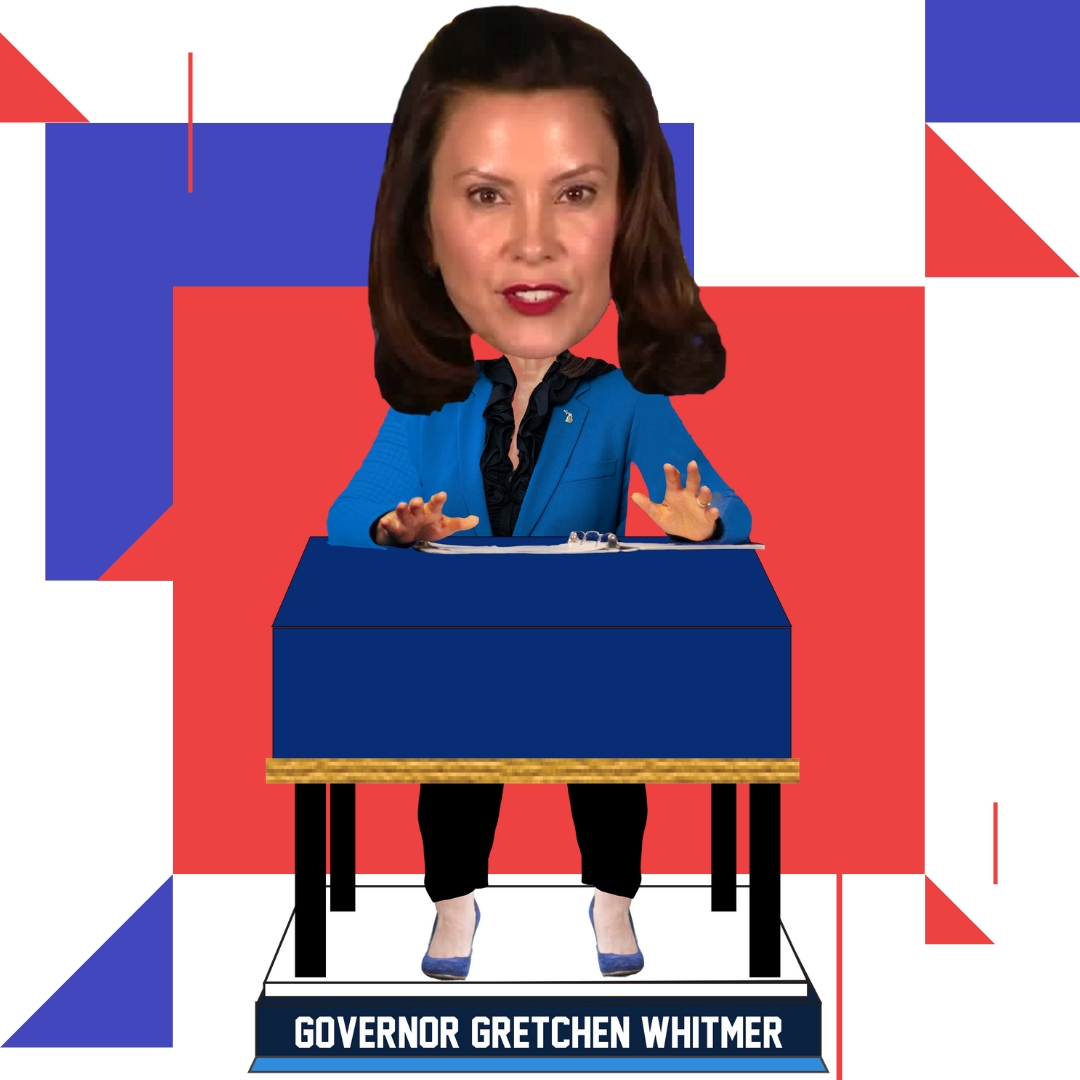 MILWAUKEE – This morning, the National Bobblehead Hall of Fame and Museum unveiled a bobblehead of Michigan Governor Gretchen Whitmer. The bobblehead is the first of the Wolverine State's 49th governor, who assumed office on January 1, 2019. Describing herself as a progressive Democrat who can work with state legislators from different political perspectives, Whitmer issued a stay-at-home order in response to the coronavirus pandemic in March that was met with broad public approval. A poll found that 69 percent of state residents supported her actions, including 61 percent of self-identified Republicans.
The National Bobblehead Hall of Fame and Museum will be donating $5 from every Governor Whitmer Bobblehead sold to the Protect The Heroes fund in support of the 100 Million Mask Challenge, which is the same cause that the Hall of Fame and Museum has raised over $185,000 for through the sale of bobbleheads of  Dr. Fauci, Dr. Birx and other Governors.
The bobbleheads are only available through the National Bobblehead Hall of Fame and Museum's Online Store. They are $25 each plus a flat-rate shipping charge of $8 per order and will ship in July. On a base bearing her name, the bobblehead features Whitmer wearing a blue top and black pants and seated at a table with a binder of notes in front of her as she makes an announcement during a press briefing. The bobblehead of Governor Whitmer joins bobbleheads of California Governor Gavin Newsom, New York Governor Andrew Cuomo, Ohio Governor Mike DeWine, Kentucky Governor Andy Beshear, Illinois Governor JB Pritzker and Wisconsin Governor Tony Evers.
Born and raised in Michigan, the 48-year-old Whitmer was elected governor in the 2018 gubernatorial election, defeating Republican Attorney General Bill Schuette by nearly a 10-point margin, As governor, Whitmer has focused on healthcare and infrastructure with one of her key pledges to "fix the damn roads." In February, she was selected to give the Democratic response to President Donald Trump's State of the Union Address.
Prior to her being elected governor, Whitmer served in the Michigan House of Representatives from 2001 to 2006 and in the Michigan Senate from 2006 to 2015. She was the Senate's first female Democratic leader from 2011 to 2015. After term limits forced her to step down, she was the county prosecutor for Ingham County for six months in 2016.
With Michigan having the third-most coronavirus cases in the nation, Whitmer extended the stay-at-home order and tightened restrictions in April. Despite a majority of residents approving of the extension, it was met by a protest on April 15 and again on April 30 at the Michigan State Capitol. However, the family of the first child to die of COVID-19 in Michigan expressed support for Whitmer's decision to extend the stay-at-home order, and noted that social distancing would save lives.
"During these unprecedented times, we want to continue to raise funds for an amazing cause while putting a smile on people's faces with bobbleheads," National Bobblehead Hall of Fame and Museum co-founder and CEO Phil Sklar said. "We received a lot of requests to make a bobblehead of Governor Whitmer and other governors who have been instrumental in the continued fight against COVID-19, so we're excited to be releasing her bobblehead today."
About the National Bobblehead Hall of Fame and Museum:
The National Bobblehead Hall of Fame and Museum, which is located at 170 S. 1st. St. in Milwaukee, Wisconsin, opened to the public on February 1st, 2019. The HOF and Museum also produces high quality, customized bobbleheads for retail sale as well as organizations, individuals and teams across the country. Visit us online and on Facebook, Twitter and Instagram.