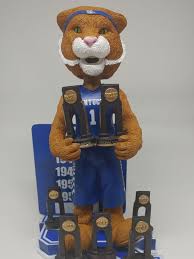 LEXINGTON, Ky. – A limited edition Kentucky Wildcats basketball bobblehead made available Tuesday sold out in less than an hour, Phil Sklar, CEO of the National Bobblehead Hall of Fame and Museum, said.
A second version of the bobblehead, which has eight replica trophies and a commemorative backing listing the years of Kentucky's championships, will be produced and is offered via presale. 
The memorabilia item is part of a series released last month for basketball programs with multiple national titles. A production hitch delayed the Kentucky bobblehead, and fans bought them ($40 each) at a record pace when they became available. By comparison, Sklar said, the Louisville Cardinals bobblehead sold out in a week and the Kansas Jayhawks version is still available.
"It shows the passion fans have for basketball in the Bluegrass," Sklar said.
Only 216 UK bobbleheads were produced. One was kept for the National Bobblehead Hall of Fame and Museum collection, one will go to the College Basketball Hall of Fame in Kansas City, one will be donated to UK and a few kept for press samples. The rest were sold.