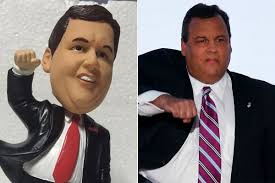 Chris Christie now officially a bobblehead by Nick Vadala
Chris Christie may be "livid" that Donald Trump passed over him for his vice presidential pick, but the New Jersey governor will nonetheless be immortalized forever following the 2016 campaign.
In bobblehead form, that is.
The National Bobblehead Hall of Fame and Museum this week released its official Chris Christie bobblehead, just in time for the start of the Republican National Convention in Cleveland. At a cost of $20.16, the limited edition figurine is currently available for pre-sale online with shipping expected in August.
"Our political line of bobbleheads has been well received, and aside from the ones we created initially, the most requested was Chris Christie," says NBHFM CEO Phil Sklar, adding that Christie is an "interesting character."
The NBHFM also offers bobbleheads of Bernie Sanders, Hillary Clinton, Donald Trump, Marco Rubio, Ted Cruz, and others. But the creative process — for Christie, anyway — wasn't without its hiccups, thanks to Trump's vice presidential selection.
"The bobblehead process takes about 90 days from design to delivery," says Sklar. "So when we started the process, it was when Trump became the presumptive nominee. Christie was the one who everyone said was going to be the vice presidential pick."
Trump, of course, ultimately went with Indiana Gov. Mike Pence, but that didn't faze the NBHFM. As part of the manufacturing process, they left a labeling space blank that would later allow them to apply a sticker reading "Trump/Christie 2016" or just "Chris Christie," depending on Trump's decision.
"It's kind of like when teams get T-shirts made in championships before the game," Sklar says.
Now, with Trump's pick made, Christie's bobblehead simply reads "Chris Christie," with no mention of his former potential running mate.
Christie, the Weekly Standard reports, was "livid" last week after finding out that Trump had selected Pence as his vice president. In that case, a reporter appears to have heard Trump campaign manager Paul Manafort confirm as much during a meeting at a hotel in Cleveland over the weekend.
On Monday, Christie praised Trump's selection of Pence in an address to delegates from Michigan at the Republican National Convention.
"I am really relieved that Donald Trump picked a governor to be his running mate," Christie said Monday. "We don't need another big mouth from Congress, quite frankly."