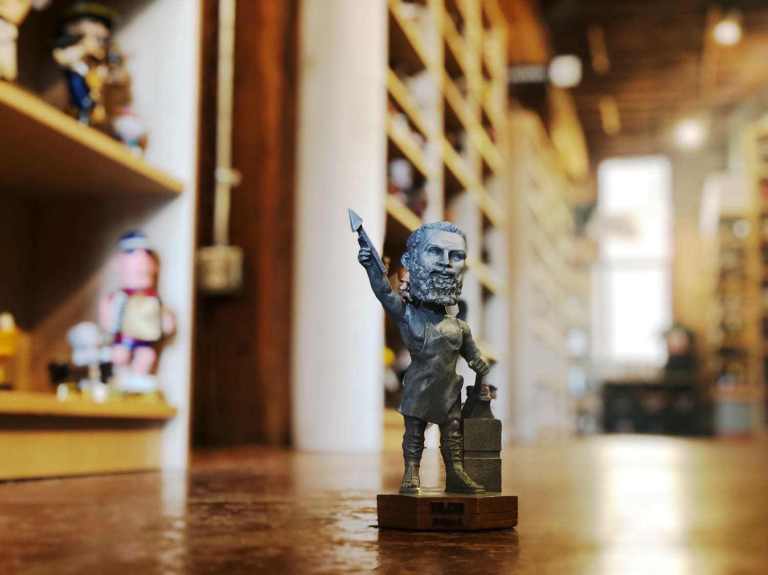 Written by: Pat Byington
Touring Milwaukee, Wisconsin anytime soon? Skip, the Miller and PBR brewery tours. The first place you should visit is the new National Bobblehead Hall of Fame and Museum's and its newest occupant – Birmingham's own Bobblehead Vulcan.
According to the folks at the Vulcan Park and Museum, our Vulcan – the symbol of the city, has joined the ranks of celebrity bobbleheads such as Lebron James, the cast of the Big Bang Theory and Game of Thrones, and countless baseball, football, basketball and sports mascots bobbleheads.
Now the big question is…. do any of the "Hall of Fame" bobbleheads have have bobblebuns like our Vulcan?
The Hall of Fame
The Magic City's beloved Vulcan can now be found at the newly opened museum, located in the heart of Milwaukee. The museum, which opened in February 2019, was formed when two friends, Phil Sklar and Brad Novak turned their hobby into a passion. For over a decade, they collected bubbleheads and have now created the largest bobblehead collection in the world with 6,500 bobbleheads.
In addition to the expansive collection and variations of bobbleheads, visitors can see the dozens of exhibits related to the history of bobbleheads, making of bobbleheads and more. There is also a store onsite that features bobbleheads and merchandise.
Add to your "bucket list"
Add the Bobblehead Hall of Fame to your bucket list. Visit bobbleheadhall.com for more information regarding this one-of-a-kind museum.
Meanwhile, if you can't make it to Milwaukee take home a Hall of Famer -Bobblehead Vulcan – whose permanent residence is at "The Anvil" the Vulcan Park and Museum's gift shop.