Written by: Mike Harrington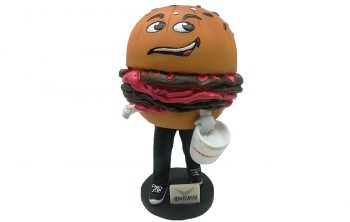 We've already seen Beef on Weck on the run at Buffalo Bisons games — and several of his opponents get, ahem, salty with the results.
Now fans can see him bobble as well as part of (716) Day in Western New York.
The Beef on Weck bobblehead, holding its trademark bucket of horseradish sauce, will be given out to the first 2,000 fans at the Swan Street Gate Tuesday at Sahlen Field. Gates open at 6 p.m. for the Bisons' 7:05 game against the Charlotte Knights.
The bobblehead will celebrate Beef on Weck's victory last season as a rookie in the Wing, Cheese & Carrot Race. Weck won 19 races, edging Chicken Wing by two wins
Bleu Cheese enters this homestand leading this season's race with 10 victories, followed by Chicken Wing (9), Atomic Wing and Carrot (6 each), and Weck with 3. Fish Fry, a new character brought in only on (what else?) Friday nights, has won all three of its races since its debut last month.
Charles Roesch, aka "Charlie the Butcher," will throw the ceremonial first pitch Tuesday. Fans can receive a free Beef on Weck slider if they purchase a Beef on Weck stuffed mascot doll in the gift shop.
The Weck giveaway starts a big bobblehead week at the ballpark. The Bisons will be giving away Vladimir Guerrero Jr. dolls on Sunday for the 1:05 p.m. game against Columbus, the finale of their seven-game homestand.