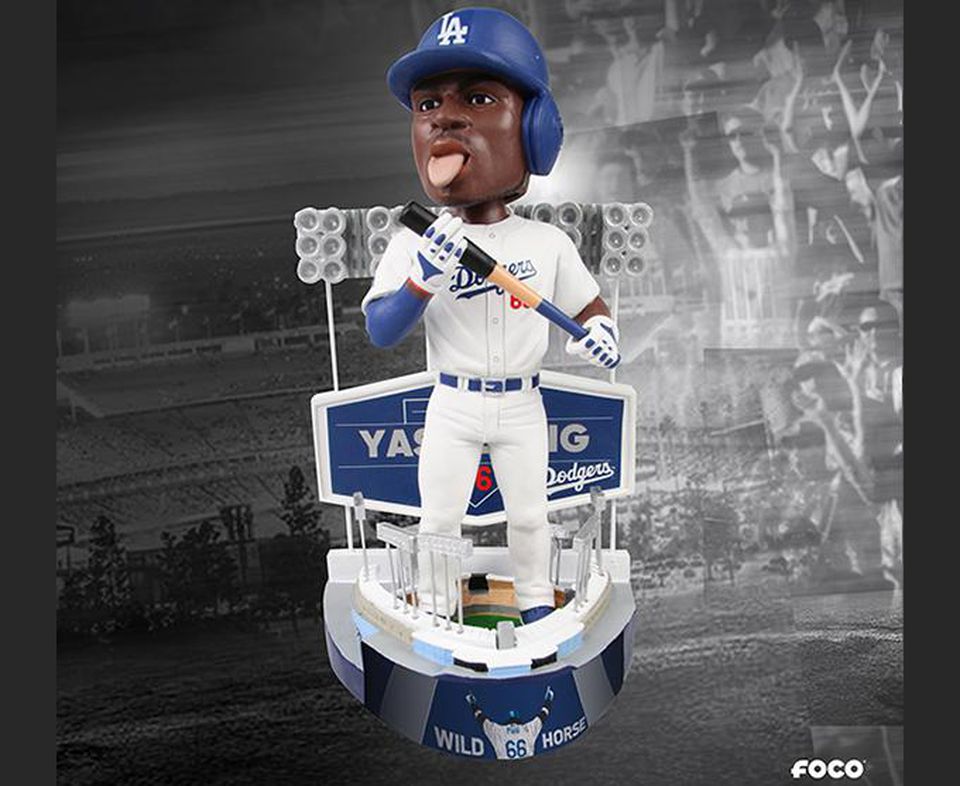 Remember those days when you got a bobblehead doll at the ballpark that looked nothing like the player being depicted? You know, the ones that made the first Cristiano Ronaldo bust look like Michelangelo's David?
Bobbleheads have come a long way. And if you're not only a Los Angeles Dodgers fan, but a baseball fan who loves the art of the bobblehead, well Forever Collectibles, FOCO has something for you.
Yes, you can now get a Yasiel Puig bat-licking bobblehead standing with the backdrop of Dodger Stadium and the (wait for it)… name "Wild Horse" nickname adorned on the collectible. The bobblehead stands 8 inches tall, and I'm sure that fans of the unwritten rules of the game will say, "This bobblehead deserves to get beaned in the head the next time he's in the batter's box."
"Yasiel Puig is one of the most charismatic players in baseball, and that was on display when he started his bat-licking ritual", said Matthew Katz, licensing manager at FOCO. "It also coincided with an exciting playoff run for Los Angeles, so we figured this bobble would be a hit for Dodgers fans everywhere."
The good thing for those living outside of the Los Angeles area that want to get their hands on one, you'll be able to purchase one for $39.99 plus $7.95 shipping and handling. The bad thing is, like forcing a batter into the box, it may take a while for it to arrive at your doorstep. Pre-orders will have a target delivery date of July, which from the looks of the standings may actually be a point where the Dodgers are in contention for leading the NL West (somewhere Vin Scully is cursing at me for that one).
Fear not, bobbleheads will continue to be part of promos at Major and Minor League ballparks around the country for free. But, the question remains… will it be as cool as this one?