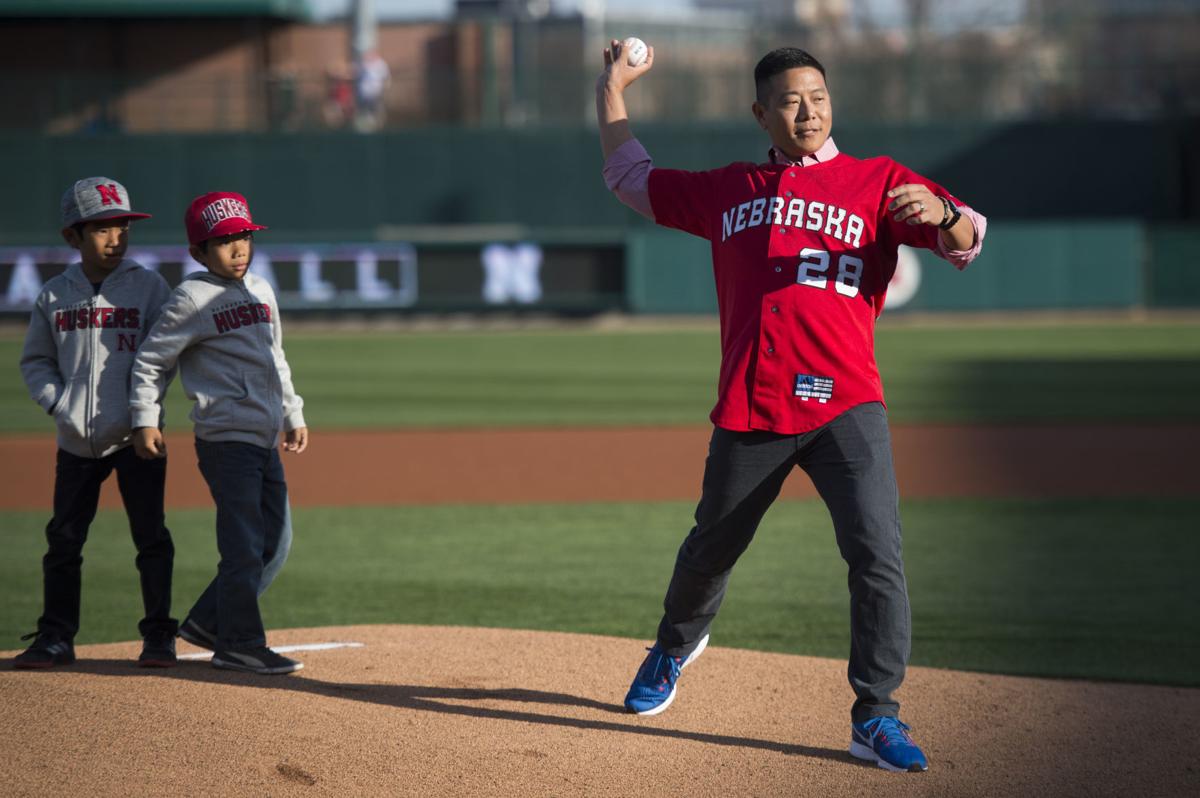 The feats were legendary then, and they've only grown with time.
Throwing 162 pitches in a complete-game shutout of Rice in a 2001 super regional. Winning two games in the 2002 super regional against Richmond. Getting his jaw broken by a line drive in a 2000 regional game, then pitching a week later in the super regional with his jaw wired shut.
Shane Komine has long been considered one of Nebraska's great competitors, regardless of sport. A pillar of the Huskers' rise from doormat to national power from 1999-2002, the right-hander with the nasty 12-to-6 curveball remains one of NU's most popular athletes.
The Hawaiian Punchout was back in Lincoln on Friday night, throwing out the first pitch at Haymarket Park as 1,000 miniature versions of him were handed out on Shane Komine bobblehead night.
"It's a huge honor," Komine said before the game. "I'm humbled by it, and I hope that more players get the opportunity in the future and we keep building this collection of bobbleheads."
On the mound where he finished his career 21-0 at home, Komine didn't look much different from his playing days. He easily fit into his original red jersey, brought out of storage for the occasion.
The arm that threw so many big pitches for NU didn't have quite the same pop, but with his sons standing behind him on the mound he delivered his pitch to a standing ovation as his old music, the theme from "Hawaii Five-O" played over the loudspeakers.
"I was telling everybody I was going to break off another 12-to-6 curveball," Komine joked. "But I don't know if my arm will let me do that. So as long as I can get it over, I'll be happy."
It was the first time Komine had been in Lincoln since 2010, when he returned to finish up his final semester of college after a fractured wrist ended his professional career while he was playing in the Dominican Republic.
He played professionally for eight seasons, making four major league appearances over 2006 and 2007 with the Oakland Athletics after being picked in the ninth round of the 2002 MLB Draft.
Komine's love for his alma mater remains. A message from a NU athletic department staffer started the process in the winter, and Komine eagerly made the trip from his home in Maui with his wife, two sons and parents.
A native of Honolulu, Komine now works as director of banquets for the Grand Wailea resort in the town of Kihei in south Maui. His wife's family lives on the island as well. His parents are a short hop away by airplane.