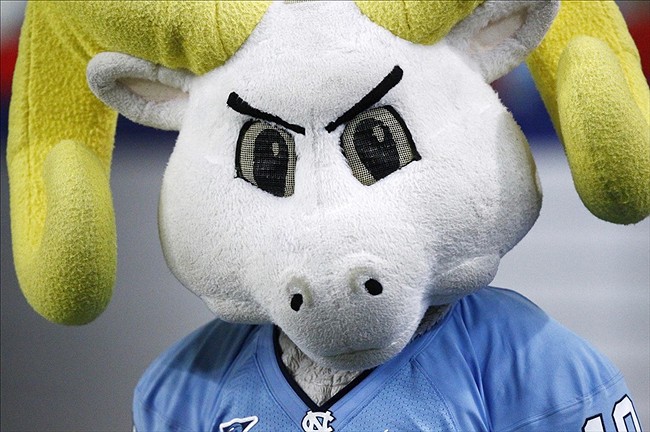 A new UNC bobblehead has hit the market and it's perfect for Tar Heels fans
For those of you that love to collect University of North Carolina memorabilia, there's a new item that needs to be on your wish list.
The North Carolina Tar Heels basketball team has a rich history, winning five national championships and a title pre-tournament.
History is all around the Tar Heels from coaches like Dean Smith to Roy Williams. Players such as Phil Ford, Lennie Rosenbluth, Michael Jordan, James Worthy, Vince Carter, Tyler Hansbrough and more.
Now fans can celebrate the Tar Heels rich history in a special way.
The guys at the Bobblehead Hall of Fame have created special bobbleheads for NCAA schools featuring mascots. Each mascot is holding the program's titles they have won over the years.
For a school like UNC, putting that many titles on a bobblehead seemed hard but they found a way with Rameses :
You can purchase yours now for $40 from the official Bobblehead Hall of Fame by clicking this link.
The Bobblehead Hall of Fame is currently being constructed and is set to open in 2017 near the Milwaukee area. When completed, the Hall of Fame will have the largest collection of bobbleheads in the world.
While UNC doesn't generally give out bobbleheads too often at sporting events, they have begun to do so more lately.
During the 2016 baseball season, they handed out a Andrew Miller and Matt Harvey bobbleheads at separate home games. Then earlier in December, they held a giveaway for a Roy Williams bobblehead:
Will we see more? Be on the lookout and don't forget to grab your UNC bobblehead on sale now from the Bobblehead Hall of Fame.