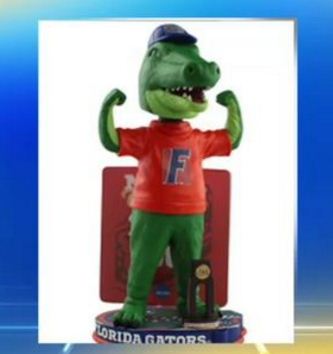 Gators Bobblehead Unveiled By News4Jax.com Staff
MILWAUKEE, Wi – The National Bobblehead Hall of Fame and Museum has unveiled a series of 11 new bobbleheads commemorating NCAA Men's Basketball National Championships for 11 Division 1 Schools. Each school's bobblehead is individually numbered to only 216, and are only available on the National Bobblehead HOF and Museum's website (https://store.bobbleheadhall.com/products/collegebasketballchamps).
These mark the first bobbleheads to commemorate each school's championships. Each bobblehead features the school's current mascot with replica NCAA National Championship trophies as well as a backing that lists the years of each school's championships. The NCAA has crowned a Men's Basketball National Champion since 1939, with only 15 teams winning multiple championships.
The schools produced in this series include: North Carolina Tar Heels (5 Championships), Connecticut Huskies (4), Louisville Cardinals (3), Kansas Jayhawks (3), Villanova Wildcats (2), North Carolina State Wolfpack (2), Michigan State Spartans (2), Oklahoma State Cowboys (2), San Francisco Dons (2), Cincinnati Bearcats (2) and Florida Gators (2). The only schools with multiple championships not produced in this series were Indiana, which doesn't have a mascot, UCLA and Duke, due to licensing issues, and Kentucky, due to a production delay.
"As college basketball fans, we thought these bobbleheads would be the perfect way for fans to commemorate their favorite school's championships," said Phil Sklar, Co-Founder and CEO of the National Bobblehead Hall of Fame and Museum. "With the holidays here and the college basketball season heating up, we are excited to be releasing them now."
"We designed these to be the ultimate memento for each of the school's biggest fans," said National Bobblehead Hall of Fame and Museum Co-Founder and President, Brad Novak. "These will be cherished collectibles that bring back great memories of Championship seasons."
The bobbleheads, which are officially licensed, are in stock and ship now. The bobbleheads are $40 each, with flat rate shipping of $8. All orders placed by December 19th are guaranteed to arrive in time for Christmas.