NDSU Bison Eight-Time College Football Champions Bobblehead Unveiled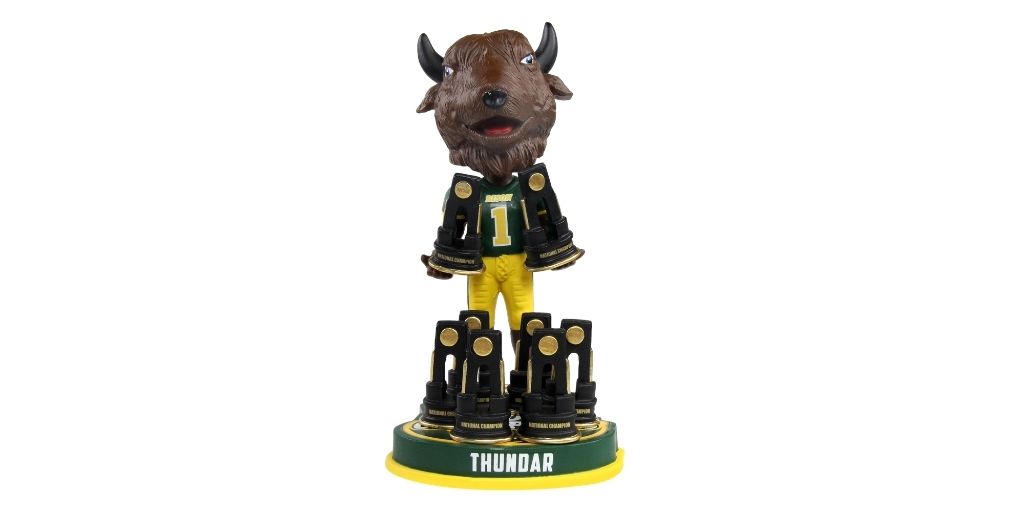 MILWAUKEE – This morning, the National Bobblehead Hall of Fame and Museum unveiled an officially licensed, limited-edition bobblehead commemorating North Dakota State's eight College Football National Championships. The bobblehead features NDSU Bison mascot, Thundar, who is holding two championship trophies while standing behind six additional trophies. The base of the bobblehead says "Thundar" and has the NDSU 2019 National Champions logo. The bobbleheads were produced exclusively for the National Bobblehead Hall of Fame and Museum by FOCO, an official licensee and manufacturer of NDSU Bison and NCAA merchandise.
The bobbleheads, which are individually numbered to only 2,020, are $45 each plus a flat-rate shipping charge of $8 per order. They are only available through the Hall of Fame and Museum's Online Store and are expected to ship in November.
Since its first season in 1894, North Dakota State has put together a sparkling record of 741-371-34 (.661). Collectively, the Bison have won 36 conference championships and 16 national titles with eight coming at the Division II level from 1965 to 1990. In 2004, all NDSU athletic teams moved to the Division I level. Since 2011, the NDSU football program has a record of 127-8, which included a record 22-game playoff winning streak, making it the premier college football program in Division I FCS. The Bison have won Division I FCS National Championships in 2011, 2012, 2013, 2014, 2015, 2017, 2018 and 2019.
NDSU, which has had only three losing seasons since 1964, won five consecutive NCAA Division I FCS national titles between 2011 and 2015. After losing in the semifinals in 2016, the Bison captured three more crowns from 2017 and 2019. The 2019 Bison were the first Division I team to finish 16-0 since Yale in 1894. NDSU is the only college football program to ever win five straight NCAA national championships and holds the record for most FCS titles with eight.
"The championship bobbleheads are the ultimate way for fans to show off their school pride," National Bobblehead Hall of Fame and Museum co-founder and CEO Phil Sklar said. "We know how passionate North Dakota State fans are about their team and bobbleheads and when NDSU won the school's eighth Division I title, the requests for a new version with yet another trophy poured in!"
About the National Bobblehead Hall of Fame and Museum:
The National Bobblehead Hall of Fame and Museum, which is located at 170 S. 1st. St. in Milwaukee, Wisconsin, opened to the public on February 1st, 2019. The HOF and Museum also produces high quality, customized bobbleheads for retail sale as well as organizations, individuals and teams across the country. Visit us online and on Facebook, Twitter and Instagram.
About FOCO:
FOCO is a leading manufacturer of sports and entertainment merchandise celebrating more than 20 years in the industry. The company's always-growing product lines includes apparel, accessories, toys, collectibles, novelty items, and more. FOCO is licensed with all major sports leagues including the NFL, MLB, NBA, NHL, NASCAR, MLS and over 150 colleges and universities as well as entertainment properties such as Disney, Warner Bros/DC Comics, Nickelodeon and WWE. Please reach out to Matthew Katz, Licensing Manager, P 848-260-4315 – mkatz@foco.com for more information. Follow @FOCOusa on Facebook, Twitter, and Instagram for more exciting news and new product releases.