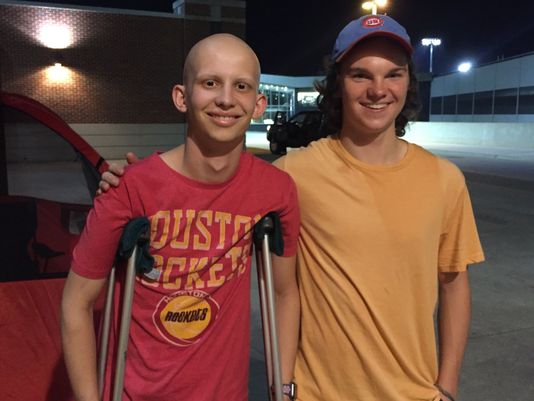 Journal & Courier readers first learned Tyler Trent's story over a year ago when Purdue football insider Mike Carmin found Tyler and his friend, Josh Seals, camping out the night before a game against Michigan. Since then, the nation has discovered Trent and his courageous battle against cancer. Learn more about him below:
2014 – First diagnosed with bone cancer in high school, when his arm snapped while playing ultimate Frisbee. His right arm was removed from elbow to shoulder and replaced with titanium.
April 2017 – Diagnosed with Osteosarcoma, a form of bone cancer.
August 2017 ­– Underwent a 10-hour surgery but was able to start classes for his freshman year at Purdue.
Sept. 23, 2017 – Camped out with fellow freshman Josh Seals to get front row student seats for Purdue's football game against No. 8 Michigan, just hours after a trip to Riley's Children Hospital in Indianapolis for a post-surgery chemotherapy session.
November 18, 2017 – Trent and his father, Tony, attended Purdue's 24-15 victory at Iowa to take part of the tradition of waving to patients at the University of Iowa Stead Family Children's Hospital, next to Kinnick Stadium, at the end of the first quarter.
December 13, 2017 – Was scheduled to undergo a 12-hour surgery.