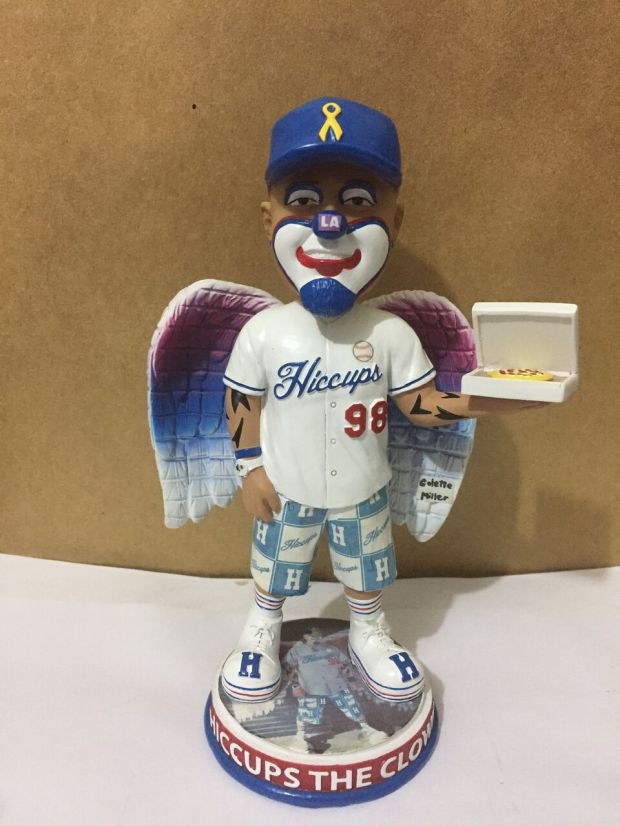 How a bobblehead honoring Dodgers superfan Hiccups the Clown pays it forward in LA By TOM HOFFARTH
Frankie Mercado might not have ever considered the power of a bobblehead – until he saw one crafted in his own image nodding positively in his direction.
The preschool teacher from Silver Lake goes by the alter ego of "Hiccups The Clown," a self-proclaimed Dodgers' super fan whose team-inspired blue-and-white jersey, cap, shorts and oversized shoes have expanded from entertaining at kids' parties to becoming fixture in the stands at Dodger Stadium.
With National Bobblehead Day upon us Sunday – was that on your 2018 calendar? – the Milwaukee-based National Bobblehead Hall of Fame and Museum decided to honor Hiccups with a limited-edition bobble. Proceeds go toward two causes that bring him joy.
One is the Hiccups Pizza Project, a once-a-month grass roots effort he started with volunteers several years ago to feed the hungry on Skid Row in downtown L.A.
The other is the PADRES Contra El Cancer/Parents Against Cancer non-profit. Mercado is an ambassador for the program and helps childhood cancer patients and their families, particularly in the Latino community.
"This has been an awesome journey," Mercado said, who works at the Camelot Kids Preschool in Silver Lake. "When the bobblehead was first offered to me, my first response was: I have no money to pay for it. But when they told me they wanted to do it, as a fundraiser …. when I first saw it, I thought it was amazing."
This is actually the second edition of a National Bobblehead Hall and Museum bobblehead in Hiccups' honor. The first, in 2015, sold out quickly and has since become a collectible. Mercado himself bought up a batch to give free to the kids with cancer who he often visited. The sales of that raised $2,000 for PADRES.
The new edition has added a pair of angels wings, in honor of a global arts awareness project started in L.A. in 2012 by Collette Miller. During one Skid Row visit, Mercado noticed a pair of Miller's wings painted on the side of a building near their project on Gladys and 6th streets. He handed his phone to one of the Skid Row residents nearby to take his photo standing in front of the wings, gaining his trust and starting another new relationship.
That photo became the framework for this bobblehead, with Miller's endorsement. Again limited to 500 bobbles produced, the goal this year is to raise $3,000 to apply toward Mercado's projects.
Phil Sklar, co-founder and CEO of the Bobblehead Hall of Fame, explained that he and partner Brad Novak began several years ago creating a "Super Fan" line of bobbleheads to pay tribute to those whose characters become a part of the sports they love. Sklar said he had not heard of Mercado and his mission until another collector, Pedro Avalos, suggested it.
"As soon as I Googled Hiccups and watched a video, I knew he needed a bobblehead," said Sklar. "The work he has done on behalf of others through the Hiccups Pizza Project and other community involvement efforts, combined with his passion for the Dodgers, made it a no-brainer."
Mercado explained how his work on Skid Row was actually inspired by a Dodgers promotion – a Sunday game-day sale of the famous Dodger Dogs for just $1. Mercado decided to buy up 20 as he was leaving the game, but not for himself. He drove straight to Skid Row and handed them to a man in a wheelchair wearing a Dodgers cap.
"All of the sudden, people were running across the street to see what was going on – but we didn't have any more Dodger Dogs," Mercado said. "The people were saying, 'That's all right, we wanted to see you and say hi.'"
The next $1 Dodger Dog promotion, Mercado organized a plan on Facebook to have other Dodgers fans buy up the hot dogs, meet him outside the left field pavilion and would deliver them together to Skid Row. About 50 dogs were donated this time.
"Those kind of moments break my heart into pieces, but it really brought some happiness. I went home and wrote up a plan on how we could do more. Things just fell into place."
The second bobblehead has other distinct meaningful additions.
The number 98 on Mercado's bobblehead was intended to honor the age of his grandmother, who he has been taking care of at his home – but she has since reached the age of 103.
In his Hiccups persona, he has also been working at Children's Hospital in L.A. The yellow ribbon on his bobblehead cap reflects his acknowledgement of cancer patients. On the back of the cap is "I Am Hope," the website of the PADRES organization.
Hiccups is also holding a pizza box, with a stick on the top lid recognizing the Hiccups Pizza Project. A copy of the original photo of him with the angel wings is also on the base of the bobblehead.
"I am blessed in every aspect," said Mercado, who only reveals his age to be "in my 40s." "The Pizza Project has been a win-win situation now. We get as many as 70 volunteers each month who don't miss a Sunday – nurses, doctors, single parents, cancer survivors, veterans … even those who were previously homeless. We serve with integrity. We learn that if we treat people the way we all should be treated, it would be a better world.