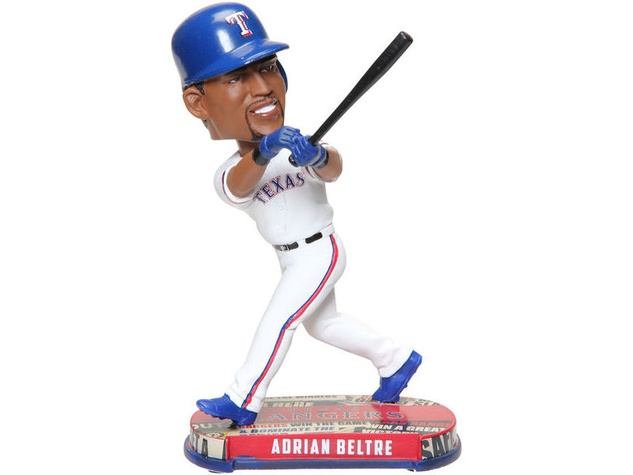 Bobblehead collectors will need to add a new wing to the man cave, thanks to the Texas Rangers. In 2018, the baseball club is issuing a record 12 Bobblehead giveaways. The club also announced several 2018 individual game ticket specials.
That's great news about the ticket specials but let's get right to the dozen Bobbleheads, which, as has been mentioned previously, is a club record. It easily surpasses the 2017 lineup, which consisted of a mere six Bobbleheads. Do the math: In 2018, there are twice as many. There's even one with a removable mask.
March 31: TXU Energy Adrian Beltre Home Run Counter Bobblehead
April 7: Dr Pepper/Brookshire's Elvis Andrus Bobblehead
May 26: Medical City Healthcare Star Wars Han Gallo Bobblehead
June 9: Dairy MAX Joey Gallo Tape Measure Bobblehead
June 16: Dr Pepper/Albertsons Adrian Beltre Best Friends Bobblehead (1st in a series of 2)
June 30: Rougie and Smokey the Horse Bobblehead
July 21: Dr Pepper/Tom Thumb Elvis Andrus Best Friends Bobblehead (2nd in a series of 2)
August 4: Vladimir Guerrero Hall of Fame Bobblehead
August 5: Ted Williams First Rangers Manager Bobblehead
August 18: Coca-Cola Nomar Mazara Bobblehead
August 28: StubHub Robinson Chirinos Removable Mask Bobblehead
September 1: Rangers Captain Bobblehead (1st 15,000 fans for all Bobbleheads).
The promotional activities don't stop with the Bobbleheads. Thre will also be 15 post-game fireworks shows, taking place on 13 different Fridays as well as July 3-4, which this year is a Wednesday.