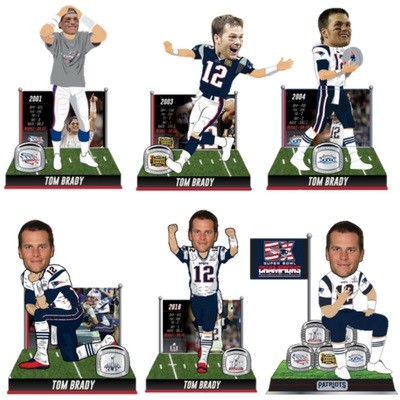 Tom Brady New England Patriots Commemorative Super Bowl Moments Bobblehead Series Unveiled
This morning, the National Bobblehead Hall of Fame and Museum unveiled a series of bobbleheads to commemorate Tom Brady's five Super Bowl Championship performances. The series includes six bobbleheads, with one for each Super Bowl as well as a sixth bobblehead that features five replica Super Bowl rings. The bobbleheads are now available for preorder online in the Hall of Fame and Museum Online Store.
Tom Brady has led the New England Patriots to all 5 of the franchise's Super Bowls, winning MVP four of the five times. He holds nearly every major Super Bowl record for a quarterback, and cemented his place as the greatest of all-time after leading the Patriots to the greatest Super Bowl comeback in Super Bowl LI.
Each bobblehead features a memorable moment from the Super Bowl game with a replica Super Bowl ring. The bobbleheads have a plaque behind the bobblehead which has a picture of a moment as well as the Super Bowl logo, final score, and stats from the game. The following bobbleheads are included in the series:
Super Bowl XXXVI (2002) – Patriots 20, Rams 17 – Louisiana Superdome in New Orleans, Louisiana
Super Bowl XXXVIII (2004) – Patriots 32, Panthers 29 – Reliant Stadium in Houston, Texas
Super Bowl XXXIX (2005) – Patriots 24, Eagles 21 – Alltel Stadium in Jacksonville, Florida
Super Bowl XLIX (2015) – Patriots 28, Seahawks 24 – University of Phoenix Stadium in Glendale, Arizona
Super Bowl LI (2017) – Patriots 34, Falcons 28 – NRG Stadium in Houston, Texas
"Brady's performance in Super Bowl LI cemented him as the greatest of all time, which called for a unique series of bobbleheads," said Phil Sklar, Co-Founder and CEO of the National Bobblehead Hall of Fame and Museum. "These bobbleheads were designed to give Patriots fans a unique way to commemorate each of the team's Super Bowl Championships and Tom Brady's historic performances."
The bobbleheads are $35 each, or $200 for the full set of six. Shipping is a flat rate of $8 regardless of the number of bobbleheads purchased. All bobbleheads are officially licensed by the NFL and New England Patriots. The bobbleheads are in the production process, with delivery expected in July.
The National Bobblehead Hall of Fame and Museum also released Patriots Super Bowl LI Bobbleheads immediately after the Patriots claimed their fifth Super Bowl Championship in early February.
About the National Bobblehead Hall of Fame and Museum
The National Bobblehead Hall of Fame and Museum was announced in November 2014. The HOF and Museum hosted a Preview Exhibition at RedLine Milwaukee from January through April, 2016, and is currently planning for a permanent location. The HOF and Museum also produces high quality, customized bobbleheads for organizations, individuals and teams across the country. Visit us at www.BobbleheadHall.com, www.facebook.com/BobbleheadHall or www.twitter.com/BobbleheadHall.