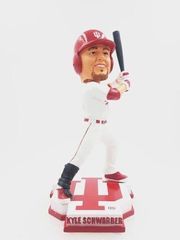 The latest honor for Middletown High School standout Kyle Schwarber is a commemorative bobblehead from his days as an Indiana Hoosier.  The Middies legend hit 30 homers for the Chicago Cubs last season and has 46 round-trippers in 658 major league at-bats over two seasons.  At Middletown, he hit 18 homers and hit .408 over his high school career. He was drafted in the first round out of Indiana in 2014.
Here's today's announcement (just in time for the holidays):
This morning, the National Bobblehead Hall of Fame and Museum unveiled a limited-edition bobblehead featuring Kyle Schwarber in his Indiana University Hoosiers Jersey. Schwarber was selected with the fourth overall pick of the 2014 MLB Draft by the Chicago Cubs, marking the highest draft pick in Indiana baseball history. This is the first bobblehead featuring Schwarber, who is originally from Middletown, Ohio, in his Indiana Hoosiers jersey.
The limited edition bobbleheads, which are individually numbered to only 504, just arrived and ship now. The bobbleheads are $40 each with a flat rate shipping charge of $8 per order.
While at Indiana, Schwarber was a two-time First Team All-American and Louisville Slugger Freshman All-American honoree. He helped lead the Hoosiers to their first College World Series appearance in 2013 and ranks in the top ten in several categories including slugging percentage, home runs, hits, triples and runs. Schwarber received Big Ten honors in each of his three seasons at IU, hitting .341 in 180 games played.
In his short MLB career, Schwarber has already had some of the most memorable moments in the storied history of the Chicago Cubs franchise. Schwarber made one of the most miraculous comebacks in sports history, coming back from a season-ending surgery to help the Cubs win the 2016 World Series. Schwarber hit .412 in the World Series including several critical hits. In the 2015 playoffs, Schwarber hit a monstrous home run that landed on the top of the Wrigley Field scoreboard. That home run was commemorated with a bobblehead that quickly sold out.
"Kyle had a tremendous career at Indiana and has been a clutch hitter in the Major Leagues," said Phil Sklar, Co-Founder and CEO of the National Bobblehead Hall of Fame and Museum. "We're excited to be able to offer this bobblehead to Indiana fans and fans of Kyle."