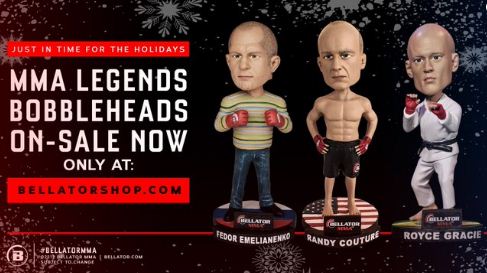 Bobblehead mania overtook Bellator a few times earlier this year. But if you couldn't be there in person, never fear.
Bellator now has made available the three bobbleheads it has released so far on its website, and fans can purchase either the standard figures – or autographed version. Bellator President Scott Coker made the announcement today on
Fedor Emelianenko, Royce Gracie and Randy Couture bobbleheads all are available at BellatorShop.com. The autographed versions are $124.95 each. Regular versions are $44.95.
The highly anticipated Kimbo Slice bobblehead is not yet available online. That one will be given away to the first 5,000 fans in the doors at Bellator 192 next month in Los Angeles.
The promotion gave away the Emelianenko bobblehead to the first 5,000 fans at Bellator 183, the Gracie bobblehead to the first 5,000 fans at Bellator 185 and Couture to the first 5,000 fans at bellator 186.
So if you're coming up short for Christmas gifts for the MMA fan in your life … maybe it's time to bobble it up.
For more on Bellator's upcoming schedule, check out the MMA Rumors section of the site.