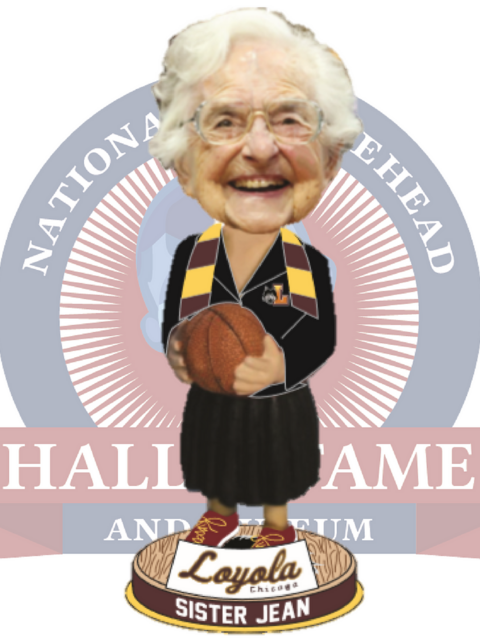 The Loyola University Chicago Ramblers men's basketball team has — it goes without saying — turned into an overnight sensation in the collegiate sports world.
Unquestionably the biggest star attached to this stellar bunch of players, however, is their now world-famous mascot and team chaplain Sister Jean Dolores Schmidt.
Not only has the sprightly 98-year-old Sister Jean captivated the television audience at every March Madness game the Ramblers have played this month, she's also now turning heads among bobblehead aficionados.
Just ask Phil Sklar, the CEO and co-founder of the National Bobblehead Hall of Fame and Museum in Milwaukee. Until the past several days, Sklar had been content peddling a variety of sports-related bobblehead products, including various Chicago Cubs and White Sox bobbleheads.
But the popularity of those other bobbleheads suddenly pales in comparison to what Sklar has seen since he made the quick — and very savvy — decision to introduce a limited-edition Sister Jean bobblehead that is now available for pre-order. The bobblehead came into being after some fast-moving negotiations with Loyola University Chicago representatives over the past couple of weeks.
Sklar announced the Sister Jean bobblehead late Friday. Within a mere 48 hours it had become the best-selling bobblehead in the history of the Bobblehead Hall of Fame and Museum, Sklar told me.
"We hit 6,000 sold in just over 48 hours, or 107 Sister Jean bobbleheads every hour or 1.7 every minute," he said.
The cost of the Sister Jean bobblehead is $25 plus $8 for shipping. Each will come individually numbered in a collectors box when they ship in June.
Until Sister Jean came along, Sklar's most popular bobblehead was the Clemson University football national championship mascot bobblehead, of which 3,000 have been sold to date.
Perhaps the most amazing part of the Sister Jean phenomenon is how widespread her newfound fame is. Sklar said orders have come in from customers in all 50 states, the District of Columbia and Canada, with 63 percent of total orders coming from beyond the state of Illinois. The largest quantity purchased by one customer so far is 30.
Of course there will be more to this Sister Jean story as the Ramblers head to San Antonio, Texas for the March Madness Final Four shootout next weekend.
None of the sports pundits have ruled out the distinct possibility the Ramblers could make it to the championship game on April 2. They need only vanquish the University of Michigan team to get there — which suddenly seems pretty doable given the passion with which the team has played in the tournament.
While a bright spotlight is sure to be on the Ramblers themselves next weekend, you can be certain that spotlight will shine even brighter on Sister Jean.
Which will be good for adding to her already considerable name recognition. Good too for Phil Sklar as he looks to boost his Sister Jean bobblehead sales figures to astronomical levels.