Joe Lunardi "Bracketologist" Bobblehead Unveiled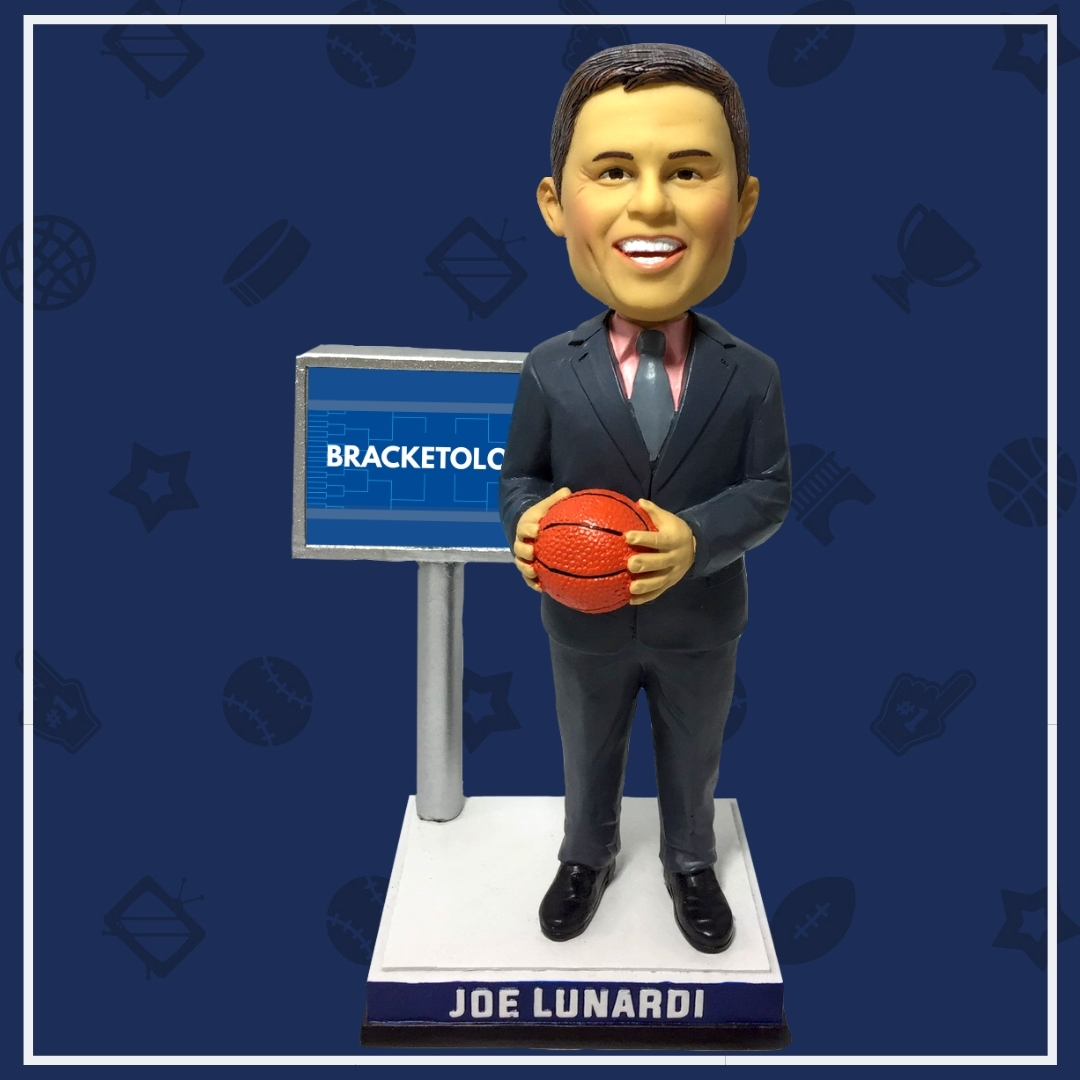 MILWAUKEE – This morning, the National Bobblehead Hall of Fame and Museum unveiled a limited edition bobblehead of college basketball analyst Joe Lunardi. This is the first bobblehead featuring the world's best-known college basketball "Bracketologist" and is being released as March Madness gets set to tip off. The bobbleheads are being produced exclusively by the National Bobblehead Hall of Fame and Museum in conjunction with Joe Lunardi.
Standing on a base bearing his name, the bobblehead features a smiling Lunardi holding a basketball in front of a replica TV monitor that has a bracket with the word "BRACKETOLOGY".
Each bobblehead is individually numbered to 2,021 and they are only available through the National Bobblehead Hall of Fame and Museum's Online Store. The bobbleheads, which are scheduled to ship in April, are $25 each plus a flat-rate shipping charge of $8 per order.
Lunardi is best known for creating Bracketology, which he calls the "art and science" of predicting the teams that will be selected in the annual NCAA Men's Basketball Tournament. In 2008, Lunardi correctly predicted all 65 teams to appear in the NCAA tourney. Lunardi has stated that his first bracket for ESPN received 250,000 hits in the first 90 minutes posted. His brackets sometimes receive millions of hits over the course of a season.
The Philadelphia native has been a fixture on ESPN's Bracketology program and on SportsCenter, especially during the months of February and March in the run-up to the NCAA Tournament. In addition to his duties at ESPN, Lunardi also does color commentary for Saint Joseph's men's basketball team. He previously served as the Assistant Vice President of Marketing Communications at his alma mater, Saint Joseph's University.
After the 2020 NCAA tourney was canceled following the outbreak of the coronavirus, Lunardi released his version of the bracket. He also entertained college basketball-starved fans on Twitter by going through each game in real time with his personal results (#TwitterTourney2020).
"After being called a bracket head for so long, it's way better to be a bobblehead. What an honor!" Joe said. "And no matter what anyone says, it really isn't actual size. I hope people like it!"
"Thanks to the expertise and knowledge that he provides leading up to the NCAA Tournament ever year, Joe has become a familiar face to college basketball fans and anyone looking for some bracket advice," National Bobblehead Hall of Fame and Museum co-founder and CEO Phil Sklar said. "We're excited to be teaming up with Joe on his first bobblehead."
About the National Bobblehead Hall of Fame and Museum:
The National Bobblehead Hall of Fame and Museum, which is located at 170 S. 1st St. in Milwaukee, Wisconsin, opened to the public on February 1st, 2019. The HOF and Museum also produces high quality, customized bobbleheads for retail sale as well as organizations, individuals and teams across the country. Visit us online and on Facebook, Twitter and Instagram.