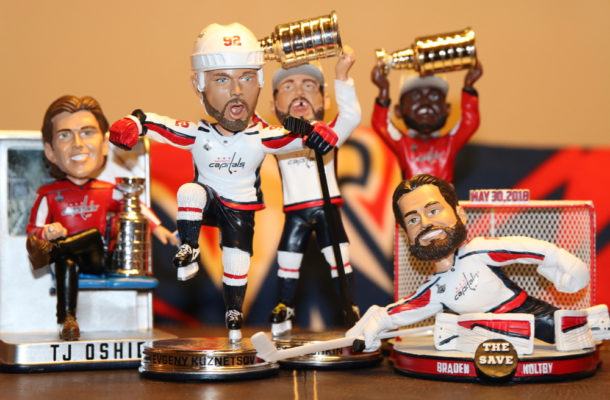 After the Caps won the Stanley Cup, Forever Collectibles, along with the Bobblehead Hall of Fame, planned a set of bobbleheads of most players holding the Stanley Cup. But there was demand for more. After our friend Brad at Bobblehouse made personal prototypes of Braden Holtby's The Save, fans screamed for a real version of it. Forever Collectibles abided.
Later, Bobblehouse made more personal prototypes, including Evgeny Kuznetsovdoing his birdman celebration, Alex Ovechkin holding the Cup, and T.J. Oshiedrinking a beer through his shirt. Forever Collectibles got wind of those ideas too, and also came up with Devante Smith-Pelly holding the Cup while wearing a championship belt. Unfortunately, Oshie drinking a beer, and Ovi doing a keg stand, couldn't get approval.
There was room for more. We suggested:
T.J. Oshie on the Metro
Lars Eller scoring the Cup-winning goal
Ovi handing the Cup to Nicklas Backstrom
Tom Wilson holding the Cup with a volleyball in it, to make up for the time he almost had a bobblehead made of him dressed as the volleyball from the movie Castaway
Oshie on the Metro made the cut, and the bobbleheads was made.
I just received them today. These are extremely high quality compared to regular bobbleheads. I've seen them all, and these are by far my favorite.