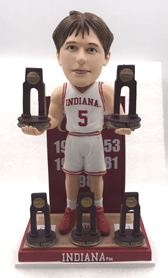 The National Bobblehead Hall of Fame and Museum is releasing its second run of a bobblehead that commemorates Indiana University's five men's national basketball championships.
The first run in July—a limited edition set of 216—sold out in record time, said Phil Sklar, CEO of the Hall of Fame and Museum in Milwaukee.
This time around, Sklar's operation is having 1,000 Indiana Hoosiers National Champions bobbleheads made. The pre-sale started this week, and already hundreds have been ordered.
"We were blown away by the demand for the first version, and based on the number of requests and inquiries for this version, we're expecting a similar response. We're hoping 1,000 is enough," Sklar said. "Three of the four best-selling bobbleheads in the series of college basketball champ bobbleheads have been Indiana, Kentucky and Louisville. The passion for basketball in the region is off the charts."
The National Bobblehead Hall of Fame and Museum has made more than two dozen different bobbleheads in its college hoops series.
Sklar expects the first batch of 360 IU bobbleheads to be ready to ship in March. Don't expect those to last.
"We had about 500 people that had signed up to be and were recently alerted about the presale opportunity," Sklar told IBJ. He added that already more than 300 have been pre-sold.
To order, click here.
The National Bobblehead Hall of Fame and Museum has only made second edition bobbleheads for two other college basketball programs; the University of North Carolina and Kentucky.
The second edition of the IU bobblehead is slightly different than the first. The first bobblehead—a generic player who looks a bit like Ted Kitchel—is wearing an IU warm-up suit including the trademark candy-striped pants. The second edition features the same generic player wearing a home white uniform with the No. 5 jersey—for IU's five national titles. The player is again holding two national championship trophies and is surrounded by three more at his feet.
The cost of the second edition IU bobblehead, like the first edition, is $40.
Also, the Hall of Fame and Museum is working with the Milan 54 museum to create Milan High School bobbleheads commemorating the small school's 1954 Indiana high school state championship team. The museum is in the process of finalizing that deal, Sklar said, with the goal of having them ready for release by early March.