Western Illinois University Colonel Rock IV Bobblehead Unveiled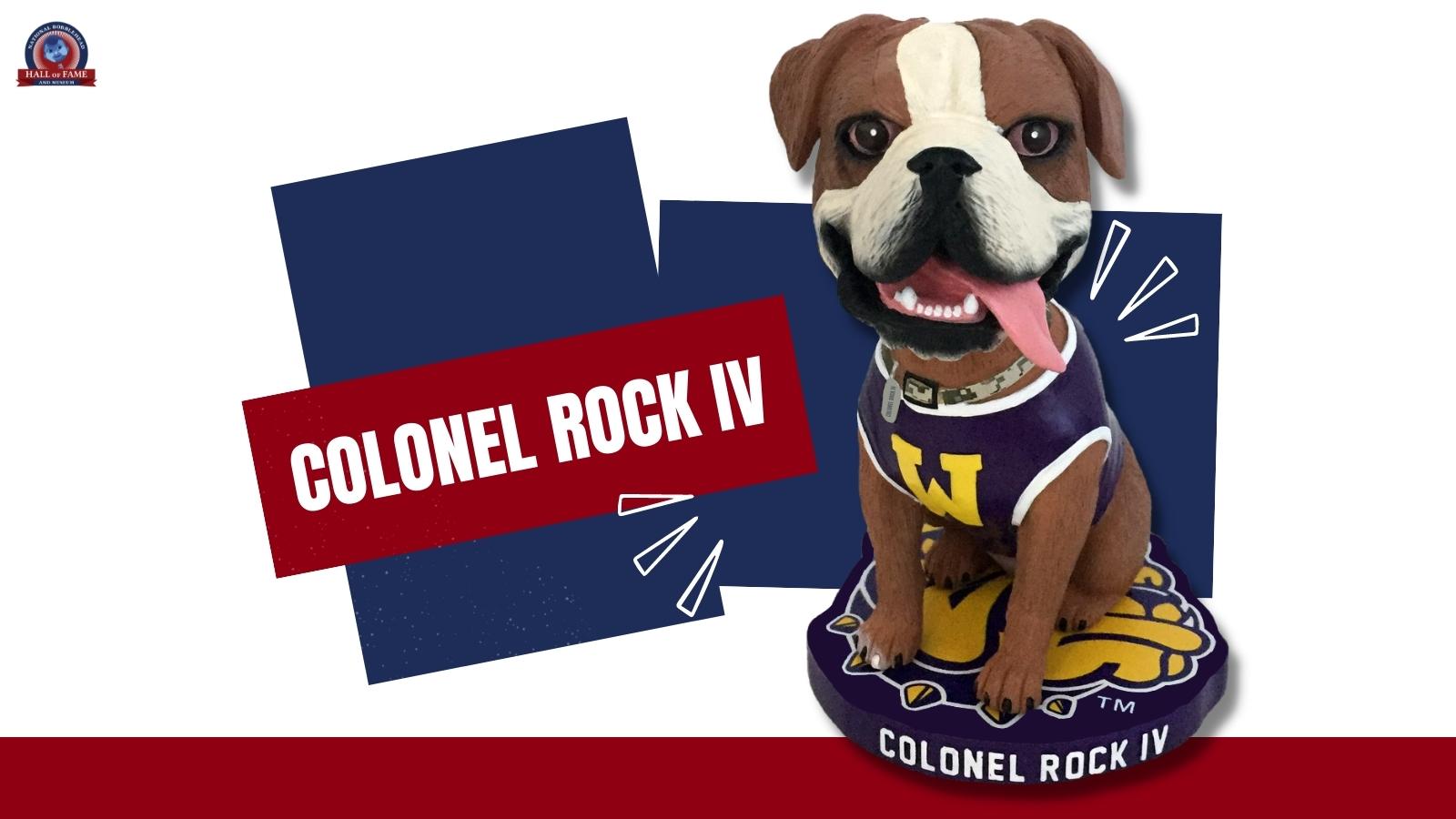 MILWAUKEE – This morning, the National Bobblehead Hall of Fame and Museum unveiled the first officially licensed, limited edition bobblehead of Colonel Rock IV, Western Illinois University's popular live mascot. Colonel Rock IV (aka "Ray") took over mascot duties for the Leathernecks on June 7, 2018, after the retirement of Colonel Rock III, who ended the school's 37-year live mascot hiatus and served as the school's live mascot for eight years. The special edition bobblehead was produced by the National Bobblehead Hall of Fame and Museum and is being released on National Bobblehead Day.
The Colonel Rock IV bobblehead is sitting on a base bearing his name and prominently displaying the Leathernecks logo. The AKC-certified English bulldog is wearing a WIU sweater with his tongue playfully hanging out.
The bobbleheads, which will be individually numbered to 2,021, are only available through the National Bobblehead Hall of Fame and Museum's Online Store and the University Bookstore. The bobbleheads, which just arrived and ship now, cost $25 each plus a flat-rate shipping charge of $8 per order. A portion of the proceeds from the bobblehead sales support Western Illinois University's live mascot program.
Born on Valentine's Day in 2018, Colonel Rock IV took over the WIU mascot responsibilities almost four months later. He succeeded Colonel Rock III upon his retirement in Summer 2019 after eight years of service. Colonel Rock III was introduced on May 15, 2010, becoming WIU's first official four-legged mascot since the 1970s. Colonel Rock IV was donated to the university by Richard and Beth Siess of the Siess Ranch in Seneca, Kansas. While they are not directly related, there is a distant lineage between Colonel Rock III and Colonel Rock IV, who is also called "Ray" after WIU's legendary longtime coach and athletic director Ray "Rock" Hanson, a Marine Corps Veteran. WIU alumni Joe Roselieb, executive director of auxiliary services and risk management, and Ketra Roselieb, executive director of financial affairs, hours and train (and chauffeur) Ray, who will turn four on February 14th. The Roseliebs were also the caretakers for Rocky, who passed away on January 25th, 2021, just shy of his 11th birthday.
Colonel Rock can be found at home football and basketball games in addition to other Leatherneck athletic events throughout the year. He also pops up at campus and community events to help generate Leatherneck pride in Macomb. In Fall 2021, the Mascot Memorial Plaza project was unveiled outside of the University, which pays tribute to WIU's live mascots, both past and present. The project also includes a donors' plaque, as well as a commemorative plaque that showcases a timeline of the live mascot program and each dog's years of service. The statue is surrounded by an alumni plaza, which is comprised of bricks inscribed with the names of alumni and friends.
"We're excited to introduce this bobblehead of Colonel Rock IV on National Bobblehead Day," National Bobblehead Hall of Fame and Museum co-founder and CEO Phil Sklar said. "With the retirement of the ultra-popular Colonel Rock III in 2018, Western Illinois has been in good paws with Colonel Rock IV representing the university and we think this bobblehead will be a must-have for any students, faculty, staff, alumni, fans and friends of the university."
About the National Bobblehead Hall of Fame and Museum:
The National Bobblehead Hall of Fame and Museum, which is located at 170 S. 1st St. in Milwaukee, Wisconsin, opened to the public on February 1st, 2019. The HOF and Museum also produces high quality, customized bobbleheads for retail sale as well as organizations, individuals, and teams across the country. Visit us online and on Facebook, Twitter and Instagram.