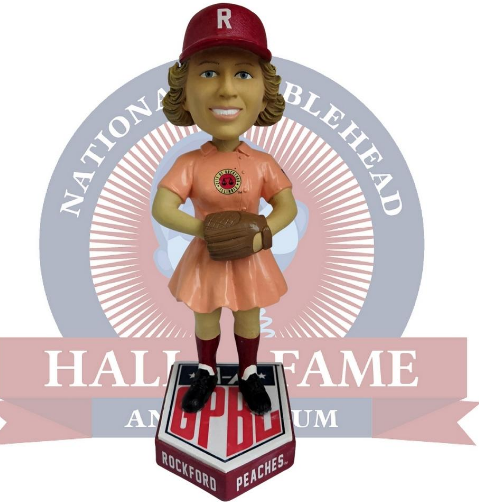 ROCKFORD — Ladies from the All-American Girls Professional Baseball League are making a comeback. This time, at a fraction of the height.
Phil Sklar and Brad Novak, Guilford High School graduates and co-founders of the National Bobblehead Hall of Fame and Museum in Milwaukee, have partnered with the league to produce a new lineup of officially licensed bobbleheads, each representing one of the 15 teams from a league that lasted from 1943 to 1954.
The Rockford Peaches — one of the only two teams to last the duration of the AAGPBL, along with the South Bend, Indiana, Blue Sox — will be included. The release ties into the 75th anniversary of the league, which has been celebrated in Rockford all year.
"The women of the AAGPBL will forever be role models, and these bobbleheads commemorate their tremendous contribution to sports and society," Sklar said in a news release. "We are confident the bobbleheads will generate even more interest in the AAGPBL, while inspiring women throughout the world to follow their dreams and passions."
Only 500 bobbleheads per team will be made. They became available Friday on the National Bobblehead Hall of Fame and Museum website. They cost $25 each plus an $8 shipping charge per order. The complete set is available for $300.
Beginning Monday, Midway Village will have a full set on display and also will sell some Peaches bobbleheads available in the gift shop.