Interpreter Marla Berkowitz Bobblehead with a Cause Unveiled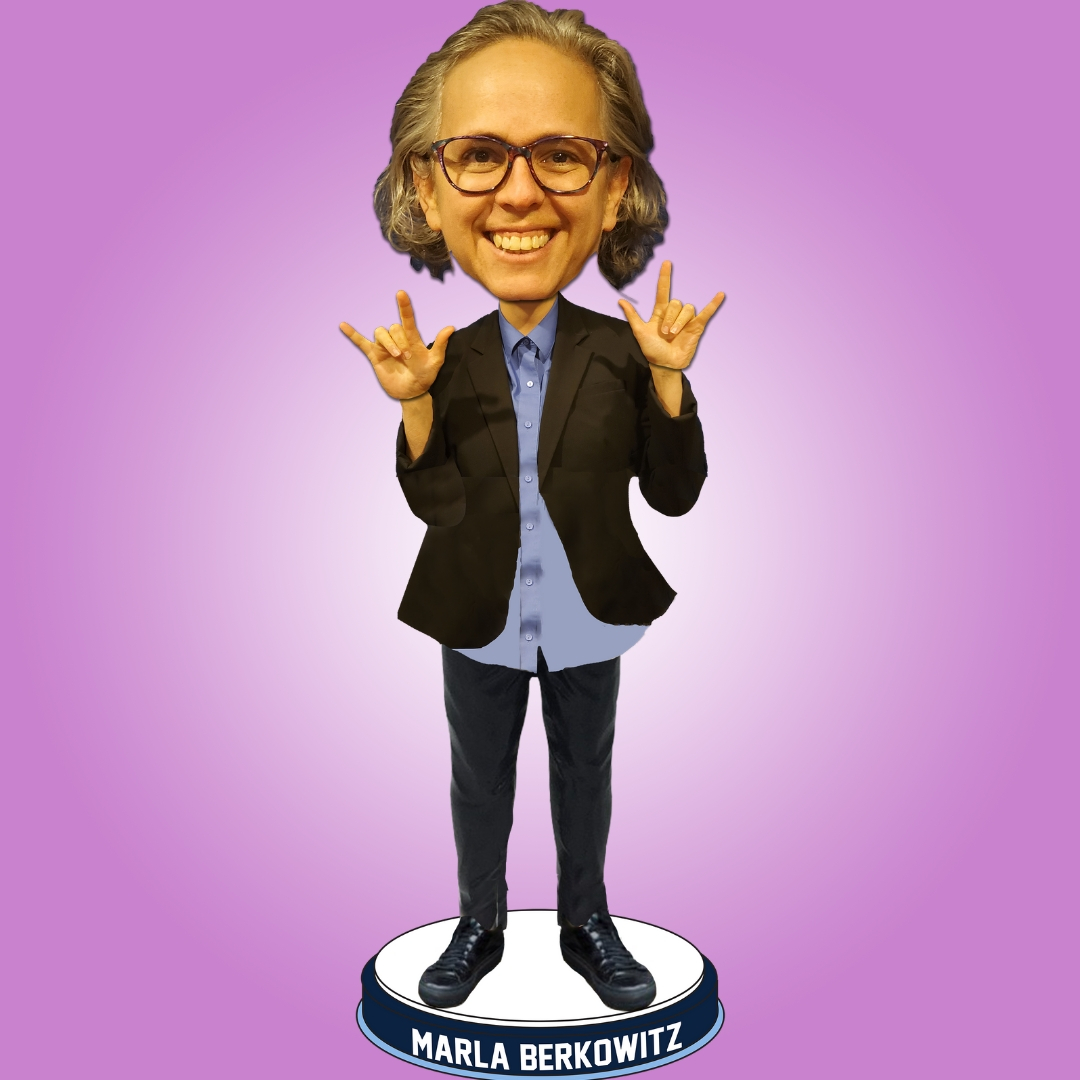 MILWAUKEE – This morning, the National Bobblehead Hall of Fame and Museum unveiled a bobblehead of popular interpreter Marla Berkowitz. During daily coronavirus briefings, Berkowitz, Ohio's only certified deaf interpreter, has been front and center delivering important information using American Sign Language to the state's estimated 303,000 deaf or hard-of-hearing people.
The National Bobblehead Hall of Fame and Museum will be donating $5 from every Marla Berkowitz Bobblehead sold to Columbus Colony Elderly Care, a nursing care and rehabilitation facility owned by the Ohio School for the Deaf Alumni Association. The funds will be used to purchase special masks with clear visibility surrounding the lips for Deaf, DeafBlind, DeafDisabled, and Hard of Hearing patients who rely on healthcare workers to wear masks, but, unfortunately, they cannot see the faces of these healthcare workers to communicate effectively.
The bobbleheads of Berkowitz bobbleheads are only available through the National Bobblehead Hall of Fame and Museum's Online Store. They are $25 each plus a flat-rate shipping charge of $8 per order and will ship in July. On a base bearing her name, the bobblehead features Berkowitz making the ASL symbol of love with her hands. In addition to the head, the hands will also bobble.
The bobblehead of Berkowitz joins the bobbleheads of Ohio Governor Mike DeWine and Ohio Health Director Dr. Amy Acton, which were released last week. Sales of bobbleheads featuring Governor DeWine, Dr. Amy Acton, Dr. Fauci and Dr. Birx have raised over $185,000 for the Protect The Heroes fund in support of the 100 Million Mask Challenge.
A native of Long Island, New York, Berkowitz is a senior lecturer with the ASL program, which is housed in the Center for Language, Literature and Culture at Ohio State University. She got the call interpret Governor DeWine's press briefings due to her being the only ASL Certified Deaf Interpreter in Ohio who could handle the high-profile assignment. As a result, Berkowitz, who has been noticed for her facial expressions when she signs, has become an Internet sensation with a growing fan club and a fan page on Facebook.
Standing beside the Governor and other officials at the press briefings, Berkowitz, who is deaf herself, gets help from a colleague in the audience who signs to her. Berkowitz then relays the information to viewers. As for why she is so expressive during the press briefings, Berkowitz was quoted on Ohio State's website: "When I interpret, I have the deaf, deafblind, deafdisabled and hard-of-hearing community in the back of my mind, which is a responsibility I embody to ensure they are understanding the critical situation we're faced with the coronavirus."
"Bobbleheads are the ultimate honor, and we think Marla Berkowitz deserves it given the unheralded work she has done and continues to do for the deaf and hard-of-hearing people in Ohio during the battle against COVID-19," National Bobblehead Hall of Fame and Museum co-founder and CEO Phil Sklar said. "After releasing the bobblehead of Governor DeWine and Dr. Acton, we received a lot of requests for a bobblehead of Ohio's No. 1 interpreter and we are excited to make it happen."
About the National Bobblehead Hall of Fame and Museum:
The National Bobblehead Hall of Fame and Museum, which is located at 170 S. 1st. St. in Milwaukee, Wisconsin, opened to the public on February 1st, 2019. The HOF and Museum also produces high quality, customized bobbleheads for retail sale as well as organizations, individuals and teams across the country. Visit us online and on Facebook, Twitter and Instagram.