First Liz Cheney Bobblehead Unveiled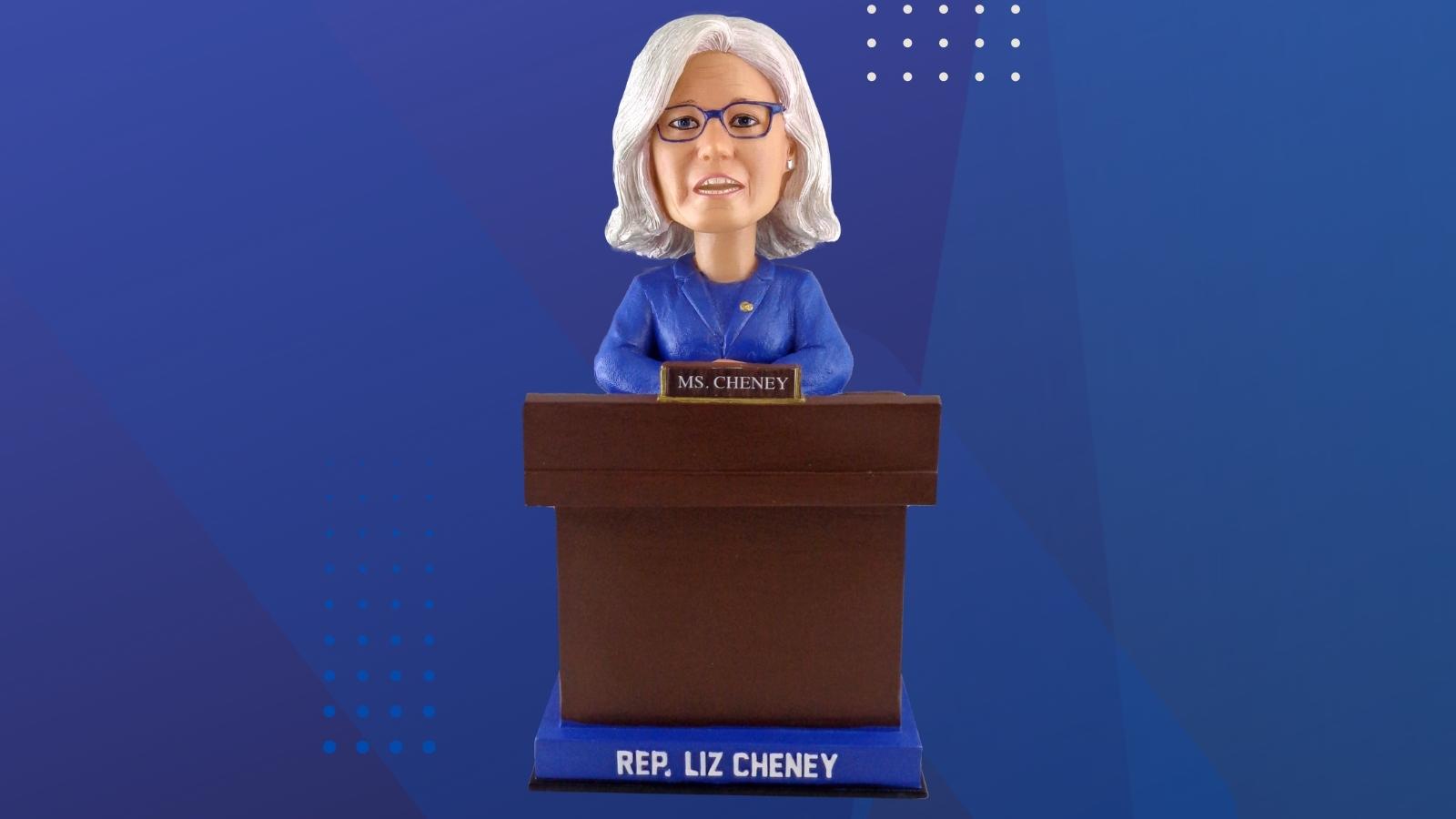 MILWAUKEE – This morning, the National Bobblehead Hall of Fame and Museum unveiled the first bobblehead of U.S. Congresswoman Liz Cheney. She served as Wyoming's lone member of Congress in the House of Representatives and was first elected in 2016. Cheney served as the Vice Chair for the House Select Committee to investigate the January 6th attack on the U.S. Capitol.
Wearing a bright blue dress and blue-frame glasses, the seated Representative Cheney bobblehead is making a point during a congressional hearing. The base bearing her name (REP. LIZ CHENEY) also features a nameplate (Ms. Cheney) positioned in front of her. Each bobblehead is individually numbered to 2,023 and they are only available through the National Bobblehead Hall of Fame and Museum's Online Store. The bobbleheads, which are expected to ship in December, are $30 each plus a flat-rate shipping charge of $8 per order.
Rep. Cheney served as Wyoming's lone member of Congress in the U.S. House of Representatives and was elected in 2016 on a platform of pursuing conservative solutions to help create jobs, cut taxes, expand America's energy, mining and agriculture industries and restoring America's strength and power in the world. Cheney also sat on the House Armed Services Committee.
The elder daughter of former Vice President Dick Cheney and former Second Lady Lynne Cheney was born in Madison, Wisconsin, while her parents were studying at the University of Wisconsin-Madison. After moving to Wyoming, where her father campaigned for Congress, the family divided its time between Wyoming and Washington, D.C. in the 1970s and 1980s, following her father's election to Congress. Liz Cheney received her bachelor's degree from Colorado College, her mother's alma mater, where she wrote her senior thesis, "The Evolution of Presidential War Powers." She received her Juris Doctor from the University of Chicago Law School in 1996.
Before her election to Congress, Cheney served at the State Department as a Deputy Assistant Secretary of State for the Middle East. She also practiced law at White & Case and at the International Finance Corporation. A specialist in national security and foreign policy, she was a Fox News analyst, and is the co-author (along with her father) of "Exceptional: Why the World Needs a Powerful America." Cheney served as the Chair of the House Republican Conference from 2019-21, the third-ranking Republican in the House. Liz and her husband, Phil Perry, have five children and live in Wilson, Wyoming.
"We've received many requests for a bobblehead of Liz Cheney, and we are excited to be releasing it to coincide with National Bobblehead Day," National Bobblehead Hall of Fame and Museum co-founder and CEO Phil Sklar said. "We think this bobblehead will be a great way to commemorate Congresswoman Cheney's key role in the investigation of the events that took place on January 6th, 2021."
About the National Bobblehead Hall of Fame and Museum:
The National Bobblehead Hall of Fame and Museum, which is located at 170 S. 1st St. in Milwaukee, Wisconsin, opened to the public on February 1st, 2019. The HOF and Museum also produces high quality, customized bobbleheads for retail sale as well as organizations, individuals, and teams across the country. Visit us online and on Facebook, Twitter and Instagram.
Categories:
Uncategorised