First Martin Truex Jr. Bobblehead Unveiled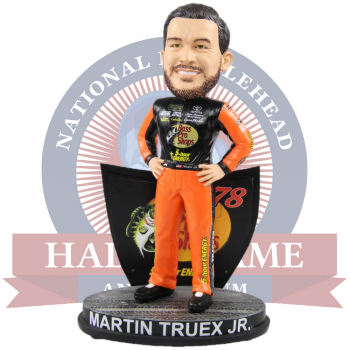 First bobblehead featuring 2017 Monster Energy NASCAR Cup Series Champion now available exclusively from the National Bobblehead HOF and Museum.
MILWAUKEE, Wi., September 7, 2018 – This morning, the National Bobblehead Hall of Fame and Museum unveiled an officially licensed, limited-edition Martin Truex Jr. NASCAR Bobblehead. This marks the first bobblehead ever produced of the 2017 Monster Energy NASCAR Cup Series Champion driver. Truex competes full-time in the Monster Energy NASCAR Cup Series driving the No. 78 Toyota Camry for Denver-based Furniture Row Racing, the only NASCAR team headquartered west of the Mississippi River. He currently sits in third place in the 2018 standings heading into the Brickyard 400 at Indianapolis Motor Speedway this Sunday, September 9th.
The first production run of the individually numbered bobbleheads just arrived and ship now. The bobbleheads, which were produced by FOCO, are $35 each with a flat rate shipping charge of $8 per order. Truex is the newest addition to the current series of NASCAR bobbleheads which includes Chase Elliott, Dale Earnhardt Jr., Kyle Busch and Kyle Larson. Those bobbleheads are also $35 each, and the set of five is available for $160.
Truex, who grew up in the Mayetta section of Stafford Township New Jersey, is the son of racer Martin Truex Sr. Martin Jr. began his racing career driving go-karts in Central New Jersey before moving south and following in his father's footsteps racing in the Busch North Series from 2000 to 2003. In addition to winning the 2017 Monster Energy NASCAR Cup Series, Truex is also a two-time Xfinity Series Champion in 2004 and 2005. Truex has accumulated 19 wins in 465 races over 15 years on the Monster Energy NASCAR Cup Series and 13 wins in 103 races over 10 years on the NASCAR Xfinity Series.
"NASCAR bobbleheads have been around since the early 2000's, but have been under-represented recently," said Phil Sklar, Co-Founder and CEO of the National Bobblehead Hall of Fame and Museum. "The most recent series of bobbleheads combined with Martin's strong performance and fan base led us to add him to the lineup. Hopefully we'll be adding several more drivers over the next year, as we've seen that the passion of NASCAR fans is among the strongest in all of sports."
About the National Bobblehead Hall of Fame and Museum:
The National Bobblehead Hall of Fame and Museum is finishing set-up of its permanent location, which is expected to open this Fall. The HOF and Museum was announced in November 2014 and hosted a Preview Exhibit in 2016.  The HOF and Museum also produces high quality, customized bobbleheads for organizations, individuals and teams across the country. Visit us at www.BobbleheadHall.com, www.facebook.com/BobbleheadHall or www.twitter.com/BobbleheadHall.
About FOCO:
Previously known as Team Beans, LLC and Forever Collectibles, FOCO is a leading manufacturer of sports and entertainment merchandise celebrating more than 17 years in the industry. The company's ever-growing product lines include apparel, accessories, toys, collectibles, novelties, footwear, holiday and more. FOCO is licensed with all major sports leagues including the NFL, MLB, NBA, NHL, NASCAR, MLS and over 100 colleges and universities as well as entertainment properties such as Disney, Warner Bros/DC Comics, Nickelodeon and Sanrio. Please reach out to Matthew Katz, Licensing Manager, mkatz@foco.com for more information.