First John Fetterman U.S. Senator Bobblehead Unveiled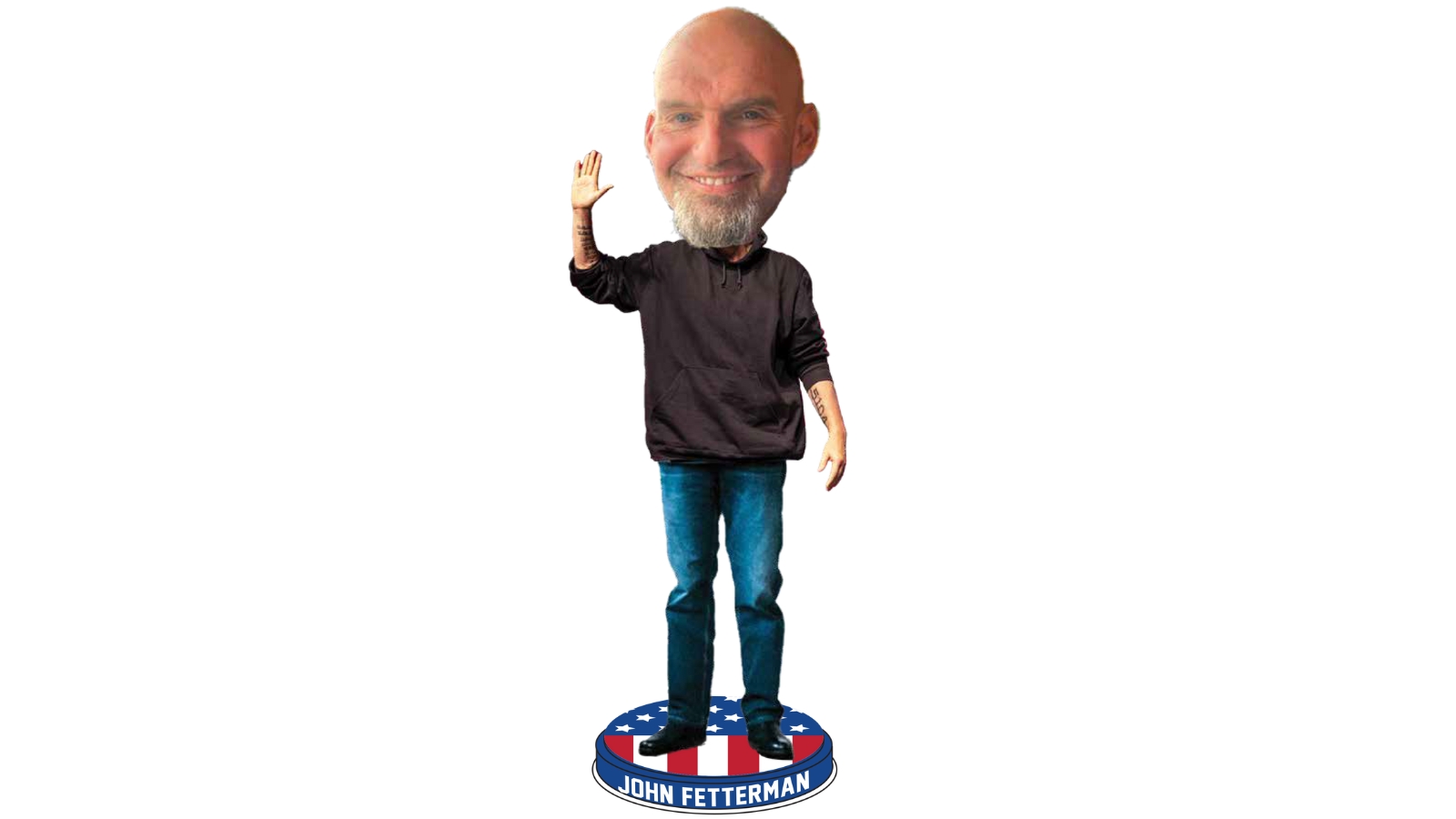 MILWAUKEE – This morning, the National Bobblehead Hall of Fame and Museum unveiled the first bobblehead of U.S. Senator John Fetterman, who was sworn in as Pennsylvania's newest U.S. Senator on Tuesday. Fetterman had served as Pennsylvania's 34th lieutenant governor since 2019 before being elected in November 2022. The special edition product is being produced exclusively by the National Bobblehead Hall of Fame and Museum.
Standing on a circular Stars and Stripes base bearing his name, the smiling Fetterman bobblehead is wearing jeans and his trademark navy blue hoodie while giving a wave with his right hand. Each bobblehead will be individually numbered, and they are only available through the National Bobblehead Hall of Fame and Museum's Online Store. The bobbleheads, which are expected to ship in May, are $30 each plus a flat-rate shipping charge of $8 per order.
In 2021, Fetterman announced his candidacy in the 2022 U.S. Senate election in Pennsylvania. The 53-year-old Pennsylvania native, who ran for the U.S. Senate in 2016 and finished third in the Democratic primary, won the Democratic nomination this time around with 59% of the vote. He then went on to defeat Republican Party nominee Mehmet Oz in the general election with 51% to become the first Democrat to win the seat since 1962. Generally described as a progressive, Fetterman advocates healthcare as a right, criminal justice reform, abolishing capital punishment, raising the federal minimum wage to $15 per hour, and legalizing cannabis.
Known for his super casual dress code, Fetterman ran for lieutenant governor of Pennsylvania in 2018, defeating a field of candidates that included incumbent Mike Stack in the Democratic primary and winning the election with incumbent Governor Tom Wolf. During his tenure, Fetterman received national attention for his efforts to legalize cannabis statewide and pushing back on President Donald Trump's false claims of election fraud in Pennsylvania. Fetterman and his wife, Gisele Barreto Almeida, have three children and two rescue dogs.
Fetterman, who started his professional career in the insurance industry, received a bachelor's degree in finance from Albright College and a master's degree in business administration from the University of Connecticut. After joining AmeriCorps, he earned a master's degree in public policy from Harvard University. In 2001, Fetterman started an Out-of-School-Youth Program in Braddock, Pennsylvania, in which he helped local youth earn their GED. Fetterman eventually moved to Braddock and served as the city's mayor of the former industrial town from 2006 to 2019. The 6-foot-8 Fetterman even has several tattoos related to the Braddock community. On his left arm are the numbers 15104 – Braddock's zip code. On his right arm are the dates of nine murders that occurred in the town while he was the mayor.
"We've received many requests for a bobblehead of John Fetterman, and we are excited to be releasing it to coincide with his swearing in and National Bobblehead Day," National Bobblehead Hall of Fame and Museum co-founder and CEO Phil Sklar said. "This bobblehead is sure to be a must-have for his supporters and collectors of political bobbleheads."
About the National Bobblehead Hall of Fame and Museum:
The National Bobblehead Hall of Fame and Museum, which is located at 170 S. 1st St. in Milwaukee, Wisconsin, opened to the public on February 1st, 2019. The HOF and Museum also produces high quality, customized bobbleheads for retail sale as well as organizations, individuals, and teams across the country. Visit us online and on Facebook, Twitter and Instagram.
Categories:
Uncategorised