First Baker Mayfield Oklahoma Sooners Bobblehead Unveiled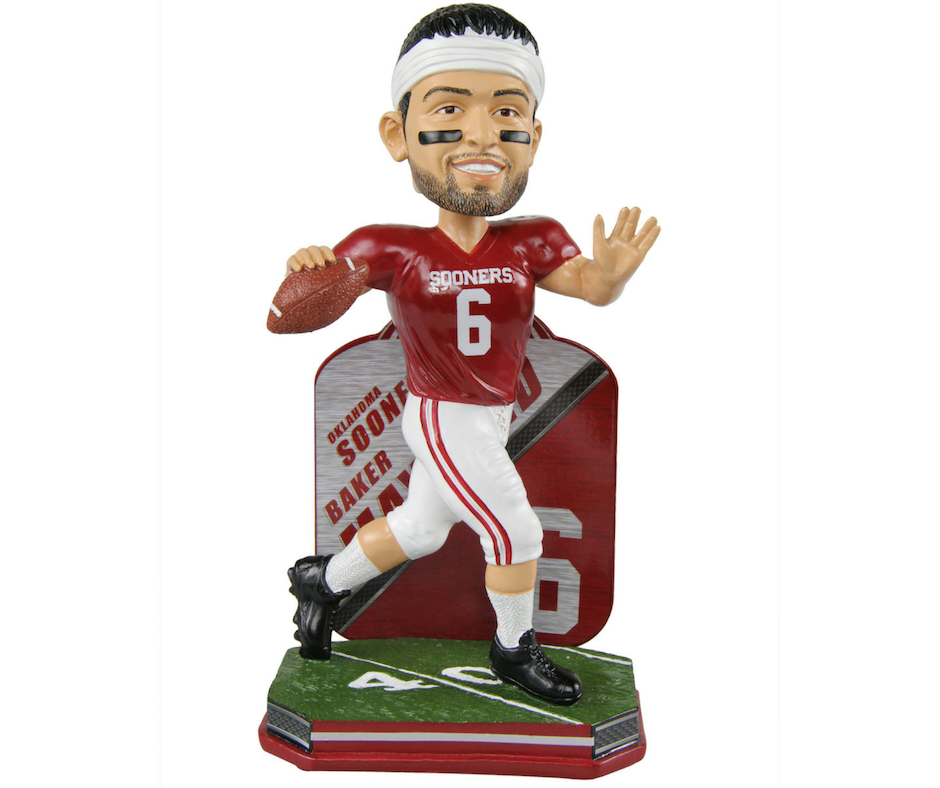 First bobblehead featuring Heisman Trophy winner and Oklahoma Sooners standout Baker Mayfield in his Oklahoma jersey now available exclusively from the National Bobblehead HOF and Museum.
MILWAUKEE, Wi., October 19, 2018 – This morning, the National Bobblehead Hall of Fame and Museum unveiled the first bobblehead of Baker Mayfield in his Oklahoma Sooners jersey. The officially licensed, limited edition bobblehead features Baker Mayfield on a football field base with his name and number on a plaque in the background.
The bobbleheads, which are individually numbered to only 2,018, are $40 each plus a flat rate shipping charge of $8 per order. The initial production run of bobbleheads are in stock now, and the remaining bobbleheads will be produced and made available for pre-order if the initial bobbleheads sell out. The officially licensed bobbleheads were produced exclusively for the National Bobblehead Hall of Fame and Museum by FOCO.
Baker Mayfield racked up outstanding stats at the University of Oklahoma and was the 2017 Heisman Trophy winner. He threw for 36 touchdowns as a sophomore, 40 as a junior and 43 as a senior. Mayfield racked up an astronomical amount of passing yards throwing for 3,700 as a sophomore, 3,965 yards as a junior and 4,627 yards as a senior. His outstanding performance led Oklahoma to the four-team college football playoff. Mayfield was drafted with the number one overall selection in the 2018 NFL Draft by the Cleveland Browns. Earlier this year Mayfield replaced injured starter Tyrod Taylor and sparked the Browns to the team's first win in 635 days.
"Baker Mayfield had a tremendous career at Oklahoma and will always be a fan favorite for Sooners fans," said Phil Sklar, Co-Founder and CEO of the National Bobblehead Hall of Fame and Museum. "Baker was fun to watch in college and it's great to see the immediate impact he's making in the NFL. This bobblehead is a must-have for any Oklahoma fan!"
About the National Bobblehead Hall of Fame and Museum:
The National Bobblehead Hall of Fame and Museum is finishing set-up of its permanent location, which is expected to open this Fall. The HOF and Museum was announced in November 2014 and hosted a Preview Exhibit in 2016. The HOF and Museum also produces high quality, customized bobbleheads for organizations, individuals and teams across the country. Visit us at www.BobbleheadHall.com, www.facebook.com/BobbleheadHall or www.twitter.com/BobbleheadHall.
About FOCO:
Previously known as Team Beans, LLC and Forever Collectibles, FOCO is a leading manufacturer of sports and entertainment merchandise celebrating more than 17 years in the industry. The company's ever-growing product lines include apparel, accessories, toys, collectibles, novelties, footwear, holiday and more. FOCO is licensed with all major sports leagues including the NFL, MLB, NBA, NHL, NASCAR, MLS and over 100 colleges and universities as well as entertainment properties such as Disney, Warner Bros/DC Comics, Nickelodeon and Sanrio. Please reach out to Matthew Katz, Licensing Manager, mkatz@foco.com for more information.