Bobbleheads Featuring Michigan and MSU Football Stars Unveiled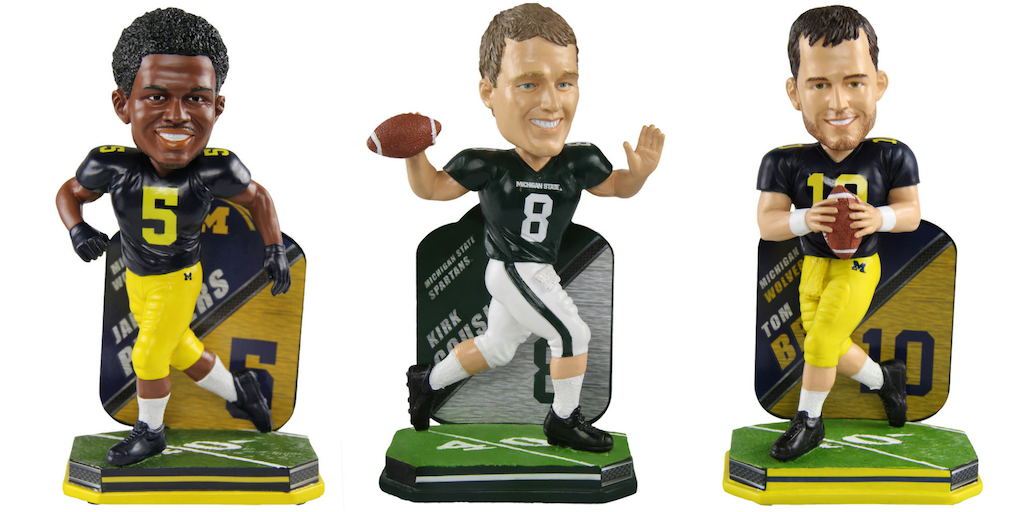 Bobbleheads featuring Tom Brady, Kirk Cousins and Jabrill Peppers in their college uniforms now available from the National Bobblehead Hall of Fame and Museum.
MILWAUKEE, Wi., October 19, 2018 – – Today, the National Bobblehead Hall of Fame and Museum unveiled officially licensed, limited edition bobbleheads featuring former Michigan Wolverines stars Tom Brady and Jabrill Peppers in their Michigan jerseys and Kirk Cousins in his Michigan State jersey. These are the first collegiate bobbleheads of Kirk Cousins and Jabrill Peppers and the first Michigan bobblehead in several years for Brady, whose previous Michigan bobbleheads are sold out.
The officially licensed and individually numbered bobbleheads are $40 each with a flat rate shipping charge of $8 per order. The bobbleheads were produced for the National Bobblehead HOF and Museum by FOCO and are in stock now.
Tom Brady is considered by most to be the greatest quarterback of all time, and he continues to put up staggering numbers for the New England Patriots since being drafted in the 6th round with the 199th overall pick of the 2000 NFL Draft. The 5-time Super Bowl Champion, 4-time Super Bowl MVP and 3-time NFL MVP played for Michigan from 1995 to 1999 and posted a 20-5 record for the Wolverines in the two seasons that he started. Despite limited playing time during his first two seasons, Brady still ranks among the top five in several statistical categories.
Before being drafted with the 25th overall pick in the 2017 NFL Draft by the Cleveland Browns, Jabrill Peppers received numerous awards for his performance at Michigan, which included 125 tackles in 27 games. Peppers has made an immediate impact with the Cleveland Browns, racking up 80 tackles in 19 games.
Kirk Cousins was drafted in the fourth round of the 2012 NFL Draft by the Washington Redskins after playing four years for the Michigan State Spartans. Cousins threw for 9,131 yards and 66 touchdowns while leading the Spartans to an 11-2 record his junior year and an 11-3 record his season year, and his teams posted an undefeated 4-0 record against the Michigan Wolverines. He's thrown for over 4,000 yards in each of the last three NFL seasons and was named to the Pro Bowl in 2016 after throwing for 4,917 yards and 25 touchdowns. During the offseason, Cousins signed with the Minnesota Vikings and received the highest paying contract in NFL history at the time.
This week's showdown at Spartan Stadium in East Lansing will mark the 111th meeting between the two rivals, with Michigan holding a 69-36-5 advantage. The teams first played in 1898 and have played nearly every year since 1910. Since 1953, the winner has received the Paul Bunyan Trophy, with Michigan holding a slight edge (36-30-2) since then. The 6th ranked Wolverines head into the game with a 6-1 record after a 38-13 win over now 23rd ranked Wisconsin. Michigan State comes into the showdown ranked 24th in the nation after a big win on the road against now 18th ranked Penn State.
The bobbleheads add to a growing lineup of current NFL stars in their college jerseys. The Hall of Fame and Museum previously released bobbleheads featuring Le'Veon Bell (Michigan State) and Antonio Brown (Central Michigan) in their college jerseys, and the collection now includes nearly 50 top NFL players.
"With Michigan and Michigan State renewing their rivalry this weekend, we couldn't think of a better time to unveil bobbleheads featuring these current stars in their Michigan and MSU jerseys," Phil Sklar, Co-Founder and CEO of the National Bobblehead Hall of Fame and Museum, said. "These three are terrific additions to the lineup of current NFL stars in their college uniforms and we think fans in Michigan are going to love them."
About the National Bobblehead Hall of Fame and Museum:
The National Bobblehead Hall of Fame and Museum is finishing set-up of its permanent location, which is expected to open this Fall. The HOF and Museum was announced in November 2014 and hosted a Preview Exhibit in 2016.  The HOF and Museum also produces high quality, customized bobbleheads for organizations, individuals and teams across the country. Visit us at www.BobbleheadHall.com, www.facebook.com/BobbleheadHall or www.twitter.com/BobbleheadHall.
About FOCO:
Previously known as Team Beans, LLC and Forever Collectibles, FOCO is a leading manufacturer of sports and entertainment merchandise celebrating more than 17 years in the industry. The company's ever-growing product lines include apparel, accessories, toys, collectibles, novelties, footwear, holiday and more. FOCO is licensed with all major sports leagues including the NFL, MLB, NBA, NHL, NASCAR, MLS and over 100 colleges and universities as well as entertainment properties such as Disney, Warner Bros/DC Comics, Nickelodeon and Sanrio. Please reach out to Matthew Katz, Licensing Manager, mkatz@foco.com for more information.