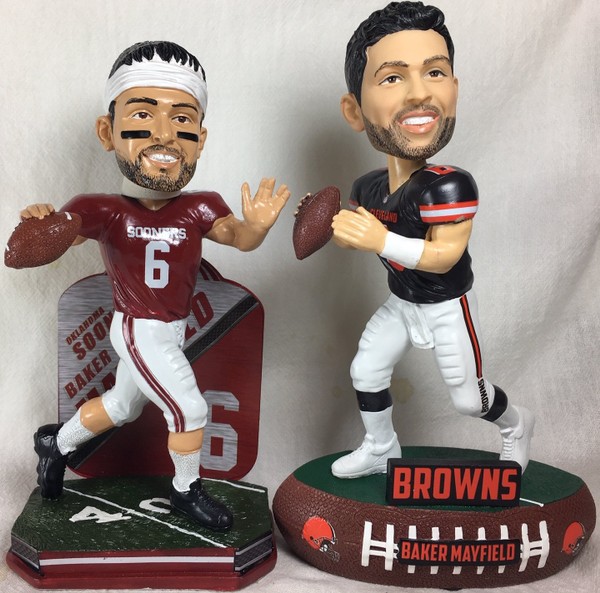 CLEVELAND, Ohio – Cleveland Browns rookie quarterback Baker Mayfield has arrived. He has not one but two bobbleheads.
The image of the Browns' 2018 No. 1 overall draft choice has been captured in both college and professional uniforms.
The bobbleheads – which are numbered only to 2,018 – cost $40 plus $8 shipping via the National Bobblehead Hall of Fame and Museum.
As a Brown, he is depicted getting set to pass. His Oklahoma bobblehead shows Mayfield – with eye black and headband – running as he is about to throw. He has scruff on his face in both bobbleheads, though different in each.
In four games in the NFL, Mayfield is 85 of 153 for 1,076 yards, four touchdowns and five interceptions.
Mayfield played his first year at Texas Tech before transferring to Oklahoma. He threw for 14,607 yards, completing 1,026 passes on 1,497 attempts in his collegiate career.
New Jersey-based FOCO manufactures the bobbleheads exclusively for the Bobblehead Hall of Fame and Museum in Milwaukee.