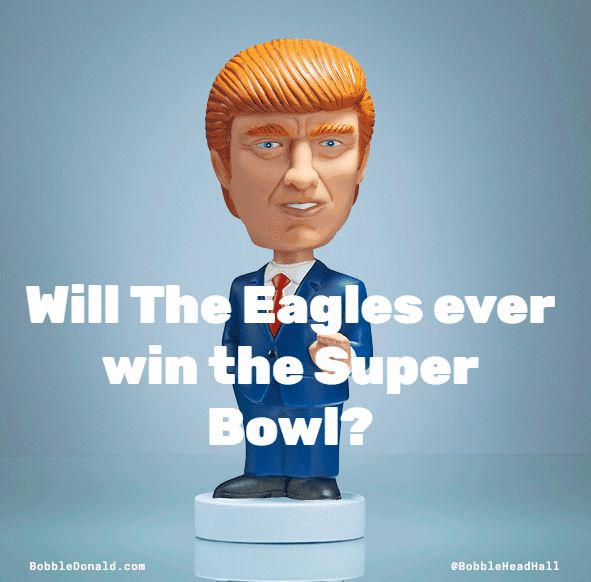 The National Bobblehead Hall of Fame & Museum (What? Yes, that is a real thing.) has just launched an interactive Donald Trump digital bobblehead that folks looking to kill time in their work cubicles – and others, we assume, as well – are going to love.
As the name indicates, "BobbleDonald" is a bobblehead representation of the president who lives on the Internet at www.BobbleDonald.com. Head to the site, type in a message, and then choose either "yes" or "no." The response you select will cause BobbleDonald's head to wobble in the affirmative or shake side-to-side in the negative.
For instance, you might ask, "In retrospect, do you sort of wish you'd just remained a reality TV star?" Fill in the answer as you see fit. BobbleDonald can weigh in on your personal life, too. "Will I finally get a raise this year?" Probably not if you keep messing around with BobbleDonald, but I digress. BobbleDonald does sports questions, too. "Will the Philadelphia Eagles ever win the Super Bowl?" The only possible choice for that last one is "no."
Once complete, you can post the generated GIF of your question and BobbleDonald's response on Facebook and Twitter, or share the unique link.
Phil Sklar, CEO of the National Bobblehead Hall of Fame & Museum, says the bobblehead shown on the site is a 2005 Funko bobblehead of Donald Trump from his days on The Apprentice. "We have a Donald Trump bobblehead on our website and have a second one in the works," says Sklar.
The National Bobblehead Hall of Fame and Museum designed and developed BobbleDonald. The NBHOF is currently in transition from a preview exhibit, which ended in 2016, to a permanent location in downtown Milwaukee. The Hall of Fame and Museum currently has more than 7,000 unique bobbleheads, including many of Donald Trump, that will be on display.