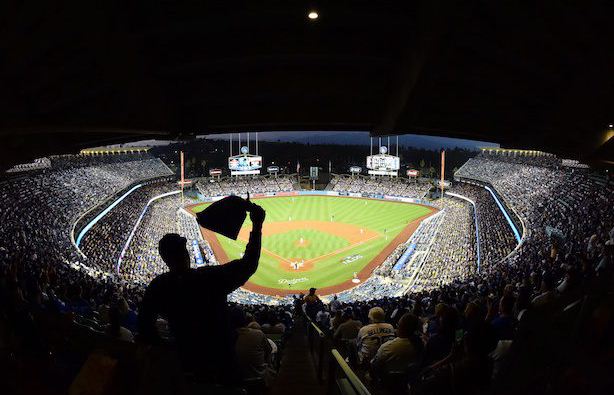 The Los Angeles Dodgers announced their 2019 promotional schedule, which is comprised of 53 games at Dodger Stadium that will either feature a promotion/giveaway or event (full special event calendar to be announced at a later date).
The promotional schedule calls for 12 bobblehead giveaways at Dodger Stadium, return of Friday Night Fireworks, Kids Run The Bases (after most Sunday games) and the Alumni Game (June 1 vs. Philadelphia Phillies), $1 Dodger Dog dates, and much more.
Opening Day of the 2019 season calls for the Dodgers to host the Arizona Diamondbacks for the start of a four-game series on Thursday, March 28. The first bobblehead giveaway is scheduled for Saturday, March 30.
The first Kids Run The Bases will then take place the following day. Per tradition, the Dodgers will play a home game on Jackie Robinson Day (April 15) across Major League Baseball. The matchup with the Cincinnati Reds will be accompanied by a No. 42 Robinson jersey giveaway.
Dodger Stadium will also serve as the backdrop for games on summer holidays, such as Mother's Day (May 12 vs. Washington Nationals), Memorial Day (May 27 vs. New York Mets), Father's Day (June 16 vs. Chicago Cubs), Independence Day (July 4 vs. San Diego Padres) and Labor Day (Sept. 2 vs. Colorado Rockies).
The Dodgers 2019 promotional schedule concludes Sunday, Sept. 22, with Fan Appreciation Day at Dodger Stadium. After facing the Rockies in their final home game of the season, the Dodgers will wrap up their 2019 slate with road series against the Padres and Giants.
Giveaways are limited to 40,000 items (12,000 items for kids giveaways), unless otherwise noted, and are while supplies last at the guest's point of entry to Dodger Stadium. Only one giveaway item per person will be given to the bearer of the ticket upon entering. Schedule subject to change without notice.