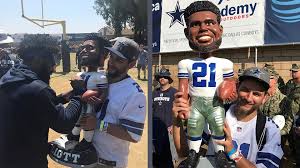 OXNARD, Calif. – Alex Hurtado is a big Cowboys fan – enough so that he was willing to spend $800 on a massive Ezekiel Elliott bobblehead for his man cave.
And Tuesday at training camp in Oxnard, the purchase proved worth it.
Hurtado brought the three-foot-tall bobblehead of the star running back to the morning practice Tuesday at the River Ridge playing fields with one mission: Get Zeke's attention.
"I was just screaming my head off … hoping he'd look at me," Hurtado said. "He saw me, and I'm there."
Elliott called Hurtado onto the practice field to sign the giant figurine.
The oversized bobblehead is one of just 12 of its kind, Hurtado told WFAA. Other signed Elliott memorabiliagoes for several hundred or even thousands of dollars – something as rare as the huge bobblehead could yield an even bigger return, especially if Elliott has continued success in the NFL.