College Football Champs Bobbleheads Featuring Oklahoma, Tennessee, Penn State and Clemson Unveiled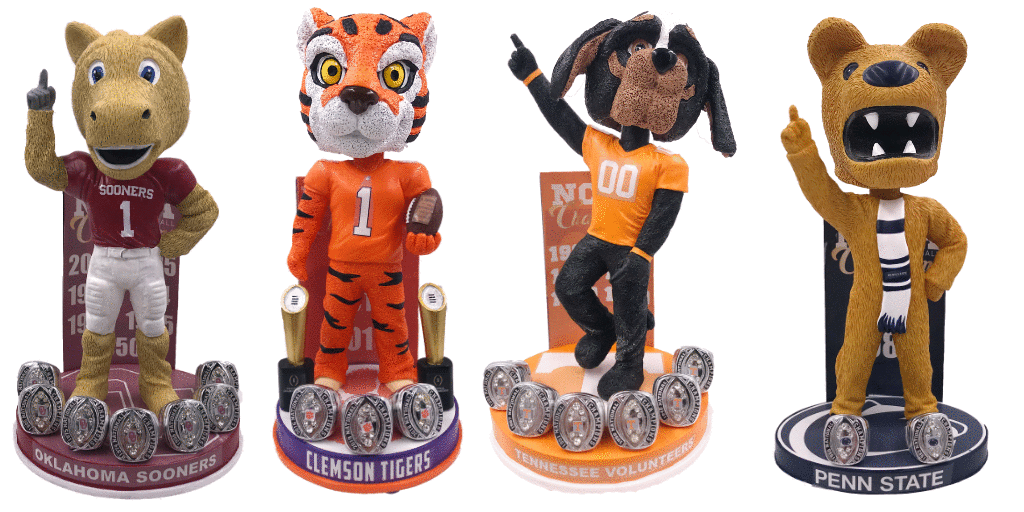 MILWAUKEE – This morning, the National Bobblehead Hall of Fame and Museum unveiled four officially licensed, limited edition bobbleheads commemorating the college football National Championships for the Oklahoma Sooners, Tennessee Volunteers, Penn State Nittany Lions and Clemson Tigers. Each bobblehead features the school's mascot surrounded by championship rings on the base of the bobblehead, which has the school's logo and includes a plaque that lists the title years. The bobbleheads are being produced exclusively for the National Bobblehead Hall of Fame and Museum by FOCO, an official licensee and manufacturer of NCAA merchandise.
The limited-edition bobbleheads are individually numbered to coincide with the school's last title year. The bobbleheads are $45 each with a flat-rate shipping charge of $8 per order. They are only available through the Hall of Fame and Museum's Online Store and are expected to ship in November.
The four new bobbleheads join the Florida Gators, LSU Tigers, Miami Hurricanes, Nebraska Cornhuskers, Ohio State Buckeyes, Texas Longhorns and USC Trojans in the exclusive series of College Football Championship bobbleheads. The other bobbleheads in the series were released prior to the 2019 College Football season, while this year's release comes ahead of the opening games for Clemson and Oklahoma on Saturday and Tennessee's opener on September 26th. In August, the Big Ten Conference announced the postponement of the 2020-21 fall sports season due to ongoing health and safety concerns related to the COVID-19 pandemic, resulting the postponement of Penn State's season. The NCAA recognizes College Football National Champions dating back to 1869 when Princeton and Rutgers were both crowned National Champions.
Since its first season in 1895, Oklahoma is recognized by the university and NCAA for winning seven national championships in 1950, 1955, 1956, 1974, 1975, 1985 and 2000 as well as 49 conference titles. The Sooners are one of the most successful college football programs in the nation, recording the most wins (606) and best winning percentage (.762) since 1945. During the 2019 season, Oklahoma became the sixth NCAA FBS team to win 900 games when it defeated Texas Tech.
Since its first season in 1887, Penn State, a longtime independent, has won national championships in 1982 and 1986 in addition to five conference titles and two division crowns. The Nittany Lions have achieved 13 undefeated seasons and 48 bowl appearances in their history and they rank ninth in all-time wins. Penn State plays its home games at Beaver Stadium, which is the second-largest stadium in the western hemisphere with an official seating capacity of 106,572.
Since its first season in 1896, Clemson has won national championships in 1981, 2016 and 2018 as well as 25 conference titles and eight division crowns. Consistently ranked among the elite programs in the country, the Tigers have amassed more than 750 victories with six undefeated seasons and 46 bowl appearances, 20 of which are among the New Year's six bowls. Clemson's national titles in 2016 and 2018 came in the second and fourth College Football Playoff.
Since its first season in 1891, Tennessee has won six national championships (1938, 1940, 1950, 1951, 1967 and 1998) and 16 conference titles. The Volunteers currently rank third in bowl appearances (52) and sixth in bowl victories (28). Most notably, they have won four Sugar Bowls, three Cotton Bowls, and one Orange Bowl, Peach Bowl and Fiesta Bowl. Tennessee has won 464 games at Neyland Stadium – the highest home-field total in college football history for any school at its current home venue.
"The championship bobbleheads are the ultimate way for fans to show off their school pride," National Bobblehead Hall of Fame and Museum co-founder and CEO Phil Sklar said. "We know how passionate the fans of these four schools are about their team and bobbleheads, so we expect these to be extremely popular."
About the National Bobblehead Hall of Fame and Museum:
The National Bobblehead Hall of Fame and Museum, which is located at 170 S. 1st. St. in Milwaukee, Wisconsin, opened to the public on February 1st, 2019. The HOF and Museum also produces high quality, customized bobbleheads for retail sale as well as organizations, individuals and teams across the country. Visit us online and on Facebook, Twitter and Instagram.
About FOCO:
FOCO is a leading manufacturer of sports and entertainment merchandise celebrating more than 20 years in the industry. The company's always-growing product lines includes apparel, accessories, toys, collectibles, novelty items, and more. FOCO is licensed with all major sports leagues including the NFL, MLB, NBA, NHL, NASCAR, MLS and over 150 colleges and universities as well as entertainment properties such as Disney, Warner Bros/DC Comics, Nickelodeon and WWE. Please reach out to Matthew Katz, Licensing Manager, P 848-260-4315 - mkatz@foco.com for more information. Follow @FOCOusa on Facebook, Twitter, and Instagram for more exciting news and new product releases.