Bart Starr Green Bay Packers Special Edition Bobblehead Series Unveiled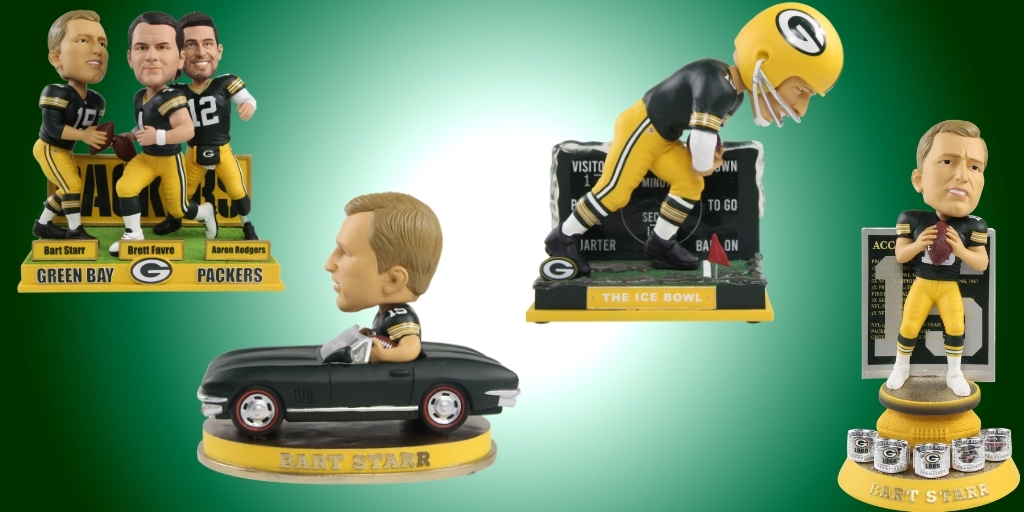 MILWAUKEE – This morning, the National Bobblehead Hall of Fame and Museum unveiled four officially licensed, special edition bobbleheads featuring Green Bay Packers legend, Bart Starr. Each special edition bobblehead is unique in capturing the playing career of the Hall of Fame quarterback. The bobbleheads were produced exclusively for the National Bobblehead Hall of Fame and Museum by FOCO, an official licensee and manufacturer of Green Bay Packers and NFL merchandise.
The first bobblehead features the Packers three legendary quarterbacks—Bart Starr, Brett Favre and Aaron Rodgers, a trio that has helped bring the last seven championships to "Titletown". The second features Starr crossing the goal line and scoring the winning touchdown during the famed Ice Bowl in the 1967 NFL Championship Game. The third features Starr sitting in a replica 1967 Corvette Stingray convertible, which he received for being named the first Super Bowl MVP. The fourth has Starr dropping back to pass on a base that includes replicas of his five NFL championship rings with a plaque that lists his many accomplishments.
Each bobblehead is individually numbered, and they are only available through the National Bobblehead Hall of Fame and Museum's Online Store. The bobbleheads, which just arrived and ship now, are $50 each, $85 for the triple bobblehead or $225 for the complete set plus a flat-rate shipping charge of $8 per order. The Ice Bowl and MVP Car Bobbleheads are numbered to 1,967, the Career Accomplishments Bobblehead is numbered to 2,019 and the Triple Quarterback Bobblehead is numbered to 2,020.
A 17th-round draft pick out of Alabama, Starr played 16 seasons with the Packers. He was the only quarterback in NFL history to lead a team to three consecutive league championships (1965-67). Starr also led the Packers to victory in the first two Super Bowls and garnered MVP honors in both games. Named the league MVP in 1966, Starr earned four Pro Bowl selections and was selected All-Pro four times. Inducted into the Pro Football Hall of Fame in 1977, Starr is one of six players to have his number (15) retired by the Packers. Starr also served as head coach of the Packers for nine seasons from 1975-83. Starr, who will also be remembered for his off the field accomplishments and generosity, passed away in May of 2019 at the age of 85.
"Bart Starr is one of the greatest players in the storied history of the Green Bay Packers and the NFL," National Bobblehead Hall of Fame and Museum co-founder and CEO Phil Sklar said. "We wanted to honor Starr with a series of bobbleheads that pays tribute to his remarkable football career and tremendous life. These will become keepsakes that are passed on to future generations of Packers fans!"
About the National Bobblehead Hall of Fame and Museum:
The National Bobblehead Hall of Fame and Museum, which is located at 170 S. 1st. St. in Milwaukee, Wisconsin, opened to the public on February 1st, 2019. The HOF and Museum also produces high quality, customized bobbleheads for retail sale as well as organizations, individuals and teams across the country. Visit us online and on Facebook, Twitter and Instagram.
About FOCO:
FOCO is a leading manufacturer of sports and entertainment merchandise celebrating more than 20 years in the industry. The company's always-growing product lines includes apparel, accessories, toys, collectibles, novelty items, and more. FOCO is licensed with all major sports leagues including the NFL, MLB, NBA, NHL, NASCAR, MLS and over 150 colleges and universities as well as entertainment properties such as Disney, Warner Bros/DC Comics, Nickelodeon and WWE. Please reach out to Matthew Katz, Licensing Manager, P 848-260-4315 – mkatz@foco.com for more information. Follow @FOCOusa on Facebook, Twitter, and Instagram for more exciting news and new product releases.