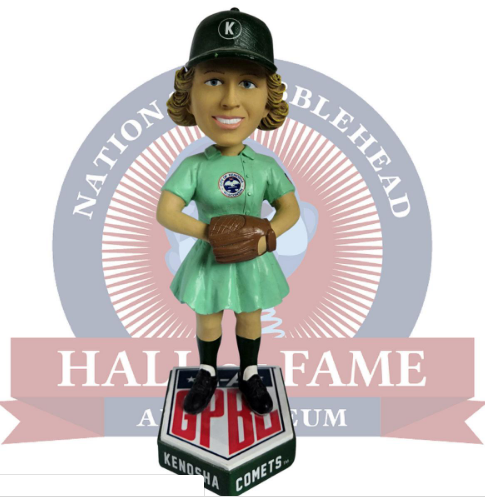 In 1943, baseball turned to women to play the country's national pastime in order to help fill the void left by men who left to serve in World War II.
Seventy five years later, the All-American Girls Professional Baseball League, which inspired the 1992 movie "A League of Their Own" and eventually expanded from four to 15 teams, will have bobblehead dolls of their own to commemorate their storied past.
Today the Milwaukee-based National Bobblehead Hall of Fame and Museum will unveil the first complete series of officially licensed, limited edition All-American Girl Professional Baseball League bobbleheads. The dolls were produced for each of the 15 AAGPBL teams that played from 1943 to 1954.
Among them are the Kenosha Comets, which along with the Rockford Peaches, South Bend Blue Sox and Racine Belles were part of the founding four teams for the new league in 1943.
"It's something that brings us a lot of pride and excitement. As sports fans, the AAGPBL and to a lot of fans in the Midwest, and of course through the movie 'A League of Their Own,' I think there are a lot of stories that have to be told," said Phil Sklar, co-founder and CEO of the museum.
A composite image
The team bobbleheads, Sklar said, are based upon a composite image of an AAGPBL player. The museum consulted closely with the women's baseball league, which will be celebrating its 75th anniversary with a reunion Sept. 6-9 in Kansas City, Mo.
Sklar said that for two-thirds of the teams in the league, this marks the first time they will have bobbleheads. Prior to this series, bobbleheads representing only five of the 15 AAGPBL teams were produced, featuring the Fort Wayne Daisies, Kalamazoo Lassies, Kenosha Comets, Peoria Redwings and Rockford Peaches.
The likeness of Comet Alice "Lefty" Hohlmayer, for example, is immortalized in a very hard to find bobblehead doll, according to Sklar. One sold for $200 on eBay, he said.
According to the Women's Museum of California, Rosie O'Donnell's character Doris Murphy is loosely based on Hohlmayer, who was also inducted into the San Diego County Women's Hall of Fame.
The AAGPBL gave more than 600 women athletes the opportunity to play professional baseball and to play it at a level never before attained.
"The women laid the groundwork for what we see in women's professional sports today," he said. "To be able to commemorate their accomplishments and achievements in bobblehead form, it's exciting."