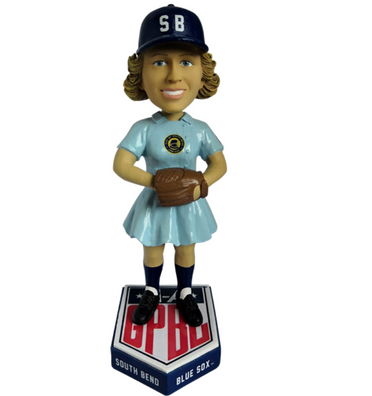 The South Bend Blue Sox, the city's women's professional baseball team from 1943 through 1954, now has its own bobblehead doll.
The National Bobblehead Hall of Fame and Museum, based in Milwaukee, Wis., this week unveiled a series of bobblehead female figures representing teams that played in the All American Girls Professional Baseball League.
The South Bend Blue Sox team played every year the AAGPBL was in existence, playing their home games at Bendix Field, and later at Playland Park.
The series includes a bobblehead for each of the 15 AAGPBL teams. This year marks the 75th anniversary of the league's founding.
A maximum of 500 figures have been produced for each team, according to the museum. The price per doll is $25, plus shipping. The bobbleheads are officially licensed by the AAGPBL.