Justin Trudeau Canadian Prime Minister Bobbleheads Unveiled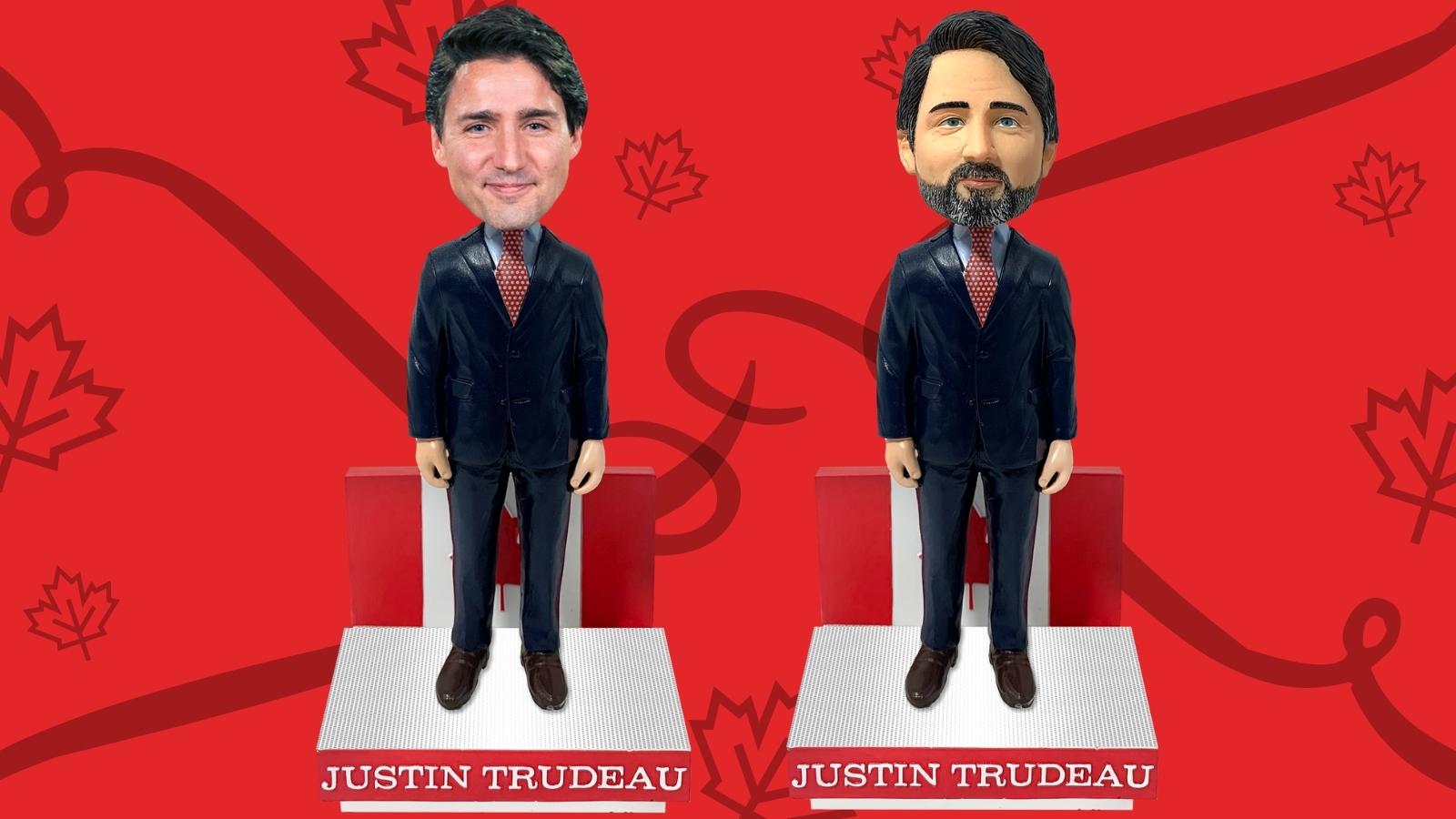 MILWAUKEE – This morning, the National Bobblehead Hall of Fame and Museum unveiled two bobbleheads of Canadian Prime Minister Justin Trudeau. Two versions of the bobblehead are available with one sporting a bearded Trudeau and the other sporting a clean-shaven Trudeau. Trudeau became Canada's second-youngest prime minister and 23rd overall when he was sworn in on November 4th, 2015, and he was re-elected most recently in September 2021. The bobbleheads are being released on National Bobblehead Day.
Both bobbleheads feature Trudeau dressed in a dark suit and red tie. Standing on a base bearing his name, the backing features the Canadian flag. Each bobblehead is individually numbered to 2,022 and they are only available through the National Bobblehead Hall of Fame and Museum's Online Store. The bobbleheads, which are in production and scheduled to ship to customers in May, are $25 each or $45 for the set of two plus shipping (USD). The limited edition bobbleheads are being produced by the National Bobblehead Hall of Fame and Museum.
Justin Trudeau is the oldest son of Pierre Trudeau, who served as the Canadian Prime Minister for much of Justin's childhood. In November of 2015, the 44-year-old Justin Trudeau became the first child or relative of a previous holder of the post to assume Canada's head of government position. The Ottawa, Ontario, native attended school in Montreal and earned a bachelor's degree in English from McGill University in 1994. He then earned a degree in education from the University of British Columbia in 1998 and went on to teach math and French in Vancouver.
Trudeau gained nationwide attention after he gave the eulogy at his father's funeral in 2000. Prime Minister Jean Chrétien offered Trudeau a place in the Liberal Party. Trudeau accepted, and in 2008 he won a seat in Parliament. He became the Liberal spokesperson on youth, immigration, multiculturism and citizenship. In 2013, Trudeau was elected the leader of the Liberal Party.
Trudeau's vision of Canada is "a country where everyone has a real and fair chance to succeed." As Prime Minister, Trudeau "leads a government that works hard every day to continue moving Canada forward. His team is focused on creating good middle-class jobs, making life more affordable, keeping Canada's communities safe, fighting climate change, and moving forward on reconciliation with Indigenous Peoples. A proud feminist, Justin appointed Canada's first gender balanced Cabinet."
"We are excited to release these new bobbleheads of Canadian Prime Minister Justin Trudeau," National Bobblehead Hall of Fame and Museum co-founder and CEO Phil Sklar said. "We have continued to receive many requests for a bobblehead of Justin coming from both Canada and the United States and we think people will enjoy these."
About the National Bobblehead Hall of Fame and Museum:
The National Bobblehead Hall of Fame and Museum, which is located at 170 S. 1st St. in Milwaukee, Wisconsin, opened to the public on February 1st, 2019. The HOF and Museum also produces high quality, customized bobbleheads for retail sale as well as organizations, individuals, and teams across the country. Visit us online and on Facebook, Twitter and Instagram.