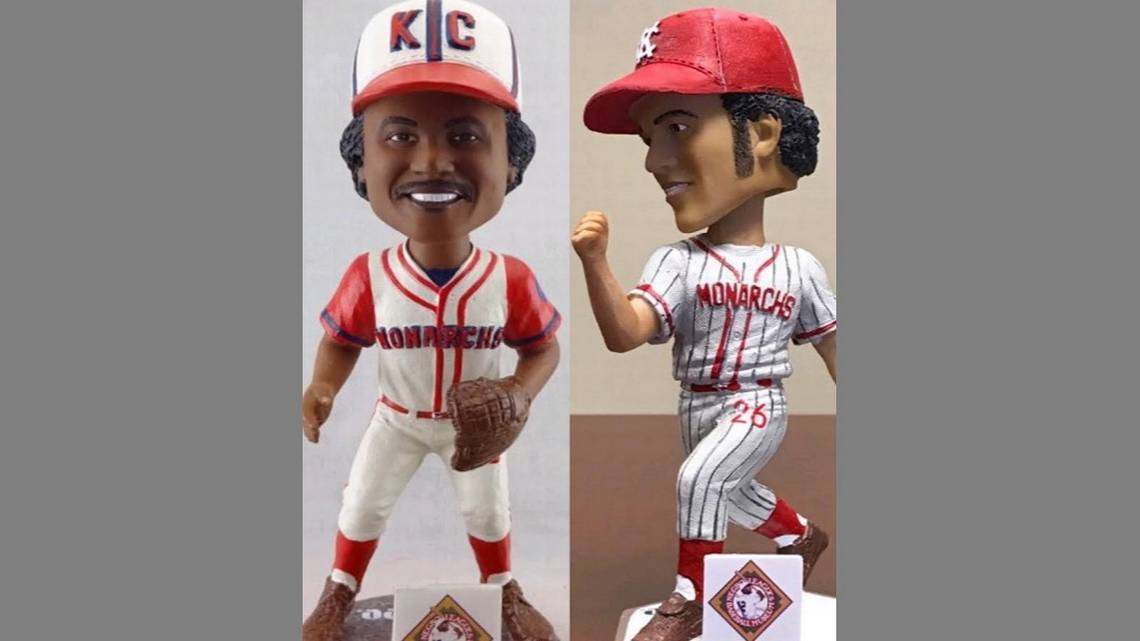 Wednesday was a big day at Kansas City's Negro Leagues Baseball Museum ceremonies. Grocer Hy-Vee presented the museum with a $20,000 check from the sales of Amos Otis bobbleheads, and NLBM president Bob Kendrick unveiled a new hot dog ahead of the museum's annual Heart of America Hot Dog Festival.
The Otis bobblehead is the second bobblehead in the Kansas City Monarchs Legacy Bobblehead collector series. The series represents "legendary Kansas City Royals players as members of the Kansas City Monarchs." The first in the series was a likeness of Frank White.
The bobbleheads sell for $10. Next in the series is Willie Wilson. In honor of Buck O'Neil's 107th birthday celebration, the Wilson bobblehead will be available Nov. 2 in all 20 Kansas City-area Hy-Vee stores.
"I'm honored to join my former teammates, Frank White and Amos Otis, as part of the Monarchs Legacy Bobblehead Series and applaud Hy-Vee for their efforts to support to Negro Leagues Baseball Museum," Wilson said in a news release.
Wilson patrolled the outfield for 15 seasons with the Royals. In 1979, he led the American League in stolen bases and was a Gold Glove winner. He's also a two-time All-Star and two-time Silver Slugger award winner. He finished 1983 as the AL Batting Champion.
The new, specialty hot dog has been created by Hy-Vee's chefs and is called the "Bullet Joe." The all-beef dog will be topped with brisket, baked beans, Monterrey Jack cheese, fried onions and a spicy barbecue sauce.
It will make its debut at the 2018 Heart of America Hotdog Festival, set for Saturday from 3-11 p.m. at The Paseo and Truman Road.